Remote Work Tips: How to Plan Your First Workation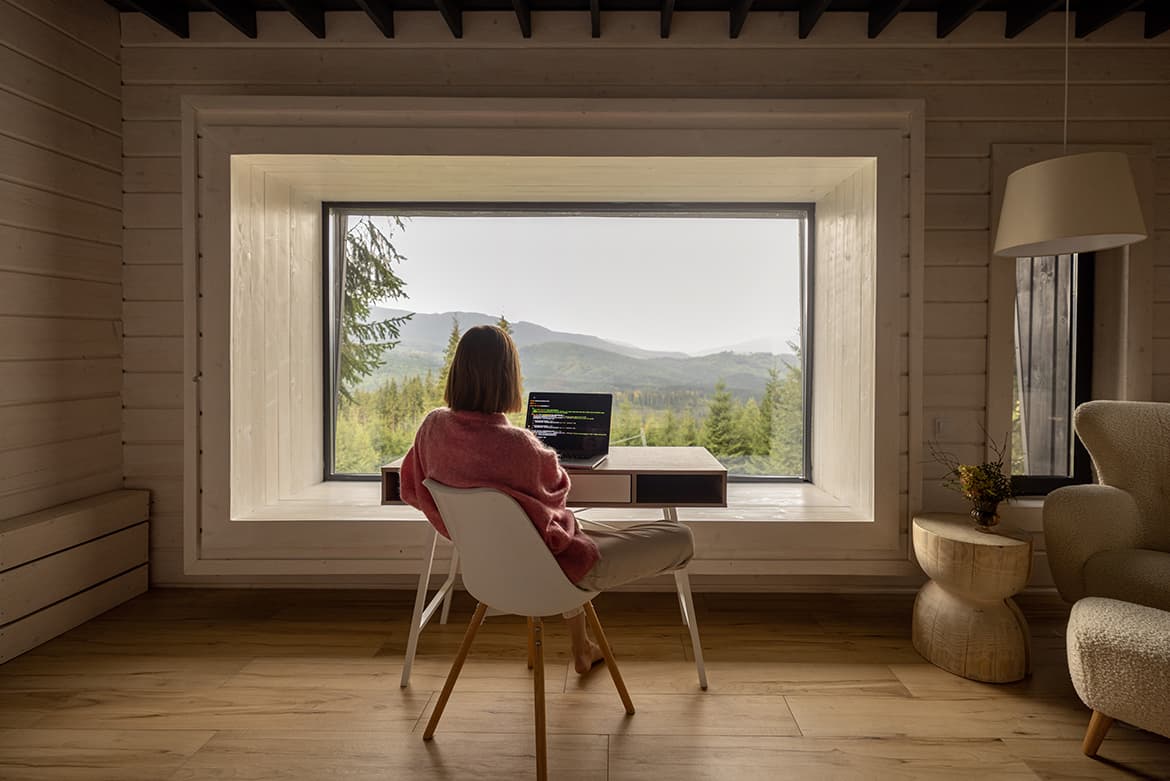 What would you do if you can't get days off from work and are simultaneously craving travel?
It seems like a paradox, but in 2022 there are some very creative solutions to this problem, especially if you are a remote worker. When you can work from anywhere, why not take your work with you and travel somewhere new for a while?
This concept of combining work and vacation has been coined with the term workation, and many remote workers are already taking advantage of it. If you want to give it a go as well, good news—planning your first workation is not that difficult.
What is a workation?
A workation is a working vacation where employees continue working at a different destination than their home base. It's up to the remote worker to choose the destination, the working hours, and the duration of stay.
Why take a workation?
– You save your paid time off.
As you will continue working at your new destination, you won't have to request paid time off from work. You are still free to use your holidays during your workation though. For example, if you were to go on a two-month workation, you could take a couple of days to enjoy the destination, and continue working remotely for the remaining days.
– You boost your motivation.
Maybe you just need to get away for a couple of weeks? Or need more time at your dream destination? A workation can make both scenarios possible and increase your work-life balance, job satisfaction, and overall motivation.
– You can travel more.
Whether you're staying in the same destination or visiting several places around, you get to spend more time traveling. You can organize a year-long workation and continue traveling if you want. Since you will be working, you will have an income while traveling and money will be less of an issue.
How to plan your first workation
1. Figure out the logistics.
First of all, check with your company. Do they allow workations? If yes, will your work computer work abroad or in a different state? If you are self-employed, this isn't a problem but there are still some limitations. For example, you might need to be in a specific timezone for your work. If you are traveling abroad, you should also check the visa requirements for your destination and apply for a visa if needed.
2. Pick a destination.
A workation can be an amazing experience at the right destination, and a disappointing one if you don't choose your city carefully. For your first workation, you might want to consider a major US city that you've been wanting to visit or decide to head to a place with a strong expat and digital nomad community.
If there are any deal breakers for you, now is the time to think about them. Do you absolutely want to be near to the beach? Or maybe you're craving a bustling metropolis? Is there a historic city like Dublin that you've been eager to explore?
Here are some other factors to keep in mind while choosing your workation destination:
Visa requirements
Budget
WiFi speed
Things to do around
Safety
Social life
Timezone
For some travel inspiration, you can find a digital nomad community on Facebook, Slack, or Meetup and ask your questions. There are many seasoned nomads who regularly contribute to these communities and they often talk about the best digital nomad cities all over the world.
3. Consider your workload.
Remember, a workation is a working vacation. If you have too much work and you plan a two-week workation, you might not have enough time to see around. Having an idea of how busy you will be might help you decide how long to stay at your new destination.
4. Decide how long you want to stay there.
Traveling far? You might want to consider the jet lag factor as well. Many people opt for longer workations to make sure that there's enough time to settle in, do some work, and have time to visit the destination.
Depending on the length of your stay, another quick piece of advice would be to take a few simple home security precautions to protect your place while away.
5. Book your accommodation.
While choosing your workation accommodation, make sure to check out its location, the safety of the neighborhood, reviews, whether it is furnished, and the speed of the internet connection. Read the property description carefully so that you won't be disappointed when you get there. If you want to make a decision with full confidence, check out Anyplace, which has accommodations designed specifically for remote workers with home offices and gigabit WiFi.
6. Figure out what to pack.
On a traditional vacation, you would just pack towels, swimsuits, and clothes—and you're good to go! For those who are traveling while working remotely, it's not that simple. You must make sure that you have enough space for your remote work equipment. This is why packing lightly is often recommended.
Many remote workers travel with their laptops, power banks, chargers, mouses, laptop stands, and headphones. Depending on your job, you might need additional equipment.
7. Organize what to do on your arrival.
You chose a destination, found accommodation, packed everything, and arrived at your destination. Now what? Consider checking how to get to your accommodation from the airport prior to your arrival—airports are often full of tourist traps.
If you are going abroad, find out if your internet is going to work at your destination. If not, buying a local SIM card and downloading map apps might be useful.
8. Plan your days.
Once you've arrived and settled, you can start planning out your days, both work-wise and travel-wise. If you plan to work at home, you can set up your workspace at a convenient spot. If you want to socialize and meet fellow remote workers, you can check where the coworking spaces are.
What will you do when you're done with work? The answer to this question will depend on your destination. In Bali, you could head to the beach. In Prague, you could go to a brewery to taste the local beers. In Chiang Mai, you could explore street food. And the list goes on.
Now you know how to organize your workation.
No matter where you end up going for your first workation, we are sure that you will create wonderful memories and make the most of traveling and working at the same time.
If you have more remote work gear than you can carry, take a look at Anyplace. You can rent furnished apartments designed for workations. All accommodations include a fully equipped office setup with a height-adjustable standing desk, ergonomic chair, ultra-widescreen monitor, wireless keyboard and mouse, docking station, and more. 
---
Where to next? Find monthly rentals designed for remote workers on Anyplace.
remote work tips
work from anywhere
workation
workation guide