10 Big Advantages of Being Able to Work from Anywhere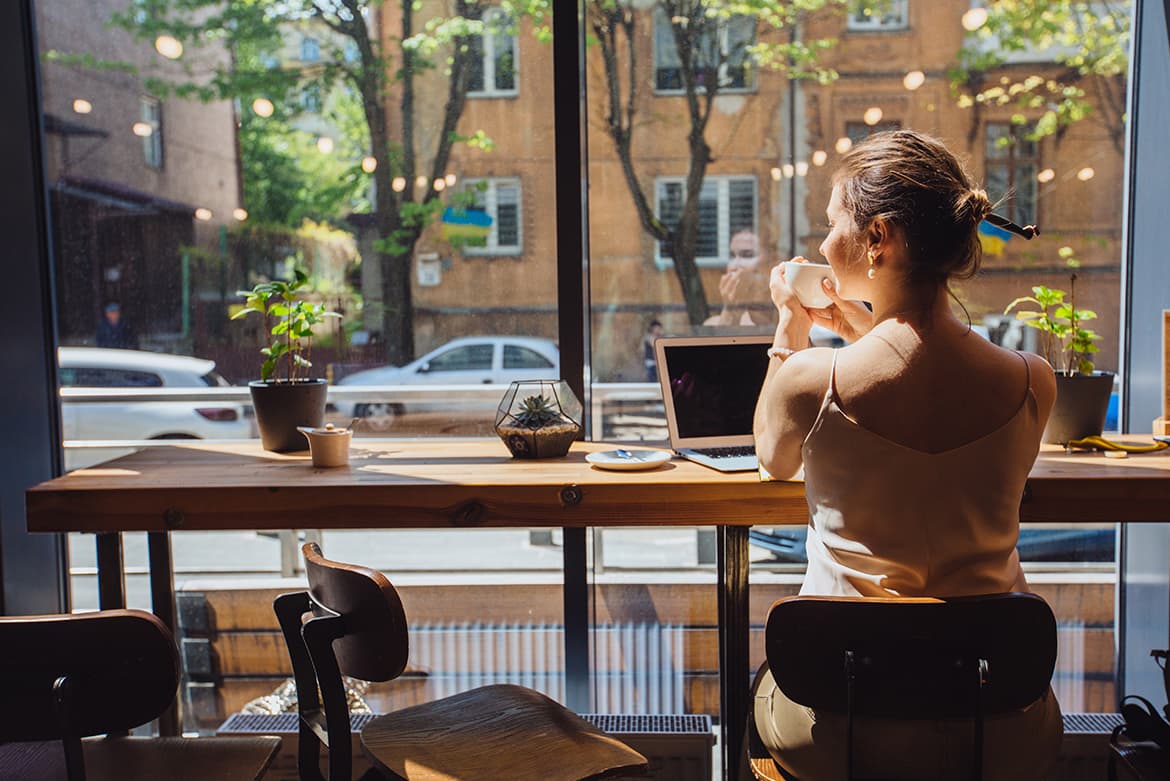 According to the latest remote work stats, the number of remote workers has grown by 159% since 2009; now 16% of companies globally are fully remote. Although the pandemic certainly accelerated this expansion, there are many other factors why more and more businesses and employees are opting to go remote and hybrid. From flexibility to increased productivity, working from anywhere has considerable benefits. Here are 10 of the big ones.
1. You have flexibility with location and schedule.
Working remotely doesn't necessarily mean that you have to work from home. You have the flexibility to choose between your home office, cafes, coworking places, and anywhere else that tickles your fancy.
These spots can be in your city, in another city, or even in a different country. Feel free to try them all to find out what performs best for you—some people like the quietness of their home while others like socializing at a coworking space.
Another advantage of working remotely is that you can also choose when you work. In most remote companies, you don't have to stick to traditional 9-5 working hours, which can help you organize your day the way you want to. You can take a morning walk or have a long lunch break if you feel like it.
2. You become more productive.
Several studies have shown that remote workers are more productive than office workers. This includes hybrid workers as well. 77% of hybrid workers who work remotely at least a few times per month said that remote work made them perform at a higher level.
In fact, the flexibility that remote work offers plays a significant role in your productivity. As a remote worker, you can design your own workspace, avoid distractions, invest in the right office equipment, and work when – and where – you are the most productive.
3. You save time.
Commuting can be very time-consuming. According to The FRED Blog, in 2015, the average US worker spent 52 minutes per day commuting. Imagine what you could do with an extra hour per day—you can sleep longer, start your work day earlier, or enjoy a physical activity like jogging or hitting the gym. You will also have additional time for hobbies and to spend with your loved ones.
4. You save money.
Commuting every day doesn't only mean losing time, it also means losing money. You would have to pay a lot of money for gas especially if the office is not nearby. Or you might have to pay for public transportation such as subway or bus rides.
Remote work helps you save money in many other ways. For example, as a remote worker, you need way fewer clothes as you don't have to wear formal attire. You also have the possibility to prepare meals at home, which is far cheaper than eating out every day at restaurants or getting takeout for lunch.
5. You achieve a better work-life balance.
By working remotely, you make your work revolve around your life, not your life around your work. As you don't have to be in the office five times a week, you can make different choices about how you plan your day and week. You can go for a run in the middle of the afternoon, pick up your kid from school, or see that country you've always dreamed of visiting. The sky is the limit.
6. You can travel more.
And speaking of seeing new things, one of the best benefits of working remotely is that you have the opportunity to travel while you work. Unlike an employee that must be in the office, you can maintain your work at any destination. This means that you can travel frequently if you wish, and you can stay in locations for longer periods of time.
Traveling like this makes you see the destination in a totally different light. You wouldn't get these types of insights and experiences by visiting for a couple of days and doing the tourist activities only. Plus, slow travel is a healthier, sustainable way to see the world.
And today, there are many remote companies that actually offer travel stipends as a benefit of employment. Double win!
7. You can make global connections.
Remote work has benefits for both workers and employers. Thanks to location independence, employers can hire the best talent from all over the world. As a remote worker, it is likely that you e-meet a lot of people from different parts of the world even if you work for a small enterprise.
8. You put your mental health first.
According to FlexJobs, 86% of employees think that remote work reduces stress. This is not surprising because commuting every day, the office drama, and the 9-to-5 routine can be quite stressful. Remote work gives you the possibility to work from your comfort zone. By working remotely, you also have more time for yourself which would also help with your mental health.
9. You have higher job satisfaction.
Spotify says that work isn't something you come to the office for, it's something you do. The company announced its work from anywhere initiative in 2021 and had the lowest turnover rate in its history only a year afterward.
Being able to choose your hours brings higher job satisfaction and just like the Spotify example, you feel more valued by your company.
10. You have more opportunities.
Job hunting can be extremely stressful, especially if the geographical location is a constraint. Not everyone has the possibility to relocate often. If you're a job seeker, why not consider a remote position? It can be a great way to work for an international company and set your own schedule. Self-employment is also an option, especially if you have an entrepreneurial mindset.
Are you ready for your next remote job?
Now you have to deal with the logistics—how will you organize your workspace? Where will you be staying? How long do you want to stay there? What equipment do you need? With Anyplace Select, you can find furnished accommodations tailor-made for remote workers that include an equipped home office setup. And all apartments have fast WiFi and a hassle-free move-in process.
---
Where to next? Find monthly rentals designed for remote workers on Anyplace.
remote work benefits
remote work travel
work from anywhere