The Importance of An Intentional Workspace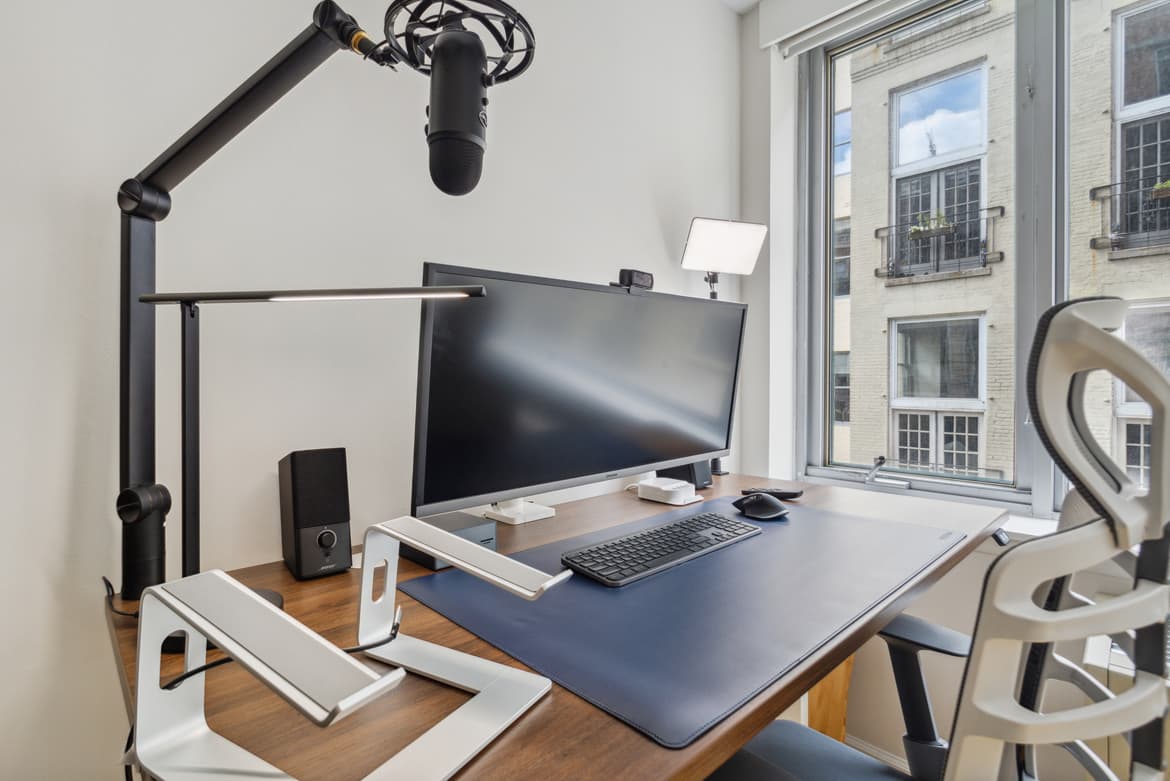 We spend a considerable amount of our time working. According to Jessica Pryce-Jones, author of Happiness At Work, the average worker spends 90,000 hours at work over a lifetime. Given all this time spent at work, there is no doubt that our work affects our lives.
While it is important to choose a satisfying job, there are more factors to consider for a happy work life. One of these factors is the workspace itself, especially for remote workers who don't have a set office. According to Buffer's State of Remote Work Report in 2022, 25% of remote workers find it difficult to unplug and 20% end up working more. Creating an intentional workspace might help remote workers leave work at work and be more productive.
What is an intentional workspace?
An intentional workspace is about having a dedicated place for working. This helps remote workers separate their work and their personal life and overcome some common challenges of remote working. One of the reasons some remote workers feel like they are working all the time is that they don't have to commute to the office. If they are logged in to their work email all the time, they're technically at the office in permanence.
Not being able to disconnect from work can cause burnout and make workers lose motivation. In this case, having an intentional workspace can help. Imagine having a separate desk where you only do work and at the end of the work day, you leave it, sign out of your work email, and mute notifications. Or going to your favorite cafe to work, and going back home when you're done with work.
What are the benefits of having an intentional workspace?
1. Having a dedicated workspace can make you more productive.
Having an intentional workspace can help eliminate distractions. Firstly, you can define where your workspace is and then customize it according to your needs. You can do this by organizing your desk in a particular way, making use of digital tools to stay focused, or even changing your screensaver.
Research has shown that gazing at nature makes us more productive. This includes changing your screensaver to a photo taken in nature. Other ways you can improve your productivity at your workspace are making sure that you have the right equipment, making a checklist of things to do, or getting dressed as if you are going to the office especially if you're working from home.
2. An intentional workspace can help with your motivation.
You can set work hours to prevent overworking. It will be much easier to respect them if you have a dedicated workspace. You can experiment with different types of decoration to see what motivates you the best—maybe it's a minimally-decorated environment or maybe it's keeping an inspiring photo nearby to look at.
Using the right tools to organize your work day can also motivate you to keep going with work. Many remote teams use digital tools for communication, time management, and collaboration.
3. You can choose where to work or how to create your workspace.
You know yourself best! You can change your workspace, adjust it, or even have several workspaces at once—at home, in a coworking place, or in a cafe.
Having an intentional workspace is also important for people who work while traveling aka digital nomads. Just like people who have a home base, they can also mix and match different places to create an intentional workspace. This way, they can be more productive at work and have more time to organize their travels.
Where to have a temporary or permanent workspace
Home
Whether it's your home base or somewhere you're planning to spend a couple of weeks for a workation, you need to make sure that you have everything to help you stay productive, such as a fast, reliable WiFi connection and the right equipment.
There are even housing platforms, like Anyplace, that are built for remote workers and others who work while traveling. All of the apartments have a fully-equipped office setup including a standing desk, ergonomic work chair, ultrawide monitor, keyboard, and mouse. They also have a webcam, microphone, key light, and collapsible green screen for those who hold video meetings for work.
Coworking spaces
Whether you're working from coworking spaces all the time or you go there for a change of air, it's a great option to work and socialize. You can meet like-minded people and have the chance to network. No matter where, a good WiFi connection, a tastefully decorated environment, and a comfortable workspace are guaranteed.
Hybrid offices
Hybrid working can be the solution for those who want flexibility but are not quite ready to go full-time remote. Some hybrid companies optimize their offices by creating different rooms for different activities such as video conferencing rooms, coworking spaces, meeting rooms, and quiet areas. There are also some hybrid companies that offer additional facilities such as childcare services and social areas.
Working while traveling
If you're working while traveling, the world is your oyster! There is an endless amount of places you can work as long as you have your digital nomad gear with you. Bringing the right equipment is also a huge part of being able to create an intentional workplace while traveling.
Obviously, a laptop or computing device is the most important piece of the puzzle, but there is additional office gear that can help increase productivity. Common items would be a wireless mouse and keyboard, a laptop stand, headphones or AirPods, a docking station, and travel adapters.
Where will your next workplace be?
Your apartment? A common area of a hotel? A coworking space? Local cafe? Set up your intentional workplace at your home base or at your new destination! Feel free to experiment to see what works best for your productivity and enjoy the flexibility remote work can offer.
---
Where to next? Find flexible month-to-month rentals across the globe on Anyplace.
home office
intentional workspaces
productivity hacks
remote work productivity