16 Best Remote Work Tools Every Distributed Team Needs
When you work remotely, you need to connect, collaborate, create content, and—sorry to disrupt the alliteration—be productive. Thankfully, you can find an abundance of unique apps and tools online to help boost your overall productivity, while also helping you collaborate and connect with others.
In this article, I will unravel the best collaboration tools to help you stay connected and organized with your team. As well as introduce you to tools that can help you polish your content—you may not be a content writer, but every business needs to have proper grammar, right? I will also detail helpful, practical apps that may work to make your digital nomad lifestyle a little easier.
Are you ready to get started? Read on to learn more about the best apps and tools for remote workers and teams.
Collaboration Software for Remote Work
Is it possible to connect with your clients or coworkers while abroad? Yes, it is—and you don't necessarily need email to do so. Why email back and forth, when you can chat with your team, organize assignments, detail content via collaboration apps? Let's take a look at some collaboration apps that will help to make your life as a location independent worker much simpler, and more efficient.
1. Slack
Be in constant communication with your team via Slack. You can create a variety of channels, where your team can discuss specific topics; it kind of works similar to an online forum, but with many more options. On the plus side, you can send direct messages to members of your team, too. And you can perform team management actions on Slack: manage and assign projects, and track contracts.
What's Slack's most helpful feature? Its instant messaging, forum-like lay-out.
2. Trello
Trello gives you a chance to not only collaborate with your team but to set-up to-be-posted content via boards and cards. Once you approve or finish a post, you can create a separate board for completed content. It's a well-organized, easy-to-use project management tool.
What's Trello's most helpful feature? You can organize your content via boards and cards, while also chatting and collaborating with your team on each post.
3. Basecamp
Looking for a platform where you can delicate tasks, and stay up-to-date with the progress of ongoing projects? Considering using Basecamp. With to-do-lists, calendaring, due dates, and file-sharing, it provides a way for teams to keep track of priorities and actionable items.
What's Basecamp's most helpful feature? You can assign projects to certain members, chat with coworkers, and organize meetings.
4. Workplace by Facebook
Workplace encompasses similar features to Basecamp, but it differs ever so slightly. You can use the tool to assign tasks, check out the newsfeed of your fellow workers (this is a Facebook product, after all), and chat via video. The design looks exactly the typical Facebook layout you use for your personal account
What's Workplace's most helpful feature? The live video tool. You can call your team from anyplace, anywhere via your smartphone.
5. Skype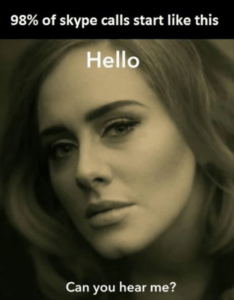 Skype may have its issues (Adele knows), but it's still a useful app. You can chat with your team via instant messaging or video chat. You can also easily share your computer screen with your recipients to help highlight, demonstrate, or explain the point you want to communicate.
What's Skype's most helpful feature? The screen-sharing tool.
6. Scoro
Looking for an app that enables you to effectively create bills and invoices from a remote location? Scoro might be right up your alley. Not only that but this collaboration tool allows you to manage tasks and projects, track upcoming events, keep tabs on completed assignments, and pay attention to overdue projects.
What's Scoro's most helpful feature? Its ability to manage billing and invoices—these are always a pain to create and track.
7. Zoom
Need to host a video conference with your employers? Zoom is tops for this. When you use Zoom, it feels like you're attending a real-life conference room—even though you are communicating through a screen.
What's Zoom's most helpful feature? The video conference feature.
8. ProofHub
ProofHub is a project management app that helps teams organize projects to stay on top of deliverables and deadlines. You can discuss plans, create notes and to-do lists, lay down Gantt charts, and calendar milestones and daily tasks. It also integrates with other popular tools such as Google Drive and Dropbox, which is a plus.
What's Proofhub's most helpful feature? Task management. You can add a lot of detail to tasks, including estimated time to completion, labels, and more.
Content and Writing Tools for Remote Work
A large number of digital nomads and location independent workers spend a lot of their time composing content, whether for a personal blog, social media captions, or as a hired writer. The tools and apps below can help you to sharpen your content, improve total productivity, and turn in plagiarism-free work.
9. Grammarly
Most of you have likely heard of Grammarly by now, but if not, you need to get this browser extension! It's a super useful tool that highlights incorrect spelling and helps you turn in error-free work (and emails). You can switch from British English to Canadian English to Australian English to American English, which can come in handy, depending on your employer or client.
The premium service will show you specifically which sentences or words need adjusting, while the free service unveils if your work has complex sentences, odd word choices, or misuse of punctuation like semi-colons, but you have to figure out the location of your errors littered within your content on your own. The free service will show you basic errors thought, like spelling mistakes or if you used has when you should have used have.
What's Grammarly's best feature? Its ability to help you send in work free of mistakes, and restructure awkward, poorly written sentences.
10. Copyscape
You wouldn't want to accidentally send in plagiarized work, would you? No way! Thankfully, Copyscape scans your content for plagiarism, just in case.
What's Copyscape's best feature? Simply put—it checks your work for plagiarism.
11. Google Drive
Most digital nomads and remote workers use Google Drive, and for good reason. It's a great way to keep your documents organized in the cloud and access it wherever you might be. You can separate your work into different folders and easily share with friends, colleagues, clients, or anyone you want—whether they have a Gmail account or not. You can even share a link to your document with people who have no clue how to use Google Drive 😎
Oh, and everything automatically saves as you work on it. You can even work on documents and files offline. It's a great, easy-to-use program, and if you aren't currently using it, I'd give it a try.
What's Google Drive's best feature? Store and share documents, spreadsheets and files on Google Drive.
12. Distraction-Free Mode (Google Docs)
Do you get distracted when you write? It's definitely harder to focus some days than others. But The Distraction Free Mode browser extension was created to help you focus. Most content writers spend a lot of time composing articles and blog posts via Google Docs, and this free add-on works to block out distractions. It's a win-win!
What's Distraction-Free Mode's best feature? It helps you work without distractions.
Practical Apps for Remote Workers
The following apps can help to make remote work a little easier and a little more organized.
13. WiFi Map
Digital nomads survive off WiFi! It's our livelihood—without it, we wouldn't be able to sustain the lifestyle. Thankfully, WiFi Map searches for nearby locations with WiFi. The best part? It provides the passwords for you.
How does it work? Well, people that use the app share passwords to nearby WiFi networks with others using the app. So simple, but so amazing.
14. Google Translate
It can be tough to communicate with locals who speak a totally different language than you, especially if you don't know it at all. What can help? Enter: Google Translate. Just snap a photo of a sign written in a foreign language, and Google will translate it into your language of choice.
But that's not all.
You can also speak into your microphone and Google will translate your words. Pretty cool, right?
15. Momentum
Is your to-do list growing? Consider getting the free browser extension, Momentum, which allows you to record your tasks at hand.
Every time you open Google Chrome, Momentum will pop up as your homepage, revealing your to-do list. When I get a new assignment or task, I jot it down on Momentum. It's always my point of reference when I'm working!
16. Every Time Zone
Is your team situated all over the globe? Every Time Zone can help you see the location and time zone of each member on your team.
It's unreasonable to assign a task due the same day during your morning when the recipient likely clocked off at 5 pm their time. Thankfully, Every Time Zone can help you know when to assign projects or due dates.
It's essential for you—as a crafty location independent worker or digital nomad—to use apps and tools that can help boost overall productivity and keep you connected with your team spanning different time zones. Plus, why waste time being inefficient when there's an exciting, vibrant, lively culture a few steps away from your computer screen?
The tools and apps listed in this article can help you get your work done so you can have time to explore, socialize, and bask in your surroundings. So, let's get to it!
What are your favorite productivity-boosting, collaboration-made-easy apps, and tools to use? Share your suggestions with your fellow digital nomads in the comments below.
---
Where to next? Find flexible month-to-month rentals across the globe on Anyplace.
remote work productivity
remote work tips