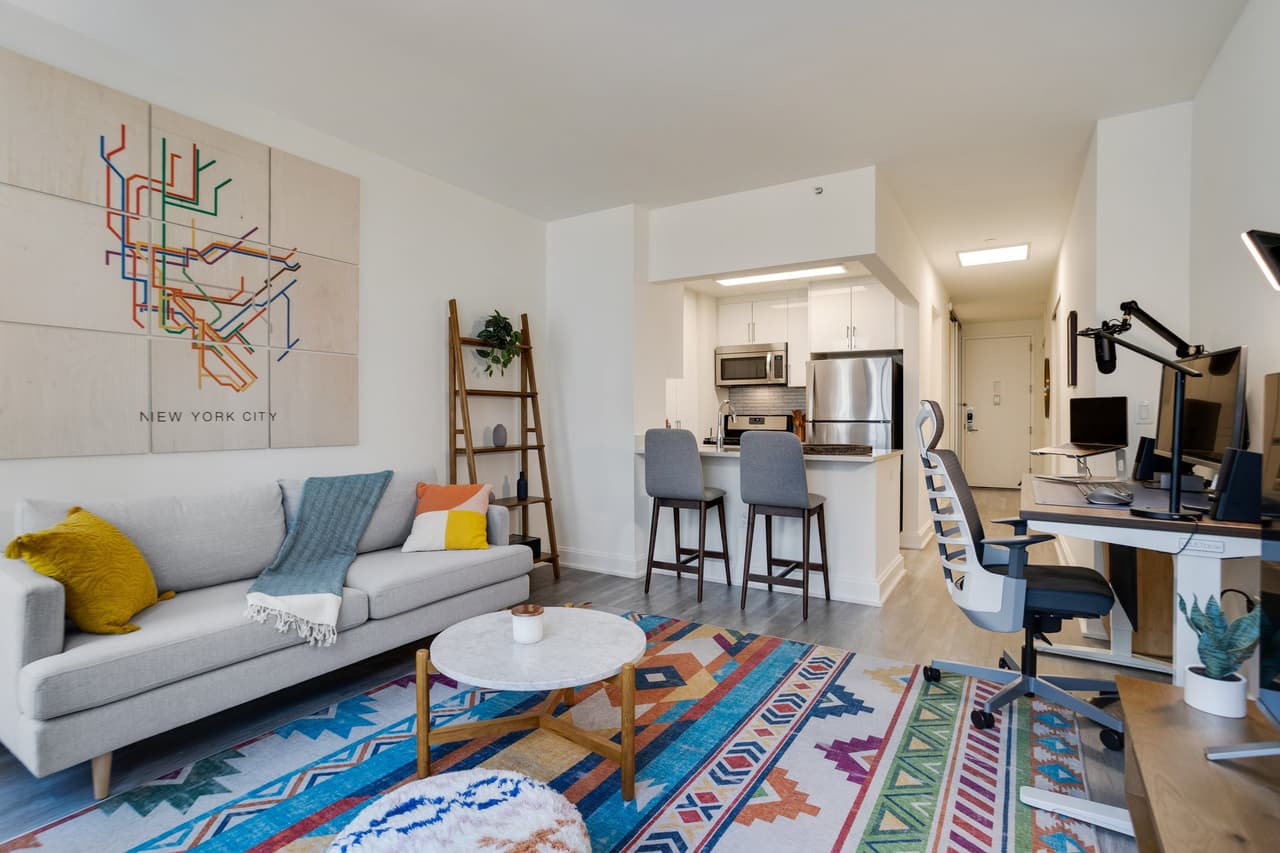 Workation Housing
Book an apartment designed specifically for workations. Furnished and move-in-ready with an equipped home office.
Find Workation Accommodation in the Best Locations
Anyplace offers accommodations built for a work-from-anywhere generation.
San Diego

New York City - Manhattan

Los Angeles

San Francisco
Apartments for workations with a fully equipped office setup
Level up your remote work with luxury accommodations that come prepped with an equipped home office and high-speed internet.
Desk setup & high-speed internet
Ultrawide monitor, standing desk, work chair, keyboard, mouse, and gigabit internet.
Video conferencing setup
Webcam, microphone, key light, and collapsible green screen.
Flexible-term & fully furnished
No long-term commitments and move-in-ready accommodations.
Workation? What's That?
A workation, sometimes spelled as workcation, is a working vacation. During this period, people taking a workation mix both business and pleasure in an effort to make their job a bit easier and explore new locations. They may visit places they've never been before or head back to a favorite vacation spot. When on a workation, individuals work remotely away from their normal home. Location doesn't necessarily matter so long as you are working away from the city you live in. Many people enjoy taking a workation to tropical paradises or large metropolitan cities. The important thing to remember is that, while a workation can be anywhere in the world, WiFi is still essential. As a workation is a blend of vacationing and working, high-speed internet is integral since work still has to be completed. Typically, people handle workations in one of two ways. The first way is that remote workers will work part of the day – maybe even their usual 9-5 hours – and then enjoy their new destination for the remainder of the day. The second approach is that people will set a list of goals, sometimes taking days to complete, and then enjoy the rest of their workation once all the work has been completed. Both are excellent methods to enjoy a workation – it will mostly depend on how flexible your work arrangement is.
Could You Benefit from a Workation?
Believe it or not, there are a wide variety of people that could not only take a workation, but truly benefit from one! While there are many ways to orchestrate a workation, here are just a few of the scenarios.
Adding an Extension To Your Vacation
One of the worst parts of ending a vacation is having to return home and go back to the office. One way to undertake a workation is simply extending your vacation! More often than not, people have to return to work because they either don't want to take another week off of work or they simply cannot afford to. By extending your current vacation and working during this extension, you will still be making money, won't have to miss any additional time, and will still be able to enjoy your paradise of choice.
Choose to Travel Abroad
Traveling abroad has become an increasingly popular option among workers as a way to relieve stress and explore the world while not missing any work. Oftentimes, individuals will choose to work full-time during their normal work schedule and then travel during their off-time. While this trend has been popular in European countries for years, it has become increasingly more popular within recent years in the United States as its citizens are able to work remotely and decide to combine their work with travel.
Visit Family or Friends for Elongated Periods of Time
Sometimes, family or friends can be located miles away or in an entirely different country. In these situations, it's almost impossible to take a short trip to visit as it's not feasible both in terms of budget and time. In these cases, it's a great idea to turn your trip into a workation. By converting a visit to family or friends into a workation, it allows you to keep up with your workload while achieving the personal satisfaction you desire from the trip. As most times the people you are visiting have to work as well, you can complete your work digitally while they are gone to work and then enjoy their company once both of you are done. It's a fantastic way to get quality time in without having to sacrifice PTO or a paycheck.
Enjoy Your Long-Distance Relationship
When in a long-distance relationship, it can be extremely difficult to make time for each other. As individuals often have different work schedules and could potentially be in very different time zones, even finding time to talk on the phone can be difficult. By turning a visit to a significant other into a workation, you are able to reap the best benefits from both worlds. During a workation, neither person in the relationship has to put their professional career in jeopardy. Similar to visiting a family member or friend, one person will continue to work their regular job – potentially at an office – while the other will be on a workation. When the work day is through, both will be able to spend time together.
Become a Digital Nomad
Being a digital nomad is by far the easiest way to enjoy a workation. Digital nomads rarely stay in one place for too long, and frequently move from city to city, often with no true end destination or timeframe for how long they'll be gone. By consistently traveling, digital nomads can maximize the vacation side of their workation while still getting all their work done and continuing to make a comfortable lifestyle in any location. Digital nomads do not need to have a particular career in order to live this life and take a semi-permanent workation. Digital nomads, while often working in the fields of copywriting or vlogging, are not defined by career. Digital nomads are simply those that work while perpetually traveling. Virtually any job that can be performed remotely can make you into a digital nomad, and it's a surefire way to engage in a long workation.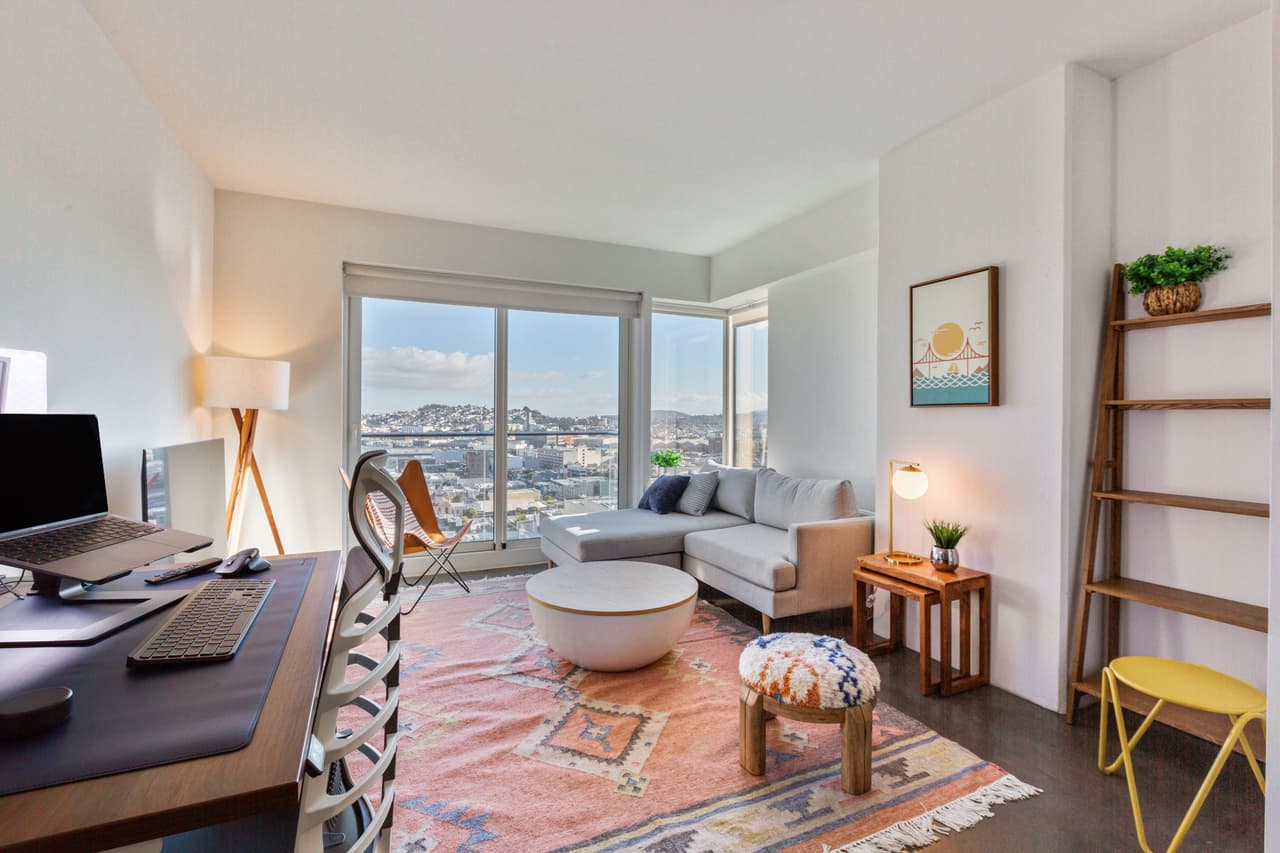 What are the Benefits to a Workation?
For those who choose to take a workation, there are a variety of benefits that aren't apparent on the surface.
You Don't Have to Burn PTO
To start with, for those that work in an office each day, a workation allows individuals to travel the world while not using up any paid time off (PTO). While some individuals do not have an option but to use paid time off, those that can work remotely can save that time for a special trip or an emergency.
Travel on Your Schedule
The second benefit is simple: you can travel for longer than what you otherwise could. Traditional vacations are often cut short because travelers have to get back to their desk job, schoolwork, or other responsibilities at home. However, when you're able to bring the office with you wherever you go, you can keep traveling as long as you'd like!
Get Inspired by New Locations
Many people, especially those in creative careers, actually benefit immensely from working on the road. Of course, a workation doesn't mean you'll be working every single second of your day and not getting to enjoy the sites. You'll get to encounter new surroundings and people to interact with, which can really help to get those creative juices flowing and inspire you in your work. Even if you're not in a creative career, you can certainly benefit from a workation and being in a new location for a bit. The change of pace can help fight off burnout and give you an exciting background for your regular work.
Workations = Perfect for Slow Seasons
Not every industry is busy all year long. In fact, it's actually common for many professions to have a busy season and a slow season. When you work in a traditional office, you can feel like you're spending the slow periods not getting anything done and just sitting around twiddling your thumbs. These slower seasons can be the best time to embark on a workation! You can avoid using up all your vacation time, find new inspiration that can bring forth innovative projects, and recharge and reset yourself for when those busy times do come around. After all, once you get busy, you might not be able to leave the office for a vacation – or workation – at all.
Resolve Staffing Issues
Many workers find themselves unable to travel much because of staffing issues within their workplace. Perhaps you're in a situation where you're needed at work because there's merely no one else to cover for you while you're gone. By embarking on a workation, your employer can rest assured knowing you're still doing your job, and you get to explore new locations and enjoy your travels when you otherwise wouldn't be able to get away.
What Exactly is a Workation Rental?
Whenever it's time to find lodging for a workation, there are a variety of factors to keep in mind, chief among them being whether or not your lodging will be suitable for your workation. Sure, it's easy to walk to a cafe or coworking building to get your work done, but there are some days people just don't want to leave, maybe because it's raining, so staying somewhere suited for you is vital. Your workation rental, whether it be an entire home, a personal furnished apartment, a hotel, or co-living space, needs to have a wide berth of amenities for you to maximize your productivity. For a workation, the top item necessary is high quality, speedy WiFi. Plenty of rentals will offer WiFi that crawls at a snail's pace and makes your workation miserable. Renting a space with high-speed, quality WiFi is key to ensuring your trip goes off without a hitch. Other features to look for, while not as crucial, will certainly make your workation rental much more pleasant. The first thing to look for is a rental with a desk. While you could certainly sit on the sofa and work on your laptop, it tends to become uncomfortable over time. And, if you're staying at the rental for a month or longer, you'll definitely want a desk. Another thing to look for is a place that is quiet or at least has a quiet-designated zone. Since you are using your workation rental as your office, the space needs to be as quiet as you prefer. Questions to ask yourself include whether or not you'll potentially hear neighbors and, if so, if there are normally noise complaints, and whether or not your rental is on a busy street.
Workation Rentals Allow for an Energized Work Space
When you're looking for a workation rental, you want a place where you can truly settle in. After all, you'll be staying there for weeks or months on end and making the space both your home and your office, so you want somewhere you can really relax and start to feel like a local in your new area. Booking a monthly workation rental is the perfect place to do just that. Anyplace offers rentals around the world that won't break the bank, and are built for workations. All of our properties are chosen specifically for people who travel and work, so you can be productive in any location. Best of all, you're never more than a few minutes away from the main attractions in the city of your choice. If you'd prefer your privacy and space on your workation, you can rent an entire home or apartment, or if you're looking to meet other travelers to explore your new city, you can opt to stay in a convenient co-living space. No matter where in the world you're looking to travel, from Cancun to Houston to Switzerland or anywhere in between, Anyplace has tons of options, big and small, to suit any traveler for any length of time. It might sound like a dream to simply check into your rental and indulge in some much-deserved R&R, but you'll have exploring to do! Your new destination is sure to be filled with delicious cuisine, fascinating attractions and landmarks, breathtaking hikes, and unforgettable memories. You can spend your down time strolling through the area's museums and cultural attractions, traveling to the outskirts of town to truly get in touch with the local way of life, and head into local cafes and markets to gather fresh ingredients for dinner. Then, return to your inviting workation rental to cook up a one-of-a-kind meal and finally relax. With Anyplace, you're able to easily find any workation rental you're searching for, whether it's a quaint apartment, luxurious hotel, expansive home, or exciting co-living space. We make it easy to find your ideal place to stay, as we have virtually endless 30+ day stays for you to choose from.
Unique equipped workspace built for remote workers
The home office setup that is included in our workation rentals is unlike any other. You'll have a height-adjustable desk, ergonomic chair, ultra-wide-screen monitor, wireless mouse and keyboard, portable green screen for video calls, and additional gear that will help you do your best work.
Get more value for your money by booking a monthly rental
It's easy to take an extended workation when you can lower your nightly rate with 30+ day stays. Every apartment on Anyplace has a full kitchen too, so you can cook your own meals to save even more.
Luxury amenities are plentiful
The workation rentals available through Anyplace feature a wide range of amenities. Depending on what type of property you select, you can have access to features like fitness centers, recreation areas, rooftop terraces, business conference rooms, pools, and more.
Enjoy the comforts of home during your workation
Don't sacrifice your output—combine the productivity of work + travel with all the comforts of home. Lightning-fast WiFi and spacious work areas allow you to be as productive as possible while still staying comfortable and relaxed in your own private space.
The ultimate convenience
Select a workation rental in the heart of major cities across the United States. Close to public transportation, amazing food, and shopping.
Book A Workation Rental Now
Anyplace will help you find the perfect apartment for your workation based on the aspects you're looking for. You can browse accommodations that are already set up with furniture, utilities, laundry, and extra amenities like a pool and gym. All you have to do is reserve online, pay, and move in. And if you like it, you can easily extend your stay online. Forget about endlessly searching on multiple sites and apps to find the ideal spot for your remote work rental. Use Anyplace and choose a corporate rental that matches your preferences, budget, and provides you with the amenities you need for a comfortable stay.
Request a Location
Where would you like to book accommodation for your next workation? We currently have workation apartments in New York City, San Francisco, Los Angeles, and San Diego, but will be opening additional apartments in major US cities on a request basis. Join the waitlist by submitting your preferred budget and location. Rent starts at $3,000/mo in order to provide a quality work environment.