What is an Executive Apartment?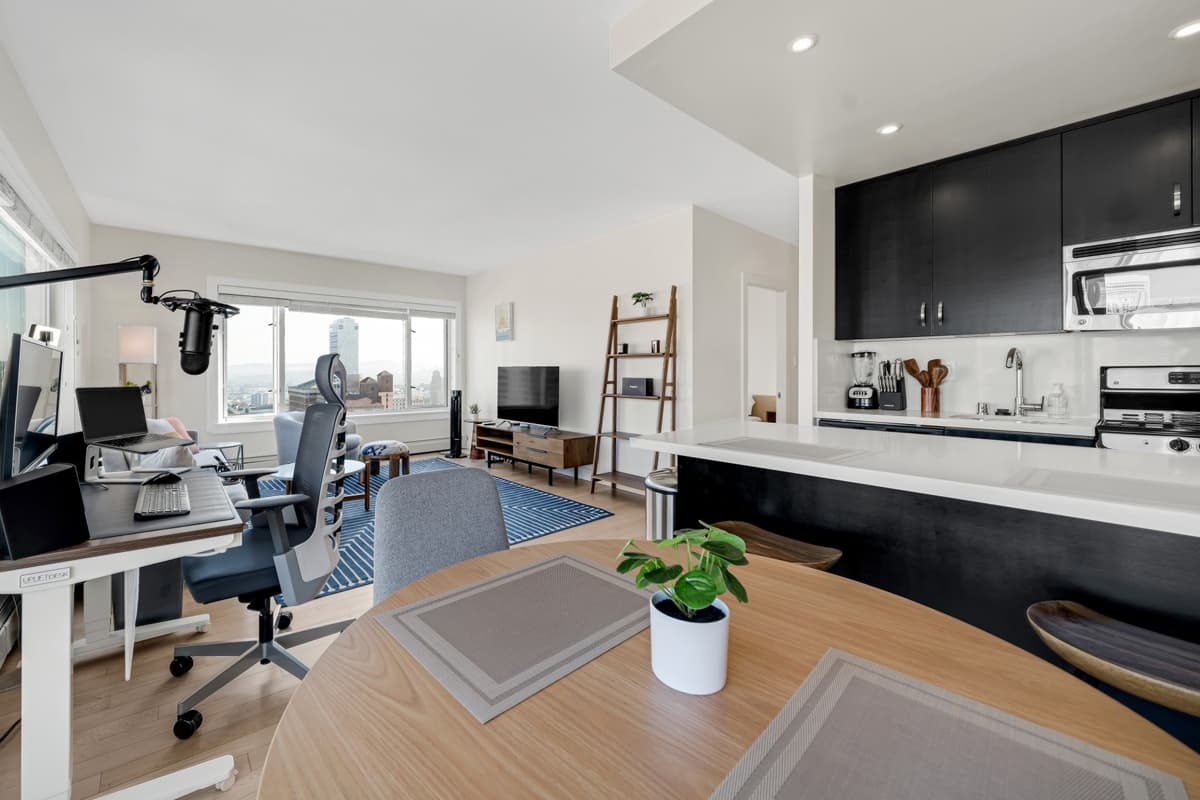 Leisure travelers occasionally opt for the cheapest accommodation, sacrificing niceties and access to special amenities for the sake of affordability. This doesn't necessarily have to be the case for business travelers or remote workers, though, as the cost is frequently covered.
Beyond the duration of stay and location, this group must consider their comfort in the long run. Especially for those that will be working remotely in a new location, high-speed and dependable internet is essential. The space chosen for their stay needs to feel like home and allow them to immediately be their normal, productive self while there.
Unfortunately, a great WiFi connection and a dedicated workspace are not always guaranteed in a hotel. Plus, staying in a hotel for more than a few weeks might be too expensive. To work and live comfortably, executive housing might just be the perfect option.
What is executive housing?
Also known as corporate housing, executive housing consists of flexible-term and furnished residential apartments. Individuals often stay for a minimum of thirty days, and in some cases, much longer. The price of an executive apartment includes rent, amenities, and utilities.
These apartments also have additional services and amenities that traditional apartments don't. For example, housekeeping, resident lounges, fitness centers, and coworking areas are often among these services included. Most executive rentals have an in-unit washer and dryer. And unlike hotels, the apartments come with a full kitchen and appliances.
Who are executive apartments geared for?
1. Corporate employees on a business trip
Thousands of people from all over the world visit popular cities like New York, San Francisco, or Los Angeles for work, sometimes for a long time period. In this case, their employers may opt for booking an executive apartment instead of a hotel room. This is often the best of both worlds — the comfort of a home, and the flexibility of a hotel combined.
2. People who are relocating
Executive housing can be an easy-to-find, comfortable option for those who are relocating and simply need a temporary place to stay. The flexibility of executive homes helps people get a real sense of a city, especially in large metropolitan areas with many different neighborhoods. Testing out a neighborhood for a short span of time helps relocators determine if they want their permanent home to be in that exact part of the city or possibly, somewhere else.
3. Remote workers
Whether they are taking a workation or relocating to a new city, remote workers always need reliable, fast internet and a comfortable workspace. Staying at executive rentals means more space and no more stressing over insufficient WiFi. There are even accommodations designed specifically for remote workers that contain equipped home offices.
4. Entertainment professionals
People that work within the entertainment industry – from actors, artists, film and TV crews, concert technicians, theater performers, and stage crews – often need to be away from their home base for extensive amounts of time. Sometimes, they'll be in a location for a month or longer and will need semi-permanent housing. Executive apartments are an excellent option here, as they provide all the comforts of home plus a sense of normalcy when in a new location.
5. Digital nomads
There are many types of digital nomads. Some change their location every month, while others stay in one destination for months. Digital nomads who do not often move are also called slow travelers, and they are often people who enjoy stability as much as travel. In this case, staying in a hotel for months on end is not a solid choice. A hotel does not give a homely vibe, either, that flexible-term executive apartments offer.
6. Travel nurses and healthcare professionals
Executive apartments available are a great option for travel nurses and healthcare professionals on assignment. These accommodations are move-in-ready and available on a month-to-month basis, which is ideal since many assignments are for 3 months or shorter, and signing a year-long lease is not practicable. Executive housing comes furnished with a full kitchen, letting nurses and healthcare workers quickly acclimate and hit the ground running.
Why stay in executive apartments?
Executive apartments offer comfort, value for money, amenities, and flexibility. Here are 5 advantages of staying in such apartments for your next destination, business trip, or workation:
1. It's cheaper for long stays.
Imagine if you are planning a thirty-day workation to San Francisco. 30 nights at a hotel that doesn't have a kitchen means at least 60 meals out. If you have an apartment to yourself, you can cook and save money. Plus, steadfast WiFi is guaranteed which means less money is spent on coworking places or cafes.
2. It's ideal for remote workers.
A proper executive apartment will be designed for productivity, and come prepped with a workspace or home office for remote working. With Anyplace, each apartment includes everything you need to do your best work – a height-adjustable desk, ergonomic chair, ultra-widescreen monitor, wireless keyboard and mouse, and other office gear – all you need to do is bring your laptop.
3. There are many services, amenities, and benefits.
With an executive apartment, you'll have access to luxury amenities such as in-unit laundry, private gyms, swimming pools, rooftop terraces, and services like housekeeping. Some executive apartments also have other benefits, such as discounts from partner organizations. For example, by booking an executive apartment with a provider like Anyplace, you get discounts from companies such as SafetyWing, Lugless, Neighbor, and more.
4. There's no binding rental contract.
If you decide that the neighborhood is not the right fit, you can move out at the end of your contract. Similarly, you can also extend if you want to stay longer. Be it a workation or your next corporate assignment, having total flexibility always helps.
5. It's a good option for families or couples.
The hotel room will probably feel way too small if both your partner and you are working remotely. Likewise, if you are traveling with kids, you're going to require a bigger space. Staying at a dedicated executive apartment will help you recreate the home vibes and spend quality time with your loved ones in your comfort zone.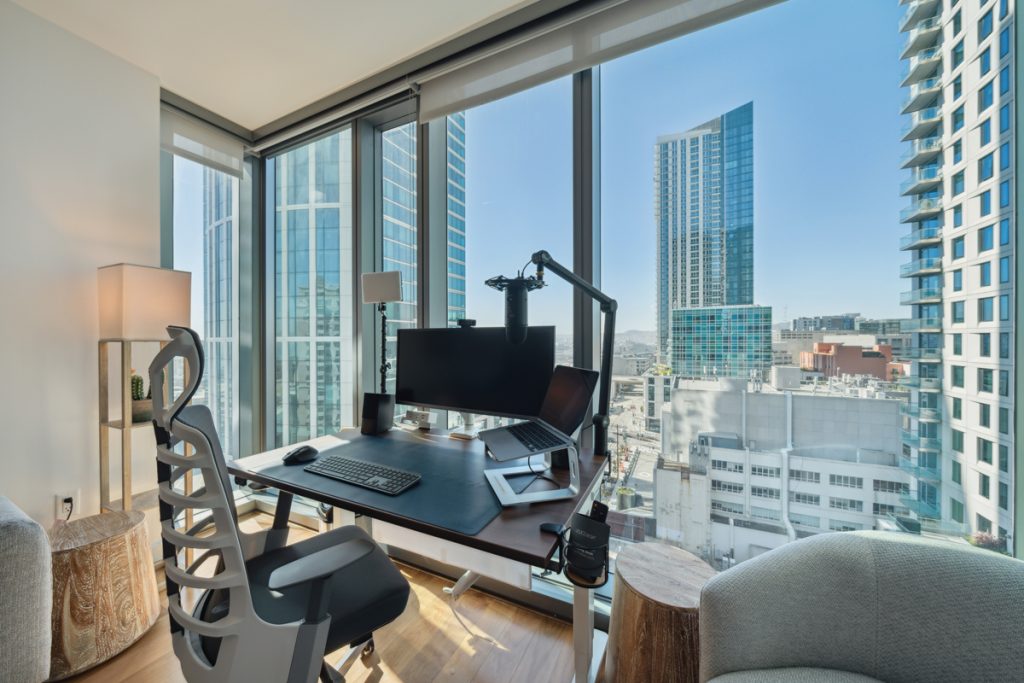 How to find executive housing
It's not difficult to find executive apartments, especially in big US cities. While choosing your apartment, you should keep your needs in mind. For example, someone who will be commuting would put added emphasis on the location of the apartment so it's close to the new office.
For remote workers and digital nomads, the priorities are distinctive — high-speed WiFi, comfortable workspace, and flexible terms above everything.
All Anyplace accommodations are tailor-made for remote workers. This means that in Anplace's executive apartments, you will have gigabit WiFi, an equipped office set-up, and additional services depending on the apartment. Free of lease and paperwork, your next apartment will be move-in ready so that you can enjoy your next destination and continue working remotely.
An executive apartment can be your home away from home
Instead of being stuck in a small room with no space for yourself, why not try a spacious studio or an apartment for your next adventure?
---
Where to next? Find monthly rentals designed for remote workers on Anyplace.
executive apartments
executive housing
remote work accommodations