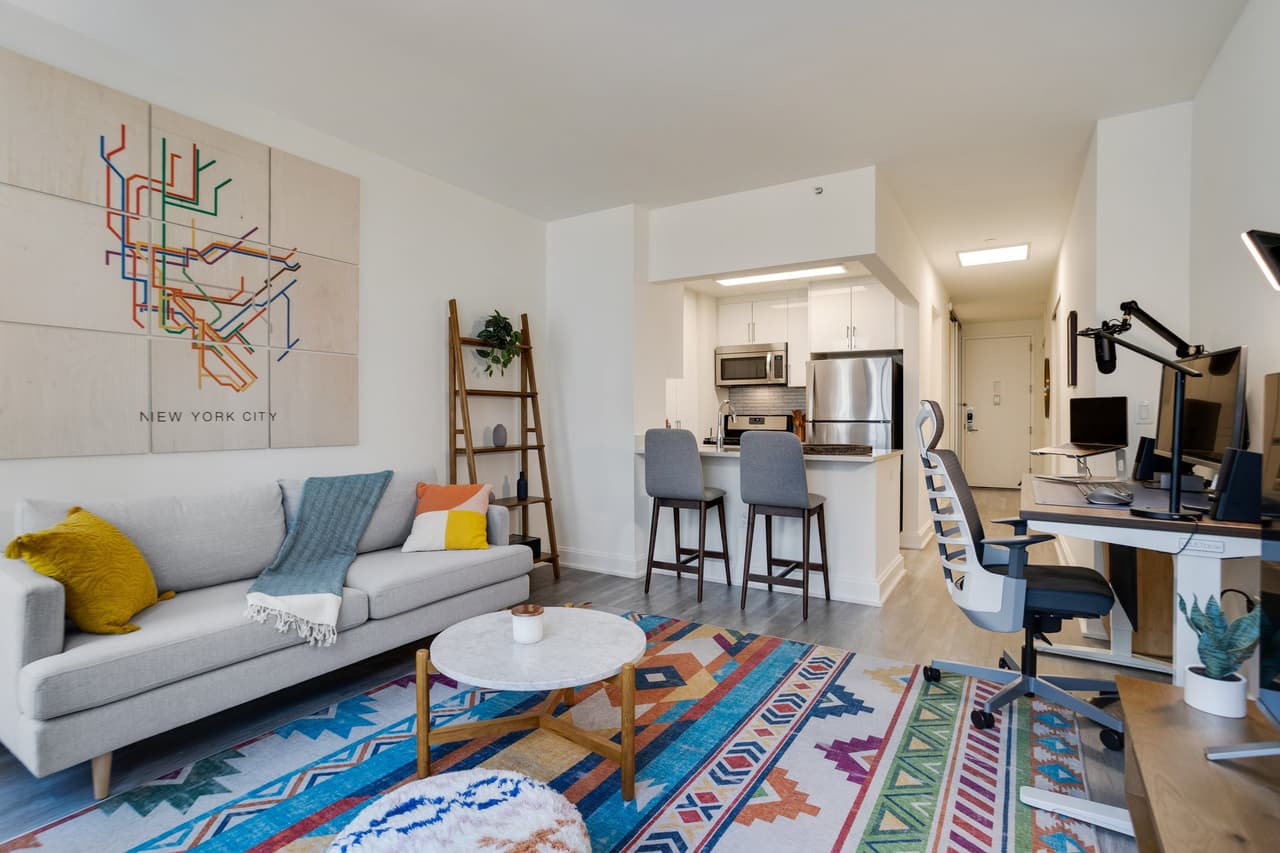 Luxury Apartments in San Francisco
Book a furnished luxury apartment in San Francisco for 30 days or longer. Includes an equipped home office and high-speed WiFi.
Furnished Luxury Rentals in San Francisco
Anyplace offers accommodations built for a work-from-anywhere generation.
Luxury apartments in San Francisco with an equipped workspace
Level up your remote work with luxury accommodations that come prepped with an equipped home office and high-speed internet.
Desk setup & high-speed internet
Ultrawide monitor, standing desk, work chair, keyboard, mouse, and gigabit internet.
Video conferencing setup
Webcam, microphone, key light, and collapsible green screen.
Flexible-term & fully furnished
No long-term commitments and move-in-ready accommodations.
Stylish Stays in San Francisco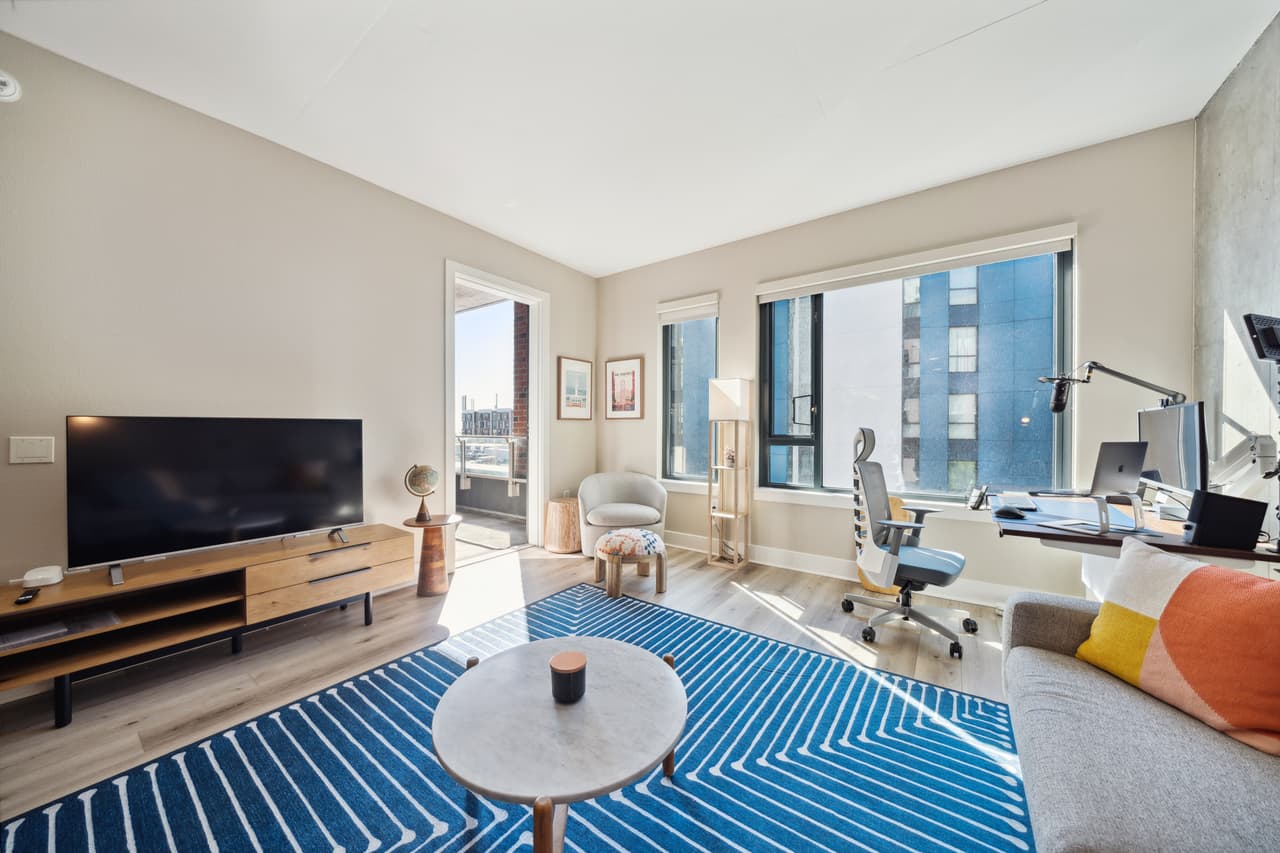 Convenience is key.
With luxe rentals in popular neighborhoods across San Francisco, such as Nob Hill, the Mission District, and SoMa, you'll be within walking distance of restaurants, bars, coffee, shopping, and public transportation. Did we mention the incredible city views, too?
Luxury and comfort.
Our buildings have everything you need for a comfortable and memorable stay. Depending on the location that you choose, you'll have access to private gyms, swimming pools, yoga studios, sun decks, rooftop lounges with incredible views, rec rooms, and business centers.
Modern professional workspace.
Each of our San Francisco luxury apartments features an equipped workspace that you won't find in any other rental. It includes a height-adjustable desk, ergonomic chair, widescreen monitor, a green screen for video calls, and additional office gear. Just bring your laptop and plug in.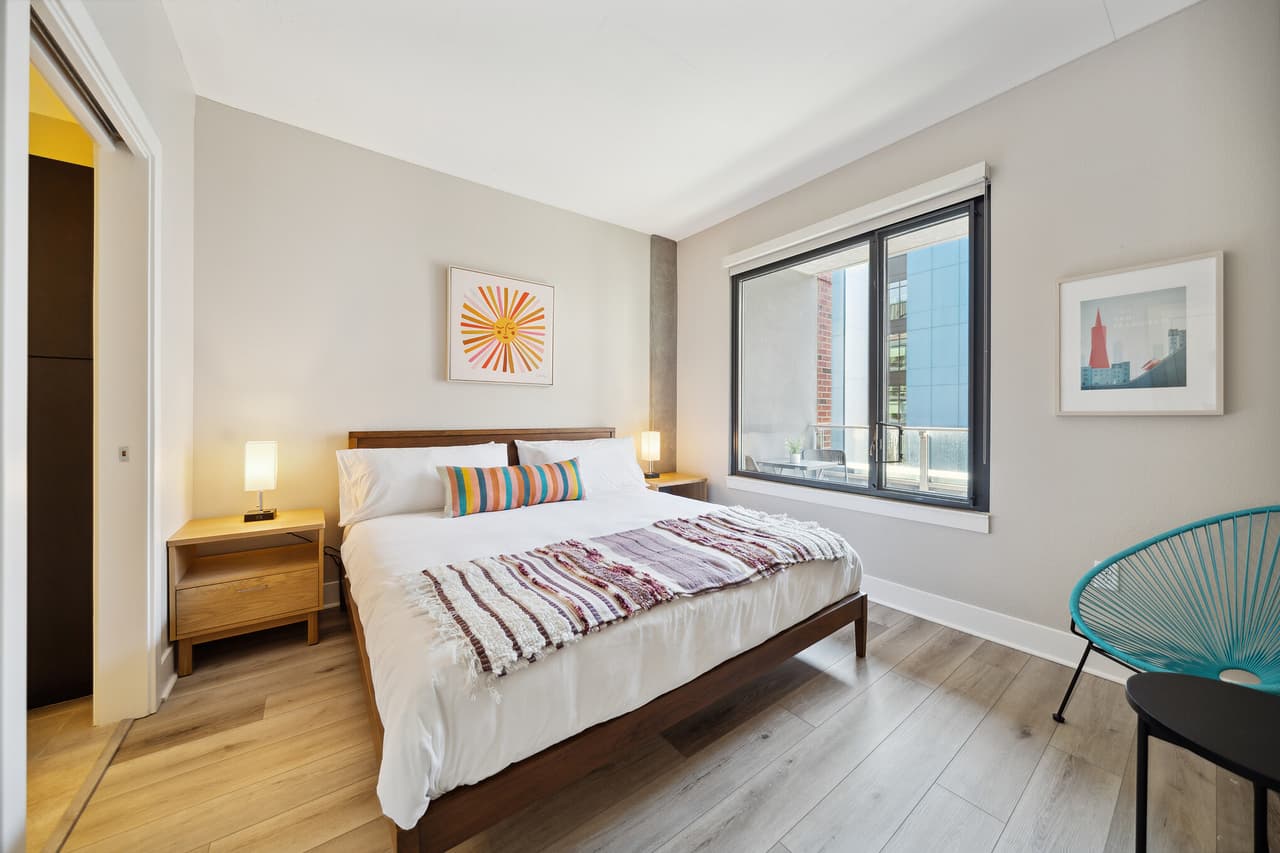 Short or long-term stays.
Flexible terms give you the freedom to move in and out when you want. Book a luxury apartment in San Francisco for 30 days and live on a month-to-month basis, or decide to extend for a longer duration at any time.
Amenities
About San Francisco
Affectionately referred to as "San Fran," San Francisco is a bustling metropolis on California's Central Coast. This city of 873,000 people was founded in 1776, but it wasn't until the Gold Rush of 1849 that San Francisco truly made it onto the map. Today, this city is known for its iconic landmarks, rolling hills, and unique architecture. No trip to San Francisco would be complete without admiring the Golden Gate Bridge and taking a ride on the cable car. Make your way through Chinatown or Fisherman's Wharf to experience San Fran culture at its finest. Luckily, you won't have to worry about transportation, as San Francisco is widely considered to be one of the most walkable cities in the United States.
Luxury Apartments in San Francisco By Anyplace
Discover the best furnished luxury apartments in San Francisco, carefully curated by the Anyplace team. Our rentals come ready with everything you need for an amazing stay: top-of-the-line furniture, a stocked kitchen with a dishwasher, premium appliances, an in-unit washer and dryer, deluxe coffee machines, a Smart TV, and tasteful art and colorful touches of decor. You'll also have high-speed internet and an equipped home office, making our luxury apartments in San Francisco ideal for corporate executives and travelers with extended business, professionals on contracts, diplomats, and ex-pats looking for premium housing. More preferable to extended hotels, you'll not only have increased privacy and plenty of the same exceptional amenities, but often, you'll find it is more cost-effective than an extended stay in a luxury hotel. Relocating or staying in San Francisco has never been easier. Our luxury apartments are move-in ready from the moment you arrive – you simply need to bring your suitcase. And you don't have to worry about leases, either. You can rent for 30 days or longer, giving you the flexibility to stay or move to another location whenever you want. Whether you're a corporate employee, executive, or simply looking for permanent housing in San Francisco, Anyplace has the perfect luxury apartment.
The Anyplace Experience in San Francisco
We want you to have an amazing time in San Francisco. Our goal is to make that a reality – from the moment you step foot in your Anyplace apartment to the time that you leave. We've hand-selected our buildings, apartments, and furnishings to ensure you'll immediately feel at home. But that's just the start. Here are a few other details that really sets Anyplace apart from other luxury rentals in San Francisco.
Custom Home Office and Gigabit WiFi
Our apartments are designed for productive people. Each one features an equipped workspace that tops anything you'll find in an office, coworking space, or on other rental websites. You'll have a height-adjustable desk, widescreen monitor, wireless mouse and keyboard, collapsible green screen, microphone, and more, along with gigabit speed internet.
Private Gym, Business Center, Lounges
We aim to bring the hotel experience to your stay. Amenities are a huge part of the equation. We've carefully curated our buildings in San Francisco so they are chock full of first-rate amenities. You'll have access to a 24-hour fitness center, a rooftop terrace, multiple lounges, a business center, and a private urban park.
Flexibility for Short-Term and Long-Term Stays
No long-term leases are required. Whether you need a luxury apartment in San Francisco for 30 days, 48 days, 92 days, or much longer, you can book to the day and decide to lengthen when your move-out gets closer.
First-Class Customer Service
Think of our team as your personal concierge—not just support. We have destination managers on-site in San Francisco, and they are available whenever you need them. We're always a text, email, or call away.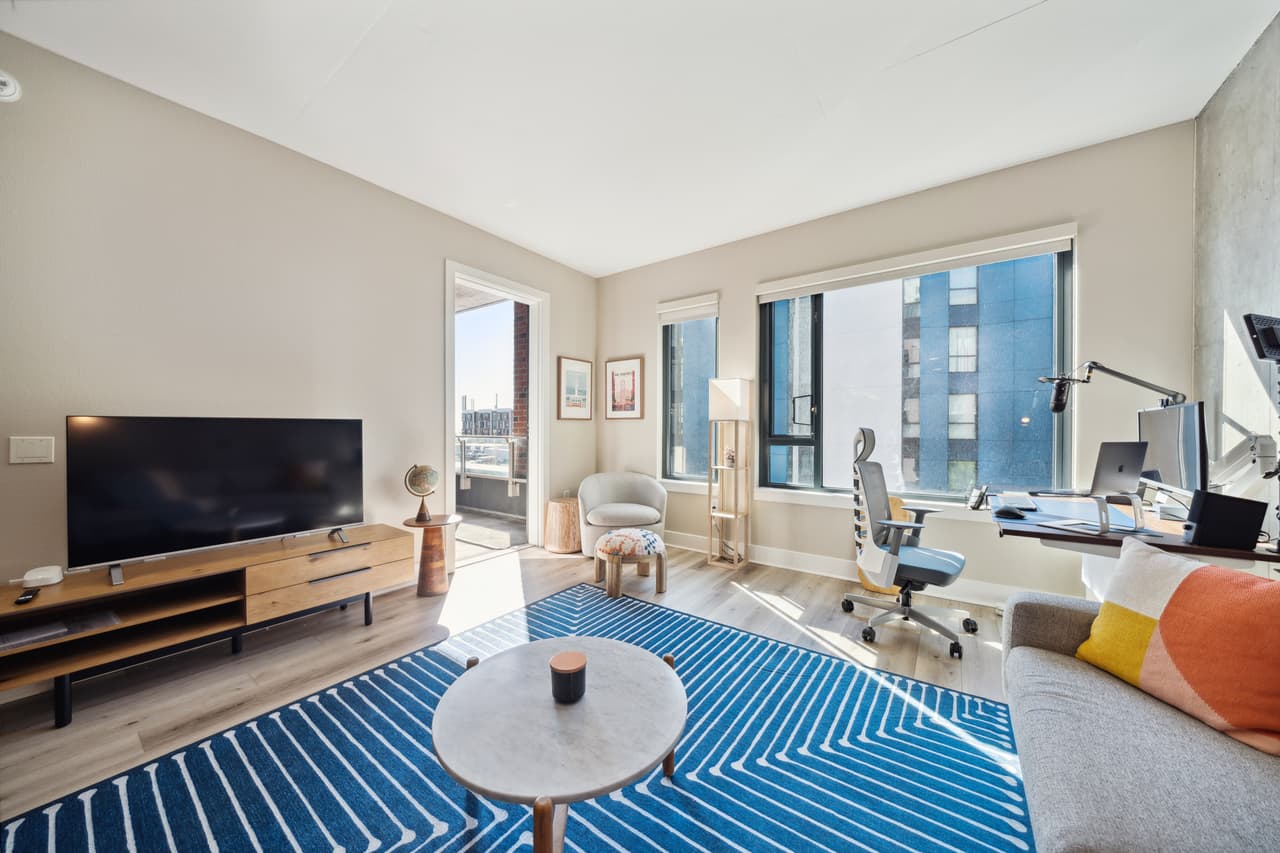 Book A Luxury Rental in San Francisco Now
Browse our selection of luxury rentals in San Francisco that are already set up with furniture, utilities, an equipped workspace, high-speed internet, in-unit laundry, and extra amenities like fitness centers and rooftop lounges. Simply reserve online, pay, and move in.