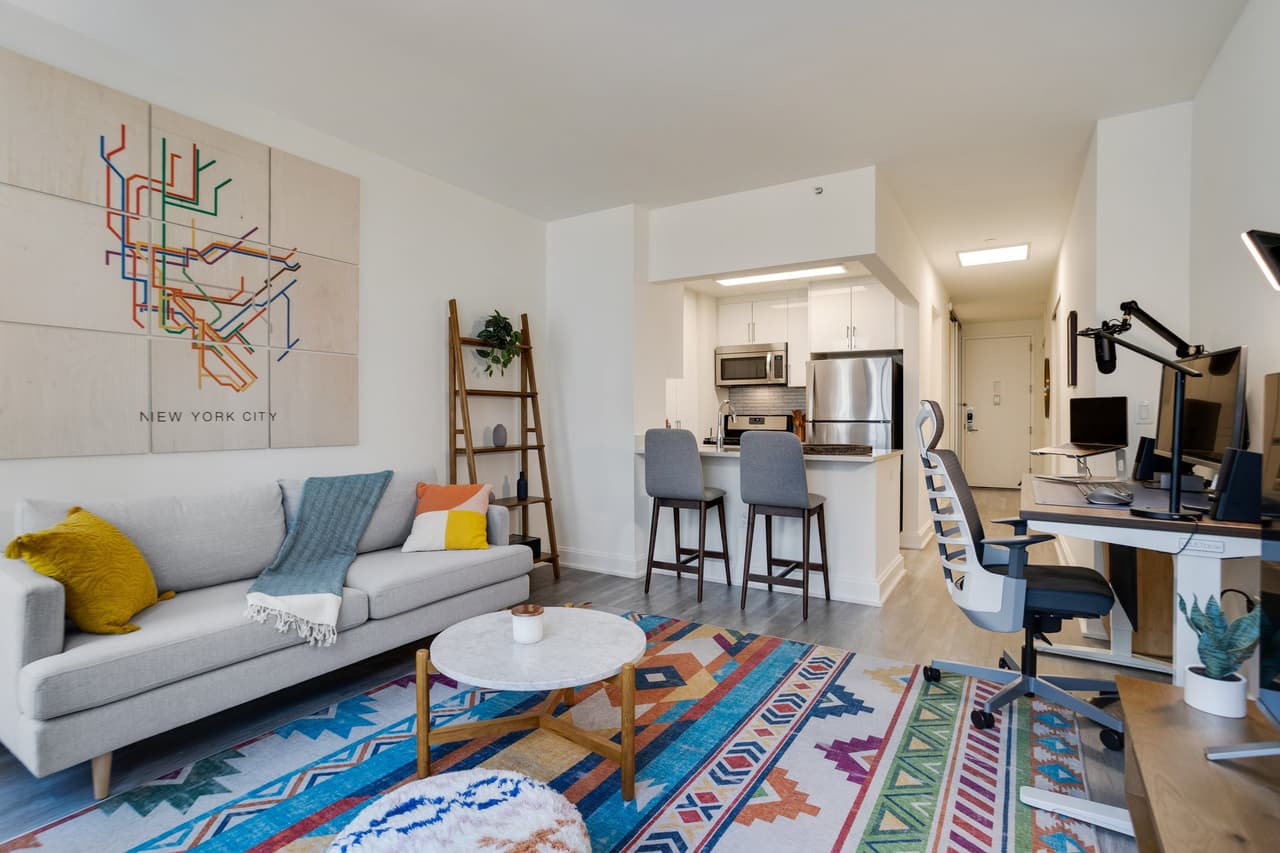 Home Away From Home Rentals
Book rentals that feel like home and are designed for remote workers. Furnished and move-in-ready with an equipped home office.
Find Work-Friendly Apartments with the Conveniences of Home
Anyplace offers accommodations built for a work-from-anywhere generation.
San Diego

Los Angeles

San Francisco

New York City - Manhattan
Furnished apartment rentals with a fully equipped home office
Level up your remote work with luxury accommodations that come prepped with an equipped home office and high-speed internet.
Desk setup & high-speed internet
Ultrawide monitor, standing desk, work chair, keyboard, mouse, and gigabit internet.
Video conferencing setup
Webcam, microphone, key light, and collapsible green screen.
Flexible-term & fully furnished
No long-term commitments and move-in-ready accommodations.
What is a Home Away From Home?
A home away from home is a rental property that feels as comfortable as it is in your own home. It's a place where you can put your feet up on the couch, cook your own meals, and do your laundry whenever you please.
Could You Benefit from Staying at a Home Away From Home?
If you're looking for a rental that allows you to keep a similar routine as you would at home, a home away from home could be for you. Imagine working remotely from an amazing home office, whipping up lunch in a full kitchen, but then going on a sunset walk in the evening. A home away from home will allow you to explore a local community while continuing the routine you're accustomed to.
Flexible-Term Furnished Apartments Rentals
If you're seeking privacy, comfort, and a space that can feel like your own home, renting a furnished apartment is the way to go. With Anyplace, you don't have to worry about long leases either. Every rental is available for 30+ days or longer, and you can opt to extend your stay at any point on your trip. With furnished apartments—as the name implies—everything will be set up for you so you just need to arrive with your suitcase, backpack, and laptop. All apartment rentals on Anyplace include a state-of-the-art workspace too, with a height-adjustable desk, ergonomic chair, widescreen monitor, portable green screen, and additional office gear.
What are the Benefits of a Rental with Home Conveniences?
Choosing a furnished rental that has more of a feeling of a home presents a variety of benefits that you may not realize. Let's dive into some of the perks.
Enjoy the Comfort of Home
If you're looking to explore a new city, but don't want to give up the comforts of your routine such as cooking your own meals, doing your own laundry, or spreading out in a big space, a home away from home could be for you.
Do Your Best Work in a Custom Home Office
The home office setup that is included in our apartments is unlike any other. You may even find that it's better than what you have at your actual home, too! You'll have a height-adjustable desk, ergonomic chair, ultra-wide-screen monitor, wireless mouse and keyboard, portable green screen for video calls, and additional gear that will help you do your best work.
Immerse Yourself in the Culture
Staying in a home away from home rental allows you to immerse yourself in the local culture. Get to know a neighborhood instead of staying in a high-trafficked tourist area full of hotels. Explore the farmer's market, take a yoga class, or enjoy the park with your family. There's nothing like going off the beaten path and learning the ways of the locals.
Get the Privacy You Need
With a home away from home, you often have access to all you need in one space. In many properties you don't have to worry about bumping into staff or fellow guests in the hallways — it's all yours for the duration of your stay.
Enjoy All the Amenities
When you book through Anyplace, everything is prepared for you. You'll have a tastefully furnished living space with a stocked kitchen and in-unit laundry. You'll also have access to luxury amenities such as fitness centers, rooftop terraces with city views, recreation areas, pools, conference rooms, and more. You'll immediately feel right at home at one of our properties.
More Space for Less Money
If you're a family, we get it — sharing one hotel room can easily cause friction while away. A home away from home will give you the space you need when it's time to settle down after a long day of exploring.
Get Inspired by New Cities
Staying in a new city can inspire you to see the world differently. And being able to stay longer than a weekend allows you to explore and live like a local. Whatever place you decide, renting a home away from home will give you a sense of home anywhere in the world.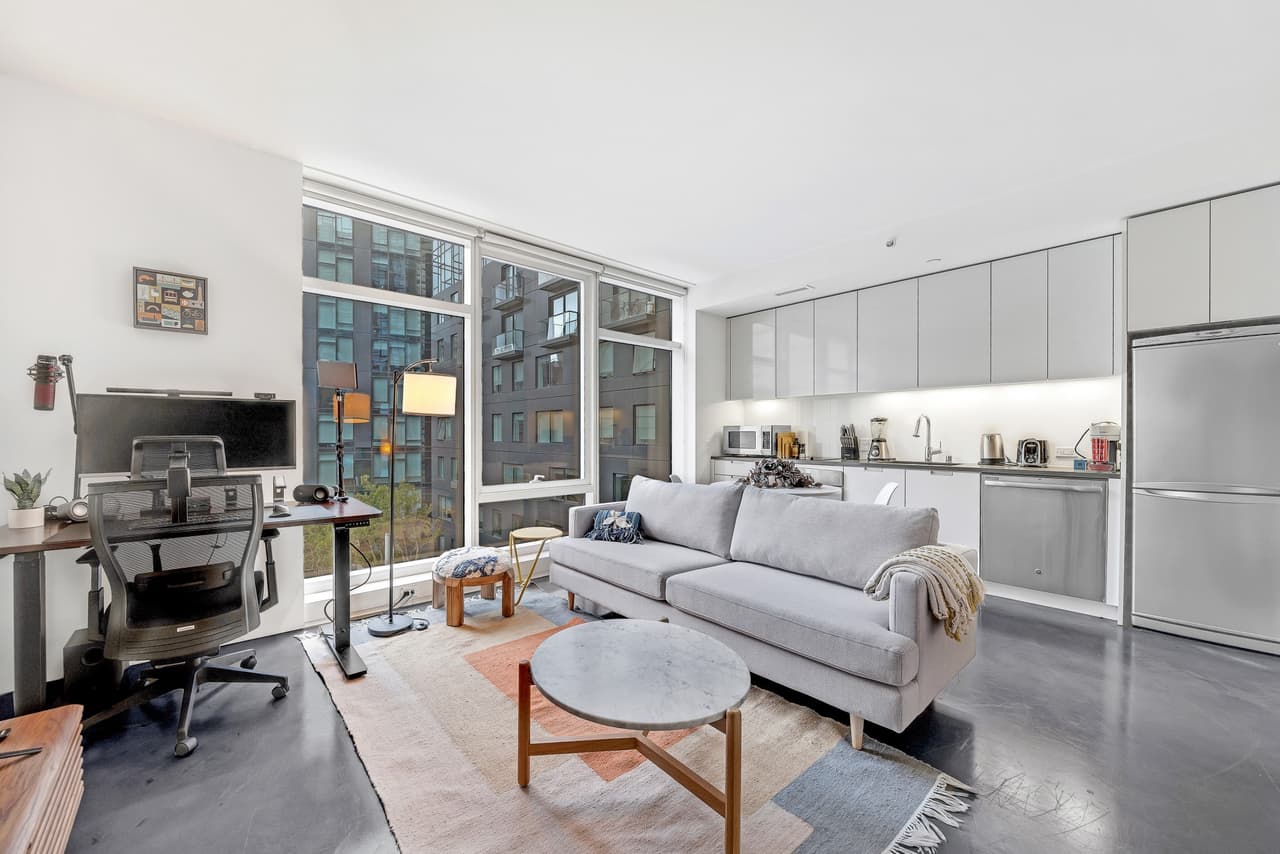 Book Your Home Away From Home Rental
Anyplace will help you find furnished apartments based on the aspects you're looking for. You can browse accommodations that are already set up with furniture, utilities, laundry, and extra amenities like a pool and gym. Each furnished apartment includes an equipped workspace, too, unlike anything found in other rentals. All you have to do is reserve online, pay, and move in. And if you like it, you can easily extend your stay online. Forget about endlessly searching on multiple sites and apps to find an ideal spot that feels like a home away from home. Use Anyplace and choose a remote work rental that matches your preferences, budget, and provides you with the amenities you need for a comfortable stay.
Request A New Location
Where would you like to book a furnished apartment that feels like home? We currently have furnished rentals in New York City, San Francisco, Los Angeles, and San Diego, but will be opening additional apartments in major US cities on a request basis. Join the waitlist by submitting your preferred budget and location. Rent starts at $3,000/mo in order to provide a quality work environment.