About New York City - Manhattan
The most densely populated and arguably the most recognizable of all of New York City's boroughs, Manhattan is a world-class city that's truly unlike anywhere else. The borough got its start in 1624 when it was founded as a trading post called New Amsterdam. The area made a significant impact on the early history of the country, from serving as the country's capital in the 1700s to welcoming immigrants to Ellis Island in the 1800s. Manhattan was an independent city until the five boroughs of New York City were combined in 1898. Today, Manhattan holds a population of around 1.6 million people. Manhattan is considered a world leader in multiple sectors, including finance, media, entertainment, and culture. The economy is incredibly diverse and provides opportunities for every industry, which is part of what draws so many people to the area. Manhattan also holds tons of opportunities for higher education, including prestigious institutions like Columbia University, Berkeley College, Pace University, and the Juilliard School. The health care facilities are considered among the best in the world as well. As far as getting around in Manhattan, most people rely on the Subway, but travel is also possible by car, bus, taxi, commuter rail, and more.
What is a Home Away From Home Property?
A home away from home is a rental property that feels as comfortable as it is in your own home. It's a place where you can put your feet up on the couch, cook your own meals, and do your laundry whenever you please. But while keeping your usual routine at home, you can also get outside and explore New York City - Manhattan.
Why is New York City - Manhattan a Great Place For Finding a Home Away From Home?
It should be no surprise that more and more people are choosing to make Manhattan their home away from home every single year. There's truly an opportunity for every traveler to make a life here, no matter what kind of job they work or what activities they're interested in. Despite the fairly high cost of living, Manhattan is popular thanks to its abundance of attractions, including museums, parks, sporting events, and broadway shows. Since there are so many fascinating and unique neighborhoods here, it's easy to find somewhere to fit in. Those who want to experience a destination that's truly alive every minute of the day are sure to enjoy Manhattan.
For people who want to explore New York City - Manhattan, Anyplace hosts the best properties in the city. All our rentals offer convenient access to properties with full kitchens, strong wifi, and amenities to make your time relaxing, productive, and immersive. Here are a few reasons to choose Anyplace for your New York City - Manhattan home.
Find a home in New York City - Manhattan on the website, and then book. No emails, roommate interviews, or complications.
Never work from the kitchen table again. Our apartments in New York City - Manhattan include a workspace equipped with useful office gear. Just bring your laptop and do your best work.
All utilities and gigabit speed WiFi are included and will be set up for you and ready to go.
No landlord, no problem. You just need to move in—we handle the rest for you.
Forget about ever having to sign a long lease. Our home rentals in New York City - Manhattan are available for 30 days or longer. Stay as long or little as you'd like—down to the day.
Search for a New York City - Manhattan apartment on Anyplace with the exact dates that match your schedule.
Manage your stay online, so if you realize that you'd like to extend the length of time that you'd like to stay you can do it with a click of a button.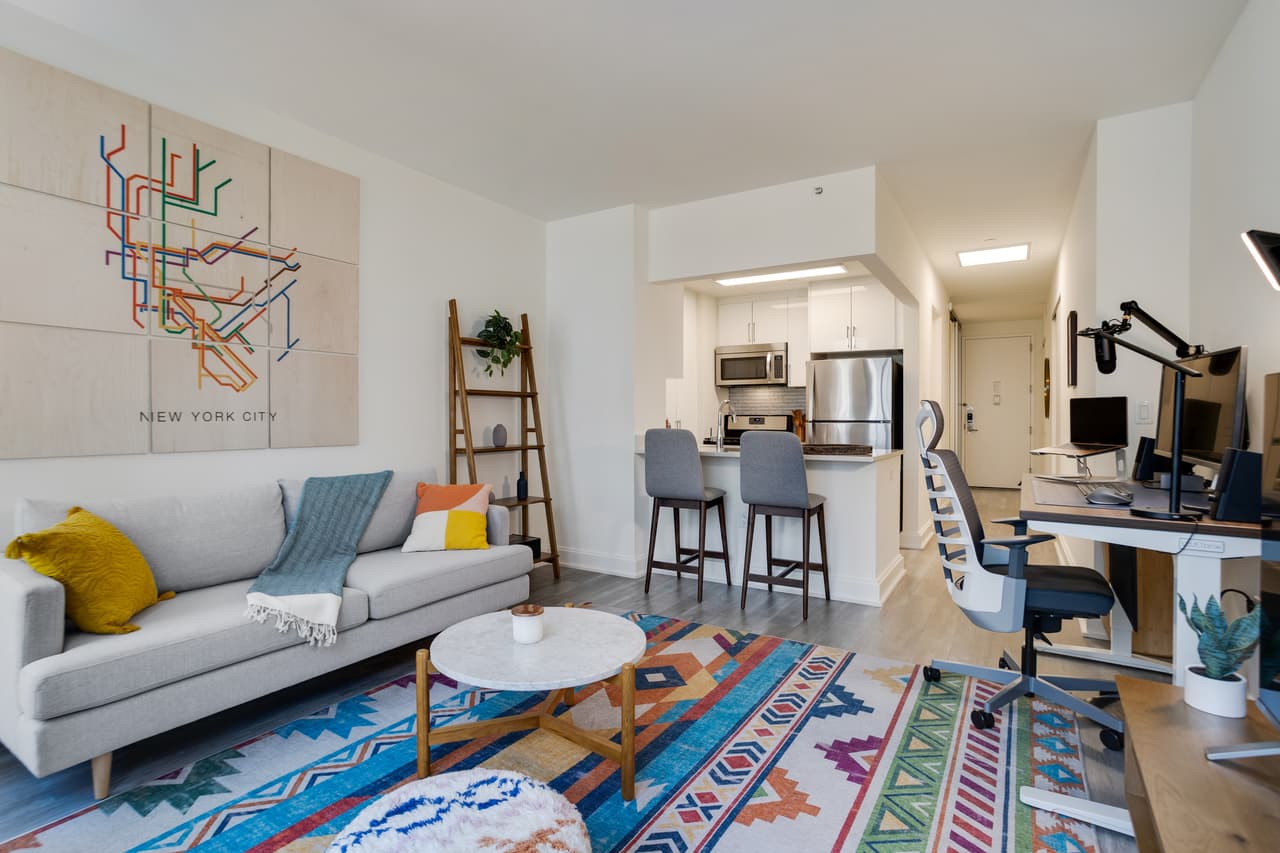 Book A Home Rental in New York City - Manhattan
Browse apartments in New York City - Manhattan that are already set up with furniture, utilities, laundry, a home office, and extra amenities like a pool and gym. All you have to do is reserve online, pay, and move in. And if you like it, you can easily extend your stay online. Forget about endlessly searching on multiple sites and apps to find the ideal home for you in New York City - Manhattan. Use Anyplace and choose a rental that matches the dates you need, your budget, and will provide you with the amenities needed for a comfortable stay.