About San Francisco
This northern California city is a cultural and financial center of the United States' west coast. With roughly 800,000 people living in an area of less than 50 square miles, it's also one of the most densely populated areas in the US—and one of the wealthiest, with the highest salaries, home prices, and disposable income in the world. It makes sense that San Francisco would evolve into a center of wealth considering how it started. First founded by Spanish colonists, it saw its first population boom during the Gold Rush of the mid-19th century, and for a time nearly a quarter of California's population lived in San Francisco. Following World War II, it became a counter-culture haven, playing a significant role in the Sexual Revolution, anti-war movement, and gay rights movements through the late 20th century. San Francisco's iconic landmarks, like the Golden Gate Bridge and Alcatraz Penitentiary, also make it a popular tourist destination. It's an international hub of arts and culture as well as finances, with several universities and cultural institutions like the University of San Francisco and the San Francisco Museum of Art. It's also one of the most walkable cities in the United States, made up of multiple neighborhoods, each with its own distinct culture and commercial districts. While it does attract a lot of tech workers from nearby Silicon Valley, both its economy and population have remained diverse through this technology boom.
What is a Home Away From Home Property?
A home away from home is a rental property that feels as comfortable as it is in your own home. It's a place where you can put your feet up on the couch, cook your own meals, and do your laundry whenever you please. But while keeping your usual routine at home, you can also get outside and explore San Francisco.
Why is San Francisco a Great Place For Finding a Home Away From Home?
San Francisco doesn't feel as dense and urban as the stats would suggest thanks to its neighborhood-oriented layout. No matter where you live in the city, you'll have restaurants, cafes, and venues nearby to enjoy. It's one of the best destinations in the world for LGBT travelers, home to one of the largest Pride celebrations in the world. The many artistic and educational institutions also make it an ideal spot for culturally-minded travelers, with permanent entertainment options and numerous festivals and celebrations throughout the year. It's also a great city for lovers of the outdoors thanks to the bay and the natural beauty to explore not far from the city center.
For people who want to explore San Francisco, Anyplace hosts the best properties in the city. All our rentals offer convenient access to properties with full kitchens, strong wifi, and amenities to make your time relaxing, productive, and immersive. Here are a few reasons to choose Anyplace for your San Francisco home.
Find a home in San Francisco on the website, and then book. No emails, roommate interviews, or complications.
Never work from the kitchen table again. Our apartments in San Francisco include a workspace equipped with useful office gear. Just bring your laptop and do your best work.
All utilities and gigabit speed WiFi are included and will be set up for you and ready to go.
No landlord, no problem. You just need to move in—we handle the rest for you.
Forget about ever having to sign a long lease. Our home rentals in San Francisco are available for 30 days or longer. Stay as long or little as you'd like—down to the day.
Search for a San Francisco apartment on Anyplace with the exact dates that match your schedule.
Manage your stay online, so if you realize that you'd like to extend the length of time that you'd like to stay you can do it with a click of a button.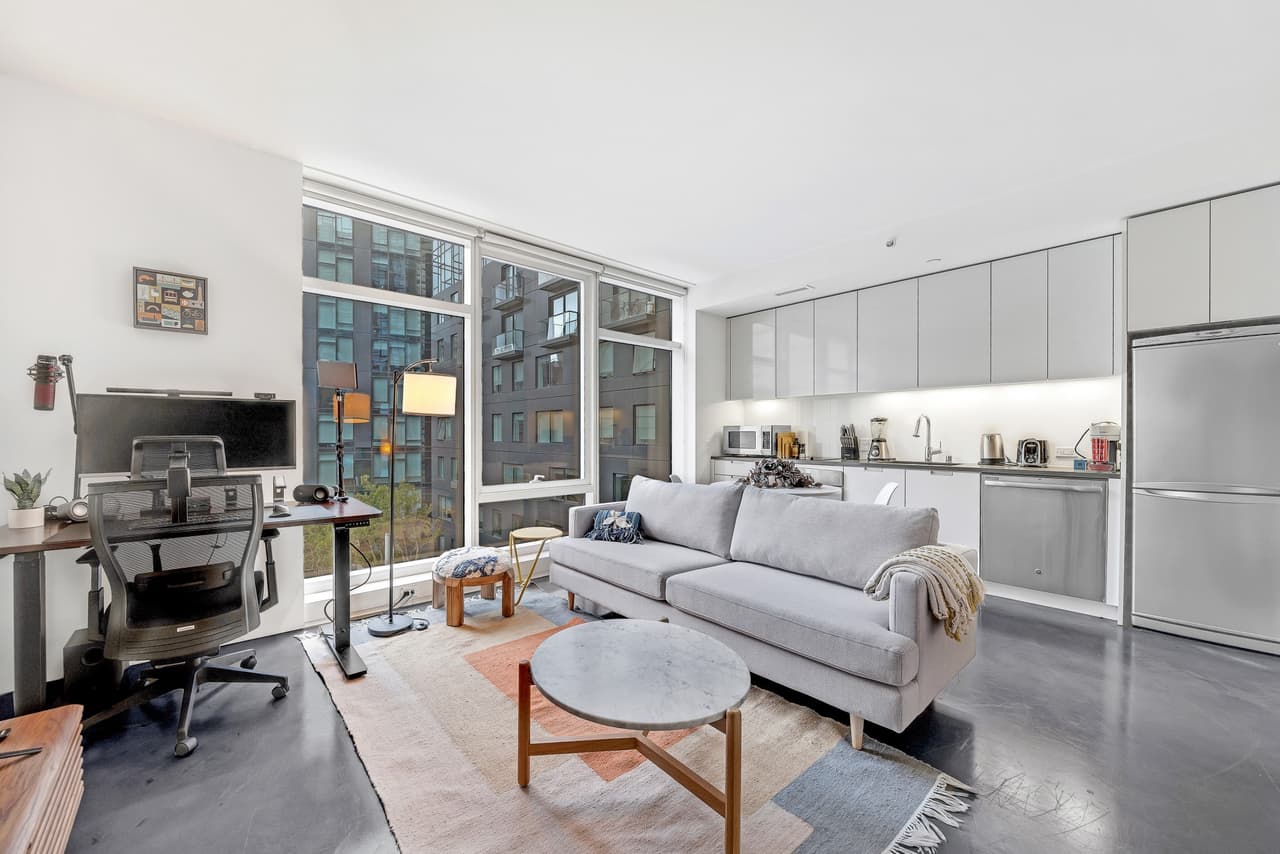 Book A Home Rental in San Francisco
Browse apartments in San Francisco that are already set up with furniture, utilities, laundry, a home office, and extra amenities like a pool and gym. All you have to do is reserve online, pay, and move in. And if you like it, you can easily extend your stay online. Forget about endlessly searching on multiple sites and apps to find the ideal home for you in San Francisco. Use Anyplace and choose a rental that matches the dates you need, your budget, and will provide you with the amenities needed for a comfortable stay.