Slow Travel Accommodations
Book a flexible fully furnished accommodation Anyplace.
Slow Travel Accommodations Around the World
What is Slow Travel?
Slow travel isn't just about traveling slowly; it's a movement that allows you to connect deeper to a community and culture. Squeezing a tour through a country in two weeks can be exhausting. Do you ever feel like you need a vacation when you return from your vacation? Moving from plane to bus to train can take a toll on you. And that's why slow travel is so rewarding.
Slow travel allows you to explore a location as a local would — stocking up on produce from a local market, spending the day walking the pier without an itinerary, connecting with neighbors and local families. Slow travel allows you to get to know the lesser-trafficked spots like outskirt neighborhoods, local wine bars, and a chance to practice the national language. Digital nomads and expats are known to love slow travel, spending months or even years in one city or country.
Could You Benefit from Slow Travel?
Traveling full-time sounds like a dream, but it can wear you down quickly. And that's especially true if you're working remotely at the same time. There are countless benefits of slow travel. It allows you to continue your passion for learning about new cultures and places while doing so in a sustainable way. While limiting collecting airline points, you'll have a chance to immerse yourself in a new community and learn, all while developing yourself professionally through your online work.
You can pick a favorite coworking space or coffee shop, become a member of a local gym or club, and even feel comfortable enough to invest in things that aren't only temporary such as growing your own garden or purchasing a bike. Here are the biggest benefits to slow travel.
Travel Internationally For Longer
This one is a given — you can travel for longer. Get a larger understanding of the world outside of your home country by traveling in a sustainable way.
Immerse Yourself in the Culture
Ever wonder what it's like to be part of the entire wine making process? Stay in a small Italian village in Tuscany. Want to become an expert diver or wind surfer? Put down temporary roots in the Egyptian coastal town of Dahab.
Learn more about what makes up the culture in any given town by making it part of your slow travels.
Meet Fellow Slow Travelers
The slow travel and digital nomad movement is on the rise. Chances are, you won't be the only one on a slow travel journey in your chosen country. There's a community of like minded people all around the world — you just have to find them. Being a slow traveler is a great start to becoming part of a new community.
You Don't Have to Burn PTO
Have you strategically planned your PTO for the year? You're not alone. With a limited amount of time for vacation, it can be stressful to fit everything into one or two weeks.
That's where slow travel comes in. If you can work remotely, you can work from a new city whether that's domestic or internationally, and explore more on the weekends.
Travel on Your Schedule
Similar to not burning your PTO, slow travel allows you to plan your schedule around work instead of vacation. If you want to check out a park during lunchtime, you can. If you want to head to the local beach on a Saturday morning, you can. You make your own schedule when you're traveling slowly.
Get Inspired by New Locations
Always wanted to write a book? Or, take up painting as a new hobby?
Traveling could give you that inspiration you need to start something new.
Where Should You Stay During Slow Travel?
Slow travelers often stay in monthly rentals equipped with a kitchen or a living room area. They're not only less expensive than booking on a nightly or weekly basis, but they have the amenities to help you feel at home.
Anyplace offers monthly stays in locations all around the world. You can book one month and extend as long as you want, all online.
What Exactly is a Slow Travel Accommodation?
A slow travel accommodation is a coliving space, furnished apartment, or extended stay hotel with the amenities you need to cook and work remotely. They're often equipped with strong wifi, a shared or private bathroom, a kitchen, and sometimes even a coworking space.
Get More Value for Your Money by Booking a Monthly Rental
Booking by the night or month can weigh heavy on your wallet. When you book on a monthly basis, you often get a deal on the total cost of the property.
Many, Many Amenities
If you sign a lease for an apartment in the city you're slow traveling to, you often need to furnish it yourself and set up your own utilities. If you book through Anyplace, all of that is prepared for you. Many monthly properties on Anyplace have access to a kitchen, living room, bathroom, shared common area, a gym, pool, and/or a coworking space. Who wouldn't love those amenities?
Enjoy the Comforts of Home During Your Slow Travel
One of the greatest feelings when you're traveling full-time is unpacking your suitcase and hanging clothes in your closet. It gives you a better sense of home. By staying at a monthly property, you can do those things. Plus, many of the properties have a washer to allow you to do your laundry whenever you want.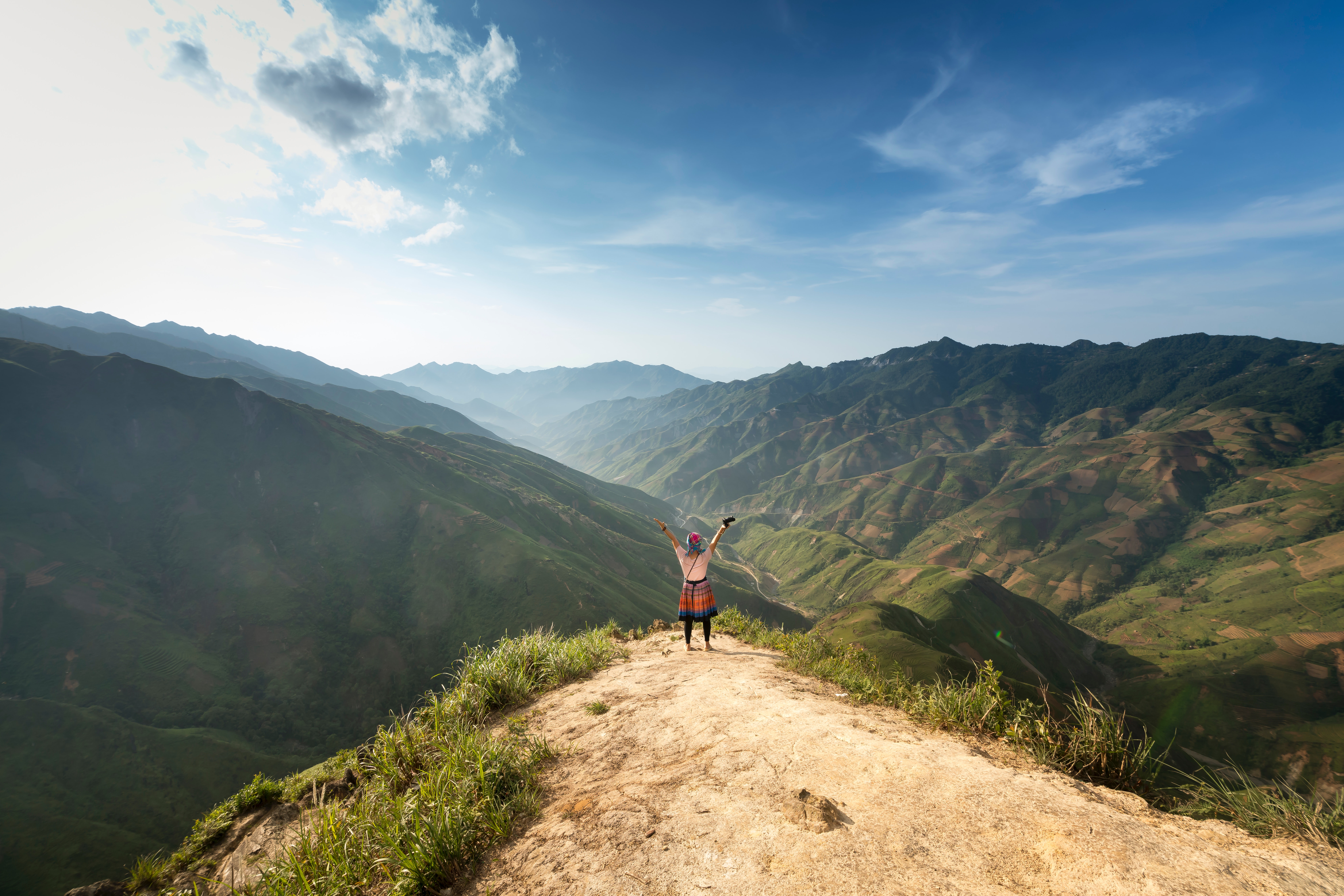 Types of Slow Travel Accommodation Options
When it comes to selecting a slow travel accommodation, you've got several property options to choose from, including furnished houses, apartments, extended-stay hotels, and co-living spaces. Each of these options has its own pros and cons, and your decision will ultimately be based on your preferences and your goals for your stay. Here are the top slow travel accommodation options.
Houses for Slow Travel
House rentals are popular for those traveling with their family or a group of friends or coworkers. You'll have the entire home for yourself, something you can't find in a hotel or co-living space. Your home will include private bedrooms, bathrooms, a kitchen, and outdoor areas. Keep in mind that this option tends to be the most expensive, so if you're traveling solo or with one other person, you may want to choose a smaller accommodation.
Extended Stay Hotels for Slow Travel
Many people don't know this, but some hotels let you stay there for 30 days or more! These are referred to as "extended stay hotels." An extended stay hotel allows the combination of convenience and comfort.
Many of the rooms will feature a bathroom, a desk and chair, and a small kitchen or kitchenette where you can cook. Extended stay hotels also offer unique hotel amenities which might include gyms, pools, conference rooms, and more.
One of the best parts about staying in a hotel is the housekeeping, and you can take full advantage of this in an extended stay hotel. You get the privacy and long-term security of a home without having to set it up and clean it all yourself. Many extended stay hotels offer either daily or weekly housekeeping.
Furnished Apartments for Slow Travel
A furnished apartment offers two different options: a private apartment, or you can choose to rent a room for 30 days or longer where you're sharing common spaces – like the living room and kitchen – with a few other slow travelers.
In a furnished apartment, you don't have to worry about setting anything up or finding a separate space to work. As the name suggests, your apartment will already be ready for you to check-in and will include all furniture, including a prepared workspace. Your workspace will typically be either a desk in your room or a common area that contains a table or desk for multiple people to sit and work.
Co-living for Slow Travel
If you're looking to meet inspiring like-minded professionals and make new friends from around the world while you're traveling, staying in a co-living space could be the perfect option. Co-living rentals are growing in popularity all around the world, and more and more of these spaces are popping up in many major and even smaller cities.
A co-living space consists of both private and shared bedrooms that are already furnished, high-speed WiFi for everyone to use for their work, and access to coworking spaces, shared kitchens, and common living spaces for relaxation. Many co-living facilities also offer their guests amenities like gyms and recreation facilities to enhance their experience.
When you're staying in a co-living space, the main thing you'll experience is a sense of community. You're able to live and work in the same convenient and comfortable space while also meeting people from around the world. Your fellow travelers will have much in common with you, allowing you to make exciting new friends who you can explore your new city with!
How to Find Slow Travel Accommodations
Anyplace can help you discover slow travel accommodations around the world based on what you're looking for. Instead of spending time doing online searches for a place with the amenities you need – like speedy WiFi – you can browse accommodations that are already set up for slow travel. All you have to do is reserve online, pay, and move in.
Forget about the tireless search on multiple sites and apps to find the ideal spot for your slow travel accommodations. Just use Anyplace and choose a property that matches your preferences, budget, and provides you with amazing amenities.