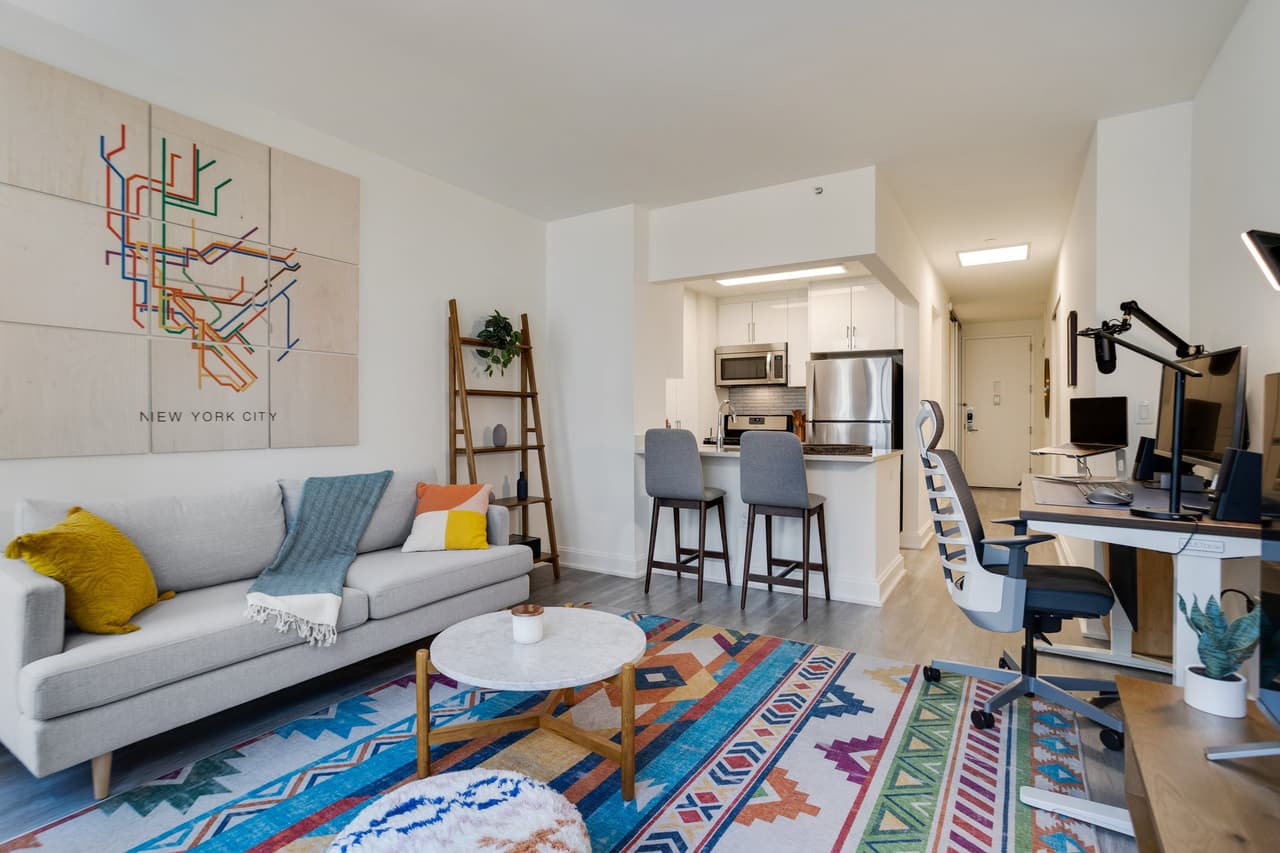 Slow Travel Accommodations
Book a furnished rental designed for slow travelers who work remotely. Furnished and move-in-ready with an equipped home office.
Find Slow Travel Rentals in the Best Locations
Anyplace offers accommodations built for a work-from-anywhere generation.
Los Angeles

San Diego

San Francisco

New York City - Manhattan
Furnished apartment rentals with a fully equipped office setup
Level up your remote work with luxury accommodations that come prepped with an equipped home office and high-speed internet.
Desk setup & high-speed internet
Ultrawide monitor, standing desk, work chair, keyboard, mouse, and gigabit internet.
Video conferencing setup
Webcam, microphone, key light, and collapsible green screen.
Flexible-term & fully furnished
No long-term commitments and move-in-ready accommodations.
What is Slow Travel?
Slow travel isn't just about traveling slowly; it's a movement that allows you to connect deeper to a community and culture. Squeezing a tour through a country in two weeks can be exhausting. Do you ever feel like you need a vacation when you return from your vacation? Moving from plane to bus to train can take a toll on you. And that's why slow travel is so rewarding. Slow travel allows you to explore a location as a local would — stocking up on produce from a local market, spending the day walking the pier without an itinerary, and connecting with neighbors and local families. Slow travel allows you to get to know the lesser-trafficked spots like outskirt neighborhoods, local wine bars, and a chance to practice the national language. Digital nomads and ex-pats are known to love slow travel, spending months or even years in one city or country.
Could You Benefit from Slow Travel?
Traveling full-time sounds like a dream, but it can wear you down quickly. And that's especially true if you're working remotely at the same time. There are countless benefits of slow travel. It allows you to continue your passion for learning about new cultures and places while doing so in a sustainable way. While limiting collecting airline points, you'll have a chance to immerse yourself in a new community and learn, all while developing yourself professionally through your online work. You can pick a favorite coworking space or coffee shop, become a member of a local gym or club, and even feel comfortable enough to invest in things that aren't only temporary such as growing your own garden or purchasing a bike. Here are the biggest benefits to slow travel.
Travel For Longer
This one is a given — you can travel for longer spans of time. Get a larger understanding of the world outside of your home by traveling in a sustainable way.
Immerse Yourself in the Culture
Ever wonder what it's like to live in Manhattan for a while? Or what it would be like to stay near the Pacific Ocean for a couple of months in San Diego? Dig into the local culture in any given city by making it part of your slow travels.
Meet Fellow Slow Travelers
The slow travel and digital nomad movement is on the rise. Chances are, you won't be the only one on a slow travel journey in your chosen location. There's a community of like-minded people all around the world — you just have to find them. Being a slow traveler is a great start to becoming part of a new community.
You Don't Have to Burn PTO
Have you strategically planned your PTO for the year? You're not alone. With a limited amount of time for vacation, it can be stressful to fit everything into one or two weeks. That's where slow travel comes in. If you can work remotely, you can work from a new location and explore more on the weekends.
Travel on Your Schedule
Similar to not burning your PTO, slow travel allows you to plan your schedule around work instead of vacation. If you want to check out a park during lunchtime, you can. If you want to head to the local beach on a Saturday morning, you can. You make your own schedule when you're traveling slowly.
Get Inspired by New Locations
Always wanted to write a book? Or, take up surfing as a new hobby? Slow travel could give you that inspiration you need to start something new.
Where Should You Stay During Slow Travel?
Slow travel accommodation is a place with the amenities you need to live, cook and work remotely. The accommodation needs to have fast and strong WiFi, a full kitchen, and access to other amenities to make your longer stay comfortable. Booking by the night or month can weigh heavy on your wallet. As slow travel is about immersing yourself deeper into a location, slow travel accommodations are apartments that you can book for more than a week or two. When you book on a monthly basis, you get a better rate on the total cost of the property. If you sign a lease for an apartment in the city you're slow traveling to, you often need to furnish it yourself and set up your own utilities. When you book on Anyplace, all of that is prepared for you. All of the apartments on Anyplace have an equipped home office, full kitchen, in-unit washer and dryer, and access to premium amenities like fitness centers, rooftop terraces, lounges, pools, and more.
What are the Benefits of Slow Travel Rentals on Anyplace?
Being able to choose a longer-term rental presents a variety of benefits that you may not realize. Let's dive into a few of the perks.
Monthly rentals give you more value for your money
Lower your nightly rate and save a lot of money with 30+ day stays. Rent a place with kitchen access and save even more with home-cooked meals.
Do Your Best Work in a Custom Home Office
The home office setup that is included in our apartments is unlike any other. You may even find that it's better than what you have at your actual home, too! You'll have a height-adjustable desk, ergonomic chair, ultra-wide-screen monitor, wireless mouse and keyboard, portable green screen for video calls, and additional gear that will help you do your best work.
Amenities Galore
You'll have a variety of amenities available to you—from fitness centers, and rooftop terraces with city views, to in-unit laundry, and more. These amenities become increasingly important when slow traveling, as you have additional time to take advantage of them.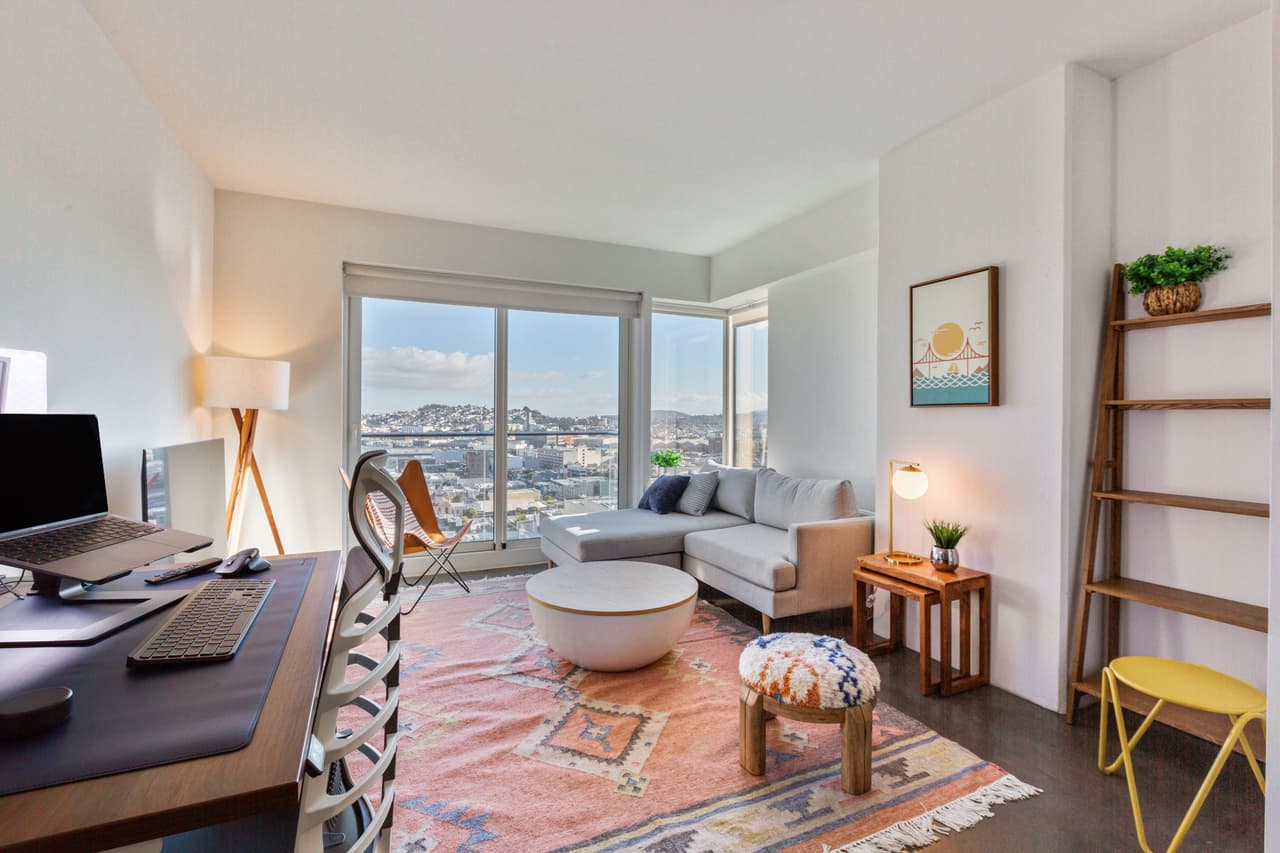 Book A Slow Travel Rental Now
Anyplace will help you find the perfect furnished apartment in major cities across the USA. You can browse accommodations that are already set up with furniture, utilities, laundry, and extra amenities like a pool and gym. All you have to do is reserve online, pay, and move in. And if you like it, you can easily extend your stay online. Forget about endlessly searching on multiple sites and apps to find the ideal spot for your slow travel needs. Use Anyplace and choose an apartment that matches your preferences, budget, and provides you with the amenities you need for a comfortable stay.
Request A New Location
Where would you like to book an apartment for your slow travels? We currently have furnished rentals in New York City, San Francisco, Los Angeles, and San Diego, but will be opening additional apartments in major US cities on a request basis. Join the waitlist by submitting your preferred budget and location. Rent starts at $3,000/mo in order to provide a quality work environment.