About New York City - Manhattan
Manhattan, more commonly known as "The City", is the urban core of the New York metropolitan area, as well as its economic and administrative center. Manhattan island includes other smaller adjacent islands and is divided into three informally bounded components: Lower, Midtown, and Upper Manhattan. Manhattan was initially founded as a trading post, and it only became a borough in the late 1800s. Today, Manhattan is globally recognized as the cultural, media, financial, and entertainment capital of the world. It is anchored by Wall Street, and it is one of the most economically and financially powerful places in the world. It is home to the two world's largest stock exchanges and to several multinational media conglomerates headquarters.
Slow travel isn't just about traveling slowly; it's a movement that allows you to connect deeper to a community and culture. Squeezing a tour through a country in two weeks can be exhausting. Do you ever feel like you need a vacation when you return from your vacation? Moving from plane to bus to train can take a toll on you. And that's why slow travel is so rewarding. Slow travel allows you to explore a location as a local would — stocking up on produce from a local market, spending the day walking the pier without an itinerary, and connecting with neighbors and local families. Slow travel allows you to get to know the lesser-trafficked spots like outskirt neighborhoods, local wine bars, and a chance to practice the national language. Digital nomads and ex-pats are known to love slow travel, spending months or even years in one city or country.
For people who want to slow travel in New York City - Manhattan, Anyplace hosts the best properties in the city. All our slow travel accommodations in New York City - Manhattan offer convenient access to properties with full kitchens, strong wifi, and amenities to make your slow travel relaxing, productive, and immersive. Here are a few reasons to choose Anyplace for your New York City - Manhattan slow travel rental.
Find an apartment in New York City - Manhattan on the website, and then book. No emails, roommate interviews, or complications.
Most slow travelers will need to work while in New York City - Manhattan. Our apartments include a workspace equipped with everything you need to be productive. Just bring your laptop.
All utilities and gigabit speed WiFi are included and will be set up for you and ready to go.
No landlord, no problem. You just need to move in—we handle the rest for you.
Forget about ever having to sign a long lease. Our slow travel rentals in New York City - Manhattan are available for 30 days or longer. Stay as long or little as you'd like—down to the day.
Search for a New York City - Manhattan apartment on Anyplace with the exact dates that match your schedule.
Manage your stay online, so if you realize that you'd like to extend the length of time that you'd like to stay you can do it with a click of a button.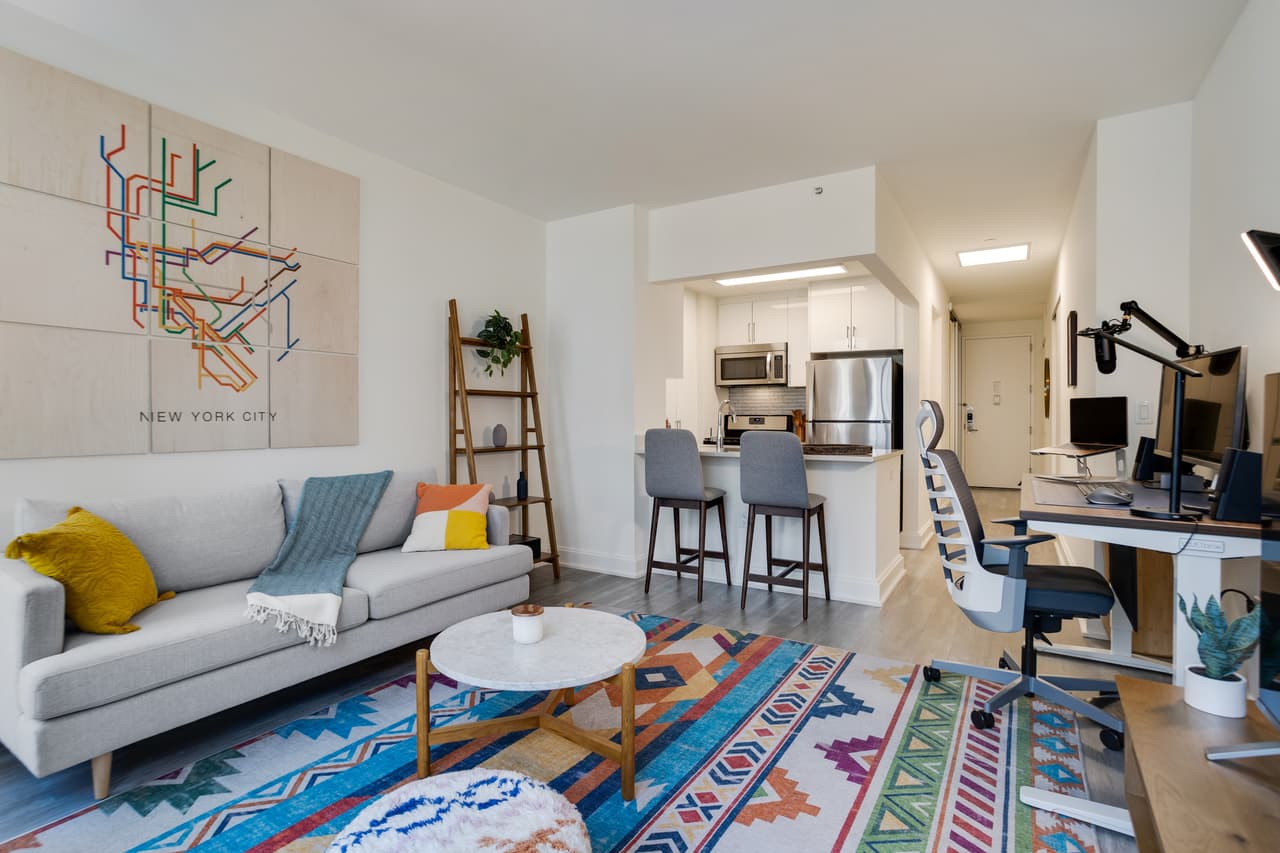 Book A Slow Travel Rental in New York City - Manhattan
Browse apartments in New York City - Manhattan that are already set up with furniture, utilities, laundry, a home office, and extra amenities like a pool and gym. All you have to do is reserve online, pay, and move in. And if you like it, you can easily extend your stay online. Forget about endlessly searching on multiple sites and apps to find the ideal home for you in New York City - Manhattan. Use Anyplace and choose slow travel accommodation that matches the dates you need, your budget, and will provide you with the amenities needed for a comfortable stay.