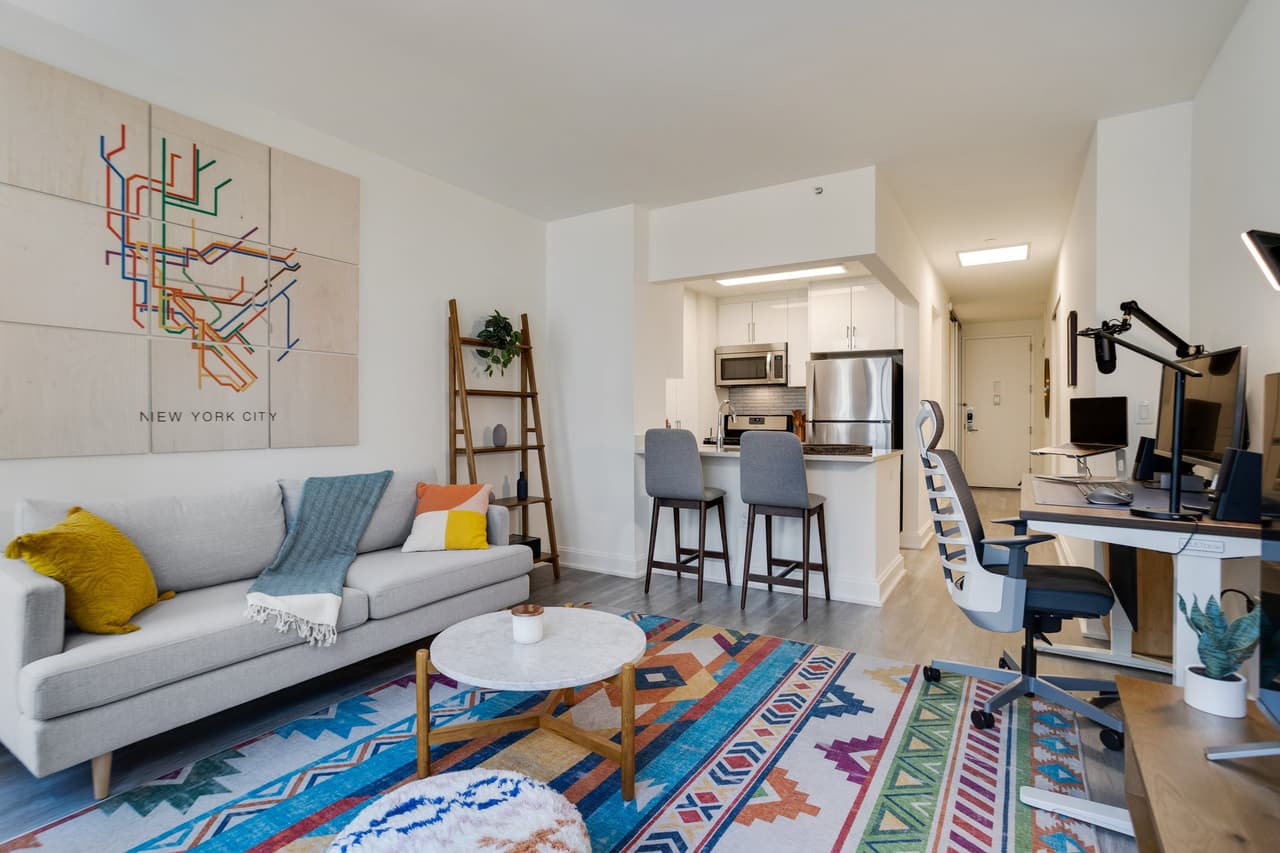 Work From Anywhere
Book an apartment designed for people who can work from anywhere. Furnished and move-in-ready with an equipped home office.
Find Apartments With Home Offices in the Best Locations
Anyplace offers accommodations built for a work-from-anywhere generation.
San Diego

San Francisco

Los Angeles

New York City - Manhattan
Work from anywhere in apartments with a fully equipped office setup
Level up your remote work with luxury accommodations that come prepped with an equipped home office and high-speed internet.
Desk setup & high-speed internet
Ultrawide monitor, standing desk, work chair, keyboard, mouse, and gigabit internet.
Video conferencing setup
Webcam, microphone, key light, and collapsible green screen.
Flexible-term & fully furnished
No long-term commitments and move-in-ready accommodations.
Browse Work From Anywhere Rentals
For years, it was much too common to sit in a cubicle under fluorescent lighting working for eight hours per day. Even if you could accomplish everything your job required through your computer, it was crucial to punch in and punch out of the workplace. Today, traditional office setups are on the decline. Employees have the upper hand as companies compete for top talent. And working remotely from anywhere is a sought-after benefit.
What Does it Mean to Work From Anywhere?
Just as it sounds, working from anywhere means a person can successfully do their job from wherever they are, whether that's at home, a local coffee shop, or a coworking space across the globe. Working remotely isn't all that new — people have been working from home for decades. But the popularity and opportunity to work remotely skyrocketed in response to the pandemic. As the world is vaccinating against COVID-19, people are considering what a post-pandemic world looks like for remote workers, and that's swapping working from home with working from anywhere.
What Are The Benefits of Working From Anywhere?
The digital nomad with a cocktail in one hand and laptop in the other might be what skeptics think when they hear about an office worker ditching the office to work from somewhere new. But that Instagram post doesn't represent the majority of remote workers who try out different environments. In actuality, there are a number of benefits to working from anywhere for both the employer and employee.
For Employees
Self-growth. When you're no longer tied to an office, you have the chance to do what you want with your life. You can relocate to a tech hub to network with entrepreneurs and discuss a side project, or join a digital nomad community in a different country to focus on your own self-discovery. Whatever it may be, working from anywhere allows you to continue growing your career while growing as a person. Experience a lower cost of living. If you're living in a more expensive area, it can be difficult to afford rent and travel, which means trips often get left on the back burner. Through the work from anywhere movement, you can experience working from a location with a lower cost of living and keep the same paycheck. Supports significant others. If you're a military spouse, married to a traveling nurse, or often relocate for your partner's career, a difficult choice arises: follow your partner or your career. With the work from anywhere model, you can continue developing your career while moving to new locations with your significant other. Cut the commute; lower stress. When remote workers no longer need to commute to the office, they can apply that time to what they need it for — making breakfast, dropping kids off at school, helping with homework, or caring for an elderly relative. There are endless ways that working from anywhere can improve work-life balance.
For Companies
Retain and hire top talent. The more trust that's put into your employees, the more motivation companies will see from your current and future hires. When employees can work from anywhere without their manager hovering over them, they'll excel autonomously. Cut costs. Overhead is expensive for companies with an in-office setup. Some even spend upwards of $92 per month on each employee for office supplies alone. Imagine companies that scrap that and invest in their employees by offering coworking stipends, professional development stipends, and more. Company morale. Employees perform better and have higher morale when they can do what makes them happy. Whether that's traveling the world while traveling full-time, or being there to put their child on the school bus, implementing a working from anywhere policy supports employees in being their best selves. Supports diversity and inclusivity. When companies are not bound to hire employees in a certain geographical area, they open up the opportunity to hire a diverse and inclusive team that brings to the table multiple strengths and perspectives.
How Are Companies Supporting Working From Anywhere?
Within the past year, several companies have announced plans to continue allowing employees to work remotely after the pandemic. While some are supporting a hybrid and part-time remote work setup, which keeps the office intact, some companies are all in, setting a new standard: remote-first or fully distributed. Companies that have been distributed from the start, such as GitLab and Zapier, show that working remotely is not only doable for an entire staff, but supports growth. Now other companies are following suit and adapting their policies to allow their employees to work from anywhere forever. Coinbase and Shopify came out to say that they're now remote-first companies, and other large multi-million dollar companies are following their lead. Soon, landing a remote job will no longer be unique; it will be standard.
So, You Can Work From Anywhere. But Where Do You Stay and Work From?
If you're exploring the work-from-anywhere movement as a remote worker, you need more than a nightly hotel rental. You need the same amenities that would come with a traditional lease like a fully-equipped kitchen, strong wifi, and an area to work from. But without a year-long commitment. That's where remote work-friendly rentals come in. A remote work rental is a temporary rental that lasts from 1-12 months. All properties are furnished and typically less expensive than renting a property with a daily rate. They provide the comfort of being at home with the ability to productively work remotely at a monthly rate.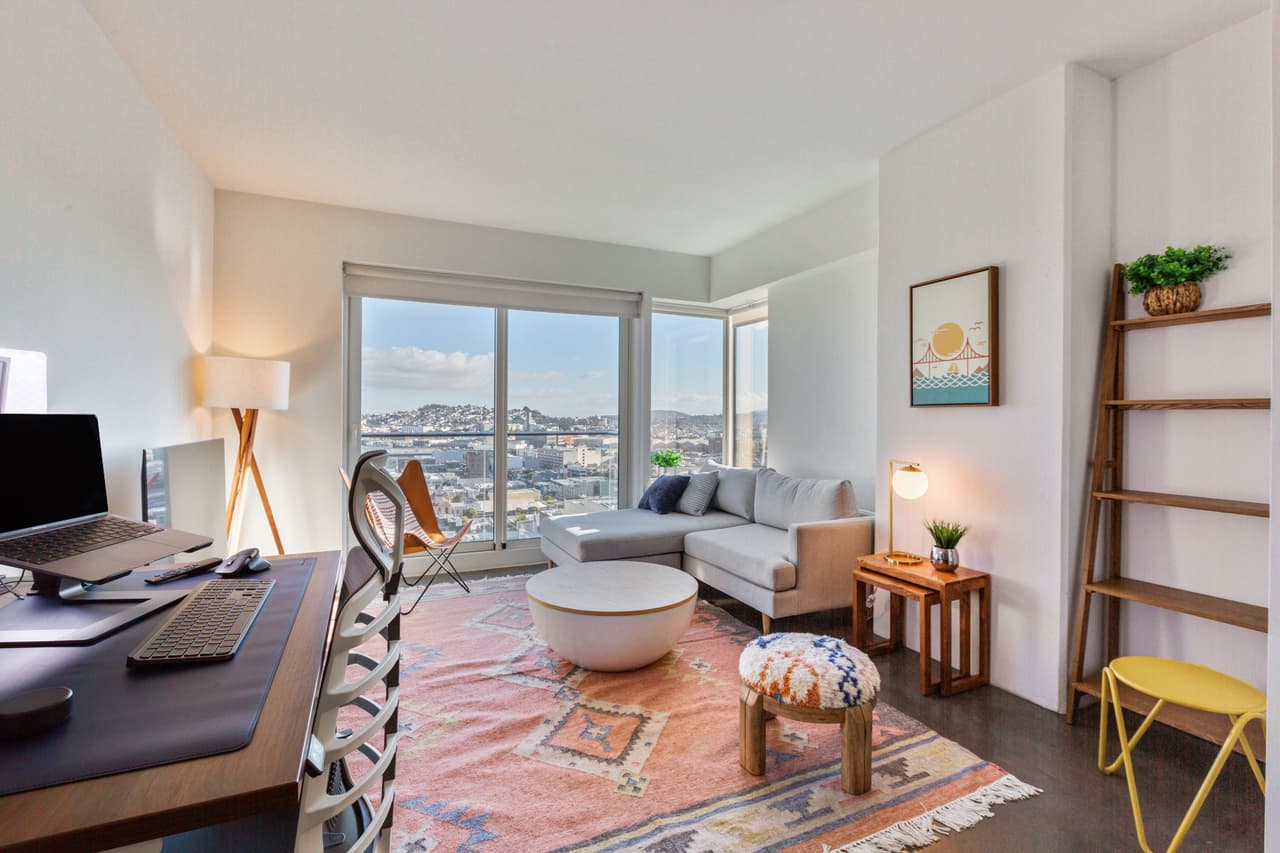 Benefits of Booking Remote Work-Friendly Apartments on Anyplace
Working from anywhere has plenty of advantages, but some challenges, too. You need to ensure that when you travel and work in a new location you have high-speed internet and a great place to conduct your business, so you can maintain your normal productivity levels. We know this well and have designed our accommodation for remote workers. You can book with confidence on Anyplace, as every apartment for rent has a home office and gigabit WiFi, and a ton of other amenities to make your stay comfortable.
Equipped workspace built for productivity
The home office setup that is included in our apartments is unlike any other. You'll have a height-adjustable desk, ergonomic chair, ultra-wide-screen monitor, wireless mouse and keyboard, portable green screen for video calls, and additional gear that will help you do your best work.
Luxury amenities in our buildings
The rentals on Anyplace feature a wide range of amenities. Depending on what type of property you select, you can have access to features like fitness centers, recreation areas, rooftop terraces, business conference rooms, pools, and more.
Enjoy the comforts of home in your new location
Combine the productivity of work and travel with all the comforts of home. Ultra-fast WiFi and spacious work areas allow you to be as productive as possible while still staying comfortable and relaxed in your own private space.
Get more value for your money by booking a monthly rental
With Anyplace, you'll lower your nightly rate with our 30+ day stays. Every apartment has a full kitchen too, so you can cook your own meals to save even more.
Book Your Work From Anywhere Apartment
Anyplace will help you find the perfect apartment for your work from anywhere journey based on the aspects you're looking for. You can browse accommodations that are already set up with furniture, utilities, laundry, and extra amenities like a pool and gym. All you have to do is reserve online, pay, and move in. And if you like it, you can easily extend your stay online. Forget about endlessly searching on multiple sites and apps to find the ideal spot for your remote work rental. Use Anyplace and choose a corporate rental that matches your preferences, budget, and provides you with the amenities you need for a comfortable stay.
Request a Location
We currently have apartments in New York City, San Francisco, Los Angeles, and San Diego, but will be opening additional apartments in major US cities on a request basis. Join the waitlist by submitting your preferred budget and location. Rent starts at $3,000/mo in order to provide a quality work environment.