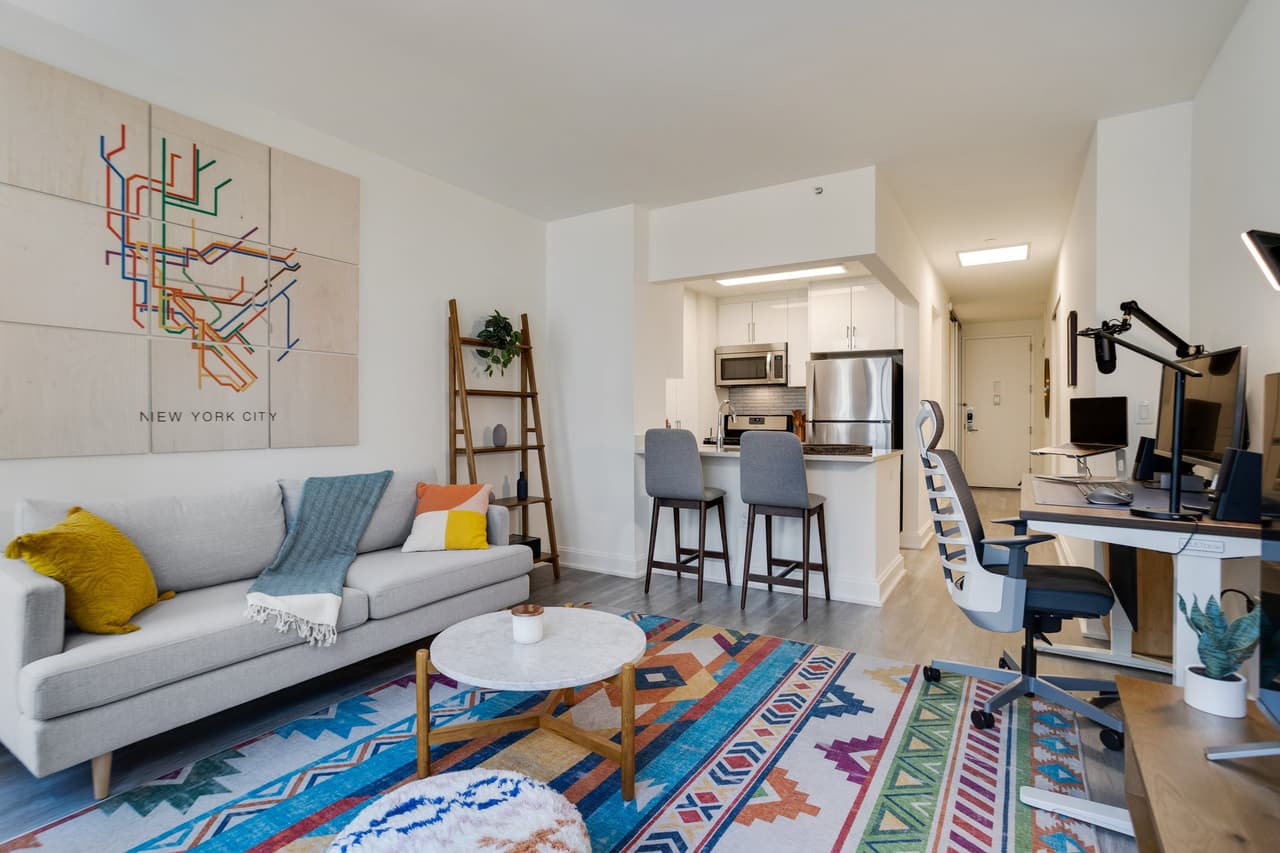 Travel Nurse Housing
Book a flexible-term apartment perfect for travel nurses and healthcare professionals on assignment. Furnished and move-in-ready with an equipped home office.
Find Travel Nurse Housing Rentals in the Best Locations
Anyplace offers accommodations built for a work-from-anywhere generation.
San Diego

Los Angeles

San Francisco

New York City - Manhattan
Rentals With An Office For Nurses and Healthcare Professionals
Level up your remote work with luxury accommodations that come prepped with an equipped home office and high-speed internet.
Desk setup & high-speed internet
Ultrawide monitor, standing desk, work chair, keyboard, mouse, and gigabit internet.
Video conferencing setup
Webcam, microphone, key light, and collapsible green screen.
Flexible-term & fully furnished
No long-term commitments and move-in-ready accommodations.
Tips for Finding Short-Term Travel Nurse Furnished Housing
Whether you've been a seasoned travel nurse for a while or are just now planning your first travel nursing assignment, there's one huge item to figure out once you secure a contract: How do you find furnished housing for travel nurses? It's easy to get overwhelmed and waste a lot of time online searching for a place, emailing people on Craigslist, or looking at endless sublets on rental listing websites... sometimes, leaving you no closer to finding housing that suits your needs as a travel nurse. This can be frustrating and can increase your stress level until you finally secure a properly furnished place with the exact dates and amenities you need to be comfortable and prepare for your upcoming travel nursing assignment. A few years back, a travel nurse recruiter might have handled your housing, but that's becoming an antiquated practice. Most travel nurses now opt to take their housing stipend so they can have more control over their money and select where they stay—this makes perfect sense if you've ever been stuck in a terrible housing situation for 3 months! Also, since you can pocket the remaining tax-free stipend money, travel nurses are realizing the importance of taking on the role of choosing their housing is financially beneficial. With all this in mind, you probably want to find housing on your own, if you can. So, is it really that difficult to find your furnished travel nurse housing online? No—it doesn't have to be! Short-term or "flexible" housing can be hard to find, but not if you know where to look. You simply need to know the websites that offer exactly what you need. Enter: Anyplace Anyplace provides short-term furnished housing with utilities included, and a variety of amenities depending on what you require. You can adjust the budget you want to spend, too. Every property is available on a 30+ day basis, so forget about having to worry about long leases. Anyplace was built specifically for those looking for flexible housing—like travel nurses—and can eliminate the time spent searching on other websites and not finding what you need. But that's just the tip of the iceberg; read on to find out more about travel nurse housing and how to find your perfect place today, or hit the button to book your apartment now.
Is Housing Suited for Travel Nurses Available in Most Cities?
Yes! There are many furnished apartments available on a monthly basis that can be a great fit for travel nurses on assignment. You don't need to get locked in a long lease, you just need to know where to look — like on Anyplace.
Furnished Apartment Rentals for Travel Nurses
Furnished apartments are a great housing option for travel nurses and healthcare professionals who want their own space and would enjoy the perks of a full kitchen. Beyond being move-in-ready and having furniture already in the unit, a furnished apartment can vary in other options and amenities. Some are fully serviced apartments with house cleaning, and you'll find all of them are equipped with a bed, kitchen, bathroom, furniture, and most appliances.
How to Find Travel Nurse Housing Today
There are plenty of online sources to find short-term housing for travel nurses and medical professionals, but some are much better than others. Let's dig into some of the most popular websites and how easy it is to secure the property of your preference.
Why Anyplace is Better for Travel Nurse Housing than Craigslist, VRBO, and Airbnb
When it comes to finding travel nurse housing, there are several strategic factors to consider—budget, the type of room, the amenities it includes, the move-in date, the duration of the stay, and the lease terms. Some travel nurses end up using sites like Craigslist to secure housing, but it's not a simple process and can be extremely time-consuming. Let's take a quick look and compare with Anyplace, which makes things really easy for you.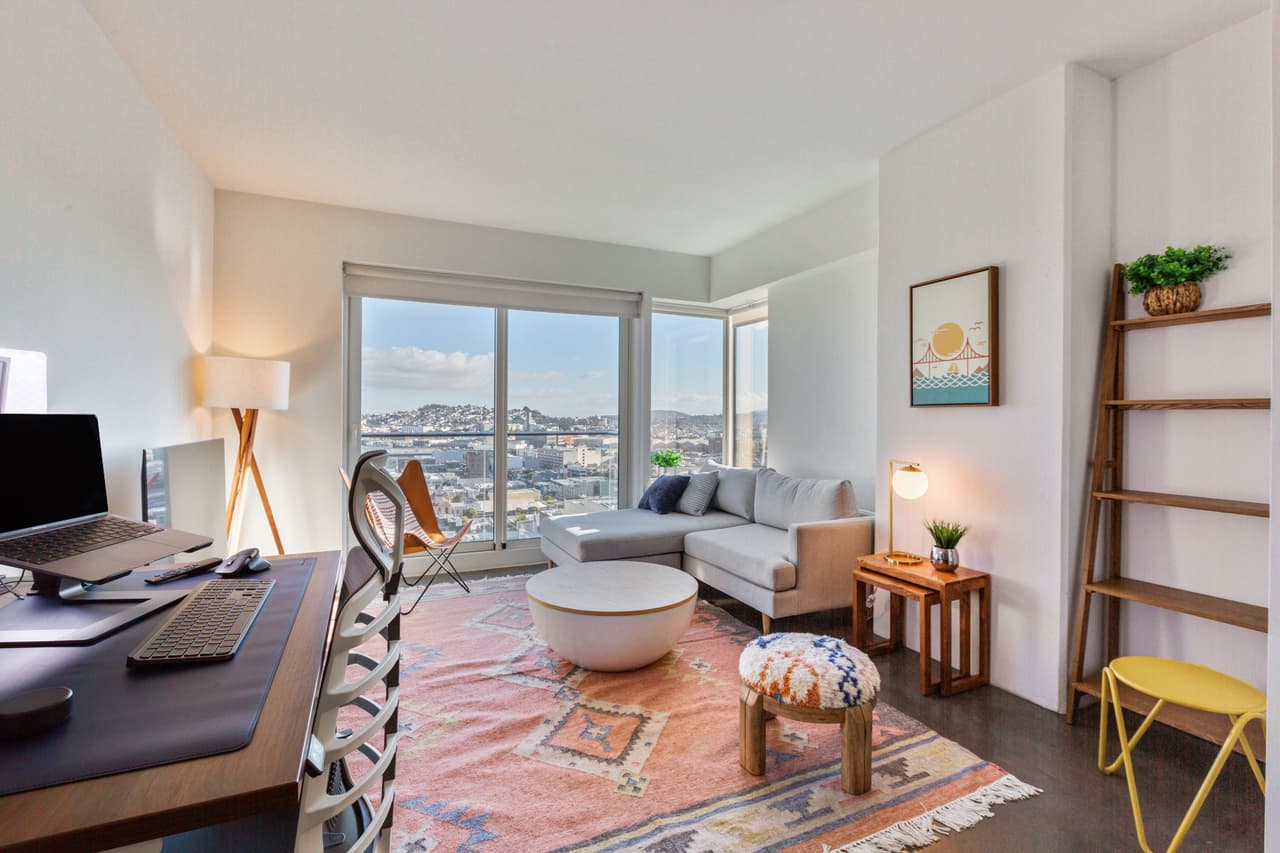 Finding Housing that Fits Your Needs as a Travel Nurse on Craigslist is Hard
As a travel nurse, you have specific needs when it comes to housing. You're looking for a particular type of accommodation for a set amount of time for your assignment. When you attempt to find housing that matches these needs on websites like Craigslist, it's a tedious journey from start to finish. First, you'll need to scroll endlessly to check out different properties, and probably open tons of website tabs in the process. Next, you have to spend time crafting an elegant email—with the goal to make it stand out from the potentially hundreds of other people also interested in the place—and hopefully, get a response from the person on Craigslist listing it. Then, you will most likely have to interview with the current tenants/roommates to secure the property. Sometimes this is via Skype or with another video service, while other times you have to spend painstaking hours commuting to visit the location for an in-person meeting. And maybe, just maybe, after all this time/effort you've spent, you will be magically chosen for the room. This process on Craigslist is laborious, tedious, time-consuming, and can be downright disappointing when that perfect place you want doesn't fall through. If the tenant/roommates choose you for the place, they might even want you to sign a year-long lease, which is not ideal since your travel nurse assignment will not last that long. Yikes. On top of this hassle, you also don't necessarily get to choose your desired move-in date—that is determined by the person on Craigslist providing the housing. You are browsing through apartments and rooms that work with the tenant's schedules, not yours. This can be a huge inconvenience, as it might make things tough if you'd like to move in immediately. Well, we believe there should definitely be a much easier way to obtain housing—especially for those on contract work like travel nurses—which is why we created Anyplace. We have simplified the process that people are used to on Craigslist, and have hopefully made the whole process more enjoyable. Here are a few benefits when searching for travel nurse housing on Anyplace vs. other websites like Craigslist.
Benefits of Travel Nurse Housing on Anyplace
Zero hassle
Select an apartment on Anyplace and then book. No emails, roommate interviews, or complications when you're trying to find the right option for your travel nurse assignment!
No landlord
No landlord, no problem. You just need to move in—we handle the rest for you.
All-inclusive
All utilities and WiFi are included for the duration of your travel nurse assignment and will be set up for you and ready to go.
No long-leases
Forget about ever having to sign a long lease. Our properties are available month-to-month. Stay as long as your travel nurse contract calls for—down to the day.
Move-in today—or any day
Find an accommodation on Anyplace that matches your travel nurse assignment. Select the city that you want and type in the exact dates you need.
Move out or extend your stay
Manage your accommodation online with the option of extending your stay at any time. Did your travel nurse contract get lengthened? No problem—you have the freedom to control the length of your stay with the click of a button.
What are the Benefits of Short-Term Housing for Travel Nurses?
The biggest one? Flexibility! As a travel nurse, it most likely does not make sense to sign a long lease, especially if your contract is only a few months long. But there are others, too. Here are the top benefits of month-by-month accommodation.
Short-Term Leases
Finding an apartment in any city with a lease agreement that's less than a year is challenging, but not impossible. If you use a site like Anyplace, you'll be able to book furnished apartments with monthly contracts. Short-term leases don't restrict you and give you the flexibility to keep moving and not get stuck with a long lease in one place—especially important for a healthcare worker on contract.
Save Money on Move-In Costs
The move-in costs of a lease agreement can be very overwhelming. Usually, landlords require first and last month's rent, plus a security deposit. And then, you'll need to buy all of the furniture, beds, appliances, and more to fill out your place. If you can find a fully furnished place on a month-to-month basis, there is a lot more flexibility. The most you'll have to pay is the first month's rent plus a security deposit. And the best part? The property is fully furnished with utilities set up and WiFi included, so you just need to arrive with your suitcase and prepare for your travel nurse assignment.
Save Money on Rent
All of the short-term housing options on Anyplace are fully furnished, which can save you a ton of money. You won't have to pay for a bed, dresser, or other items you need to live comfortably while on your travel nurse contract. The utilities and WiFi will be ready when you move in, so you don't need to spend extra money either on the initial costs for setting up those services. Thus, making your total rent each month lower than other housing options.
Discover the Neighborhood Before Deciding
Booking a property for one month gives you the perfect opportunity to get to know your neighborhood and the location. You'll have plenty of time to learn how to navigate the city and understand the pros and cons of the area you've chosen, like if it's close enough to the hospital or medical facility where you'll be working on your travel nursing assignment. If you do like the area, you can either extend the accommodation on a monthly basis or confidently book a longer-term stay.
Some Travel Nurse Housing Options Have More Flexibility Than Others
While some properties on other websites like Airbnb are only available for a short amount of time, the ones on Anyplace allow more freedom and let you choose to live in an apartment as long as you want. You can arrange short-term housing for one month or more and then have the ability to extend your stay for a longer period of time. This is the best-case scenario, as your living situation is on your terms.
Book An Apartment Now For Your Travel Nurse Assignment
Anyplace will help you find housing for your travel nurse or healthcare assignment based on the aspects you're looking for. You can browse accommodations that are already set up with furniture, utilities, laundry, and extra amenities like a pool and gym. All you have to do is reserve online, pay, and move in. And if you like it, you can easily extend your stay online. Forget about endlessly searching on multiple sites and apps to find the ideal spot for your remote work rental. Use Anyplace and choose travel nurse housing that matches your preferences, budget, and provides you with the amenities you need for a comfortable stay.
Request A New Location
Where would you like to book housing for a travel nurse assignment? We currently have travel nurse housing in New York City, San Francisco, Los Angeles, and San Diego, but will be opening additional apartments in major US cities on a request basis. Join the waitlist by submitting your preferred budget and location. Rent starts at $3,000/mo in order to provide a quality work environment.