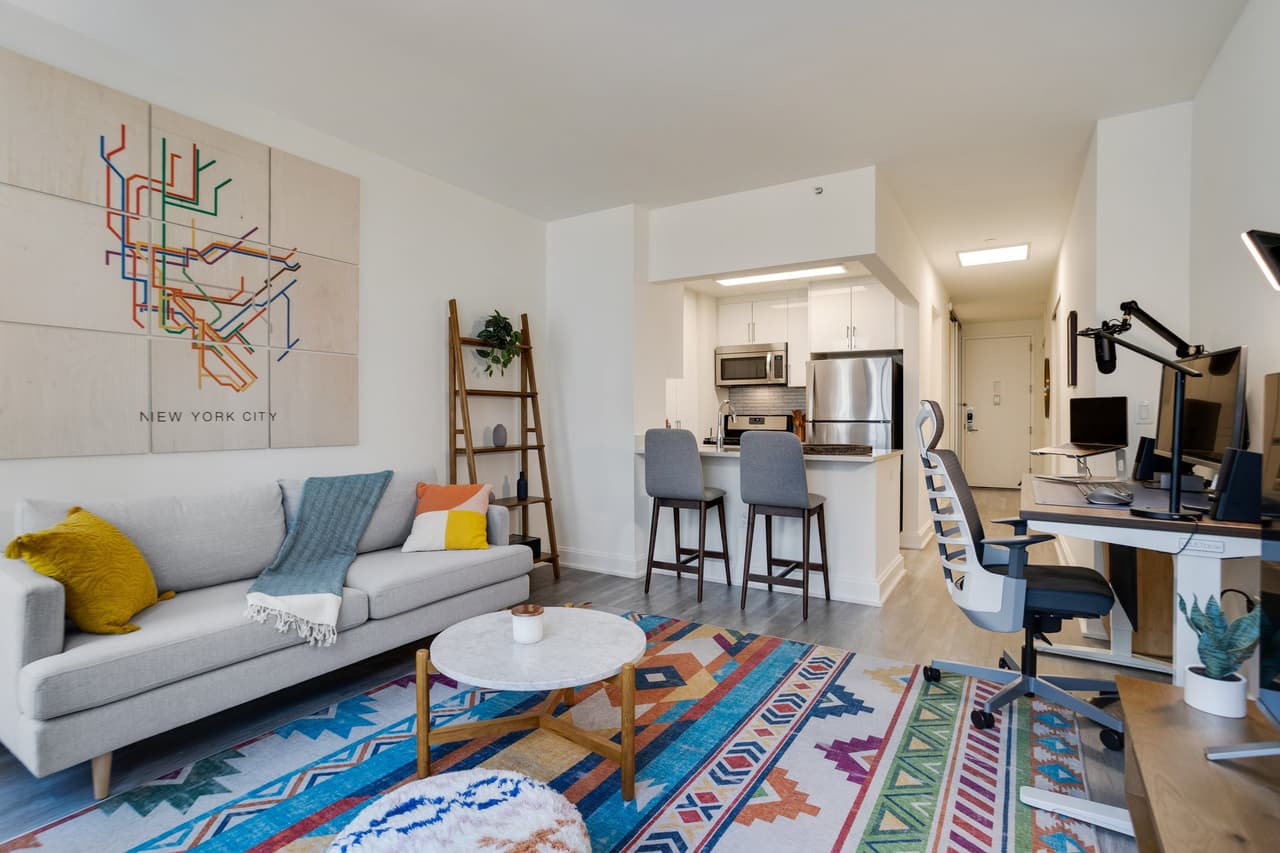 Student and Off-Campus Housing
Book a flexible-term apartment designed for college and graduate students. Move-in-ready with an equipped home office.
Find Student Housing Rentals in the Best Locations
Anyplace offers accommodations built for a work-from-anywhere generation.
San Diego

Los Angeles

San Francisco

New York City - Manhattan
Apartments for students with a fully equipped office setup
Level up your remote work with luxury accommodations that come prepped with an equipped home office and high-speed internet.
Desk setup & high-speed internet
Ultrawide monitor, standing desk, work chair, keyboard, mouse, and gigabit internet.
Video conferencing setup
Webcam, microphone, key light, and collapsible green screen.
Flexible-term & fully furnished
No long-term commitments and move-in-ready accommodations.
Housing for College and Graduate Students
Congrats, you got accepted to an amazing college... now what? So you're getting ready to go off to college—far from your home. First comes the elation of success. Nice work, you made it! Then the big questions start popping in your head. Where will you live? How will you find something close to campus? And how will you find an off-campus apartment that allows you to not sign a long lease, so you don't have to keep paying when the semester lets out? Squash that fear! Using Anyplace will make the process easy.
Flexible-Term Student Housing
Planning to leave during the summer or only want to live near college for some of the year? No problem—all of our off-campus and intern housing can be rented on a month-to-month basis. And rest assured, you can always extend your stay one month or more. Say hello to total flexibility.
Furnished Apartments With Workspaces
Don't worry about having to buy a bed or furniture—every apartment we have for off-campus and student housing is fully furnished. Utilities and high-speed WiFi will already be set up for you as well. Just arrive with your suitcase and get ready to start the semester.
Great Locations in Major Cities
Choose the student housing that fits your needs—whether you want to be ultra-close to campus, coffee shops, amazing restaurants, your college job or active nightlife—we hope you'll find an apartment that's right up your alley.
Anyplace for Student and Off-Campus Rentals
At Anyplace, our goal is to connect student renters with great housing in college towns and cities across the country.. You'll be able to find and compare the best off-campus and student housing—view rental rates, photos, reviews, amenities, and more. The student housing rentals on Anyplace are designed specifically for college and graduate students that need to be productive at their home base. And with our apartments, you'll have much more flexibility than other platforms that require you to sign a traditional lease. Here are a few advantages when looking at student apartments on Anyplace.
Equipped workspace
The workspace included in our student rentals is unlike any other. You'll have a height-adjustable desk, ergonomic chair, wide-screen monitor, wireless mouse and keyboard, and additional office gear.
Zero hassle
Select an apartment that you want to live in on the website, and then book. No emails or complications when you're trying to find the right option for you.
Furnished and all-inclusive
College is stressful and we're here to make moving to your new city easy. The apartments are move-in-ready and utilities and high-speed WiFi are set up for the duration of your stay.
Luxury Amenities
The buildings that we choose for our student rentals are packed with luxe and modern amenities. You'll find fitness facilities, pools, business lounges, rooftop terraces, and more.
No landlords
No landlord, no problem. You just need to move into your apartment—we handle the rest for you.
No long leases are necessary
With Anyplace, forget about ever having to sign one. Our apartments are available month-to-month. Stay as long or little as you'd like—down to the day.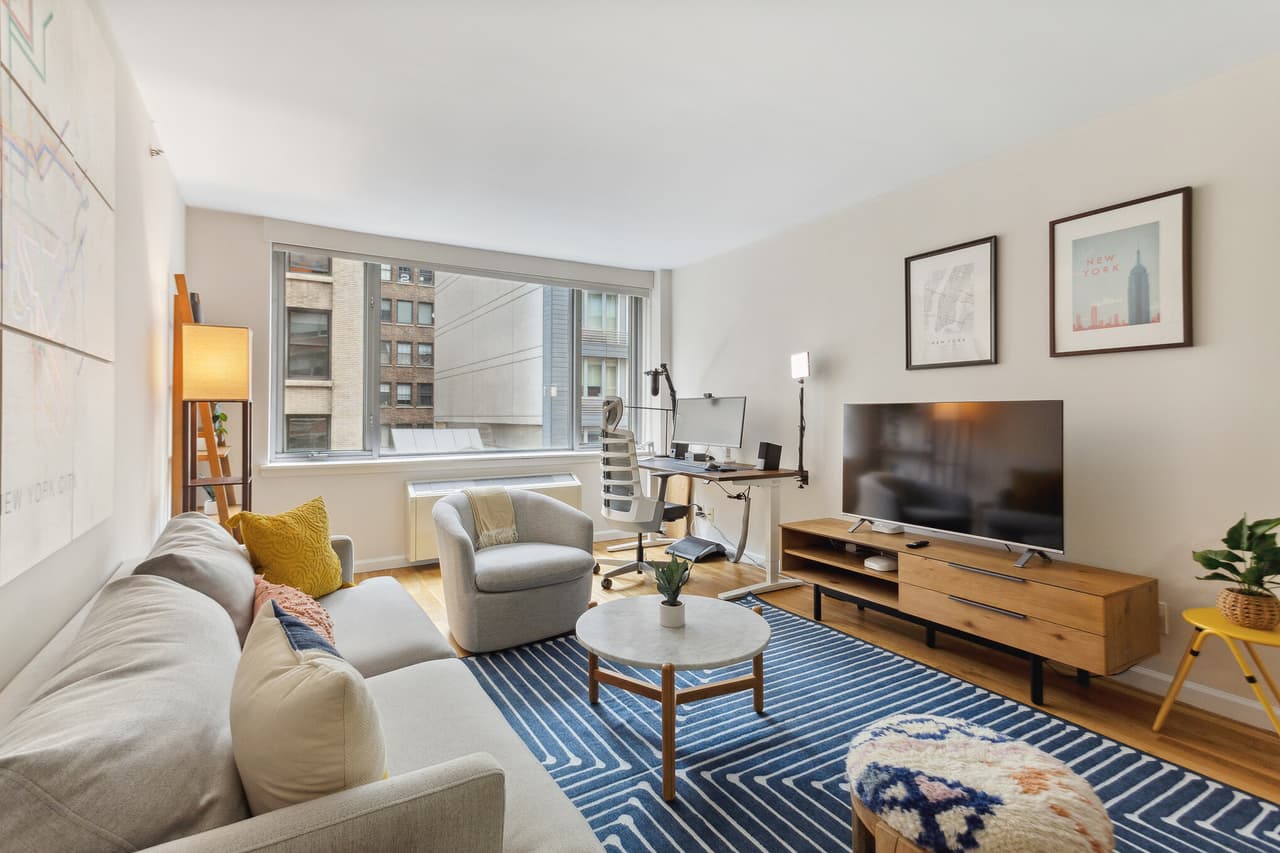 Book Your Student Housing Apartment Now
Anyplace will help you find the perfect student rental in major cities across the USA. You can browse accommodations that are already set up with furniture, utilities, laundry, and extra amenities like a pool and gym. All you have to do is reserve online, pay, and move in. And if you like it, you can easily extend your stay online. Forget about endlessly searching on multiple sites and apps to find the ideal spot for your college or graduate housing. Use Anyplace and choose an apartment that matches your preferences, budget, and provides you with the amenities you need for a comfortable stay.
Request A New Location
We currently have student apartment rentals in New York City, San Francisco, Los Angeles, and San Diego, but will be opening additional apartments in major US cities on a request basis. Join the waitlist by submitting your preferred budget and location. Rent starts at $3,000/mo in order to provide a quality work environment.