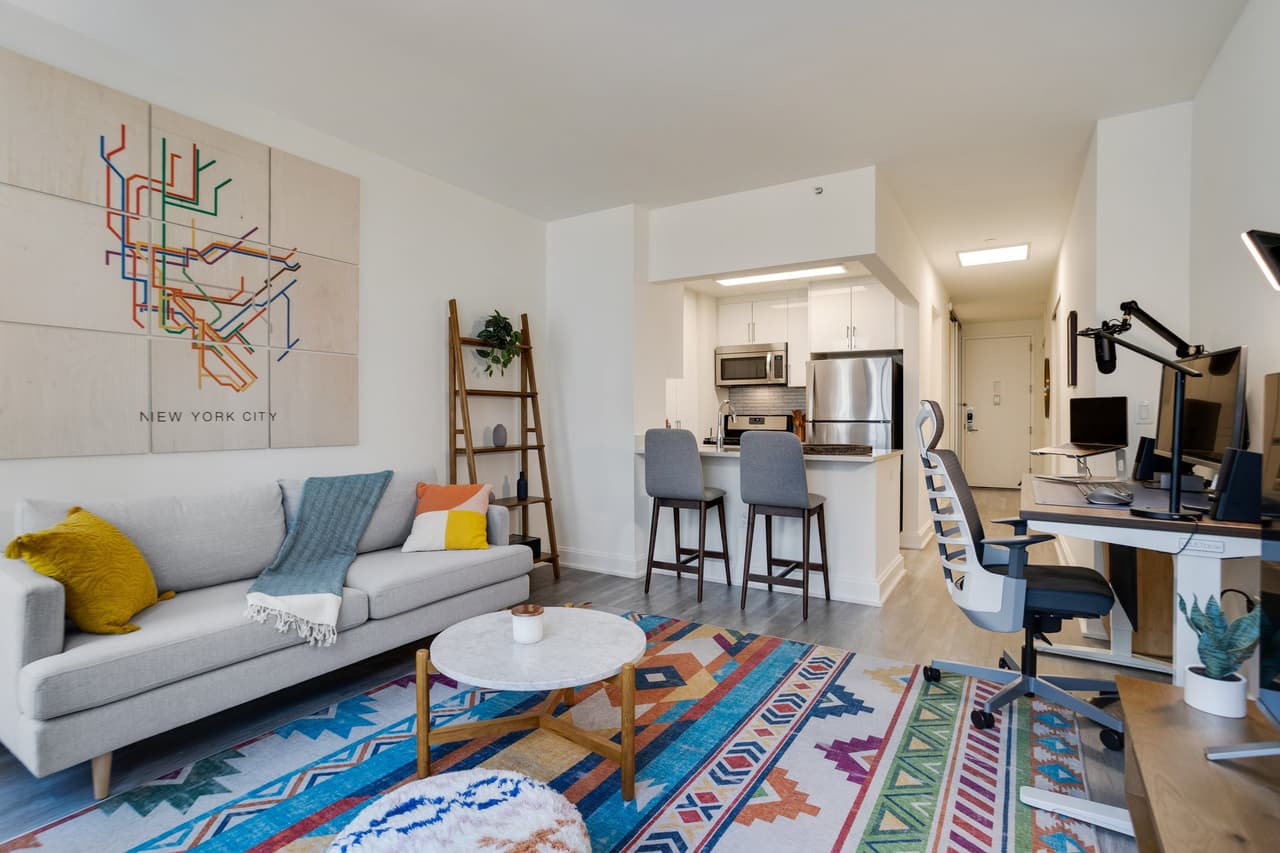 Relocation Housing: Find Furnished Apartments for Short-Term Rent
Book a move-in ready apartment in major cities across the United States.
Find Relocation Rentals in the Best Locations
Anyplace offers accommodations tailor-made for relocation. Rent as long as you need with flexible terms.
San Diego

Los Angeles

San Francisco

New York City - Manhattan
Relocation housing with an equipped home office setup
Working during your stay? We'll make sure you stay productive with an equipped workspace and gigabit-speed internet.
Desk setup & high-speed internet
Ultrawide monitor, standing desk, work chair, keyboard, mouse, and gigabit internet.
Video conferencing setup
Webcam, microphone, key light, and collapsible green screen.
Flexible-term & fully furnished
No long-term commitments and move-in-ready accommodations.
What is relocation housing?
Stripping it to the basics, relocation housing refers to temporary accommodation for people transferring to a new place. It's like an interim home base crafted for those on the move, whether due to job transfers, corporate shake-ups, or just a fresh chapter in life.
How is relocation housing different from other types of housing?
Relocation housing is designed to be a short-term living arrangement during a specific transition period. In contrast, other housing types, like traditional rentals or homeownership, are intended for much longer-term occupancy.
Is it different from transient accommodations?
More than the usual hotel stays and Airbnb rentals, relocation housing bridges permanence and flexibility. It's more homely than the former, more stable than the latter, and perfectly tailored for seamless transitions.
Are relocation housing rentals furnished?
Yes, they are typically furnished. The idea behind relocation housing is to provide a ready-to-move-in space for individuals or families. This reduces the hassle and costs of moving (or shopping!) personal furniture and belongings, making the settling-in process smoother and more efficient. As a result, you can hit the ground running.
Factors to consider when choosing relocation housing
Temporary house hunting feeling like a wild goose chase? Turn that quest for relocation housing into a more relaxed jaunt by considering these key factors:
It's all about that prime spot
Make sure it's a stone's throw from work, has killer transit links, and those must-have spots (hello, 24-hour deli, or late-night pubs) right on your doorstep.
Lease terms to match your needs
One word: flexibility. Relocating has enough plot twists, so you want to seek out landlords or agencies that can offer flexible lease terms.
Curated comforts
Your essentials should set the standard. From 24/7 security to state-of-the-art fitness centers and nearby laundry facilities, define your non-negotiables to ensure your amenities align with your lifestyle.
Four-legged fine print
Are you sharing your chic space with a whiskered pal or a tail-wagging mate? Make sure you're in the clear on specifics — from weight limits to breed restrictions. Double-check the pet policies and deposits to sidestep those 'ruff' surprises.
A safe and sound sanctuary
Before calling it home, scope out local crime stats and exchange a word or two with future neighbors to gain first-hand insights. Above all, your relocation housing should be a comforting and secure oasis.
Security in relocation housing insurance
When it comes to moving residences, regardless if it's corporate or executive relocation housing, anything can happen. We're talking about damaged items in transit, accidents, and even third-party liabilities. Comprehensive relocation housing insurance ensures you're prepared for the unexpected so you can step into your new adventure worry-free.
Where to find ideal relocation housing
Locating the perfect relocation housing rental can definitely be challenging. One needs to be strategic in where to search in an endless sea of real estate websites, company intranets, and local forums. Often, you settle for second-best, fearing that it's as good as it gets. But there's a way to have it all—with Anyplace. Anyplace is the ultimate go-to platform for flexible housing relocation services—so you can live your new life your way.
Scoring suite success with Anyplace
Are you seeking cozy corporate relocation housing, or perhaps you have an executive move on the horizon? Whatever your accommodation requirements, you're sure to find it on the Anyplace housing platform. Here are a few good reasons:
Richness of choice
Anyplace presents an array of options that can match discriminating tastes. Our curated selection ranges from snug corporate relocation housing to opulent executive abodes in the pulsating cities of New York, Los Angeles, San Francisco, and San Diego. Soon, we'll be offering more apartments in major U.S. cities on a request basis. With our extensive portfolio of fully furnished luxury apartments, finding a space that complements your lifestyle and professional demands is a promise we always deliver.
Optimized for peak performance
Every spacious property on our site boasts of high-productivity work amenities that you won't find under one roof elsewhere. Just check these out: high-speed internet, ergonomic chair-and-desk setups, wide-screen monitor, portable green screen, microphone, wireless mouse and keyboard, and more!
Synced for success
Our flexible-term relocation housing rentals are strategically located near key business districts, ensuring minimal commute times. After work, easily access amenities (many of which are on-site) such as fitness centers, pools, rooftop terraces, and recreation lounges so you can rejuvenate and achieve a desirable work-life balance. And what about restaurants, bars, grocery stores, shopping areas, and public transportation? Everything's just minutes away! At Anyplace, we understand that time is money, and our offerings are tailored to see to it that each second you spend is maximized for success.
A touch of home
Missing the unparalleled conveniences of home? Anyplace's luxe, move-in-ready apartments include housing relocation services and amenities that bring that warmth and comfort right to you. Our usual listing features first-class customer service, a fully-equipped kitchen, professional cleaning, and fresh linens. With our careful attention to detail, it's as if you never left.
Uncompromising quality
Your temporary relocation housing should mirror the excellence you strive for in every aspect of your life. This is why we've meticulously handpicked all of the accommodations on our platform, ensuring that comfort, convenience, and quality are non-negotiable elements. Beyond the basics, each listing typically includes top-notch concierge assistance, gorgeous city views, beautiful lounges, and engaging and vibrant coworking areas.
Booking made effortless
Relocating is a complex journey, and finding a place to call home, albeit short-term, should be the simplest part of it. Anyplace has streamlined the process to ensure your housing search doesn't stress you out. All you have to do is book in three easy steps: 1) Reserve online, 2) Pay, 3) Move in. And just like that, you're all set!
Flexibility at heart
Life is unpredictable, and we recognize that plans can evolve. Our flexible lease terms cater to the uncertainties of life—including your personal and work circumstances. Whether you require a short-term haven or an extended stay, Anyplace ascertains that your relocation housing arrangements align seamlessly with your timeline. All our relocation housing rentals are available for a minimum of 30 days or longer. An additional 3—or maybe 33 days? Stay as long as you please, and extend it any time, too!
Streamline your relocation housing search with Anyplace
At Anyplace, we like to make things as straightforward as possible—so you can freely savor life's moments as you deserve. Drop the cumbersome chore of sifting through relocation housing options and start focusing on the essentials—like snagging a table at that buzzy new bistro around the corner. With Anyplace, you can swiftly secure a home that fits your needs.
Request a Location
Where would you like to book a relocation housing rental? We currently have relocation housing rentals in New York City, San Francisco, Los Angeles, and San Diego, but will be opening additional apartments in major US cities on a request basis. Join the waitlist by submitting your preferred budget and location. Rent starts at $3,000/mo in order to provide a quality work environment.