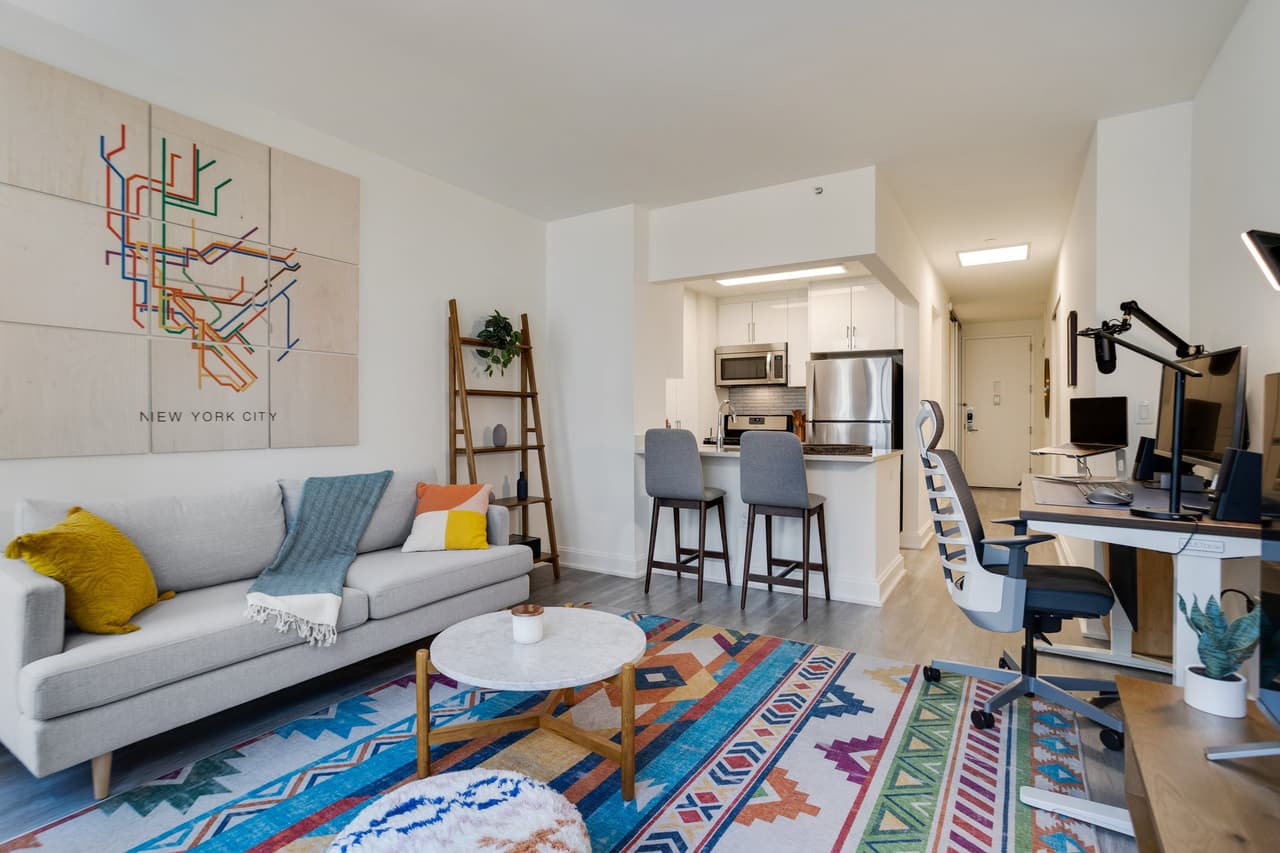 Monthly Vacation Rentals for Professionals
Book a monthly vacation rental designed for remote workers and professionals. Furnished and move-in-ready with an equipped home office.
Find Monthly Vacation Rentals in the Best Locations
Anyplace offers accommodations built for a work-from-anywhere generation.
San Diego

New York City - Manhattan

Los Angeles

San Francisco
Long-term vacation rentals with a fully equipped office setup
Level up your remote work with luxury accommodations that come prepped with an equipped home office and high-speed internet.
Desk setup & high-speed internet
Ultrawide monitor, standing desk, work chair, keyboard, mouse, and gigabit internet.
Video conferencing setup
Webcam, microphone, key light, and collapsible green screen.
Flexible-term & fully furnished
No long-term commitments and move-in-ready accommodations.
What is a Monthly Vacation Rental?
Simply put, Monthly Vacation Rentals are rental homes, apartments, hotels, and co-living spaces that you rent for thirty (30) nights or more. Instead of just staying in a vacation destination for a few days or a week, these rentals are built for longer-term stays, with plenty of amenities included and services like WiFi set up and ready to go. And with these longer stays, you get discounted nightly rates. It's a much more affordable way to vacation if you are able to do so.
Stay Longer and Explore More
Monthly vacation rentals are the perfect way to escape to paradise for a little longer than usual. Instead of staying in a location for a few days or a week, why not extend your stay? Well, there are more than a few reasons. Besides getting to spend more time basking in the sun, exploring a new city, or mastering the toughest ski slopes, staying in a vacation rental for at least one month can save you a ton of money in the long run. When you choose a vacation rental property with a monthly rate, it makes the breakdown of the nightly rate for your extended stay much cheaper than the standard nightly rate for a short-term stay in the same rental. Even the slightest decrease in the nightly rate really adds up when you are staying for at least 30 nights. On top of all of that, with more people able to work remotely and many schools going virtual due to our current situation, long-term vacation stays are trending up.
Monthly Vacation Rentals are Your Home Away From Home
With a monthly vacation rental, you can find a place to call home while you discover new cities around the world. When you book a vacation rental on Anyplace, you can travel in style and comfort, with easy access to all of the amazing things surrounding you. Enjoy the privacy of your own space as you make dinner in a full kitchen with delicious local ingredients. Benefit from the convenience of an in-unit washer and dryer. And of course, if you're combining work and travel, be productive with a fully equipped home office setup unlike anything found in other rentals. As enticing as it sounds to simply rest and relax in one of the best vacation rentals, there are tasty things to eat, sights to see, hikes to take, and memories to make. Discover your new location's history by visiting museums and cultural exhibits. Explore the regional landscapes surrounding the city. Pop in a few local markets and cafes. Then make yourself at home in your welcoming vacation rental, where you can kick your feet up and chill. When you book through Anyplace, you have access to all kinds of 30+ day stays to ensure you find your perfect match.
Furnished Apartments for Vacation Rentals
If you're seeking privacy and comfort, renting a furnished apartment is the way to go. With Anyplace, you don't have to worry about long leases either. Every vacation rental is available for 30+ days or longer, and you can opt to extend your stay at any point on your trip. With furnished apartments—as the name implies—everything will be set up for you so you just need to arrive with your suitcase, backpack, and laptop. All monthly vacation rentals on Anyplace include a state-of-the-art workspace too, with a height-adjustable desk, ergonomic chair, widescreen monitor, portable green screen, and additional office gear.
What are the Benefits of Monthly Vacation Rentals?
Choosing a longer-term rental for your vacation presents a variety of benefits that you may not realize. Let's dive into a few of the perks.
Monthly vacation rentals give you more value for your money
Lower your nightly rate and save a lot of money with 30+ day stays. Rent a place with kitchen access and save even more with home-cooked meals!
Amenities galore
Depending on the type of monthly vacation rental you choose, you'll have a variety of amenities available to you—from fitness centers, and rooftop terraces with city views, to in-unit laundry, and more.
Comforts of home when you travel for work
An equipped home office and high-speed WiFi help you maintain maximum productivity while keeping comfortable and relaxed in your own place.
Book A Monthly Vacation Rental Now
Anyplace will help you find the perfect monthly vacation rental in major cities across the USA. You can browse accommodations that are already set up with furniture, utilities, laundry, and extra amenities like a pool and gym. All you have to do is reserve online, pay, and move in. And if you like it, you can easily extend your stay online. Forget about endlessly searching on multiple sites and apps to find the ideal spot for your monthly vacation rental. Use Anyplace and choose an apartment that matches your preferences, budget, and provides you with the amenities you need for a comfortable stay.
Request A New Location
We currently have monthly vacation rentals in New York City, San Francisco, Los Angeles, and San Diego, but will be opening additional apartments in major US cities on a request basis. Join the waitlist by submitting your preferred budget and location. Rent starts at $3,000/mo in order to provide a quality work environment.