Luxury Apartments in Los Angeles
Book a furnished luxury apartment in Los Angeles for 30 days or longer. Includes an equipped home office and high-speed WiFi.
Furnished Luxury Rentals in Los Angeles
Anyplace offers accommodations built for a work-from-anywhere generation.
Luxury apartments in Los Angeles with an equipped workspace
Level up your remote work with luxury accommodations that come prepped with an equipped home office and high-speed internet.
Desk setup & high-speed internet
Ultrawide monitor, standing desk, work chair, keyboard, mouse, and gigabit internet.
Video conferencing setup
Webcam, microphone, key light, and collapsible green screen.
Flexible-term & fully furnished
No long-term commitments and move-in-ready accommodations.
Stylish Stays in Los Angeles
Convenience is key.
With locations in both Hollywood and West Hollywood Los Angeles, you'll be within minutes of walking distance from restaurants, bars, coffee, and shopping. Did we mention the beautiful views, too?
Luxury and comfort.
The AVA and Avalon buildings have everything you need for a comfortable and memorable stay. You'll have access to a 24-hour fitness center, an outdoor pool, a rooftop terrace, multiple lounges, outdoor dining areas, and a whole lot more.
Modern professional workspace.
Each of our Los Angeles luxury apartments features an equipped workspace that you won't find in any other rental. It includes a height-adjustable desk, ergonomic chair, widescreen monitor, a green screen for video calls, and additional office gear. Just bring your laptop and plug in.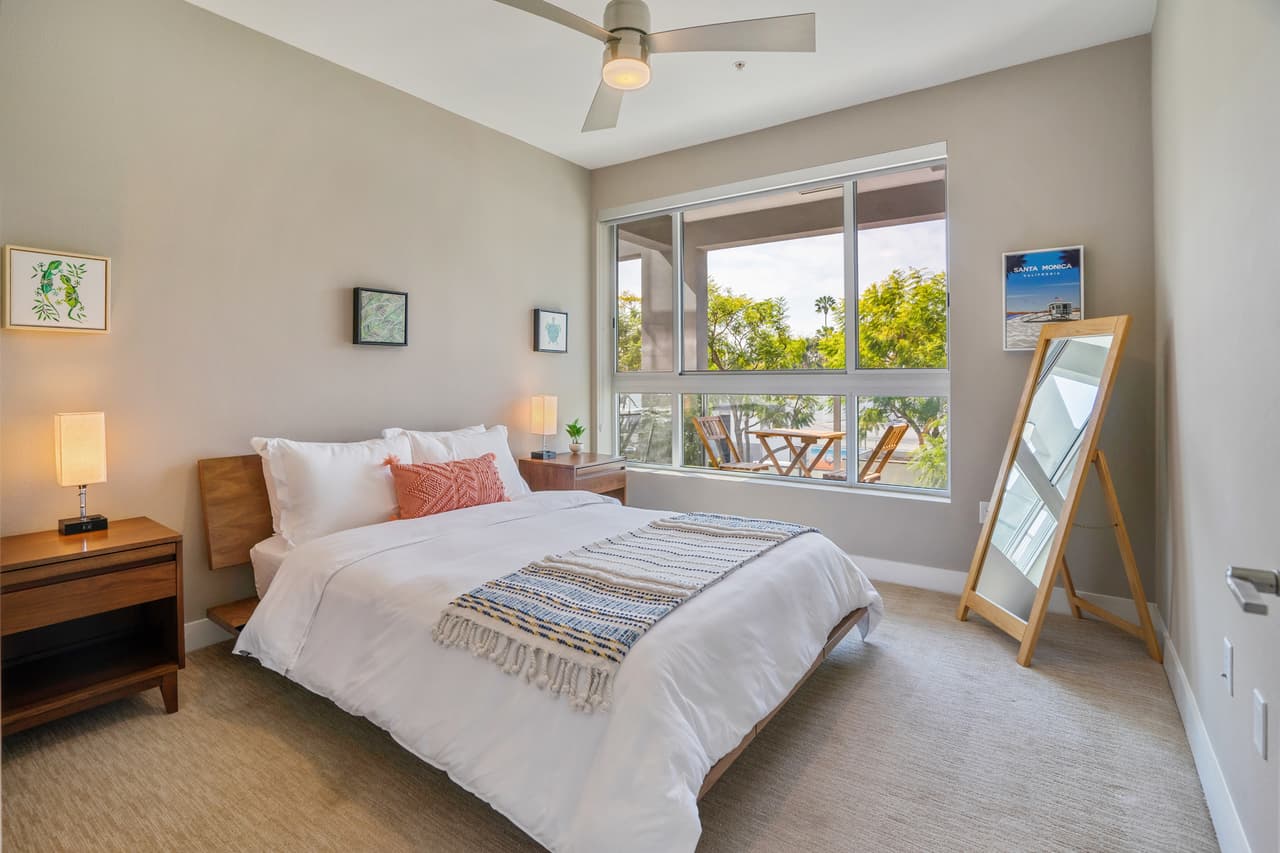 Short or long-term stays.
Flexible terms give you the freedom to move in and out when you want. Book a luxury apartment in Los Angeles for 30 days and live on a month-to-month basis, or decide to extend for a longer duration at any time.
Amenities
About Los Angeles
Los Angeles – often shortened to LA – is the biggest city in California with more than 3.8 million people in the city itself and over 13 million in the metro area. While the area was settled by Native Americans, Los Angeles wasn't recognized as a city until 1835. Since then, Los Angeles has established itself as a hub for entertainment and culture. Los Angeles is home to countless entertainment venues, including famous destinations like the Dolby Theatre, the Hollywood Bowl, and the USC School of Cinematic Arts. The county holds more than 800 museums to explore, and the metro area has nearly a dozen professional sports teams to root for. No matter what your next adventure may hold, LA is sure to impress.
Luxury Apartments in Los Angeles By Anyplace
Discover the best furnished luxury apartments in Los Angeles, carefully curated by the Anyplace team. Our rentals come ready with everything you need for an amazing stay: top-of-the-line furniture, a stocked kitchen with a dishwasher, premium appliances, an in-unit washer and dryer, deluxe coffee machines, a Smart TV, and tasteful art and colorful touches of decor. You'll also have high-speed internet and an equipped home office, making our luxury apartments in Los Angeles ideal for corporate executives and travelers with extended business, professionals on contracts, diplomats, and ex-pats looking for premium housing. More preferable to extended hotels, you'll not only have increased privacy and plenty of the same exceptional amenities, but often, you'll find it is more cost-effective than an extended stay in a luxury hotel. Relocating or staying in Los Angeles has never been easier. Our luxury apartments are move-in ready from the moment you arrive – you simply need to bring your suitcase. And you don't have to worry about leases, either. You can rent for 30 days or longer, giving you the flexibility to stay or move to another location whenever you want. Whether you're a corporate employee, executive, or simply looking for permanent housing in Los Angeles, Anyplace has the perfect luxury apartment.
The Anyplace Experience in Los Angeles
We want you to have an amazing time in Los Angeles. Our goal is to make that a reality – from the moment you step foot in your Anyplace apartment to the time that you leave. We've hand-selected our buildings, apartments, and furnishings to ensure you'll immediately feel at home. But that's just the start. Here are a few other details that really sets Anyplace apart from other luxury rentals in Los Angeles.
Custom Home Office and Gigabit WiFi
Our apartments are designed for productive people. Each one features an equipped workspace that tops anything you'll find in an office, coworking space, or on other rental websites. You'll have a height-adjustable desk, widescreen monitor, wireless mouse and keyboard, collapsible green screen, microphone, and more, along with gigabit speed internet.
Private Gym, Business Center, Lounges
We aim to bring the hotel experience to your stay. Amenities are a huge part of the equation. We've carefully curated our buildings in Los Angeles so they are chock full of first-rate amenities. You'll have access to a private fitness center, an outdoor pool, a rooftop terrace, and multiple lounges.
Flexibility for Short-Term and Long-Term Stays
No long-term leases are required. Whether you need a luxury apartment in Los Angeles for 30 days, 48 days, 92 days, or much longer, you can book to the day and decide to lengthen when your move-out gets closer.
First-Class Customer Service
Think of our team as your personal concierge—not just support. We have destination managers on-site in Los Angeles, and they are available whenever you need them. We're always a text, email, or call away.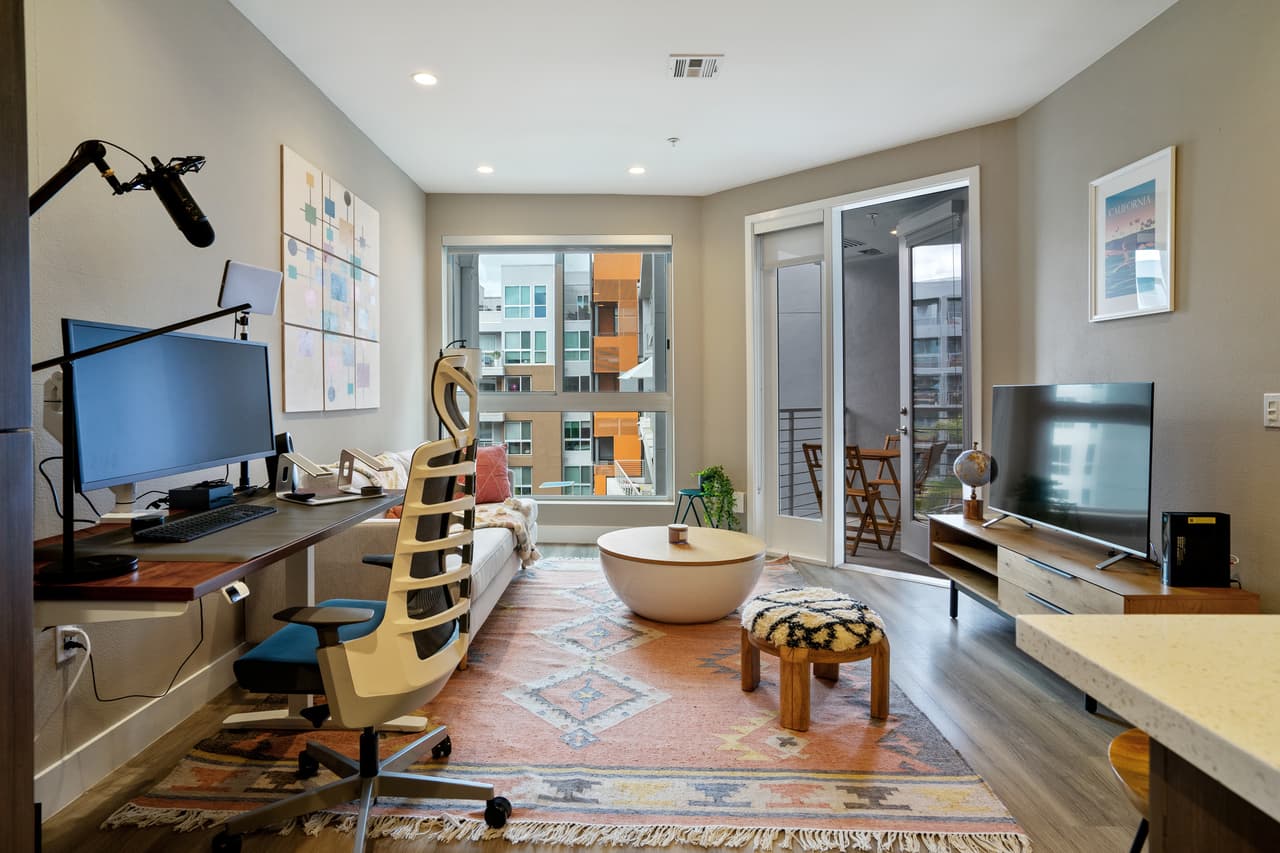 Book A Luxury Rental in Los Angeles Now
Browse our selection of luxury rentals in Los Angeles that are already set up with furniture, utilities, an equipped workspace, high-speed internet, in-unit laundry, and extra amenities like fitness centers and rooftop lounges. Simply reserve online, pay, and move in.