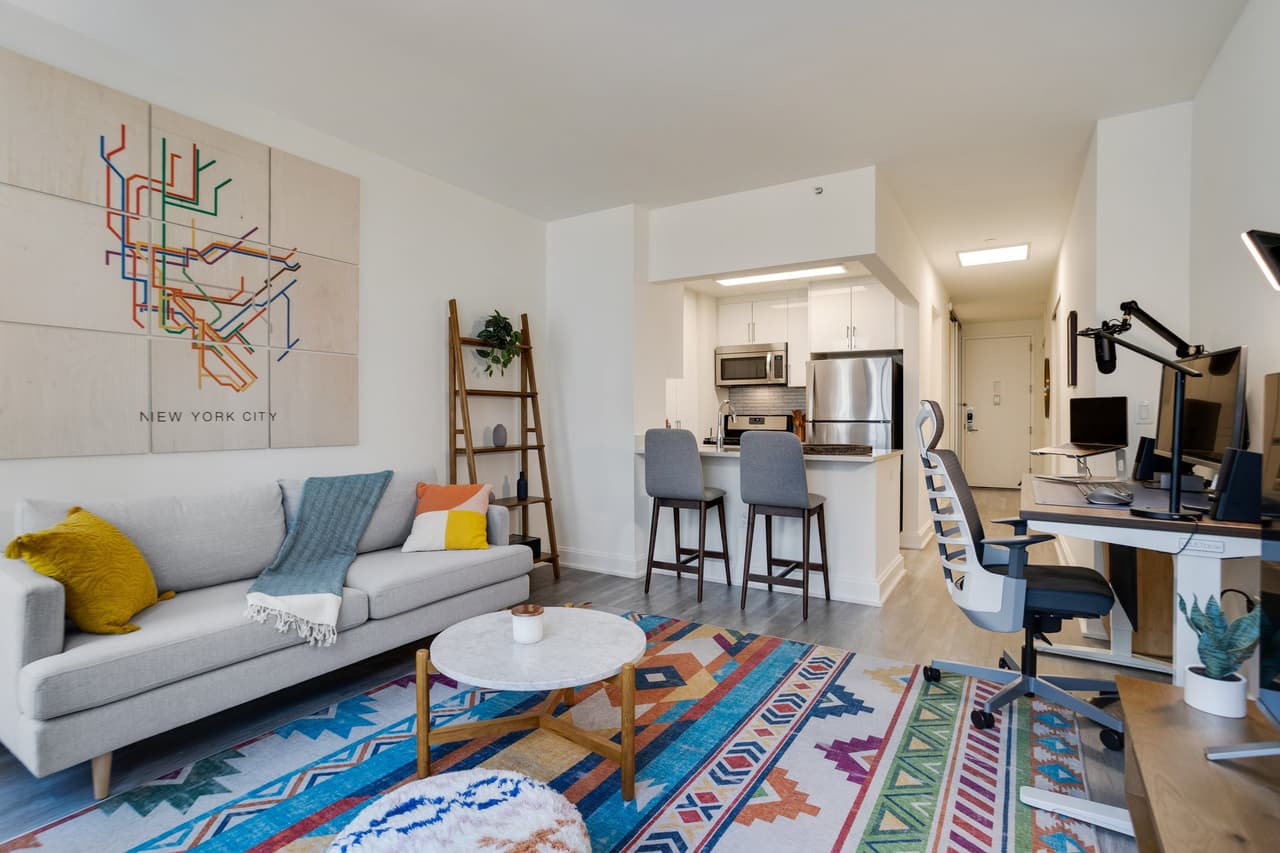 Long Term Hotels
Find apartments with hotel amenities, equipped home offices, and high-speed WiFi.
Find Monthly Rentals in the Best Locations
Anyplace offers accommodations built for a work-from-anywhere generation.
San Diego

New York City - Manhattan

San Francisco

Los Angeles
We are opening additional apartments in major US cities based on request.
Join the waitlist by submitting your preferred budget and location. Rent starts at $3,000 per month in order to provide a high-quality work environment.
What is a Long-Term Hotel?
Long-term hotels are a niche segment responding to the demands of business travelers or digital nomads who want to stay longer without compromising on comfort or convenience. But in addition to comfort and convenience, they also fulfill an essential need: flexible housing. As a traveler, explorer, or digital nomad, if you need a space that can complement your lifestyle and still be free from commitment and hassle, you can pick a long-term hotel stay. It's popularly assumed that this type of accommodation might burn a hole in your pocket but hotel owners are now competing with other flexible housing options by providing discounted long-term stays for mutual benefit. And what sets these long term hotels apart is their focus on guest comfort: many even come with a full kitchen to ensure that guests feel at home.
What is the Purpose of a Long-Term Hotel?
When people travel for work or leisure, they typically have to choose between expensive per-night hotels; independent, unmanaged vacation rentals, or look for serviced apartments that have contractual requirements. A long-term hotel serves those customers looking for a flexible housing option that is both comfortable and elegant. And depending upon the hotel you pick, you can have access to WiFi, gym, recreational facilities, along with pools and other benefits. Long-term hotels also come without the hassle of setting up a home. And little else, in our opinion, comes close to returning to a well-made room with clean towels waiting in the bathroom!
Key Benefits of Staying in Long-Term Hotels
Long-term hotels are of various kinds: they can be inexpensive to ultra-luxurious. Similarly, they may have varied accommodation styles: from purely basic rooms with barebone facilities to good rooms with a suite of benefits. While choosing a long term hotel, it's important that you weigh the benefits with other factors such as location and cost.
1. Ultimate Freedom
The best part about a long term hotel is its no-frills policy. Long term hotels don't expect you to sign a contract or fulfill any obligations. You can simply stay for as many days as you please, paying purely for those days.
2. Luxuries and Amenities
Most long-term hotels will provide all basic amenities from water, electricity, to WiFi. And, you'll get housekeeping on a day-to-day or weekly basis, too. Depending upon the hotel you pick, you may also be able to access other benefits such as room service, a lounge area, or recreational facilities such as a gym or a pool.
3. Access to Kitchen and Furnished Room
When people stay in a place for a long time, they like to take control of their food situation. Long-term hotel rooms often come with kitchens or kitchenettes to give you exactly that control. They recognize that if you stay somewhere for an extended period of time, you don't want to eat every meal outside. Long term hotels, unlike apartments, are also furnished with everything you will need for comfortable living: bed, table, chair, cupboard and can also be elegantly decorated to make you feel at home.
4. Location, Location, Location
It's possible to find vacation rentals or apartments that are far away to relieve you of the city's commotion and hassle, but a lot of good long term hotels are often in the heart of the city—accessible from all major centers. If that's not what you need, you can find a long term hotel at a location that you prefer.
5. Budget-Friendly
Many hotel rooms go unbooked when it isn't tourist season and so, long term hotel stay providers offer a range of discounted benefits for guests who will be willing to lock a room and prevent it from going unoccupied. In most cases, the longer you stay, the cheaper it gets!
Who Should Stay at a Long-Term Hotel?
Long term hotels can serve an array of customer needs. Almost anyone looking for flexible housing options without the burden of formalities or furnishing needs can choose a hotel. Whether you're spending weeks or months, there might be something rewarding about living in a long term hotel stay for you. Business: You could be traveling for business and might need to spend weeks or months in a city while you work on a contract or close a deal. Personal: You might be shifting homes, renovating your home, or simply deciding a city is good enough for you and may need to spend a couple of days to a week in a hotel. Medical: You might be in town for medical treatment and may need something flexible as you're sure if you are there for a few days or longer. Explorer: You might be on vacation but would like to stay in a place for a few weeks instead of merely ticking off the top sites in the city in a few days. Digital Nomad: You could be a digital nomad, traveling as you work, and need a place that can be both a home and an office. Educational tour: You might be completing a short course or a fellowship that needs you to stay in a place long enough to not pick per-night hotels but not as long to rent your own apartment. Retired/ Sabbatical: Or you could simply be on a sabbatical, deciding where life takes you next.
Anyplace Makes Finding Long-Term Hotels Easy
Anyplace can help you find affordable monthly hotel rentals in many cities around the world. Instead of wasting time calling hotels or negotiating deals with each hotel manager, you can access a range of hotels at your preferred location with Anyplace. You can also finally stop frantically searching multiple websites for the most flexible living option by simply logging on to Anyplace and choosing a long term hotel stay that matches your lifestyle and provides you with the best amenities at the price you want.
Benefits to Booking Long-Term Hotels on Anyplace
Anyplace provides the best of both worlds for long term hotels—a range of affordable units in cities around the world, all available on month-to-month contracts. Every hotel room on our website is fully furnished with utilities and WiFI already set up, allowing you to enjoy a hassle-free experience where all you need to do is arrive. You'll get weekly or even daily house cleaning, too. Leases on Anyplace are optional, allowing you the freedom to live month to month anywhere. We are firm believers in providing a housing rental experience that's simple, easy to manage, and that works on your schedule and needs. Choose the city, the dates, and a specific hotel room right on the website and app, and book with a click of a button.
Zero hassle
Choose a long term hotel room that you want to live in on the website, and then book.
Weekly house cleaning
Your room will get cleaned every week—and depending on the hotel, sometimes daily.
All-inclusive
All utilities and WiFi are included in the hotel room and will be set up for you and ready to go.
No long leases
Forget about ever having to sign a long lease. Our hotel rooms are available month-to-month. Stay as long or little as you'd like—down to the day.
Move-in today—or any day
Search for a hotel room on Anyplace that matches your schedule. Select the city you want and type in the exact dates that you'd like to sublet a room for.
Move out or extend your stay
Manage your stay online, so if you realize that you'd like to extend the length of time that you'd like to stay in the hotel room you can do it with a click of a button.
Where are Long-Term Hotels Near Me?
When comparing long term hotel rooms near you, consider the location, convenience, price point, and amenities that you need—even with services like housekeeping. You can find a variety of room sizes and beds, so you'll be able to choose the one that best fits your preferences. Our long term hotels are available in some of the world's greatest cities like San Francisco, New York (Manhattan, Brooklyn, Queens), Los Angeles, Austin, Sacramento, Guadalajara, Cancun, Tampa, Atlanta, and many more. It is easy to go online and find a hotel room near you in most major cities around the globe. Whether traveling alone or with family, and friends for business or pleasure, you can live in style and not give up the conveniences of home sweet home. Just select the city where you're looking to find a longer-term hotel and you'll find plenty of options to choose from!