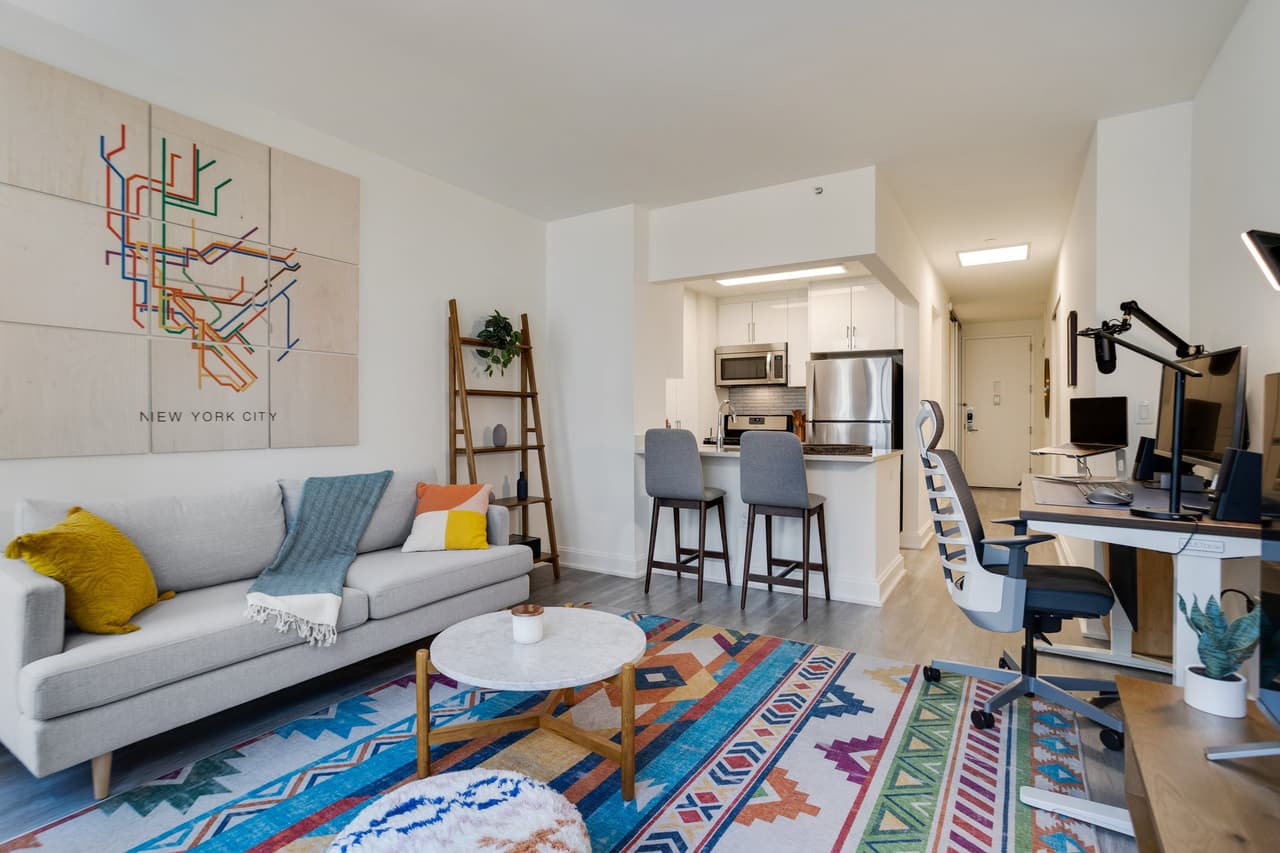 Furnished Apartments With Workspaces
Book a flexible-term apartment designed for remote work professionals. Furnished and move-in-ready with an equipped home office.
Find Furnished Apartments With Offices in the Best Locations
Anyplace offers accommodations built for a work-from-anywhere generation.
San Diego

New York City - Manhattan

Los Angeles

San Francisco
Furnished apartments designed for remote workers with a fully equipped office setup
Level up your remote work with luxury accommodations that come prepped with an equipped home office and high-speed internet.
Desk setup & high-speed internet
Ultrawide monitor, standing desk, work chair, keyboard, mouse, and gigabit internet.
Video conferencing setup
Webcam, microphone, key light, and collapsible green screen.
Flexible-term & fully furnished
No long-term commitments and move-in-ready accommodations.
What Are Furnished Apartments?
Furnished apartments are exactly as they sound — apartments that come with all the furniture and amenities that will help you live comfortably. You can rent them for a short or long period of time, depending on your needs. They have become popular among professionals, students, and interns who tend to move around and complete their work or studies remotely.
How Do Furnished Apartments Differ From Hotel Rooms?
Furnished apartments have more in common with conventional living spaces than hotel rooms. Beyond offering a bathroom and bedroom, they generally feature a fully-functioning kitchen with all the essentials for cooking meals, a washer and dryer for laundry, and strong Wi-Fi to withstand video calls, streaming, and uploading. Furnished apartment options are also considerably cheaper than paying for a hotel room for the same amount of time.
What Are The Benefits of Staying in Furnished Apartments?
Before you decide if a furnished apartment is right for you, it's worth considering the distinct advantages you can benefit from if you rent one.
Freedom and Flexibility
As we mentioned, furnished apartments come with your own fully functioning kitchen. This means you have the freedom to make your own meals rather than relying on surrounding restaurants and take-out.
No Pressure to Buy Furniture or Decorate
You also benefit from a move-in-ready apartment, meaning you don't have to pay for furniture or decorations. However, there's nothing stopping you from putting your own temporary stamp on your apartment if you want to hang pictures or rent an ergonomic chair.
Longer Than Hotel Bookings, Shorter Than Traditional Leases
Thanks to the modern workplace, many people do not know how long they will be staying in one city, whether that be for a couple of months or a couple of weeks. As leases on furnished apartments tend to be shorter than conventional apartment leashes, you have more freedom to up and leave without incurring hefty charges.
Experience a Less Stressful Form of Moving
Let's face it — moving can be stressful. Avoid the hassle and anxiety associated with moving furniture by choosing to live in a furnished apartment. You don't need to invest in a huge truck to carry all your belongings. Instead, moving may just involve taking a few boxes or a suitcase from your current accommodation to the new place.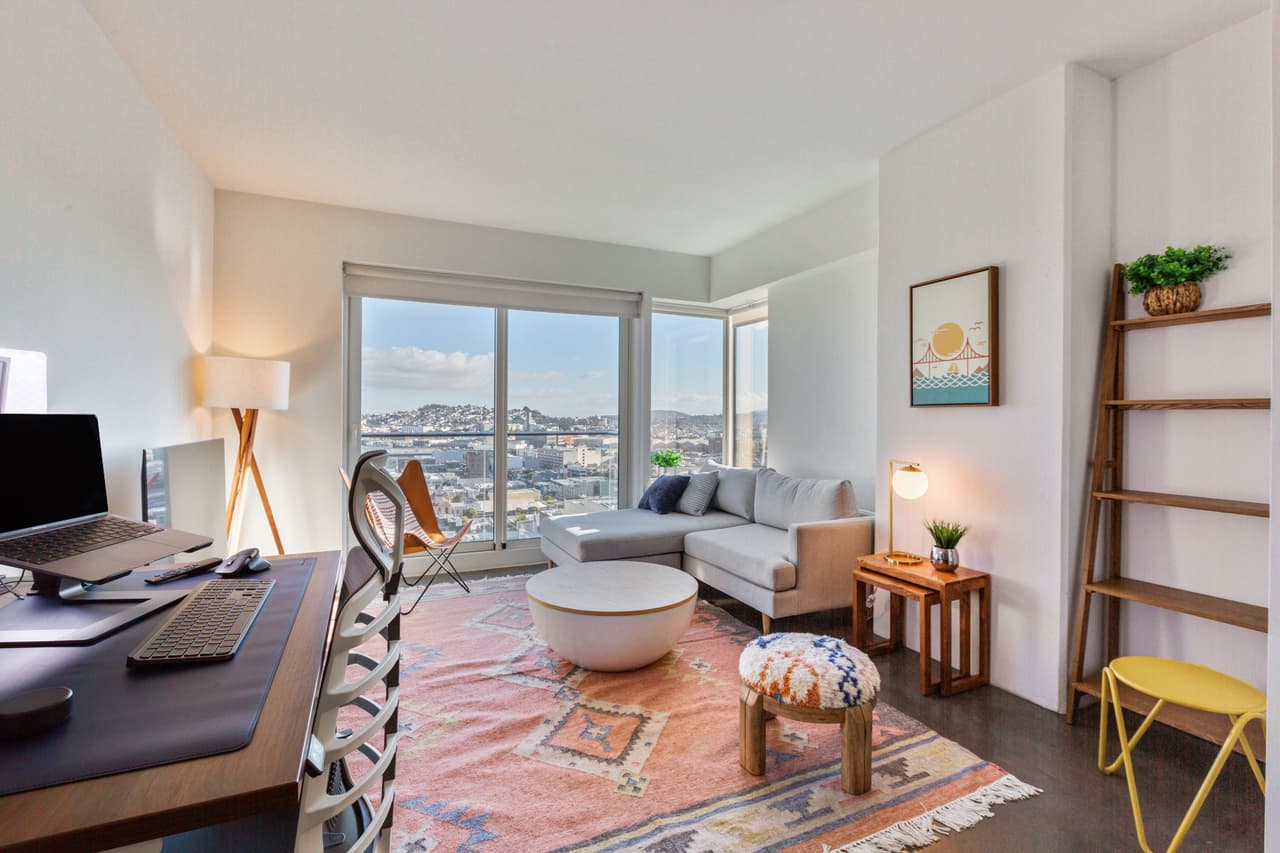 Is a Furnished Apartment Right for You?
Choosing a furnished apartment comes down to your personal taste and what your needs are. On Anyplace, we have a number of furnished apartments available in a variety of major cities. They can be rented for 30 days or longer, without having to sign a lease.
Why Book a Furnished Apartment With Anyplace?
Anyplace will help you find furnished apartments based on the aspects you're looking for. You can browse accommodations that are already set up with furniture, utilities, laundry, and extra amenities like a pool and gym. Each furnished apartment includes an equipped workspace, too, unlike anything found in other rentals. All you have to do is reserve online, pay, and move in. And if you like it, you can easily extend your stay online. Forget about endlessly searching on multiple sites and apps to find the ideal spot for your furnished apartment. Use Anyplace and choose a remote work rental that matches your preferences, budget, and provides you with the amenities you need for a comfortable stay.
Request A New Location
Where would you like to book a furnished apartment? We currently have furnished apartments in New York City, San Francisco, Los Angeles, and San Diego, but will be opening additional apartments in major US cities on a request basis. Join the waitlist by submitting your preferred budget and location. Rent starts at $3,000/mo in order to provide a quality work environment.