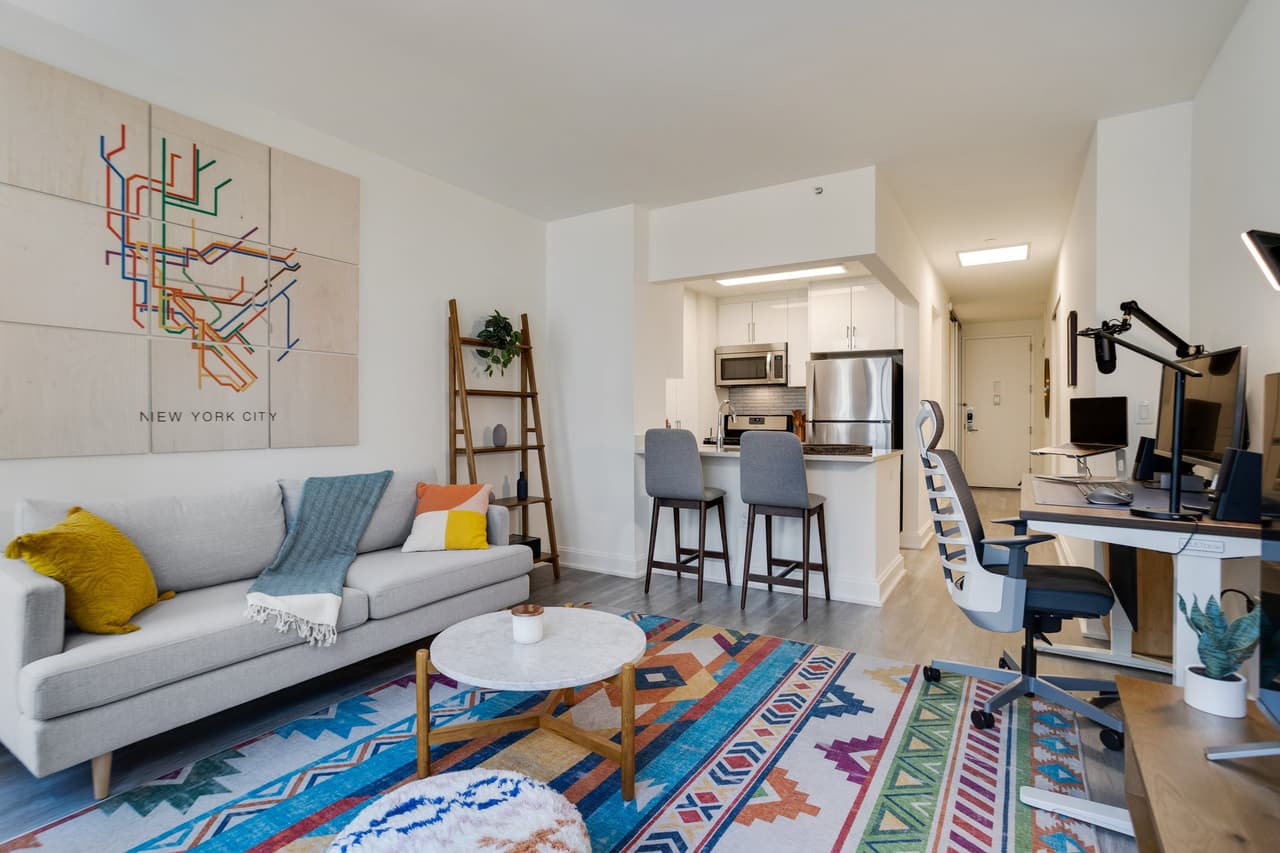 Extended Stay Hotels
Find apartments with hotel amenities, equipped home offices, and high-speed WiFi.
Find Monthly Rentals in the Best Locations
Anyplace offers accommodations built for a work-from-anywhere generation.
San Diego

New York City - Manhattan

Los Angeles

San Francisco
We are opening additional apartments in major US cities based on request.
Join the waitlist by submitting your preferred budget and location. Rent starts at $3,000 per month in order to provide a high-quality work environment.
A New Way Of Living
Flexible arrangements
Live month-to-month in any city without having to sign a long lease.
All-inclusive lifestyle
Utilities and WiFi are included. Most spaces have weekly housecleaning.
Hassle-free experience
Enjoy move-in ready, fully furnished housing. Pay and manage your stays online.
The Extended Stay Hotel is Home-Away-From-Home
A value proposition is a simple statement that conveys the value a company offers customers through its products and services. For extended stay hotels, the value proposition is simply that it is the smartest, most convenient place to live while temporarily away from home or between homes. In a world where people are always on the move for work and leisure, long stay hotels, serviced apartments and co-living spaces offer the features, pricing and locations that appeal to people, across the generations, who have different reasons for needing a comfortable, clean, convenient place to stay for 30-90 days or even longer.
How to Find Low-Cost Extended Stay Hotels
Low-cost extended stay accommodations include three types of rentals. Hotels are really any establishment providing accommodations for people who need a place to stay for any reason. When you look for a place to rent for 30 days or more, consider all three of the following options: Extended stay hotels - Also called residential hotels, they are facilities offering long-term stays. The hospitality industry calls a long-term five days, but high-quality accommodations usually require a minimum of 30 days. It is one way they are able to maintain their high-quality standards. Each facility has different room or suite configurations, furnishings, amenities, services like housekeeping and various facility features, like the internet, a coin-operated laundry and a pool. Staff is typically available onsite 24/7. Serviced apartments - Serviced apartments are furnished apartments offering amenities similar to those offered at extended stay hotels. They are like regular apartments in that they have a kitchenette or full-size kitchen, but depending on the location, often have larger rooms than found at hotels. They also offer access to services like housekeeping and internet, and many have features like a pool. The apartments are located in a residential building and may or may not have staff on premises 24/7. Co-living spaces - Co-living spaces are rapidly growing in popularity, especially among millennials and Gen X, because they encourage networking and socializing. You can rent dedicated living space for personal use and will share some areas like the bathroom, living room and kitchen. Think in terms of renting a room in a house. People ask, "How can I find the right extended stay near me?" There are different paths you can follow to find the various accommodations. One, of course, is doing an internet search, and no doubt plenty of extended stay hotels will come up in the results. However, you also may find plenty of them describe their units as high-end sweet spots when in reality they are low-end venues with sleepy front desk staff and equipment, like the elliptical in the fitness room, that seems to always have a "Broken - Do Not Use" sign on it. Quality is important and especially when living in the space for a month or more. The best way to find high-quality, low-cost long stay hotels, serviced apartments or co-living spaces is to rely on high-quality rental services that has rules - yes rules - all spelled out in a lease and intended to ensure a comfortable, worry-free stay. You will know the property is properly vetted, or you can check it out yourself because seeing is believing. You will also know that, like you, the other long-term renters have been checked out to verify solid credit history and no criminal background. A lease takes the guesswork out of renting extended stay hotels. It is not good to be dealing with a mystery when it concerns the quality of accommodations and services. A lease informs renters up front about the requirements for deposits, getting a refund, parking fees (if any) and pets.
How Much Are Extended Stay Hotels Per Month
First things first - do not interpret "low cost" as a nice term used to avoid saying "cheap." Low-cost extended stay hotels are low cost in comparison to renting an apartment on a month-to-month lease, especially in a major city, or staying in a hotel that only offers daily or weekly rates. Think reasonable cost for high-quality living when you ask "What does an extended stay near me offer?" Cost starts as low as $500 and goes up from there. The monthly rate is determined by: Location - A serviced apartment in Guadalajara, Mexico is typically less expensive than a long stay hotel in New York City. Rates vary based on the city the hotel is located in and the location of the hotel within the city. A facility close to a major business district or city hub will cost more than one located on the city outskirts. Size - Size does matter. Size and the number of rooms impact the rental price. A suite costs more than a single room. A single room with a bathroom and a living room area costs more than a single room with only a bathroom or no bathroom. It only makes sense. Services, convenience, and privacy - Naturally, the more services, conveniences, and privacy offered, the more the rental is likely to cost. A rental that comes with weekly housekeeping, a private kitchen and a fitness center will cost more than one with a shared kitchen and bathroom, and no fitness center. Typical facility aspects that renters tend to consider include things like TV or cable TV, Wi-Fi, housekeeping frequency, shared or private kitchen or microwave and mini-fridge, private or shared bathroom, and public or private parking. Deposit requirements - Accommodations will require a deposit which will be the equivalent of part or all of the first month's rent. There may be a pet deposit too. Deposits are refundable if you meet the requirements. No wild parties allowed! Season - In some places, the rates may vary depending on the season. Rates are set by the building owners. For example, accommodations in a city with an active summer tourist season may charge more during the summer months. Quality - Luxury five-star accommodations are naturally more expensive than three or four-star rentals. Extended Stay Hotels vs. Short-Term Rentals Extended stay hotels and short-term rentals have one thing in common. You will sign some kind of lease agreement. For this discussion, the short-term rentals are apartments that can be rented month-to-month. There are places that call themselves "extended stay" and offer weekly rental rates, but they are typically traditional hotels that are pushing the limits of what "extended stay" really means in the hospitality industry. Short-term rentals seldom have furniture, so you will have to bring your own furniture and other items in order to make the rental comfortable. Extended stay hotels, serviced apartments and co-living spaces are fully furnished. Just bring your clothes (clothing is not optional!) and any other personal items. Short-term rentals with kitchens do not have household items needed for daily living, like dishes, cooking and eating utensils, coffee pot, and cups and glasses. Extended stay rentals with kitchens have it all there and ready to use. Short term rentals also do not include utilities in the rental fee. You are responsible for setting up the services, and that takes time and money. Extended stay accommodations rents include water, electricity, gas, and trash. Short term apartment rentals do not offer a complimentary breakfast, cable TV and housekeeping. Extended stay rentals offer all of these features and more.
Reasons You May Need an Extended Stay Hotel Near You
You might be surprised at the variety of reasons people choose to stay in a long stay hotel. Business travelers - This category includes mostly people who are employed by companies and must work remotely for a month or more at a location. Gig workers - The gig economy workers are people who work as independent contractors and accept temporary jobs at a variety of locations. Vacationers - Some people are fortunate enough to get to go on vacation for a month or longer and need a place to return to after regularly venturing out to see the area sites. People between homes - Most people agree that moving is one of life's most disruptive events, especially if moving with a spouse, partner and/or children. Extended stay accommodations offer a home-like feeling and critical furnishings and amenities needed for daily living. It also offers the space needed to comfortably live while waiting for the furniture in the moving van to arrive, that last you heard is somewhere on a highway between here and there. Family - Families have many reasons they decide to rent an extended stay facility. They include long visits with family living elsewhere, out-of-town medical situations where a family member gets a long-term treatment at a medical facility, reunions and weddings, and family members visiting from another country and staying a while. Temporarily and unexpectedly displaced - Turn on the news today, and people are frequently displaced from their homes and apartments due to natural disasters, like tornadoes and flooding, and by fires. They need a place to live and fast! In other situations, homeowners decide to do a major remodel of their house, or a landlord decides to upgrade properties and needs tenants to temporarily move. Extended stay accommodations offer the comforts of home during times of displacement. Want to write a book and can never find the peace and quiet needed to get your project completed? Rent an extended stay hotel accommodation for a month or two and finish your masterpiece because the world is waiting. Want to combine work and leisure? Think, "I need to an extended stay near me that has room for the family." Want to network with inspirational people to jump-start your business or get new ideas? Rent a co-living space filled with entrepreneurs and innovators looking for the same kind of information sharing experiences. Everyone needs a place to call home, especially when it is temporary.