Digital Nomad Housing
Book a flexible fully furnished accommodation Anyplace.
Digital Nomad Accommodation Around the World
Intro to Digital Nomad Housing
Remote work is here to stay. It's a fact. Many huge companies—like Twitter, Facebook, Salesforce—are now allowing their employees to work from home, permanently. And in this new reality, work from home can actually mean work from anywhere in the world, if you're interested in traveling and joining the digital nomad movement.
Roaming the globe while working is becoming increasingly popular. A 2019 MBO Partners report found 7.3 million Americans had identified themselves as remote workers who travel, many more than the 4.8 million cited in the 2018 report. For people who primarily work on their computer or even by phone, new technology makes this lifestyle feasible.
So, let's say you've recently secured a remote job or you're one of the employees who don't have to return to the office, and you've decided you want to live the digital nomad life. Now that you can physically live and work anywhere, where should you go? And is there a way to find housing options that are built specifically for digital nomads and location-independent workers who want to stay in cities around the world?
The answer is yes!
As a digital nomad, there are many things to take into consideration when it comes to accommodation. But one thing remains the same—whether you want to have a room right outside of Berlin, an apartment in the center of Barcelona, or a bunk bed in Bali—you need a place that will help cultivate creativity, productivity, and efficiency with your craft. After all, remote work is how you're able to live this life, so you need a solid place to get into your flow state.
Before we get too deep into the details though, let's take a quick look at what a digital nomad actually is, in most people's eyes.
But First... What exactly is a Digital Nomad?
To define it in plain terms, digital nomads are people who are location-independent and use technology to perform their job. Digital nomads work remotely, telecommuting rather than being physically present at an office. Nomads can be salaried employees for a company or freelancers with numerous clients.
United by a passion for travel and new places, people, cultures, and adventures, digital nomads enjoy the ability to work anywhere they can connect to the internet.
Some would be classified as full-time digital nomads—meaning they travel all year and don't necessarily have a home base or headquarters—while others are part-time digital nomads, and take a few trips throughout the year while working remotely.
In both scenarios, digital nomads enjoy living and working in cities far and wide, in locations around the world that are not home. With that said, where do they live? What do they call home when traveling? Let's dive into some of the popular types of housing digital nomads utilize.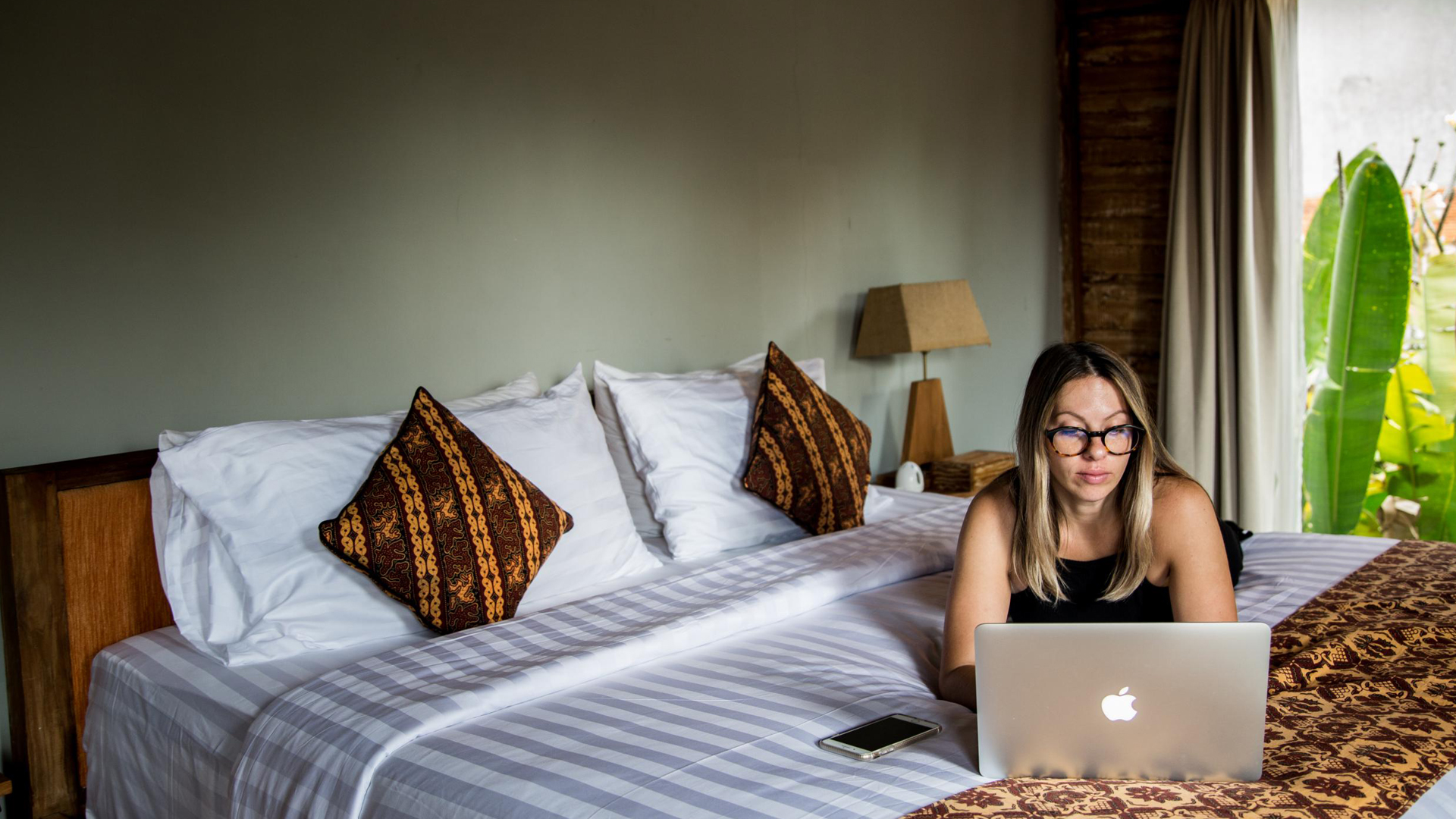 Types of Housing Popular for Digital Nomads
There are quite a few different types of housing that most digital nomads utilize while traveling. They all have their pros and cons, and it really depends on your personal preferences. Let's take a look at each.
Co-living for Digital Nomads
Co-living is a great option for digital nomad accommodation. It's on the rise in popularity and prevalence, and the concept definitely suits the nomad lifestyle. Co-living spaces are buildings that include private and shared furnished bedrooms, high-speed WiFi, access to coworking zones, shared kitchens and common areas. Some might even include access to gyms and recreation facilities. With co-living you won't have to worry about paying extra housing-related bills or utilities—they're almost always included in one single rent payment.
A big goal behind co-living is community: it allows you to combine a place to live and work while building relationships with like-minded people. It's a terrific fit for digital nomads, but it's also perfect for professionals, makers, entrepreneurs, artists, and creatives.
Co-living grants flexible, affordable housing around the world. Think major metropolises like San Francisco, London, Lisbon, and New York—although many other smaller cities and towns are embracing it, too.
CO-LIVING IS BEST FOR DIGITAL NOMADS WHO…
Want to meet other digital nomads while traveling
Are interested in building community with like-minded individuals
Don't want to pay separately for coworking; co-living is set up for remote workers
Are traveling solo—it's a safe option and an easy way to make friends
Want to save money—it's usually more affordable and includes bonus amenities
Are looking to develop business connections (it's a great place to network)
Extended Stay Hotels for Digital Nomads
An extended stay hotel serves digital nomads looking for a flexible housing option that is comfortable and convenient. You'll get a private furnished room with a bathroom in a hotel, which usually also includes a work station (desk area) and a kitchenette. And depending upon the hotel that you pick, you may have access to a gym, recreational facilities, along with pools and other features.
Another benefit for digital nomads? Convenience. Extended stay hotel rooms come without the hassle of setting up a home and include housekeeping daily or weekly. And little else, in our opinion, comes close to returning to a well-made room with clean towels waiting in the bathroom.
EXTENDED STAY HOTELS ARE BEST FOR DIGITAL NOMADS WHO…
Are looking for ultimate privacy
Want the comfort and convenience of housekeeping
Like to be close to the city center—hotels are usually near downtown areas
Don't need the place that they live in help them network, meet people, etc.
Want a budget-friendly option—many 2-3 star hotels offer extended stays
Furnished Apartments for Digital Nomads
Similar to extended-stay hotels, if you're a digital nomad who is seeking privacy, renting a furnished apartment might be the way to go. In some flexible-term rentals, you'll only have to share the common spaces with one or two other travelers, or you can even get a private apartment.
With furnished apartments—as the name implies—everything will be set up for you so you just need to arrive with your suitcase, backpack, or laptop. And most include a workspace too, whether that is a desk in the room or a common area with a desk or table.
FURNISHED APARTMENTS ARE BEST FOR DIGITAL NOMADS WHO…
Don't mind living with a small number of people
Prefer to stay in a place that feels more like home, as opposed to a hotel
Have a higher budget—it's usually a pricier option
Hostels for Digital Nomads
Hostels are a popular choice for adventurous travelers who are extroverted and want to stay somewhere for a low cost while meeting new people. Hostels will have you sharing a bedroom/living space with other people—potentially, from 4-10 in a room with bunk beds. Sound terrifying? Or, maybe exciting? For many folks, the lack of privacy is the major deficiency of hostels, especially when you need to be productive every day with work responsibilities.
Additionally, you may not have access to a personal locker for important items, like your laptop. Hostels can definitely be a fun experience, but they are not set up or created to be lived in monthly or to be efficient workspaces. In other words, they don't cater directly to remote workers or digital nomads.
HOSTELS ARE BEST FOR DIGITAL NOMADS WHO…
Don't necessarily need a lot of privacy
Are looking to embrace a more party-centric, entertaining lifestyle
Want to meet interesting people of all ages that are traveling
Aren't super concerned about networking with other digital nomads
Plan to pay for a coworking space or a separate place to work remotely
How and Where to Find Lodging as a Digital Nomad
Finding the right accommodation to suit a digital nomad lifestyle can be stressful for a first-timer, time-consuming, and tedious for experienced nomads. It's crucial for any nomad though, as this place you temporarily call home is the only thing that will give you a sense of comfort and a chance to relax and unwind after a long day.
Luckily, it doesn't need to be complicated—you just need to know where to look.
You can browse listings on sites like Craigslist or Apartments.com, although it might take a lot of time (and emails sent to random people) to actually find what you're looking for. Platforms like Airbnb can suffice, but they're more suitable for shorter vacation stays and don't necessarily offer up lodging built for remote workers.
We suggest starting with a digital nomad housing platform, like Anyplace.
Anyplace is a housing marketplace for digital nomads, remote workers, and anyone looking for a more adventurous and fulfilling life. It was created by digital nomads and for nomads, having the most important aspects, such as speedy WiFi, location, and coworking spaces, in mind.
Let's take a look at some huge benefits to choosing housing that is already set up for nomads.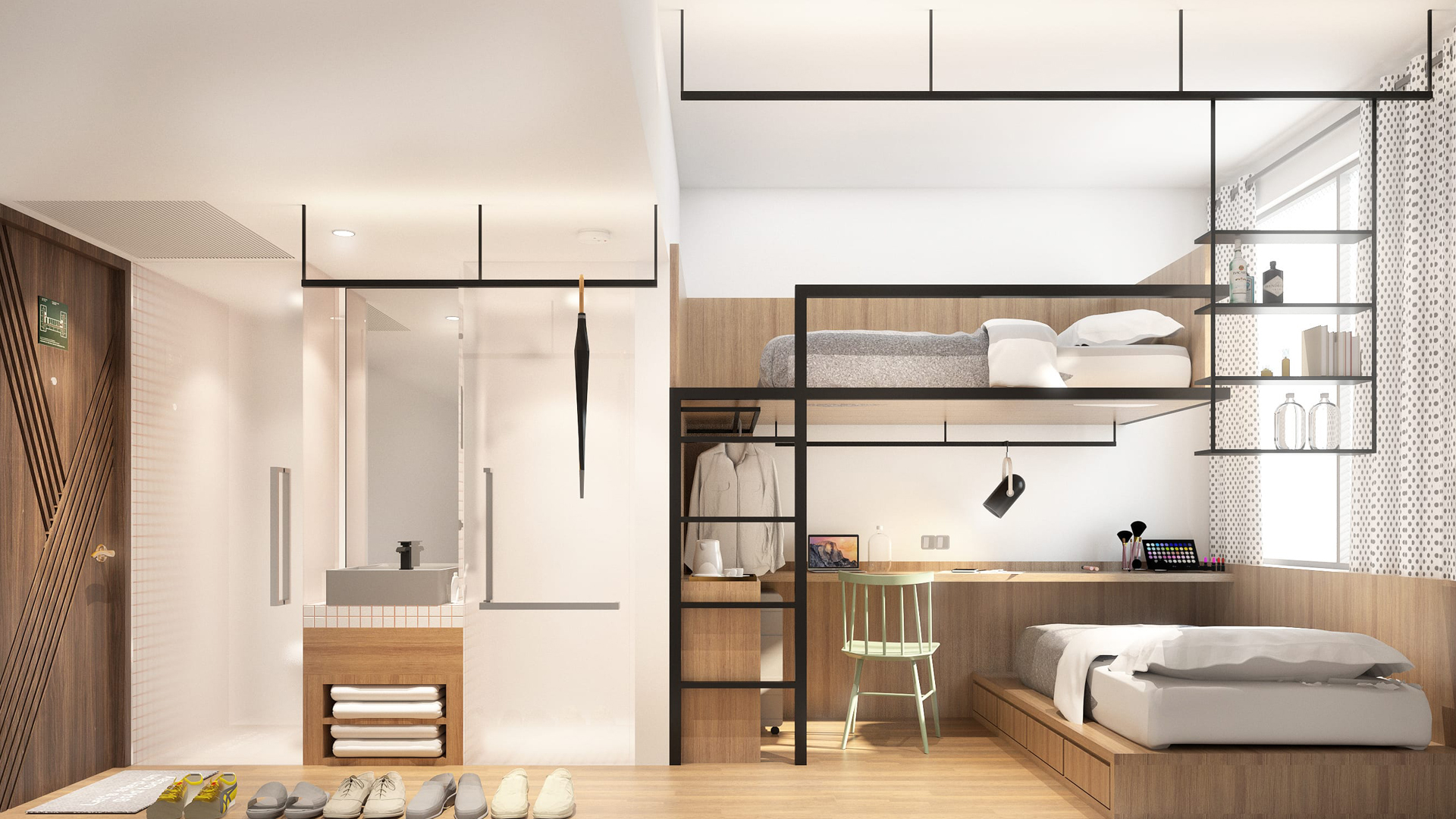 Key Benefits of Housing Set Up Specifically for Digital Nomads
There are certain things that are important to a digital nomad's lifestyle and their ability to be successful at working remotely while traveling: furnished, move-in ready rooms, fast WiFi, shorter-term agreements (no long-term leases) and access to a coworking space or desk are all high on that list.
Digital nomads often travel with minimal items to make travel easier, so the lodging really needs to take care of the rest. So if you choose housing that directly caters to the nomad lifestyle—like on Anyplace—it'll make the transition into a new location much smoother.
Benefit #1: Ultimate Freedom—No Long Leases
The best part about using housing built for digital nomads is the no-frills policy. It's important to find housing options without long lease terms. All of the properties on Anyplace don't expect you to sign a contract or fulfill any obligations. Most are available on a 30+ day basis, and after the 30 days is up you can simply stay for as many days as you please, paying only for those days.
Benefit #2: WiFi + Amenities for Digital Nomads
Digital nomads definitely need speedy internet to thrive and be productive, and you'll find WiFi set up and ready to go at each property on Anyplace. You'll also find all of the basic amenities, and many places have housekeeping on a day-to-day or weekly basis. Depending upon the property you pick, you may be able to access other benefits such as room service, a lounge area, or recreational facilities such as a gym or a pool.
Benefit #3: Furnished Rooms, Move-in Ready
Co-living spaces, apartments, and extended-stay hotels on Anyplace are furnished with everything you will need as a digital nomad for comfortable living: bed, table, chair, storage, and more to make you feel right at home.
Benefit #4: Desks and Coworking Areas for Remote Work
A home and a home office—combined! Almost every room on Anyplace has a desk in it, or if you opt for staying in a co-living space, there will be a coworking area to use where you can work alongside other digital nomads.
Benefit #5: Location, Location, Location
Our team at Anyplace is made up of global nomads, and we understand the importance of having a variety of locations to choose from all over the world. That's why you'll find properties in cities and rural areas on 6 of the 7 continents (sorry, nothing on Antarctica—yet).
Benefit #6: Digital Nomad Community
We understand the importance of being able to connect with other digital nomads and like-minded individuals while on your travels. On Anyplace, we have properties in digital nomad hotspots with big communities, like Lisbon, Prague, Medellín, Chiang Mai, Bali, and a whole lot more.
Benefit #7: Budget-Friendly Accommodation
Budget is probably the number one thing on most digital nomad's minds when they're choosing a destination and looking for a place to live. We know this well, and provide plenty of budget-friendly properties, even in notoriously expensive cities like San Francisco, New York, and Tokyo. And in most cases, the longer you stay, the cheaper it gets!
Anyplace Makes Finding Digital Nomad Housing Easy
Anyplace can help you find affordable monthly rentals in cities around the world. Instead of wasting time surfing the web and searching for accommodation with the amenities you need to succeed as a remote worker, you can simply browse a range of places already set up for the nomad lifestyle, apply online, and then move in.
Stop frantically searching multiple websites for the most flexible living option by simply logging on to Anyplace and choosing a property that matches your personal preferences, budget, and provides you with the best amenities.
Why Choose Anyplace
Anyplace provides the best of both worlds for digital nomad accommodation—a range of affordable units in cities, towns, and islands around the world, available on month-to-month contracts. Every room on the website is furnished with utilities and WiFi already set up, allowing you to enjoy a hassle-free experience where all you need to do is arrive! And with most of the properties, you'll get weekly or even daily housekeeping, too.
So, how does it work? It's easy—choose the city, the dates, and a room right on the website and app, and book with a click of a button.
Zero hassle> Find a co-living space, apartment, or hotel room on the website, and then book.
No long leases We know freedom is important for digital nomads, so forget about ever having to sign a long lease. Our properties are available month-to-month. Stay as long or little as you'd like—down to the day.
All-inclusive All utilities and WiFi are included and will be set up for you and ready to go.
Housekeeping If you choose a place with housekeeping, your room will get cleaned every day or week.
No landlord No landlord, no problem. Just need to move into your new place—we handle the rest for you.
Move-in today—or any day Search for a room on Anyplace that matches your digital nomad travel plans. Select the location you want and type in the exact dates that you'd like a room for.
Move out or extend your stay Manage your stay online, so if you realize that you'd like to extend the length of time that in a location you can do it with a click of a button.
How about Digital Nomad Housing Near Me?
When comparing digital nomad housing near you, consider the location, convenience, price point and amenities that you need—even with added services like housekeeping. You can find a variety of room sizes and beds on Anyplace, so you'll be able to choose the one that best fits your preferences.
Our properties are available in some of the world's greatest cities like San Francisco, New York (Manhattan, Brooklyn, Queens), Los Angeles, Lisbon, Barcelona, Guadalajara, Cancun, Buenos Aires, Prague and many more. It is easy to go online and find digital nomad housing near you in most major cities around the globe. Whether traveling alone, with friends or family or strictly for business, you can live in style and not give up the conveniences of home sweet home. Just select the city where you're looking to travel to next as a digital nomad, and you're sure to find plenty of options to choose from.