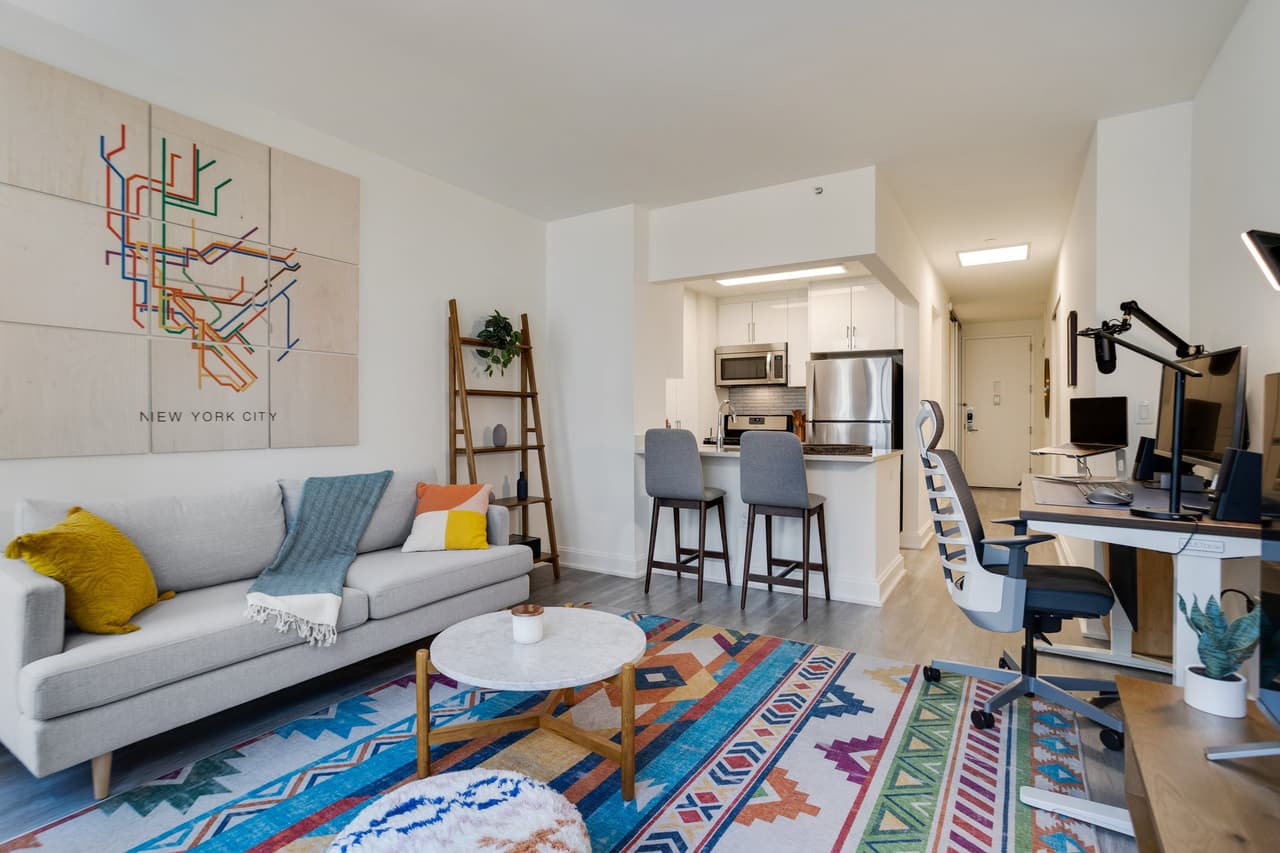 Corporate Housing
Book a corporate apartment designed specifically for professionals. Furnished and move-in-ready with an equipped home office.
Find Remote Work Rentals in the Best Locations
Anyplace offers accommodations built for a work-from-anywhere generation.
San Diego

Los Angeles

San Francisco

New York City - Manhattan
Corporate rentals with a fully equipped office setup
Level up your remote work with luxury accommodations that come prepped with an equipped home office and high-speed internet.
Desk setup & high-speed internet
Ultrawide monitor, standing desk, work chair, keyboard, mouse, and gigabit internet.
Video conferencing setup
Webcam, microphone, key light, and collapsible green screen.
Flexible-term & fully furnished
No long-term commitments and move-in-ready accommodations.
What is Corporate Housing?
First off, what is corporate housing? In a nutshell, corporate housing is a home away from home. Originally, it was meant to grant business people the chance to stay somewhere comfortable while on a work trip, but now more and more people are using it for short to mid-term stays—or even longer. Some people may refer to corporate housing as corporate apartments, serviced apartments, executive apartments, or temporary housing. Bottom line—they all mean the same thing! When you rent a corporate apartment, your amenities are included. And it will be fully furnished, and provide you with the necessities to live comfortably.
Is Corporate Housing Available in Most Cities?
Yes! There are many apartments that are set up for corporate housing, with rent available on a month-to-month basis.
Pros to Corporate Housing
There are many pros to choosing corporate housing over a regular hotel or a traditional unfurnished apartment.
Comfort
Expect comfortable existence. Just imagine a home away from home, where you can relax at the end of the workday, on either the couch or at a kitchen table with a glass of wine.
Spacious and private
Most corporate apartments will grant you more space than a hotel room. And, you'll have a private place to dwell, work and take phone calls.
Kitchen access
Full kitchen. This has been mentioned a few times, and for good reason. You need to be able to whip up your favorite dishes when you're away from home.
Housecleaning
Who doesn't love a clean room every day? Having weekly or even daily housekeeping is pretty nice.
Central location
You'll usually find corporate housing options near the business hub of the city, or at least close to public transportation, so it will be easy to get around.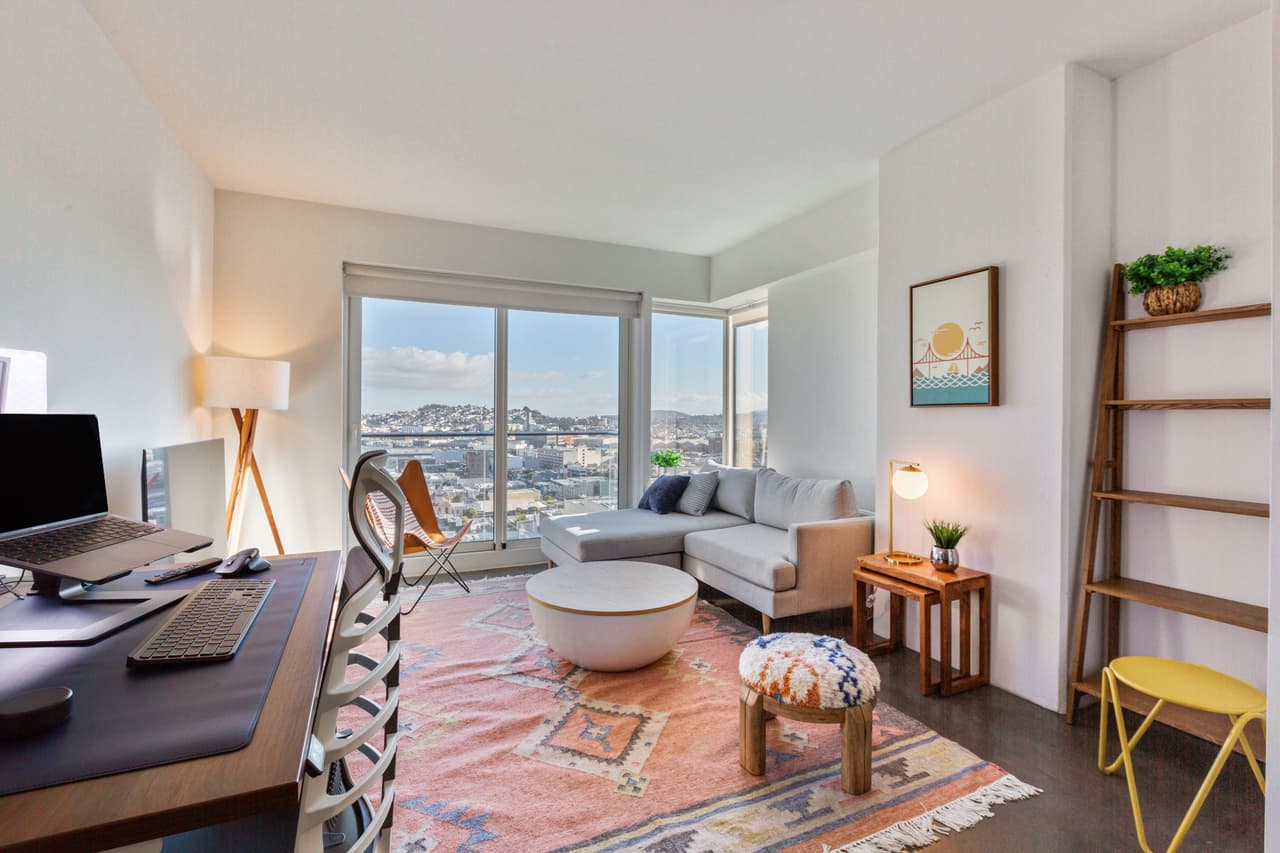 How to Find Corporate Housing
There are plenty of online sources to find corporate housing near you or anywhere around the world. Let's dig into some of the most popular websites and how easy it is to secure the property of your preference.
Advantages of Corporate Housing on Anyplace
The corporate housing on Anyplace is designed specifically for professionals that need to be productive at their home base. And with our corporate apartments, you'll have much more flexibility than other platforms that require you to sign a traditional lease. Here are a few advantages when looking at corporate apartments on Anyplace.
Fully equipped workspace
The workspace included in our corporate housing rentals is unlike any other. You'll have a height-adjustable desk, ergonomic chair, wide-screen monitor, wireless mouse and keyboard, portable green screen for video calls, and additional office gear.
Zero hassle
Select a property that you want to live in on the website, and then book. No emails or complications when you're trying to find the right option for you.
All-inclusive
All utilities and high-speed WiFi are included for the duration of your stay and will be set up for you and ready to go.
Luxury Amenities
The buildings that we choose for our corporate rentals are packed with luxe and modern amenities. You'll find modern fitness facilities, pools, business lounges, rooftop terraces, and more.
No landlords
No landlord, no problem. You just need to move into your corporate apartment—we handle the rest for you.
No long leases are necessary
With corporate housing, you can't be bothered with long leases. With Anyplace, forget about ever having to sign one. Our properties are available month-to-month. Stay as long or little as you'd like—down to the day.
Book A Corporate Apartment Now
Anyplace will help you find corporate housing based on the aspects you're looking for. You can browse accommodations that are already set up with furniture, utilities, laundry, and extra amenities like a pool and gym. All you have to do is reserve online, pay, and move in. And if you like it, you can easily extend your stay online. Forget about endlessly searching on multiple sites and apps to find the ideal spot for your remote work rental. Use Anyplace and choose a corporate rental that matches your preferences, budget, and provides you with the amenities you need for a comfortable stay.
Request a Location
Where would you like to book a corporate rental? We currently have corporate apartments in New York City, San Francisco, Los Angeles, and San Diego, but will be opening additional apartments in major US cities on a request basis. Join the waitlist by submitting your preferred budget and location. Rent starts at $3,000/mo in order to provide a quality work environment.