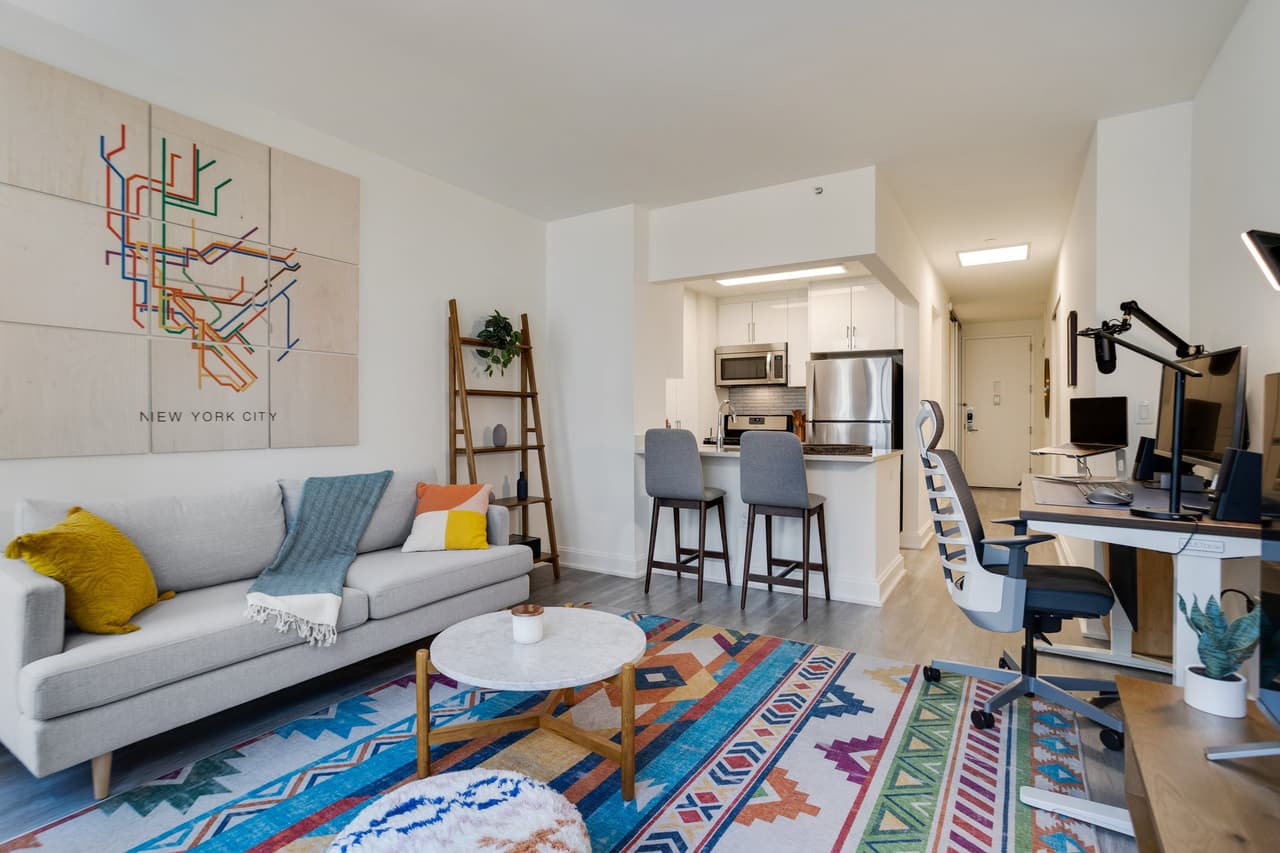 Apartments for Rent
Book an apartment with co-living amenities for 30 days or longer. Furnished and move-in-ready with an equipped home office.
Find Apartment Rentals in the Best Locations
Anyplace offers accommodations built for a work-from-anywhere generation.
Los Angeles

San Diego

San Francisco

New York City - Manhattan
Furnished apartments with a fully equipped office setup
Level up your remote work with luxury accommodations that come prepped with an equipped home office and high-speed internet.
Desk setup & high-speed internet
Ultrawide monitor, standing desk, work chair, keyboard, mouse, and gigabit internet.
Video conferencing setup
Webcam, microphone, key light, and collapsible green screen.
Flexible-term & fully furnished
No long-term commitments and move-in-ready accommodations.
What Does Co-living Mean?
Co-living is a modern version of a very traditional housing idea. It involves many people living together within one shared space. It's designed to encourage a spirit of collaboration and interaction with one another. Many co-living spaces are run by companies and have been created for young people who are moving to expensive cities but need to stay in a place that they can afford.
What Are Co-living Spaces Like?
Although there may be layout and amenity differences from one co-living space to the next, there are some core features that are found in the majority. It's typical for co-living residents to get their own bathroom and bedroom. All other areas in the property, like the living and cooking areas, are shared.
What is the Purpose of Co-living Spaces?
Taking it from a practical point of view, co-living spaces help young professionals afford a reasonably comfortable place to live as everyone shares all the expenses, like the living space, are shared. While the prices are different depending on the city, they are usually cheaper than more conventional monthly rent prices.
What Co-living Spaces Are Not
Many people misunderstand co-living spaces picturing them as student dorms, hostels, and even hippie communes. Though co-living spaces may share some characteristics with these other types of accommodations, co-living spaces are different because they're geared to modern, working, young professionals.
What Are the Benefits of Staying at Co-living Spaces?
One of the biggest benefits of co-living spaces is the affordable cost. Depending on the property, residents usually benefit from having their own bathroom and bedroom along with shared kitchens, dining rooms, and at most, gardens, media rooms, pools, and even fitness centers. Having these facilities helps residents save money on the typical costs of living alone by bundling everything together.
What Amenities Do You Get at Co-living Spaces?
As noted briefly above, another major benefit of co-living spaces is the access to shared amenities, that are usable by all residents. If you're looking to own a property with a fitness room, hot tub, or even pool, or simply want a large kitchen, this is possible with co-living spaces. Other shared amenities normally included are WiFi, game consoles, and all the bathroom supplies and kitchen supplies you need for a comfortable living area.
Who Will You Meet at a Co-living Space?
Generally, people who move into co-living spaces form deep and meaningful relationships with their fellow residents. In time, as relationships develop and people get to know one another, a support network is created between people who have common goals, experiences, and values.
Why Book with Anyplace?
Anyplace provides furnished apartments that have co-living amenities. Every building contains a fitness center, multiple resident lounges, and other perks like swimming pools, rooftop terraces, and more. You'll also have your own kitchen and in-unit washer and dryer. Most importantly, each apartment includes an equipped workspace and high-speed gigabit internet so you can do your best work in your new location.
Book A Move-In-Ready Apartment Now
Anyplace will help you find an apartment based on the aspects you're looking for. You can browse accommodations that are already set up with furniture, utilities, laundry, and extra amenities like a pool and gym. All you have to do is reserve online, pay, and move in. And if you like it, you can easily extend your stay online. Forget about endlessly searching on multiple sites and apps to find the ideal spot for you. Use Anyplace and choose a mid-term rental that matches your preferences, budget, and provides you with the amenities you need for a comfortable stay.
Request A New Location
Where would you like to book an apartment? We currently have rentals in New York City, San Francisco, Los Angeles, and San Diego, but will be opening additional apartments in major US cities on a request basis. Join the waitlist by submitting your preferred budget and location. Rent starts at $3,000/mo in order to provide a quality work environment.