The Ultimate Digital Nomads Guide to Barcelona, Spain in 2021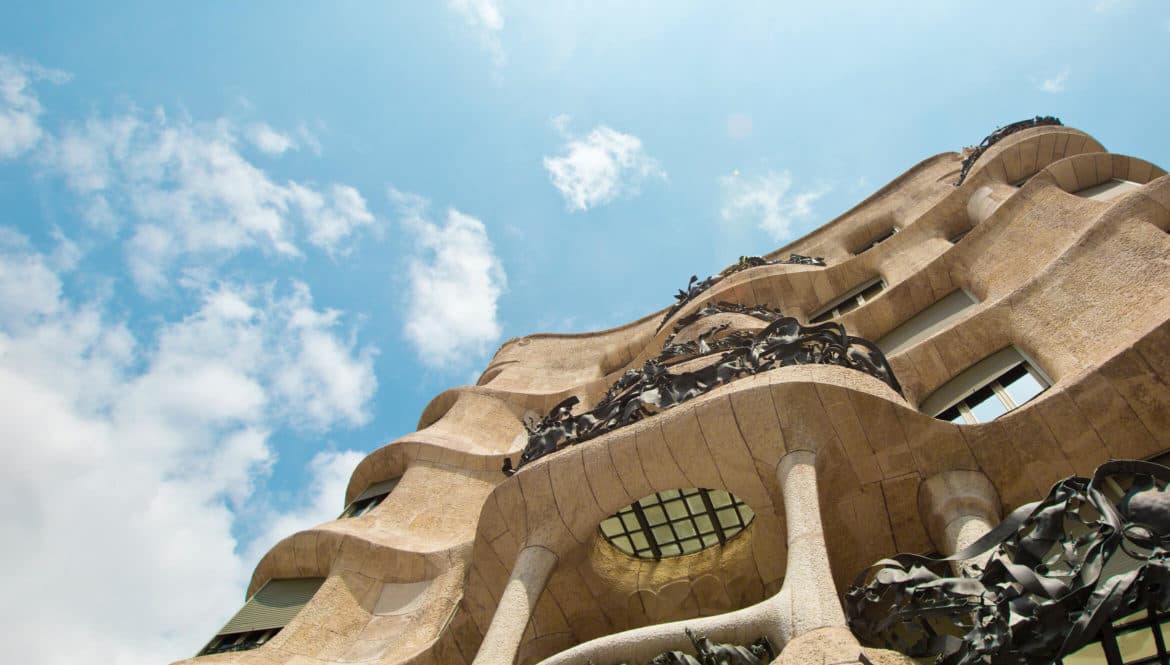 With its vibrant and colorful architecture, almost year-round sunshine, delicious food, and interesting and rich culture, it's no wonder why the Catalan capital of Barcelona attracts millions of visitors annually.
Don't be fooled though. It's not only the eager holidaymakers that flock to bustling Barcelona in search of sun, sea, and Gaudi architecture. The city's large expat and digital nomad community is a testament to the allure of this Iberian gem as a longer-term base too.
A great transportation infrastructure, fantastic weather, relatively low cost of living, and an exciting tech start-up movement are just some of the reasons why digital nomads consider Barcelona one of the best digital nomad cities to be based in, in Europe.
In this Barcelona digital nomad guide, we'll outline everything you need to know to help plan your trip to the Catalan capital.
Getting to Barcelona
International travel is one of Barcelona's top advantages. Its international El Prat Airport not only services many local and European air travel routes but is also one of the most connected European airports for further international travel, making getting to and from Barcelona a breeze.
Travel throughout Spain and neighboring European countries can also be undertaken by various rail and bus services too, allowing you to explore with ease.
Getting Around Barcelona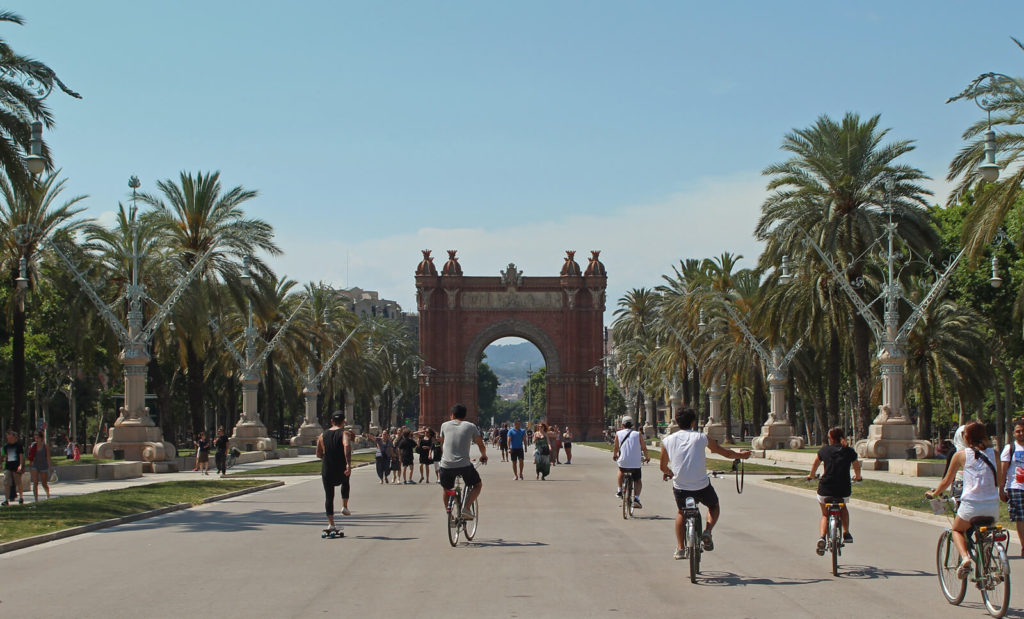 Once you've arrived in Barcelona, public transport will be your best bet for navigating and getting around this expansive city.
Barcelona Metro and Transport
Barcelona's metro system (TMB) encompasses a large route networking allowing for connections throughout the system by means of the underground subway system. Depending on the zone, an unlimited monthly metro pass (called a T-usual) starts at €40 and upward in price and allows for travel within the specified zone on the 12 metro lines that cover the city.
Of course, Barcelona's public transportation also includes a series of the bus, tram, and train services too.
Taxi's in Barcelona
Taxi services are also available, however, it's good to note that cab-hailing services such as Uber are not operational in Barcelona due to Catalonia's regional regulations. To make use of local taxi services you can download the MyTaxi app.
Getting Around on Foot
Lastly, depending on where you live and work, getting by on foot is another option. Considering that most of Barcelona's neighborhoods are self-contained, you could easily base yourself in your favorite part of the city and have all the necessary amenities and services within walking distance.
Where to Stay in Barcelona
Deciding on the perfect district to stay in when based in Barcelona may seem an overwhelming task, especially given Barcelona's vast size. Thankfully though, there are a few neighborhoods that stand out above the rest and which we consider great choices to get you started on your Digital Nomad journey in Barcelona. Here are our top picks!
Gràcia
Once a stand-alone village before being absorbed into the greater Barcelona metropole, Gràcia oozes charm and personality and is one of our favorite districts in Barcelona. As you wander through the maze of alleys and streets you'll stumble upon quaint squares and public spaces, such as Plaça del Sol, where locals gather to relax and unwind, far away from the maddening tourist crowds.
Not only is the architecture gorgeous but the bar and food scene is another top drawcard that makes Gràcia that much more appealing. Try out Mantura Tapes i Vins for incredible Asian cuisine or Con Gracia for a true Catalan fine dining experience you won't forget!
Poblenou
Very much an up and coming neighbor in Barcelona, Poblenou has gained in popularity in recent years and the area transformed into a trendy start-up district. Here, once abandoned warehouses have been transformed into co-work spaces and offices. You'll also find an abundance of boutique brunch spots, art galleries, restaurants, bars, and coffee shops too.
For the best coffee and avocado on toast head over to the Espai Joliu, coffee shop, and plant store.
Eixample
Chich, trendy and elegant are just a few words that personify the uber-stylish neighborhood of Eixample. Within walking distance from Gràcia, Eixample is where you'll find top Gaudi sights such as Casa Batllo and La Pedrera.
Considered as Barcelona's very own 'Fifth Avenue', the upscale Eixample is close to the heart of and center of Barcelona with lots of great shopping options around. The main tree-lined avenue, Passeig de Gràcia is home to prominent designer outlets such as Yves-Saint-Laurent and Chanel.
But, step off the main promenade and wander through the side streets and you'll stumble into a world removed from the popular tourist hotspots. Here you'll feel like a true local as you explore this gorgeous neighborhood with its boutique bars, restaurants, bakeries, and shops.
Barcelona's Digital Nomad Community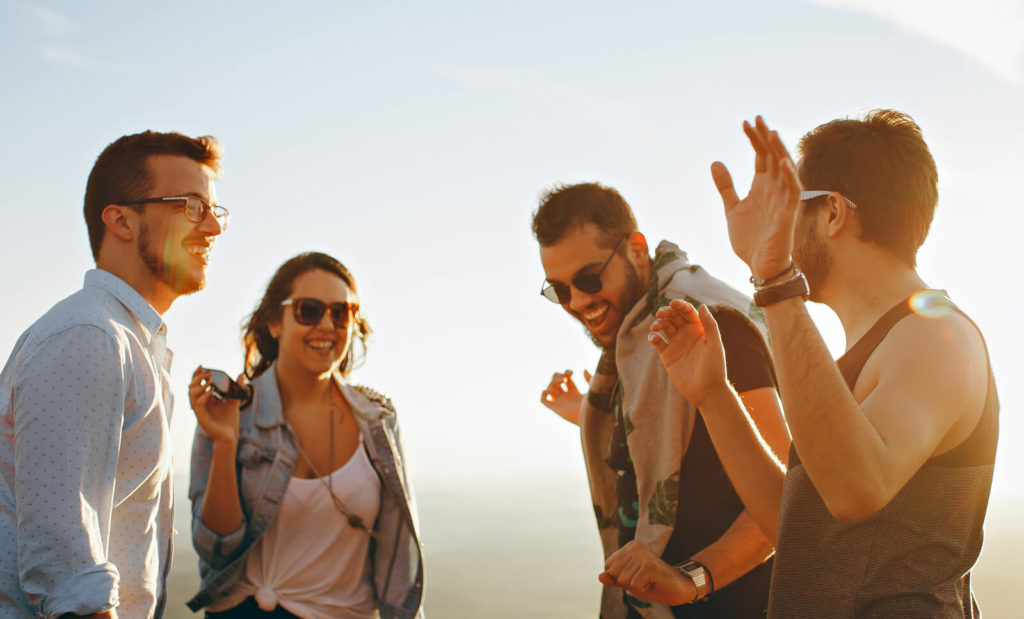 Often being featured as one of the top 10 Digital Nomad cities globally, it's no surprise that Barcelona boasts an active expat and nomad community. Perhaps this is in large part thanks to the government's efforts to promote Barcelona as an up and coming tech-hub in Europe.
A testament to this is the 22@Barcelona district (also referred to as the Innovation District) which is located in the former industrial neighborhood of Poblenou in Sant Marti and is considered Barcelona's very own Silicon Valley. Started in the early 2000s, the 22@ project is one of the largest urban regeneration programs in Europe.
Digital Nomad Groups
Just landed in Barcelona and need to connect with like-minded nomads?
Join one of the many Facebook Groups, such as Barcelona Digital Nomads, Barcelona Entrepreneurs & Digital Nomads, or even the Digital Nomads Spain groups to link up with fellow expats and nomads.
InterNations is yet another large community that includes both expat and locals that's focused on connecting professionals from all walks of life. Offering a range of different networking events that take place throughout the year, you'll no doubt be able to forge valuable connections and make a ton of new friends through InterNations.
Digital Nomad Events
Apart from these useful Facebook Groups, you'll also benefit from downloading the Meetup application to view a range of digital nomad and expat related networking events that are held on a regular basis throughout the city.
As a start-up hub, Barcelona plays host to a number of world-renowned technology summits and conferences including the Mobile World Capital conference. Not only that, but the city is also a popular stopping point on the annual Nomad Cruise that's designed and catered specifically to digital nomads.
Top 5 Co-working Spaces in Barcelona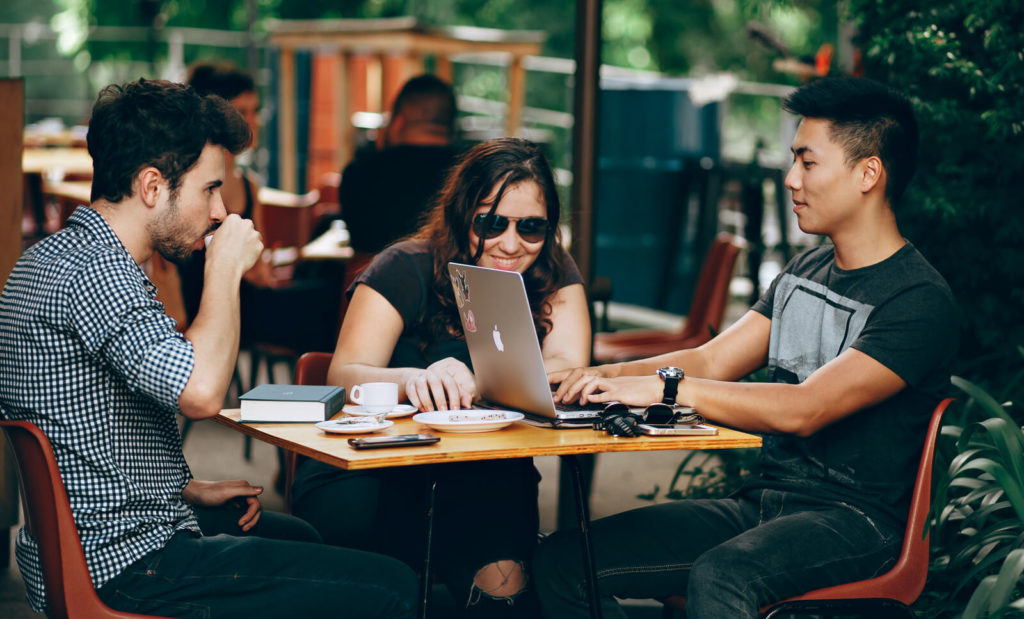 No self-proclaimed Digital Nomad city would be complete without a comprehensive selection of co-working spaces. Estimated at having close to 100 co-working spaces, you'll definitely be spoiled when it comes to choosing the perfect co-working space in Barcelona.
Top Tip: Whilst many of these co-working spaces do offer monthly set rates, you may want to consider signing up to the 'Get Croissant' services available not only in Barcelona but also in various cities around the globe. Croissant is a paid membership program that allows you a set number of hours to work at any of their partner co-working spaces. It's a fantastic way to try out the many great co-working spaces the city has to offer — and, get one week free through the Anyplace Lifestyle Perks program.
Betahaus (Gràcia)
One of the largest co-working spaces in the city is none other than Betahaus. Spread out across six floors and including a Co-working café and 5 terraces, our list would simply not be complete without noting this trendy co-work in the heart of Gràcia.
CoworkIdea (El Raval)
Funky and modern CoworkIdea situated close to Plaça Catalunya in El Raval is another great co-working space that's worth a try. Complete with all the necessary amenities and facilities including refreshments, conference rooms, printing services, and a kitchen, you can also unwind in their chill-out zone comprising a lounge and hammock. CoworkIdea is open Monday to Wednesday and Fridays between 10:00 am and 17:00 pm, as well as Thursdays from 09:00, am to 19:30 pm.
La Vaca Coworking (El Poble-Sec)
Translated as 'The Cow', this trendy co-working space is set in the heart of Poble-Sec and also a former dairy shop. Open Mondays to Fridays from 09:00 am to 20:00 pm, amenities include conference rooms, tea and coffee machines, a kitchen, printing, and also bike storage.
MOB Bailen (Eixample)
Yet another bright and welcoming workspace in the heart of super trendy Eixample is the MOB Bailen co-work. Also, open from Mondays to Fridays, 09:00 am to 20:00 pm, the services here include an event space, mail services, printing as well as conference rooms to rent.
CREC (El Poble-Sec and Eixample)
CREC has co-working spaces in both Poble-Sec and chic Eixample. Both locations are vibrant and airy working environments and are home to many creative entrepreneurs and nomads. Open on Mondays to Fridays from 09:00 am to 20:00 pm they include all the trimmings you'd expect from a top co-work. The Poble-Sec site, located in a renovated warehouse also has a photo studio and therapy room too.
Best Coffee Shops to Work From in Barcelona
Don't fancy yourself a co-working guy or gal, but still want to work remotely whilst enjoying the buzz of the city? Then why not head over to one of the many trendy co-working coffee shops scattered throughout the city.
Some of the best-rated cafes, all of which offer fast and reliable Wi-Fi connection, to work from in Barcelona includes:
Coco Coffice
Federal Café Gotico
Nomad Coffee Lab & Shop
Sandwichez
Sopa
Cafeteria de la Fundación Gaspar
Useful Information and Tips for Digital Nomads Visiting Barcelona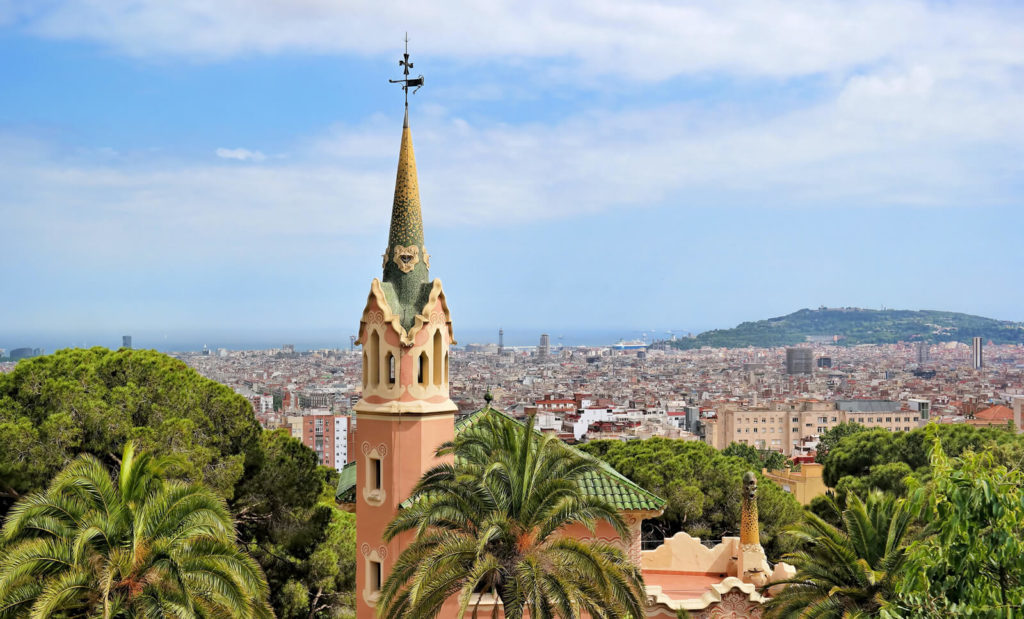 Living Expenses in Barcelona
Whilst still fairly inexpensive compared to other European neighbors, Spain and Barcelona, in particular, has seen a surge in popularity in recent years, resulting in a dramatic increase in rental prices.
Here's what you can expect to pay whilst living in Barcelona:
Monthly rental – Studio in the city center – roughly €800 per month
Monthly rental – a room in a house share – roughly €450 per month
Average lunch meal – between €10 – €15
A beer (0.33l) – €3
Cappuccino – €2
One-way metro ticket – €2.20
Monthly metro pass – from €40
Monthly utilities (water, gas, electricity) – around €150
Finding a Place to Stay
Due to the large influx of tourists and expats flocking to the city, the rental market is known to move incredibly fast. Finding a mid to long-term place to rent will most certainly require you to already be in Barcelona.
Many Digital Nomads opt to book 30+ days in advance through Anyplace, so they're prepared when they arrive in the city.
Wi-Fi and Connectivity
Free, fast, and reliable Wi-Fi connectivity is offered throughout the city at most restaurants, bars, and cafes too. As such connecting online shouldn't be much of a hassle.
Buying a SIM card, for mobile connectivity, is also fairly straight forward. Most mobile phone operators, such as Vodafone, Movistar, and Orange, offer SIM cards with inexpensive data packages for around €15 on average and usually include both data and voice bundles.
Dining Hours
This may seem an odd thing to include, but many first-time visitors to Barcelona are often shocked to hear that locals dine out very late. Whilst most restaurants may only open around 20:00 pm, you can expect locals to only start arriving for dinner around 21:30 / 22:00 pm at night.
Pickpocketing
As is the case with any major 'touristy' city, you'll always need to keep an eye on your personal belongings when out and about in Barcelona. Of course, this is especially prevalent in the more touristic spots around the city.
Learn Spanish or Catalan
Whilst English is widely spoken throughout the city, learning Spanish, or better yet Catalan will definitely go a long way towards connecting with local residents. Check out the regular and free Language Exchange events offered on Meetup or through Tandem to hone in on your Catalan or Spanish language skills.
Written by Marcos Dos Santos
---
Where to next? Find flexible month-to-month rentals across the globe on Anyplace.
digital nomad barcelona
digital nomad resources
spain