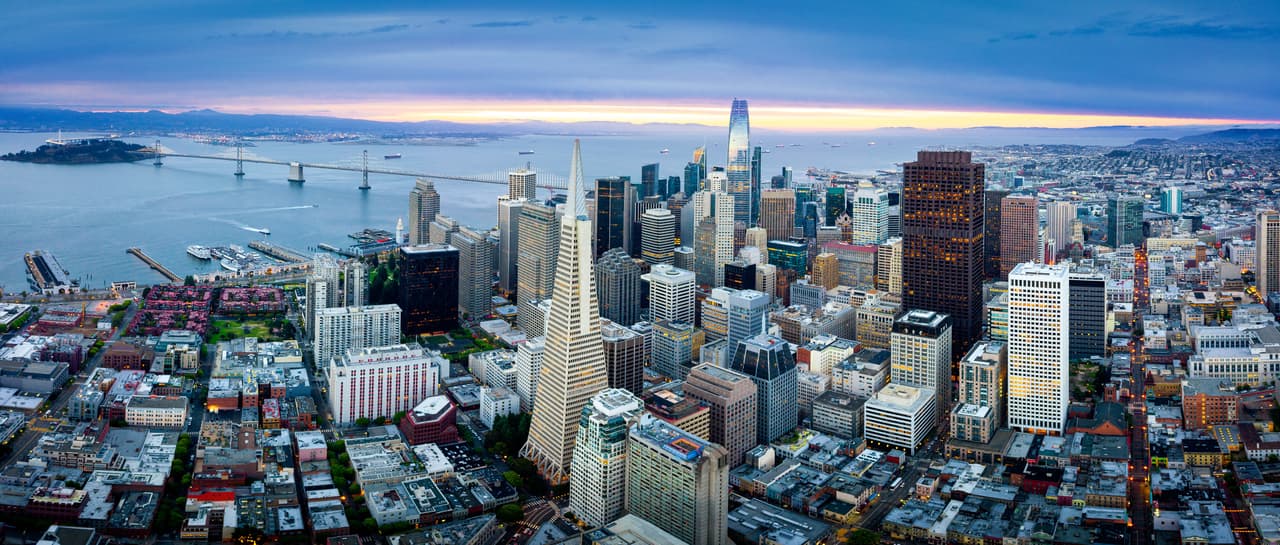 Workation Rentals in San Francisco
Book an apartment designed for workations in San Francisco for 30 days or longer. Includes fast, reliable WiFi and a high-quality workspace.
Find Workation Apartments in San Francisco
Anyplace offers accommodations built for a work-from-anywhere generation.
Workation rentals in San Francisco with an equipped home office
Level up your remote work with luxury accommodations that come prepped with an equipped home office and high-speed internet.
Desk setup & high-speed internet
Ultrawide monitor, standing desk, work chair, keyboard, mouse, and gigabit internet.
Video conferencing setup
Webcam, microphone, key light, and collapsible green screen.
Flexible-term & fully furnished
No long-term commitments and move-in-ready accommodations.
About San Francisco
San Francisco, California, was founded in 1776 by Spanish colonists. What started as a small settlement saw a huge boom in population during the 1849 Gold Rush, and between 1870 and 1900, about one-quarter of all those living in California resided in San Francisco. Today, San Francisco holds a population of around 881,000 people and is the fourth biggest city in its state. Visitors come to San Francisco to experience the notable landmarks, cultural sites, and diverse groups of locals. While any workationer is sure to have a good time here, those in fields like finance, high tech, and tourism will find ample networking opportunities.
What is a Workation
A workation, sometimes spelled as workcation, is a working vacation. People taking a workation mix both business and pleasure in an effort to make their job a bit easier and explore new locations like San Francisco. They may explore places they've never been before or head back to a favorite vacation spot. When on a workation, individuals work remotely away from their homebase. For it to be a workation — or work vacation — location does not matter so long as San Francisco is not the city you live in. Many people enjoy taking a workation to tropical paradises or large metropolitan cities. The important thing to remember is that, while a workation can be anywhere in the world, WiFi is still essential. As a workation is a blend of vacationing and working, WiFi is integral since work still has to be completed. Typically, people handle workations in one of two ways. The first way is that remote workers will work part of the day – maybe even their usual 9-5 hours – and then enjoy their new destination for the remainder of the day. The second approach is that people will set a list of goals, sometimes taking days to complete, and then enjoy the rest of their workation once all the work has been completed. Both are excellent methods to enjoy a workation – it will mostly depend on how flexible your work arrangement is.
Why is San Francisco a Great Place to Have a Workation?
It might be hard to believe, but the fall months are actually warmer than the summer months here in San Francisco on average. Summertime is still the most popular tourist season, so those planning a workation to the city will find more pleasant conditions all around during the fall. (Just don't try to plan a workation around escaping the fog, since it's present year-round.) Many of San Francisco's biggest attractions are recognized by travelers from around the world. Visitors can enjoy seeing landmarks such as Union Square, the Golden Gate Bridge, and Alcatraz Island. Cultural centers like the War Memorial and Performing Arts Center, the San Francisco Museum of Modern Art, and the Cable Car Museum also help visitors to explore more about the incredible city of San Francisco. No matter whether one wants to visit the beach, see a show, watch a sports game, or see stunning architecture, San Francisco has it all. Public transportation is a staple of life in San Francisco. The city offers transport methods like buses, light rail, streetcars, the famous cable cars, commuter rail, and even ferry service. San Francisco is also easy to walk or bike around, having been ranked among the United States's most walkable cities and having received a "Gold" Bicycle Friendly Community status from the League of American Bicyclists. Air travel can be conducted just outside of town at San Francisco International Airport.
What Does San Francisco Have to Offer to Remote Workers on a Workation?
Coworking spaces are abundant in San Francisco, particularly in neighborhoods like SoMa, Mission Bay, Lower Pacific Heights, South Park, Yerba Buena, and Rincon Hill. All throughout the city, San Francisco has incredibly fast internet that can handle even the most taxing of jobs.
Workation Rental Options in San Francisco
For individuals seeking workation rentals in San Francisco, Anyplace hosts the best properties in the city. All our apartments in San Francisco include fully equipped home offices, stocked kitchens, strong wifi, and luxury amenities to make your workation both relaxing and productive. Here are a few reasons to choose Anyplace for your San Francisco workation.
Zero stress
Find a workation rental in San Francisco on the website, and then book. No emails, roommate interviews, or complications.
Amazing home office
Never work from the kitchen table again. Our apartments in San Francisco include an equipped home office with a height-adjustable desk, ergonomic chair, widescreen monitor, wireless mouse and keyboard, collapsible green screen, and additional office gear. Just bring your laptop and do your best work.
All-inclusive with high-speed internet
All utilities are included in your workation rental and will be set up for you and ready to go. You will have gigabit speed internet, too, perfect for Zoom calls, file sharing, and video streaming.
No landlord
No landlord, no problem. You just need to move in—we handle the rest for you.
No long leases
Forget about ever having to sign a long lease. Our apartments in San Francisco are available for 30 days or longer. Stay as long or little as you'd like—down to the day.
Move-in today—or any day
Search for a San Francisco workation rental on Anyplace with the exact dates that match your schedule.
Move out or extend your stay
Manage your stay online, so if you realize that you'd like to extend the length of time that you'd like to stay you can do it with a click of a button.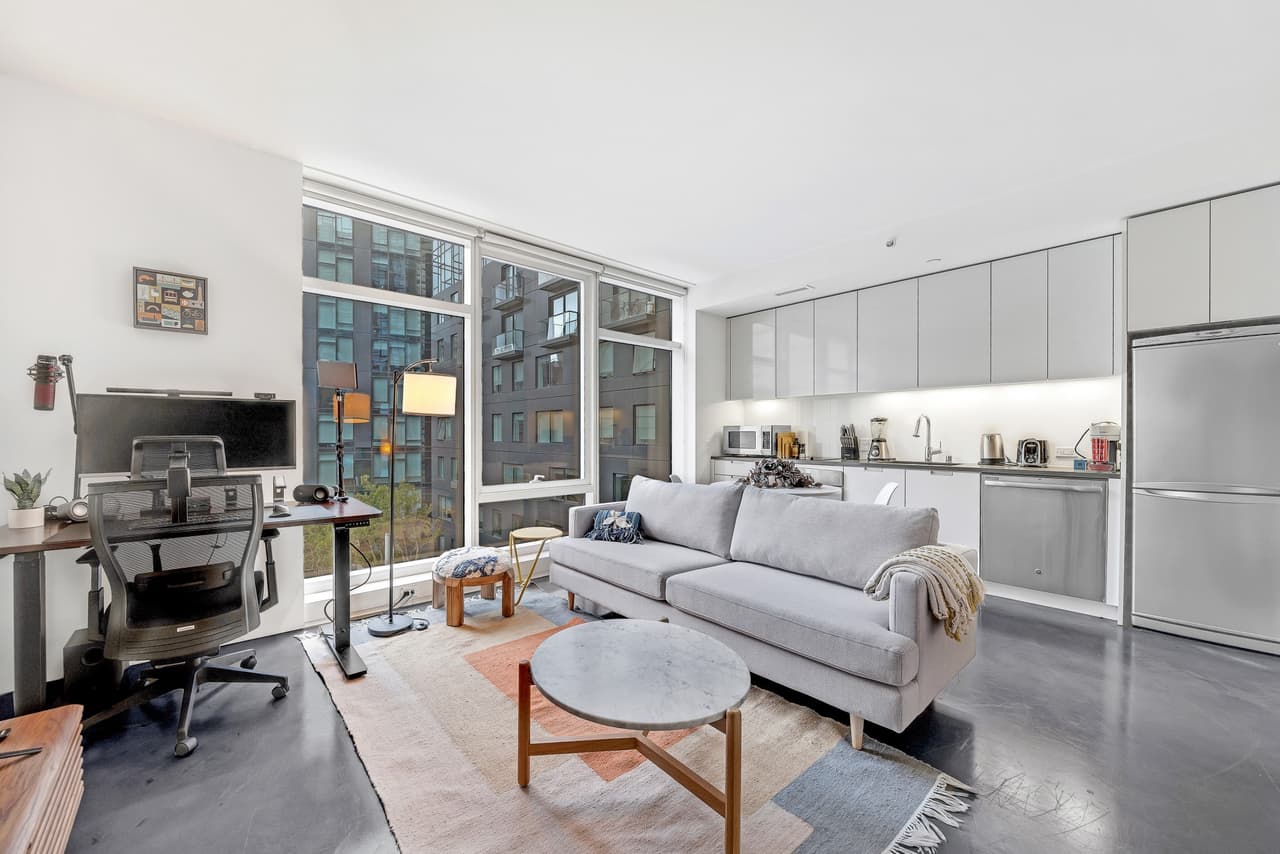 Book A Workation Rental in San Francisco Now
Browse rentals designed for workations in San Francisco that are already set up with furniture, utilities, laundry, a home office, and extra amenities like a pool and gym. All you have to do is reserve online, pay, and move in. And if you like it, you can easily extend your stay online. Forget about endlessly searching on multiple sites and apps to find the ideal spot for you in San Francisco. Use Anyplace and choose a workation rental that matches the dates you need, your budget, and will provide you with the amenities needed for a comfortable stay.