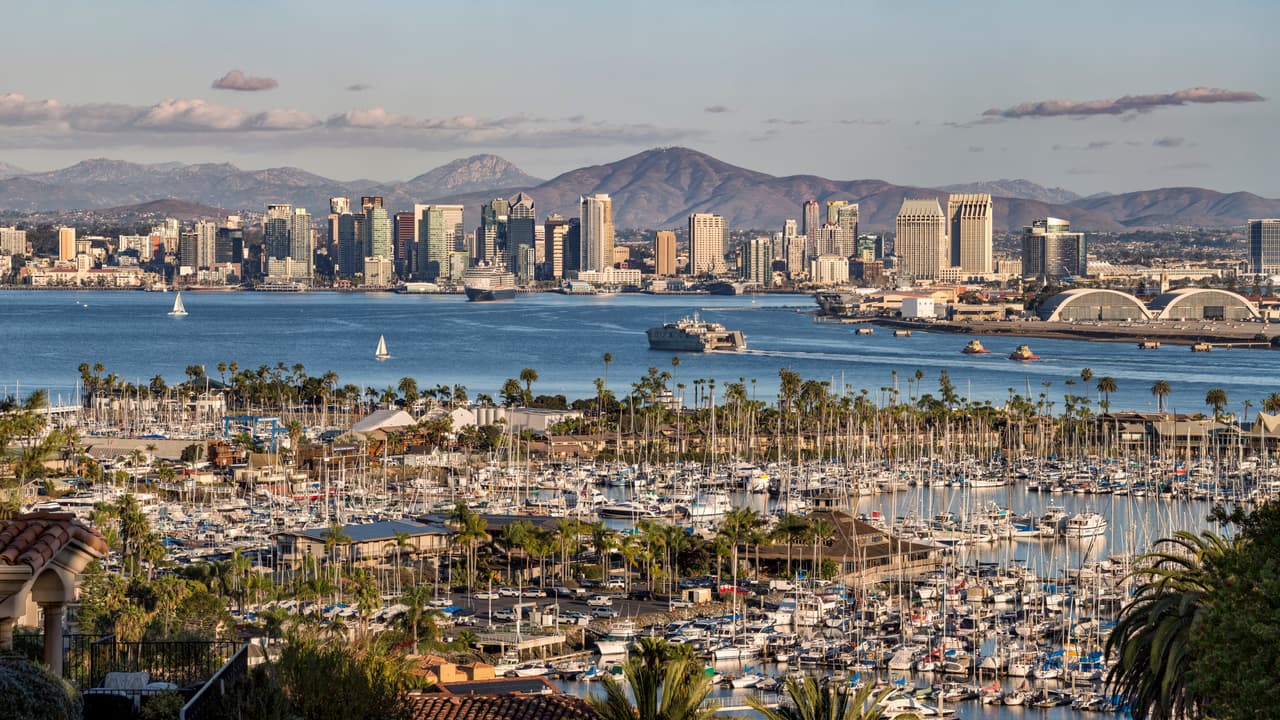 Workation Rentals in San Diego
Book an apartment designed for workations in San Diego for 30 days or longer. Includes fast, reliable WiFi and a high-quality workspace.
Find Workation Apartments in San Diego
Anyplace offers accommodations built for a work-from-anywhere generation.
Workation rentals in San Diego with an equipped home office
Level up your remote work with luxury accommodations that come prepped with an equipped home office and high-speed internet.
Desk setup & high-speed internet
Ultrawide monitor, standing desk, work chair, keyboard, mouse, and gigabit internet.
Video conferencing setup
Webcam, microphone, key light, and collapsible green screen.
Flexible-term & fully furnished
No long-term commitments and move-in-ready accommodations.
About San Diego
Often called the "Birthplace of California," San Diego was the first West Coast location to be visited and settled by Europeans. The land was claimed in 1542, though the city wasn't actually founded until 1769. Today, San Diego stands as California's second-largest city with a population of around 3.3 million residents. San Diego is known as a hotspot for biotechnology and healthcare, so workationers in those fields will be more than happy here. For all visitors, San Diego offers tons of beautiful natural sites, cultural attractions galore, passionate sports teams, and more. San Diego is truly a workation destination that workers of all fields and interests can enjoy.
What is a Workation
A workation, sometimes spelled as workcation, is a working vacation. People taking a workation mix both business and pleasure in an effort to make their job a bit easier and explore new locations like San Diego. They may explore places they've never been before or head back to a favorite vacation spot. When on a workation, individuals work remotely away from their home base. Many people enjoy taking a workation to tropical paradises or large metropolitan cities. The important thing to remember is that, while it can be anywhere in the world, reliable and fast internet is still essential. As a workation is a blend of vacationing and working, WiFi is integral since work still has to be completed. Typically, people handle workations in one of two ways. The first way is that remote workers will work part of the day – maybe even their usual 9-5 hours – and then enjoy their new destination for the remainder of the day. The second approach is that people will set a list of goals, sometimes taking days to complete, and then enjoy the rest of their workation once all the work has been completed. Both are excellent methods to enjoy a workation – it will mostly depend on how flexible your work arrangement is.
Why is San Diego a Great Place to Have a Workation?
San Diego is best explored during the spring and fall months. Summer tends to be incredibly hot, and winter is often crowded as people from around the Northern Hemisphere seek to escape the cold weather. In the shoulder seasons, there are smaller crowds, cheaper accommodations, and wonderful weather for exploring the city. San Diego is full of amazing outdoor attractions such as Balboa Park, which covers more than 1,200 acres. Another of the city's most popular attractions is the San Diego Zoo, which is widely praised as one of the best zoos in the world. Visitors can also jump in the waters to La Jolla Cove, get a history lesson at the USS Midway Museum, or see a show with the San Diego Symphony. If there's one hobby San Diego is passionate about, it's sports. Though the city only has one professional team (the Padres MLB baseball team), there are plenty more teams to root for. Experience a hockey game with the Gulls, a lacrosse game with the Seals, or a rugby game with the Legion. To get around the city, most people rely on their own private cars and the city's extensive roadway systems. Residents and visitors can also travel with the light rail and commuter rail systems. Cycling is also becoming an increasingly popular mode of transport and hobby. Air travel can be conducted at either the San Diego International Airport or Tijuana International Airport.
What Does San Diego Have to Offer to Remote Workers on a Workation?
In neighborhoods like the Gaslamp, Cortez Hill, Bankers Hill, Sherman Heights, Harborview, and Cambridge Square, there are coworking spaces in abundance. Even in local coffee shops and lodging spaces, there's no doubt that internet access is reliable and fast, perfect for workationers in any field or working on any task.
Workation Rental Options in San Diego
For individuals seeking workation rentals in San Diego, Anyplace hosts the best properties in the city. All our workation rentals in San Diego offer convenient access to properties with full kitchens, strong wifi, and amenities to make your workation both relaxing and productive. Check out our extensive selection of monthly apartments, hotels, and coliving spaces in the most popular neighborhoods in San Diego.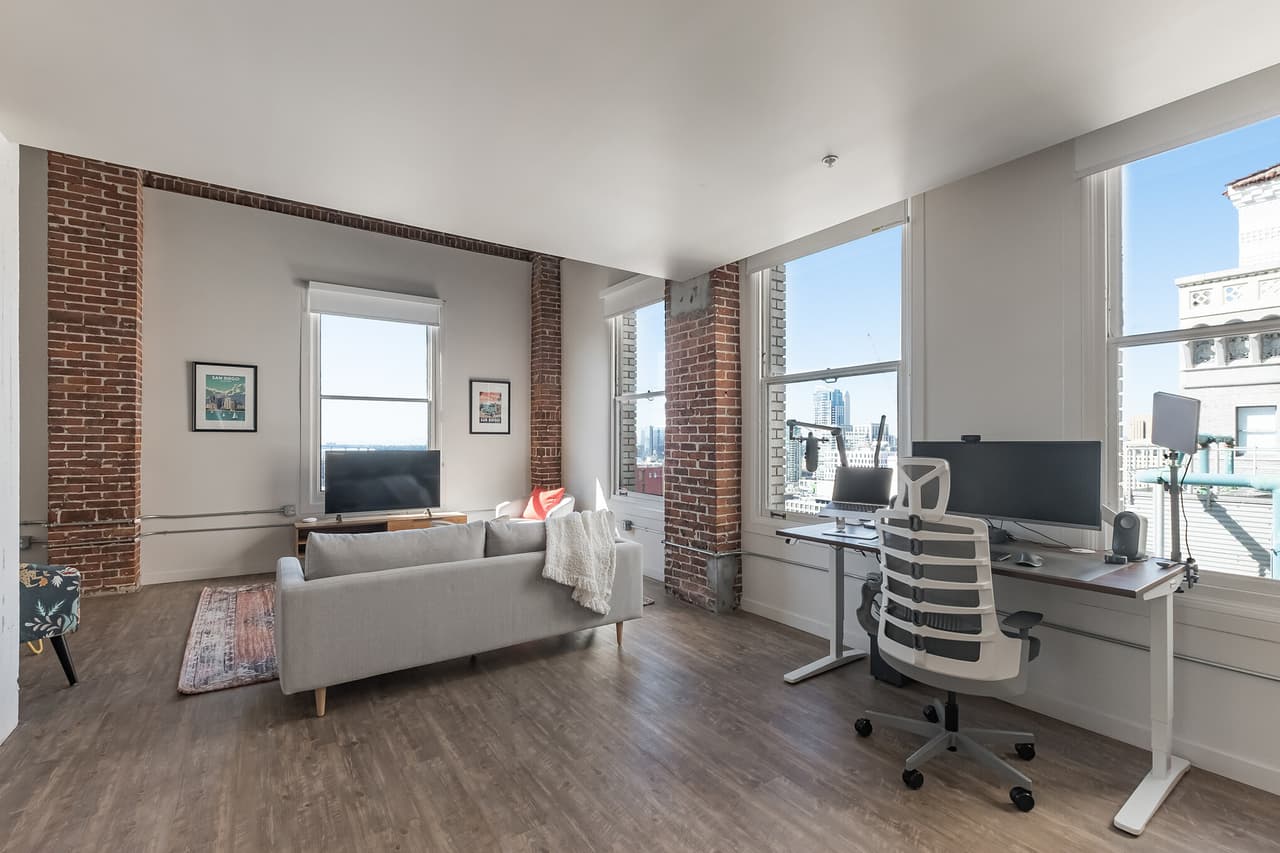 Book A Workation Rental in San Diego Now
Browse rentals designed for workations in San Diego that are already set up with furniture, utilities, laundry, a home office, and extra amenities like a pool and gym. All you have to do is reserve online, pay, and move in. And if you like it, you can easily extend your stay online. Forget about endlessly searching on multiple sites and apps to find the ideal spot for you in San Diego. Use Anyplace and choose a workation rental that matches the dates you need, your budget, and will provide you with the amenities needed for a comfortable stay.