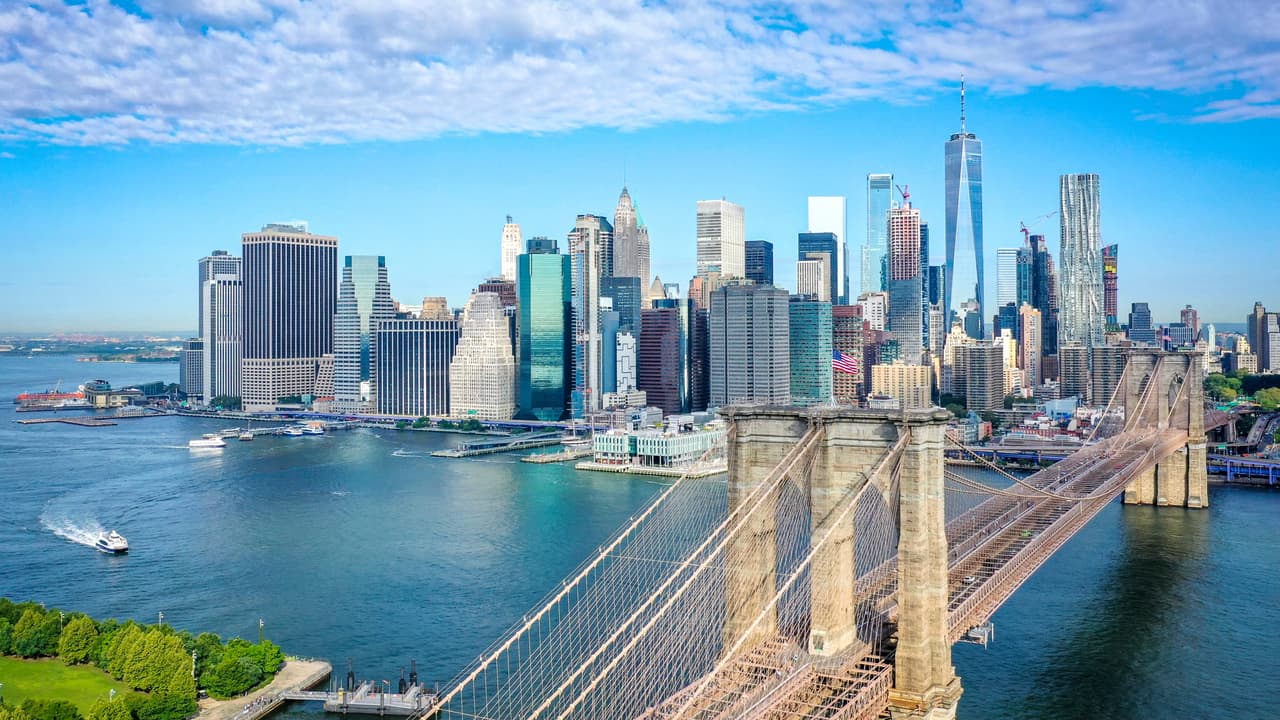 Workation Rentals in New York City - Manhattan
Book an apartment designed for workations in New York City - Manhattan for 30 days or longer. Includes fast, reliable WiFi and a high-quality workspace.
Find Workation Apartments in New York City - Manhattan
Anyplace offers accommodations built for a work-from-anywhere generation.
New York City - Manhattan
Workation rentals in New York City - Manhattan with an equipped home office
Level up your remote work with luxury accommodations that come prepped with an equipped home office and high-speed internet.
Desk setup & high-speed internet
Ultrawide monitor, standing desk, work chair, keyboard, mouse, and gigabit internet.
Video conferencing setup
Webcam, microphone, key light, and collapsible green screen.
Flexible-term & fully furnished
No long-term commitments and move-in-ready accommodations.
About New York City - Manhattan
Manhattan is one of the most talked-about destinations in the world, but it started out from humble beginnings as a colony in 1624. The area was originally called New Amsterdam and played a big role in the early days of the country, and today, it's one of the world's most visited locations. Manhattan holds 1.6 million permanent residents and receives more than 62 million tourists every year. Tons of historical sites, cultural landmarks, and diverse neighborhoods make up this incredible borough and bring visitors and expats from around the world.
What is a Workation
A workation, sometimes spelled as workcation, is a working vacation. People taking a workation mix both business and pleasure in an effort to make their job a bit easier and explore new locations like Manhattan. They may explore places they've never been before or head back to a favorite vacation spot. When on a workation, individuals work remotely away from their homebase. For it to be a workation — or work vacation — location does not matter so long as Manhattan is not the city you live in. Many people enjoy taking a workation to tropical paradises or large metropolitan cities. The important thing to remember is that, while a workation can be anywhere in the world, WiFi is still essential. As a workation is a blend of vacationing and working, WiFi is integral since work still has to be completed. Typically, people handle workations in one of two ways. The first way is that remote workers will work part of the day – maybe even their usual 9-5 hours – and then enjoy their new destination for the remainder of the day. The second approach is that people will set a list of goals, sometimes taking days to complete, and then enjoy the rest of their workation once all the work has been completed. Both are excellent methods to enjoy a workation – it will mostly depend on how flexible your work arrangement is.
Why is New York City - Manhattan a Great Place to Have a Workation?
For those who want to experience pleasant weather and slightly smaller tourist crowds, spring or fall are the best times to visit Manhattan. The later part of winter (mainly February and into March) are the cheapest times to visit but are certainly much colder. Since Manhattan is so based around walking, workationers will want to avoid traveling in the depths of winter. Many of New York's most popular tourist attractions are located in Manhattan. Destinations like Central Park, the Statue of Liberty, Times Square, the Empire State Building, MoMA, and many others are located in the area. Manhattan is also where visitors can see a show on Broadway, pay their respects at the World Trade Center and the National September 11 Museum, and explore culturally-influenced neighborhoods like Koreatown, Little Australian, Little Italy, and others. More than 70% of those living in Manhattan rely on public transit as opposed to private cars, which is exactly opposite of many other major cities across the US. Visitors and residents can get around the city and to other boroughs of NYC on the subway, bus, commuter cable car, ferry, commuter rail, bicycle, and taxi. For air travel, residents can travel to Queens to access LaGuardia Airport or JFK International Airport.
What Does New York City - Manhattan Have to Offer to Remote Workers on a Workation?
As it's such a busy, business-centric city, Manhattan is stocked with coworking spaces, especially in neighborhoods like Greenwich Village and the Lower East Side. There are also tons of coffee shops and cafes on every corner, so there's virtually nowhere where a remote worker can't access fast and reliable WiFi. Remote workers from any industry will have tons of networking opportunities here, but fields like finance, advertising, high tech, and biotechnology are particularly prevalent. The one drawback to life in Manhattan is the incredibly high cost of living, so workationers should certainly come prepared.
Workation Rental Options in New York City - Manhattan
For individuals seeking workation rentals in Manhattan, Anyplace hosts the best properties in the city. All our apartments in Manhattan include fully equipped home offices, stocked kitchens, strong wifi, and luxury amenities to make your workation both relaxing and productive. Here are a few reasons to choose Anyplace for your Manhattan workation.
Zero stress
Find a workation rental in Manhattan on the website, and then book. No emails, roommate interviews, or complications.
Amazing home office
Never work from the kitchen table again. Our apartments in Manhattan include an equipped home office with a height-adjustable desk, ergonomic chair, widescreen monitor, wireless mouse and keyboard, collapsible green screen, and additional office gear. Just bring your laptop and do your best work.
All-inclusive with high-speed internet
All utilities are included in your workation rental and will be set up for you and ready to go. You will have gigabit speed internet, too, perfect for Zoom calls, file sharing, and video streaming.
No landlord
No landlord, no problem. You just need to move in—we handle the rest for you. No long leases Forget about ever having to sign a long lease. Our apartments in Manhattan are available for 30 days or longer. Stay as long or little as you'd like—down to the day.
Move-in today—or any day
Search for a Manhattan workation rental on Anyplace with the exact dates that match your schedule. Move out or extend your stay Manage your stay online, so if you realize that you'd like to extend the length of time that you'd like to stay you can do it with a click of a button.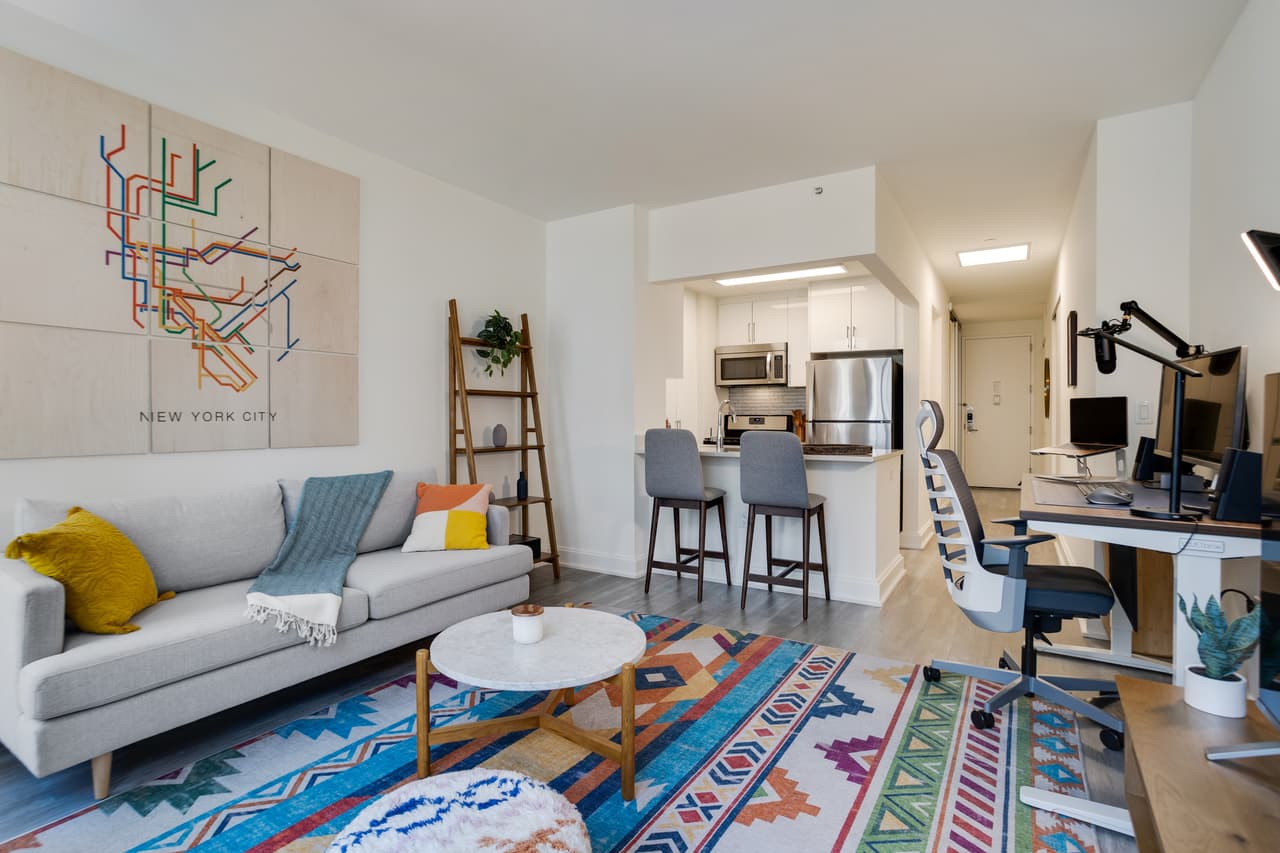 Book A Workation Rental in New York City - Manhattan Now
Browse rentals designed for workations in New York City - Manhattan that are already set up with furniture, utilities, laundry, a home office, and extra amenities like a pool and gym. All you have to do is reserve online, pay, and move in. And if you like it, you can easily extend your stay online. Forget about endlessly searching on multiple sites and apps to find the ideal spot for you in New York City - Manhattan. Use Anyplace and choose a workation rental that matches the dates you need, your budget, and will provide you with the amenities needed for a comfortable stay.