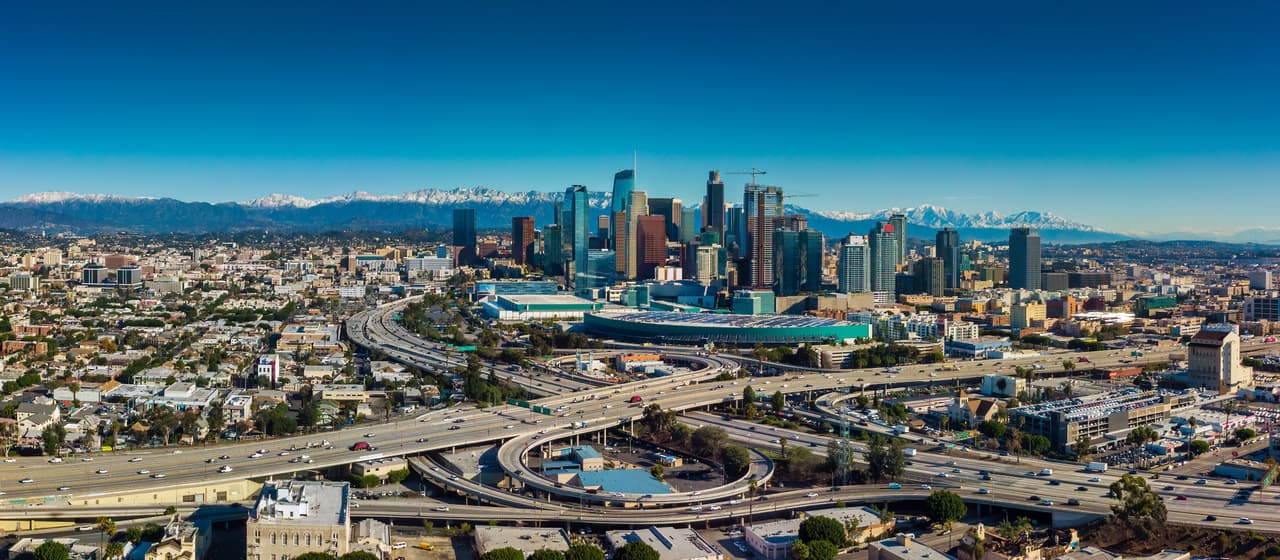 Workation Rentals in Los Angeles
Book an apartment designed for workations in Los Angeles for 30 days or longer. Includes fast, reliable WiFi and a high-quality workspace.
Find Workation Apartments in Los Angeles
Anyplace offers accommodations built for a work-from-anywhere generation.
Workation rentals in Los Angeles with an equipped home office
Level up your remote work with luxury accommodations that come prepped with an equipped home office and high-speed internet.
Desk setup & high-speed internet
Ultrawide monitor, standing desk, work chair, keyboard, mouse, and gigabit internet.
Video conferencing setup
Webcam, microphone, key light, and collapsible green screen.
Flexible-term & fully furnished
No long-term commitments and move-in-ready accommodations.
About Los Angeles
Housing more than 10 million people, Los Angeles County has a greater population than 41 individual states in the U.S. It's also considered one of the country's most diverse counties and welcomes new residents and expats from all backgrounds and walks of life. Los Angeles County is a beloved workation destination thanks to its wide range of amenities, beautiful surroundings, and notoriety as a place of fame and fortune. LA is best known for the film and TV industry, but the high tech and manufacturing sectors are also major pieces of the local economy.
What is a Workation
A workation, sometimes spelled as workcation, is a working vacation. People taking a workation mix both business and pleasure in an effort to make their job a bit easier and explore new locations like Los Angeles County. They may explore places they've never been before or head back to a favorite vacation spot. When on a workation, individuals work remotely away from their homebase. For it to be a workation — or work vacation — location does not matter so long as Los Angeles County is not the city you live in. Many people enjoy taking a workation to tropical paradises or large metropolitan cities. The important thing to remember is that, while a workation can be anywhere in the world, WiFi is still essential. As a workation is a blend of vacationing and working, WiFi is integral since work still has to be completed. Typically, people handle workations in one of two ways. The first way is that remote workers will work part of the day – maybe even their usual 9-5 hours – and then enjoy their new destination for the remainder of the day. The second approach is that people will set a list of goals, sometimes taking days to complete, and then enjoy the rest of their workation once all the work has been completed. Both are excellent methods to enjoy a workation – it will mostly depend on how flexible your work arrangement is.
Why is Los Angeles a Great Place to Have a Workation?
Los Angeles County, and California in general, is known for its warm weather all year long, especially in the summertime, when temperatures can reach oppressive highs. Therefore, most workationers prefer to visit in the fall or spring when the weather is slightly cooler and there aren't quite as many other tourists. Many of the biggest attractions in Los Angeles County are recognized throughout the world: the famous Hollywood Sign, the Santa Monica Pier, Griffith Park, and Rodeo Drive are just a few of the most popular spots in the county. Visitors can also explore the shorelines of Venice Beach, see stunning flowers at the California Poppy Reserve, learn at museums like the Museum of Neon Art and the Los Angeles County Museum of Art, and so much more. Of course, there's no lack of entertainment in this county. Amusement parks like Universal Studios Hollywood, Pacific Park, and three branches of Six Flags are located within Los Angeles County. Popular music venues include the Disney Concert Hall and the Orpheum Theatre, and other beloved entertainment spots include Dodger Stadium, The Forum, and The Staples Center. Los Angeles County is connected by a number of major highways, and traffic tends to get quite congested no matter where or when one is traveling. Other transportation options include commuter rail, subway, and bus service. The city is also served by the Los Angeles International Airport (LAX).
What Does Los Angeles Have to Offer to Remote Workers on a Workation?
No matter whether one is staying in Downtown Los Angeles, Hollywood, Century City, or any other neighborhood within Los Angeles County, it shouldn't be hard to find a high quality coworking space or a well-equipped cafe or coffee shop with WiFi. Internet speeds are quite fast even in the slowest parts of town, and since Los Angeles County is such a beloved destination, it's a wonderful place for networking for a number of fields. It's likely no surprise that the cost of living in Los Angeles County is high, but it is certainly a rewarding destination for those with a bit more money to spend.
Workation Rental Options in Los Angeles
For individuals seeking workation rentals in Los Angeles, Anyplace hosts the best properties in the city. All our apartments in Los Angeles include fully equipped home offices, stocked kitchens, strong wifi, and luxury amenities to make your workation both relaxing and productive. Here are a few reasons to choose Anyplace for your Los Angeles workation.
Zero stress
Find a workation rental in Los Angeles on the website, and then book. No emails, roommate interviews, or complications.
Amazing home office
Never work from the kitchen table again. Our apartments in Los Angeles include an equipped home office with a height-adjustable desk, ergonomic chair, widescreen monitor, wireless mouse and keyboard, collapsible green screen, and additional office gear. Just bring your laptop and do your best work.
All-inclusive with high-speed internet
All utilities are included in your workation rental and will be set up for you and ready to go. You will have gigabit speed internet, too, perfect for Zoom calls, file sharing, and video streaming.
No landlord
No landlord, no problem. You just need to move in—we handle the rest for you.
No long leases
Forget about ever having to sign a long lease. Our apartments in Los Angeles are available for 30 days or longer. Stay as long or little as you'd like—down to the day.
Move-in today—or any day
Search for a Los Angeles workation rental on Anyplace with the exact dates that match your schedule.
Move out or extend your stay
Manage your stay online, so if you realize that you'd like to extend the length of time that you'd like to stay you can do it with a click of a button.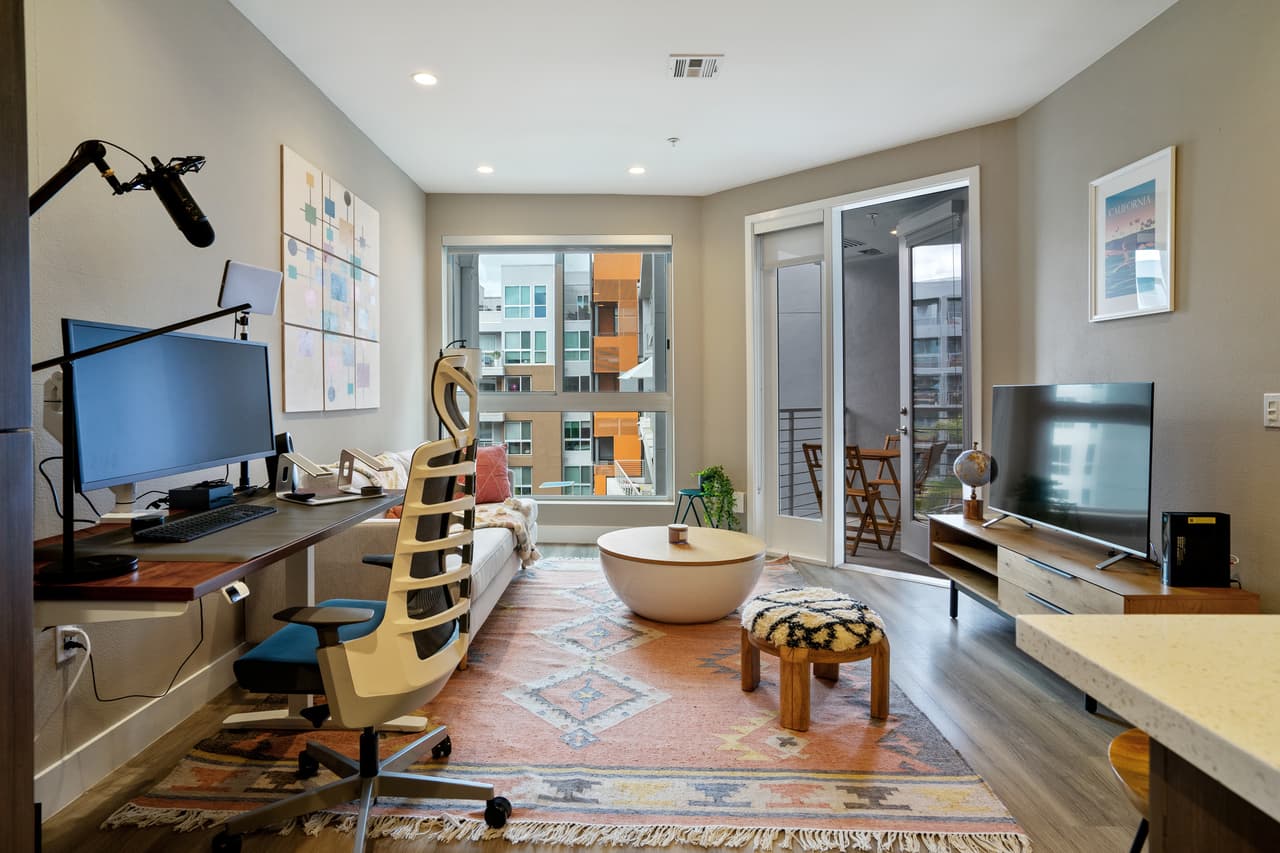 Book A Workation Rental in Los Angeles Now
Browse rentals designed for workations in Los Angeles that are already set up with furniture, utilities, laundry, a home office, and extra amenities like a pool and gym. All you have to do is reserve online, pay, and move in. And if you like it, you can easily extend your stay online. Forget about endlessly searching on multiple sites and apps to find the ideal spot for you in Los Angeles. Use Anyplace and choose a workation rental that matches the dates you need, your budget, and will provide you with the amenities needed for a comfortable stay.