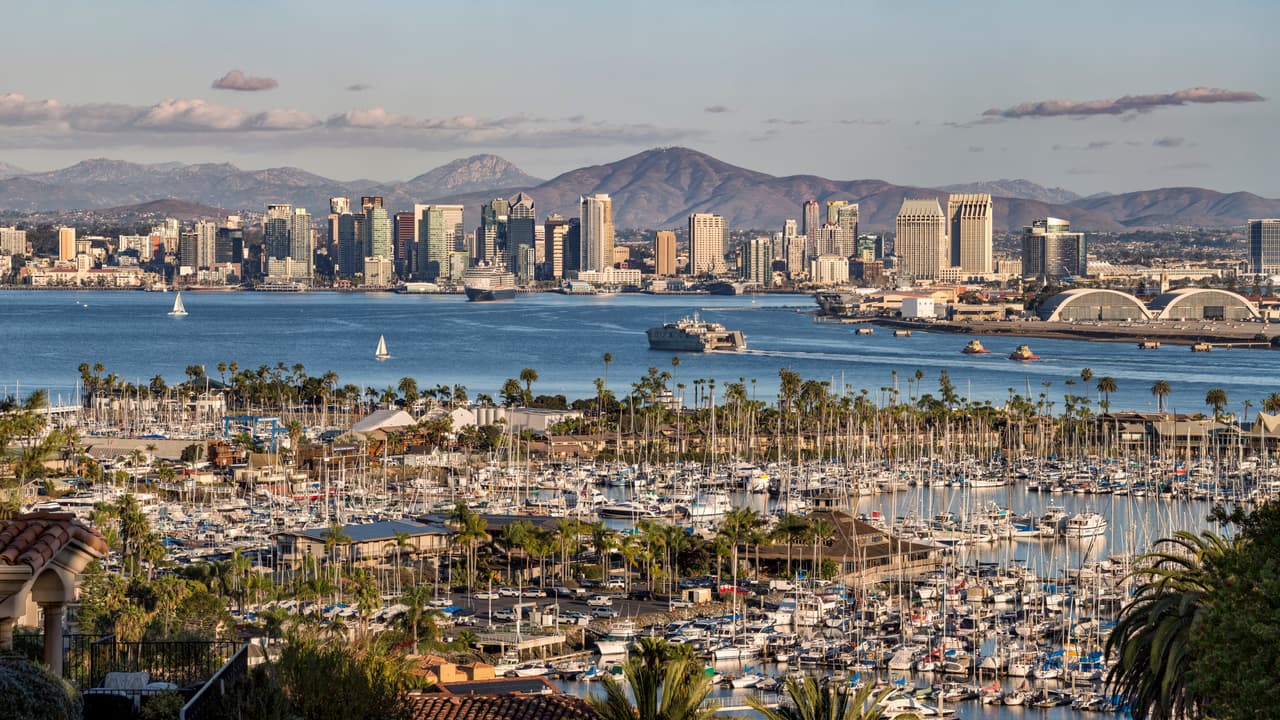 You Can Work From Anywhere? Try San Diego!
Book a monthly rental in San Diego built for the work from anywhere movement. Includes a home office and high-speed internet.
Find Apartments with an Office in San Diego
Anyplace offers accommodations built for a work-from-anywhere generation.
Apartments in San Diego with an equipped home office
Level up your remote work with luxury accommodations that come prepped with an equipped home office and high-speed internet.
Desk setup & high-speed internet
Ultrawide monitor, standing desk, work chair, keyboard, mouse, and gigabit internet.
Video conferencing setup
Webcam, microphone, key light, and collapsible green screen.
Flexible-term & fully furnished
No long-term commitments and move-in-ready accommodations.
About San Diego
San Diego is a city in the state of California, United States. It is located on the Pacific Ocean and it borders with Mexico. San Diego is the eight-most populous city in the United States and it is famous for its year-round warm climate. The city also features a unique natural deep-water harbor, beautiful beaches and extensive parks and it is also a prominent healthcare and biotechnology development center. The economy of San Diego is mainly based on military activities, international trade, manufacturing, research and tourism. San Diego's primary airport, the San Diego International Airport, is one of the busiest in the world. The city of San Diego features a great number of museums. The San Diego Museum of Art, the Museum of Photographic Arts and the San Diego Natural History Museum are the most famous ones. Another popular landmark is the San Diego Zoo. The San Diego Symphony, which usually performs at the Symphony Towers, is known all around the United States and even won the Tony Awards and got a nomination on Broadway.
What is the Work From Anywhere Movement?
Just as it sounds, working from anywhere means a person can successfully do their job from wherever they are, whether that's at home, a local coffee shop, or a coworking space in San Diego. Working remotely isn't all that new — people have been working from home for decades. But the popularity and opportunity to work remotely skyrocketed in response to the pandemic. As the world is vaccinating against COVID-19, people are considering what a post-pandemic world looks like for remote workers, and that's swapping working from home with working from somewhere new, like San Diego
Why is San Diego a Great Choice if You Can Work From Anywhere?
San Diego is often considered one of the best places to live in California, with lots of bars, restaurants, independent coffee shops and cozy parks. Every year, an increasing number of young professionals, international students, families and remote workers move to this area. The local community is kind and happy, and tend to lean liberal.
Apartments in San Diego for Work From Anywhere Movement
For people who want to live and work in San Diego, Anyplace hosts the best rentals for professionals in the city. All of our apartments include an equipped home office, unlike anything found in other rentals, and gigabit WiFi for video conferencing, heavy downloads, and file sharing. You'll also have convenient a kitchen stocked with appliances and cookware, in-unit laundry, and luxe amenities in the building such as private gyms, business centers, rooftop lounges, and more. Here are a few reasons to choose Anyplace for your work from anywhere trip in San Diego.
Simple and secure
Find an apartment in San Diego on Anyplace, and then book. No emails, roommate interviews, or complications. Unatched home office Even when you can work from anywhere, you still need a place to be productive. Our San Diego apartments include a height-adjustable desk, ergonomic chair, widescreen monitor, wireless mouse and keyboard, collapsible green screen, and additional office gear. Just pack your laptop.
Utilities and high-speed internet included
Utilities will be set up for you and ready to go. You will have gigabit speed internet, too, perfect for video conference calls, file sharing, and streaming.
No long leases
Being able to work from anywhere means flexibility. Our in San Diego are available for 30 days or longer. Stay as long or little as you'd like—down to the day.
Move-in today—or any day
Search for a San Diego apartment on Anyplace with the exact dates that match your schedule.
Move out or extend your stay
Working from anywhere gives you the freedom to travel or stay longer in a certain location. Manage your stay online, so if you realize that you'd like to extend your length of time in San Diego you can do it with a click of a button.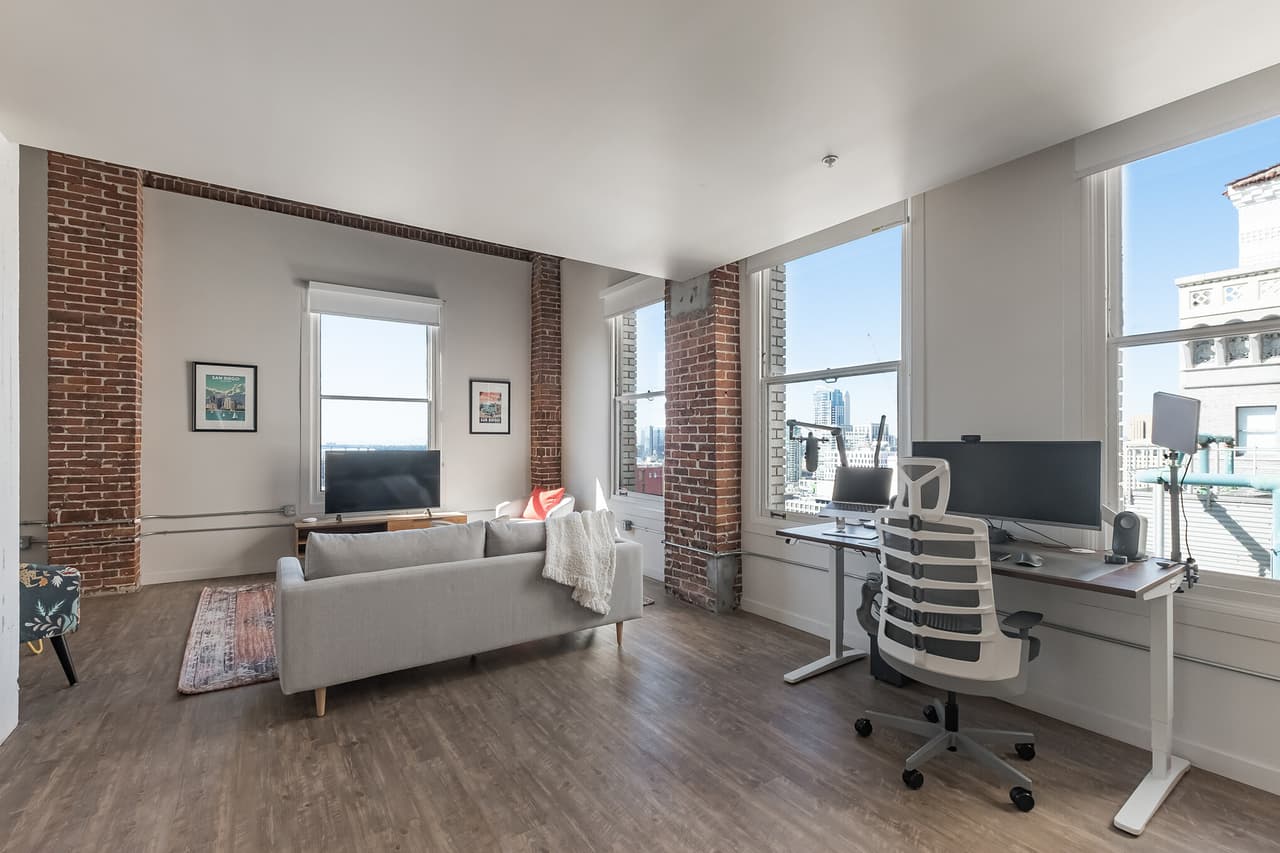 Work From Anywhere Rentals in San Diego Now
Browse apartments built for the work-from-anywhere movement in San Diego that are already set up with furniture, utilities, laundry, a home office, and extra amenities like a pool and gym. All you have to do is reserve online, pay, and move in. And if you like it, you can easily extend your stay online. Forget about endlessly searching on multiple sites and apps to find the ideal spot for you in San Diego. Use Anyplace and choose a rental that matches the dates you need, your budget, and will provide you with the amenities needed for a comfortable stay.