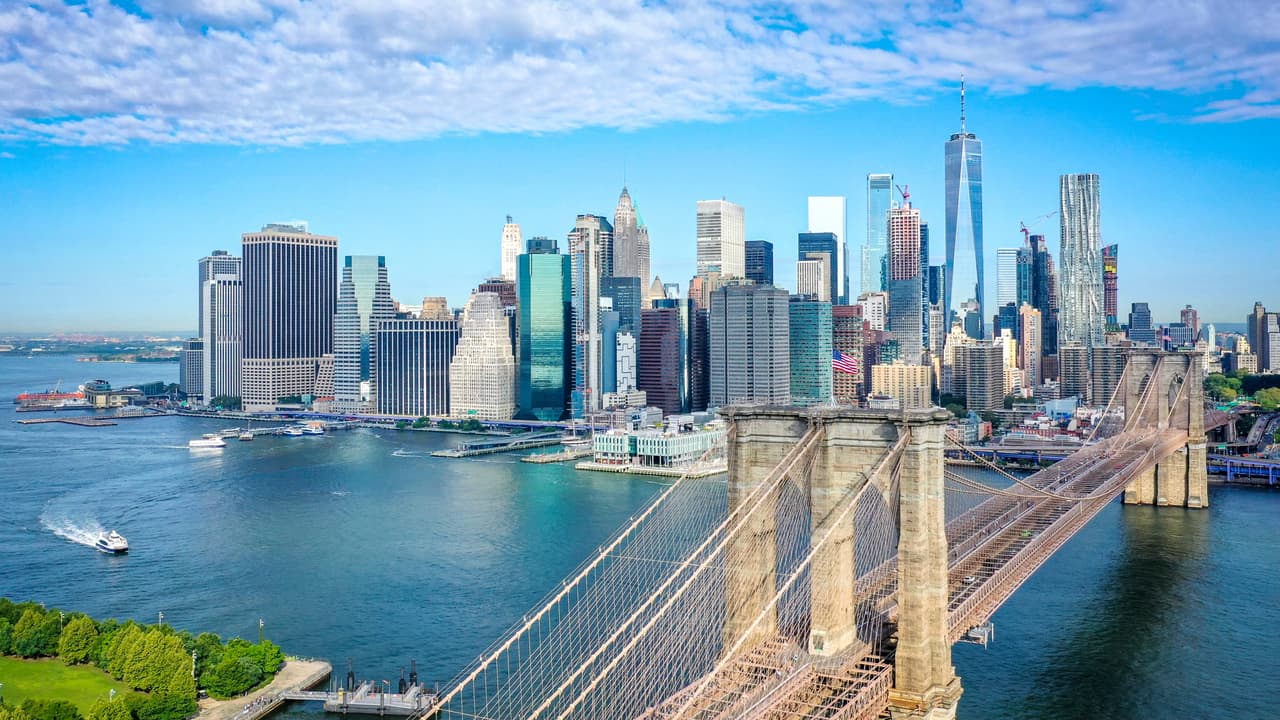 You Can Work From Anywhere? Try New York City - Manhattan!
Book a monthly rental in New York City - Manhattan built for the work from anywhere movement. Includes a home office and high-speed internet.
Find Apartments with an Office in New York City - Manhattan
Anyplace offers accommodations built for a work-from-anywhere generation.
New York City - Manhattan
Apartments in New York City - Manhattan with an equipped home office
Level up your remote work with luxury accommodations that come prepped with an equipped home office and high-speed internet.
Desk setup & high-speed internet
Ultrawide monitor, standing desk, work chair, keyboard, mouse, and gigabit internet.
Video conferencing setup
Webcam, microphone, key light, and collapsible green screen.
Flexible-term & fully furnished
No long-term commitments and move-in-ready accommodations.
About New York City - Manhattan
Manhattan, also known as the City, is the most densely populated but also smallest neighborhoods of New York City. the area serves as the economic and administrative center of the city, and it mainly consists of the Manhattan Island and some smaller adjacent islands. For many, Manhattan is the area of New York that truly embraces the "capital of the world" meaning, as a global financial, media, cultural and entertainment center. Manhattan is anchored by Wall Street, which makes it the leading financial center of the world, with the two largest stock exchanges. Several multinational media conglomerates are headquartered here in Manhattan. The financial sector is the most important industry for the economy of Manhattan. Some of the most iconic landmarks in Manhattan Island are the American Museum of Natural History, Chinatown, Central Park, the Empire State Building and Broadway, as well as the Financial District. The island is crossed by numerous bridges, and there are many skyscrapers. Liberty Island, an enclave of Manhattan, is where the Statue of Liberty rests and welcome all those entering New York.
What is the Work From Anywhere Movement?
Just as it sounds, working from anywhere means a person can successfully do their job from wherever they are, whether that's at home, a local coffee shop, or a coworking space in Manhattan. Working remotely isn't all that new — people have been working from home for decades. But the popularity and opportunity to work remotely skyrocketed in response to the pandemic. As the world is vaccinating against COVID-19, people are considering what a post-pandemic world looks like for remote workers, and that's swapping working from home with working from somewhere new, like Manhattan
Why is New York City - Manhattan a Great Choice if You Can Work From Anywhere?
The cost of living in Manhattan is up to 50% more than the American average. From groceries to utilities to rent, everything in this neighborhood of New York is affected by the so-called "New York City prices". On the other hand, there are several opportunities to live in Manhattan while working from anywhere, such as coliving. Manhattan is considered by many as one of the best places to live in New York, with a dense urban feel and beautiful houses. Many digital nomads and young professionals live in Manhattan, where the population tend to be liberal and public services are excellent.
Apartments in New York City - Manhattan for Work From Anywhere Movement
For people who want to live and work in Manhattan, Anyplace hosts the best rentals for professionals in the city. All of our apartments include an equipped home office, unlike anything found in other rentals, and gigabit WiFi for video conferencing, heavy downloads, and file sharing. You'll also have convenient a kitchen stocked with appliances and cookware, in-unit laundry, and luxe amenities in the building such as private gyms, business centers, rooftop lounges, and more. Here are a few reasons to choose Anyplace for your work from anywhere trip in Manhattan.
Simple and secure
Find an apartment in Manhattan on Anyplace, and then book. No emails, roommate interviews, or complications.
Unmatched home office
Even when you can work from anywhere, you still need a place to be productive. Our Manhattan apartments include a height-adjustable desk, ergonomic chair, widescreen monitor, wireless mouse and keyboard, collapsible green screen, and additional office gear. Just pack your laptop.
Utilities and high-speed internet included
Utilities will be set up for you and ready to go. You will have gigabit speed internet, too, perfect for video conference calls, file sharing, and streaming.
No long leases
Being able to work from anywhere means flexibility. Our in Manhattan are available for 30 days or longer. Stay as long or little as you'd like—down to the day.
Move-in today—or any day
Search for a Manhattan apartment on Anyplace with the exact dates that match your schedule.
Move out or extend your stay
Working from anywhere gives you the freedom to travel or stay longer in a certain location. Manage your stay online, so if you realize that you'd like to extend your length of time in Manhattan you can do it with a click of a button.
Work From Anywhere Rentals in New York City - Manhattan Now
Browse apartments built for the work-from-anywhere movement in New York City - Manhattan that are already set up with furniture, utilities, laundry, a home office, and extra amenities like a pool and gym. All you have to do is reserve online, pay, and move in. And if you like it, you can easily extend your stay online. Forget about endlessly searching on multiple sites and apps to find the ideal spot for you in New York City - Manhattan. Use Anyplace and choose a rental that matches the dates you need, your budget, and will provide you with the amenities needed for a comfortable stay.