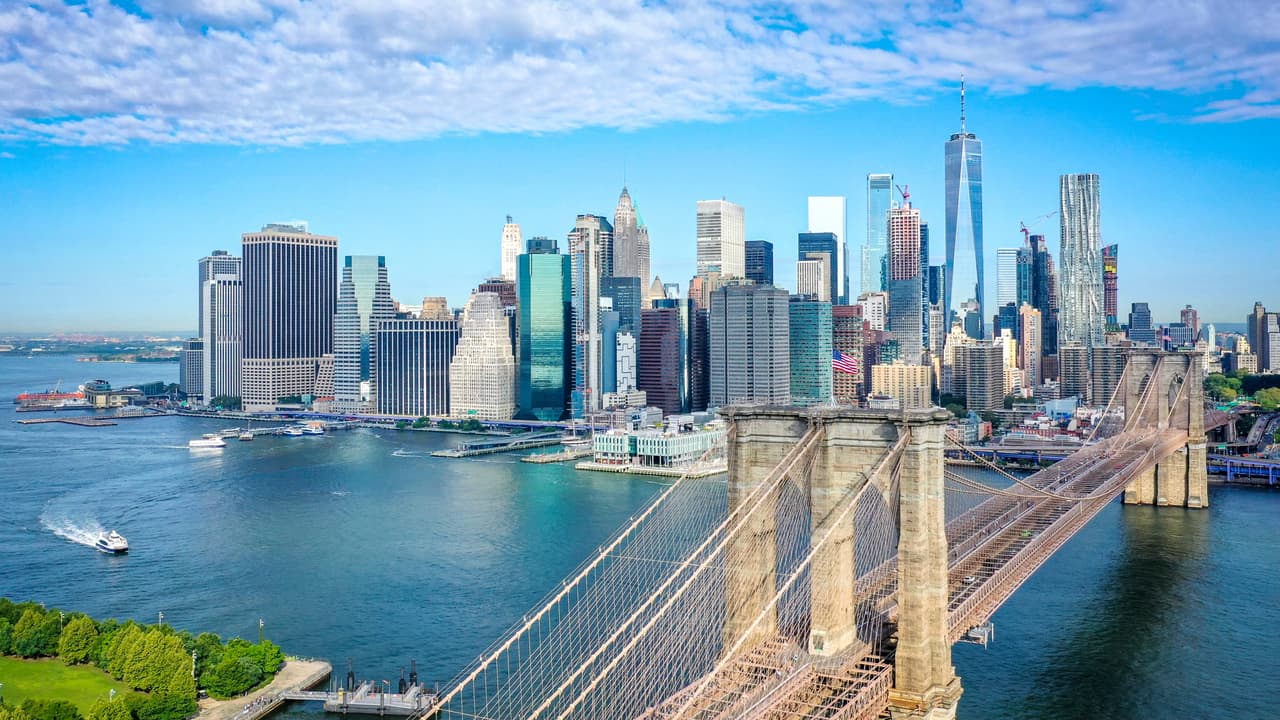 Travel Nurse Housing in New York City - Manhattan
Book a furnished apartment rental in New York City - Manhattan for 30 days or longer. Move-in-ready with an equipped home office.
Find Monthly Rentals for Travel Nurses in New York City - Manhattan
Anyplace offers accommodations built for a work-from-anywhere generation.
New York City - Manhattan
Furnished apartments in New York City - Manhattan with an equipped home office
Level up your remote work with luxury accommodations that come prepped with an equipped home office and high-speed internet.
Desk setup & high-speed internet
Ultrawide monitor, standing desk, work chair, keyboard, mouse, and gigabit internet.
Video conferencing setup
Webcam, microphone, key light, and collapsible green screen.
Flexible-term & fully furnished
No long-term commitments and move-in-ready accommodations.
New York City - Manhattan for Travel Nursing
It's impossible not to include New York on a list of the best cities for travel nurses. The city that never sleeps has job opportunities for almost everyone, especially travel nurses. Tourism and opportunity attract several to New York City each year—the Big Apple currently has over 8 million residents. Can you imagine how busy the hospitals are? During off-hours, travel nurses can enjoy the various attractions and bustling city activities spanning New York. To top it off, New York's nursing salaries are among the highest. Working at one of the top hospitals in New York—New York-Presbyterian, Hospital for Special Surgery, Memorial Sloan Kettering Cancer Center—could propel a travel nurse's resume to the next level.
Hospitals and Medical Facilities for Travel Nurses in New York City - Manhattan
Have you always wanted to live in the Big Apple, but you can't fathom the thought of paying crazy rent prices? As a travel nurse, you can live in New York without committing to a rent lease or a long-term contract. Plus, New York is not only home to some of the most popular parks, art, museums, and restaurants in the world, but they also offer nurses a super-high salary. Some of New York City's top medical institutions include: -New York-Presbyterian University Hospital of Columbia and Cornell -Memorial Sloan-Kettering Cancer Center -New York State Psychiatric Institute -NYU Langone Medical Center -Mount Sinai Hospital Hospital for Special Surgery -Hackensack University Medical Center
Tips for Finding Short-Term Travel Nurse Furnished Housing in New York City - Manhattan
Whether you've been a seasoned travel nurse for a while or are just now planning your first travel nursing assignment to Manhattan, there's one huge item to figure out once you secure a contract: How do you find furnished housing for travel nurses? It's easy to get overwhelmed and waste a lot of time online searching for a place, emailing people on Craigslist, or looking at endless sublets on rental listing websites – sometimes, leaving you no closer to finding housing that suits your needs as a travel nurse. This can be frustrating and can increase your stress level until you finally secure a properly furnished place with the exact dates and amenities you need to be comfortable and prepare for your upcoming travel nursing assignment in Manhattan. A few years back, a travel nurse recruiter might have handled your housing, but that's becoming an antiquated practice. Most travel nurses now opt to take their housing stipend so they can have more control over their money and select where they stay—this makes perfect sense if you've ever been stuck in a terrible housing situation for 3 months. Also, since you can pocket the remaining tax-free stipend money, travel nurses are realizing the importance of taking on the role of choosing their housing is financially beneficial. With all this in mind, you probably want to find housing in Manhattan on your own, if you can. So, is it really that difficult to find your furnished travel nurse housing online? No—it doesn't have to be! Short-term or "flexible" housing can be hard to find, but not if you know where to look. You simply need to know the websites that offer exactly what you need. Enter: Anyplace Anyplace provides short-term furnished housing in Manhattan with utilities included, and a variety of amazing amenities. Every property is available for 30 days or longer, so forget about having to worry about long leases. Rent monthly or even down to an exact day. Anyplace was built specifically for those looking for flexible housing—like travel nurses—and can eliminate the time spent searching on other websites and not finding what you need. But that's just the tip of the iceberg; read on to find out more about travel nurse housing and how to find your perfect place today.
Benefits of Travel Nurse Housing in New York City - Manhattan on Anyplace
When it comes to finding travel nurse housing in Manhattan, there are several strategic factors to consider—budget, amenities included, the move-in date, the duration of the stay, and the lease terms. Our goal is to help make your choice simple while providing everything you need for an amazing stay. Here are a few advantages when looking at travel nurse housing rentals for Manhattan on Anyplace vs. other websites. Zero stress Find an apartment for your Manhattan travel nurse assignment on the website, and then book. No emails, roommate interviews, or complications. Fully equipped home office Never work from the kitchen table again. Our rentals in Manhattan include a workspace equipped with useful office gear. Just bring your laptop and do your best work. All-inclusive with high-speed internet All utilities and gigabit speed WiFi are included in your apartment and will be set up for you and ready to go. Stocked kitchen A full kitchen is essential while on a travel nurse assignment. We make it easy for you to whip up your favorite dishes with a kitchen prepped with appliances, cookware, dinnerware, glassware, and more. No long leases Forget about ever having to sign a long lease. Our apartment rentals in Manhattan are designed for travel nurses, healthcare professionals, and others who need flexibility. They are available for 30 days or longer, so stay as long or little as you'd like—down to the day. Move-in today—or any day Search for travel nurse housing in Manhattan on Anyplace with the exact dates that match your schedule. Move out or extend your stay Manage your stay online, so if you realize that you'd like to extend the length of time that you'd like to stay in the apartment you can do it with a click of a button.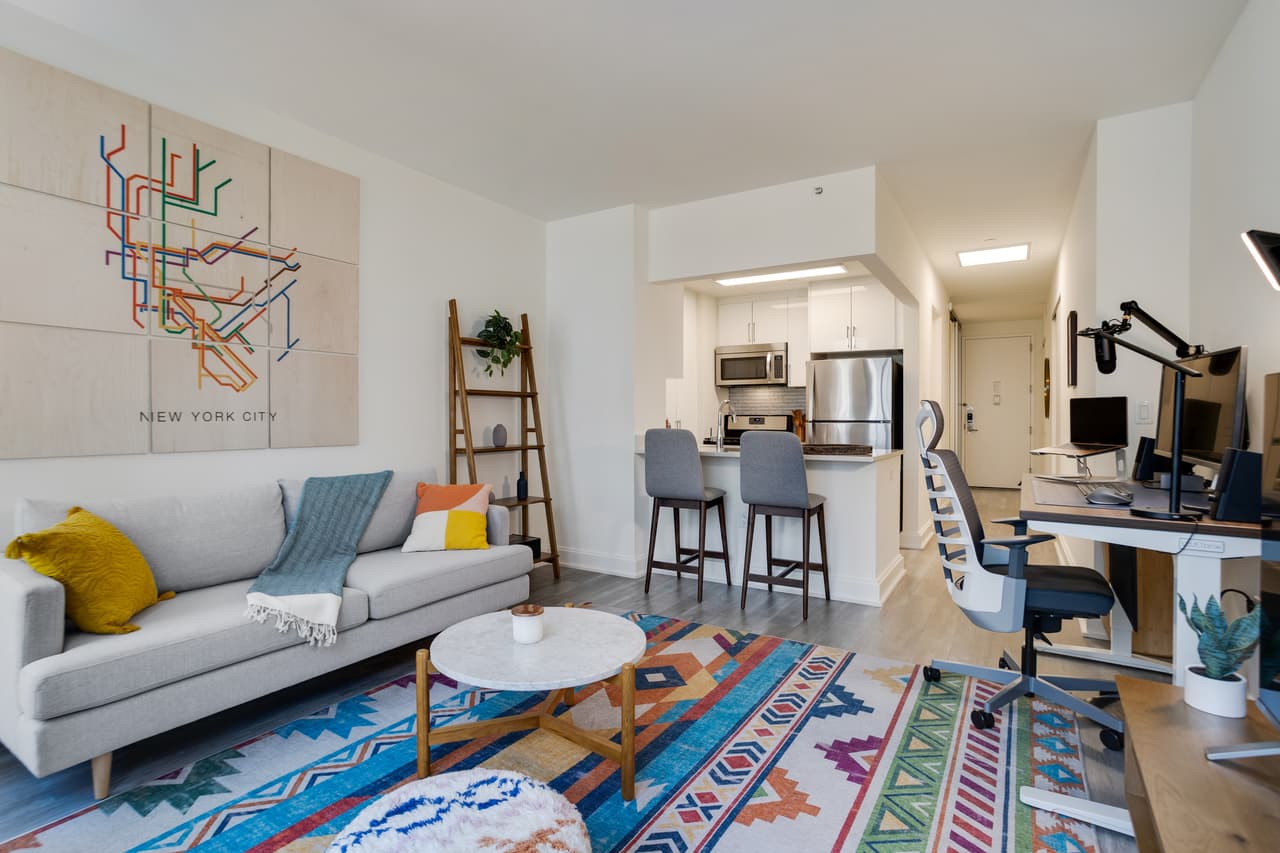 Book Travel Nurse Rental in New York City - Manhattan Now
Browse apartment rentals for travel nursing in New York City - Manhattan that are already set up with furniture, utilities, laundry, a home office, and extra amenities like a pool and gym. All you have to do is reserve online, pay, and move in. And if you like it, you can easily extend your stay online. Forget about endlessly searching on multiple sites and apps to find the ideal spot for you in New York City - Manhattan. Use Anyplace and choose an apartment rental that matches the dates you need for your travel nurse or healthcare assignment, and your budget, and will provide you with the amenities needed for a comfortable stay.