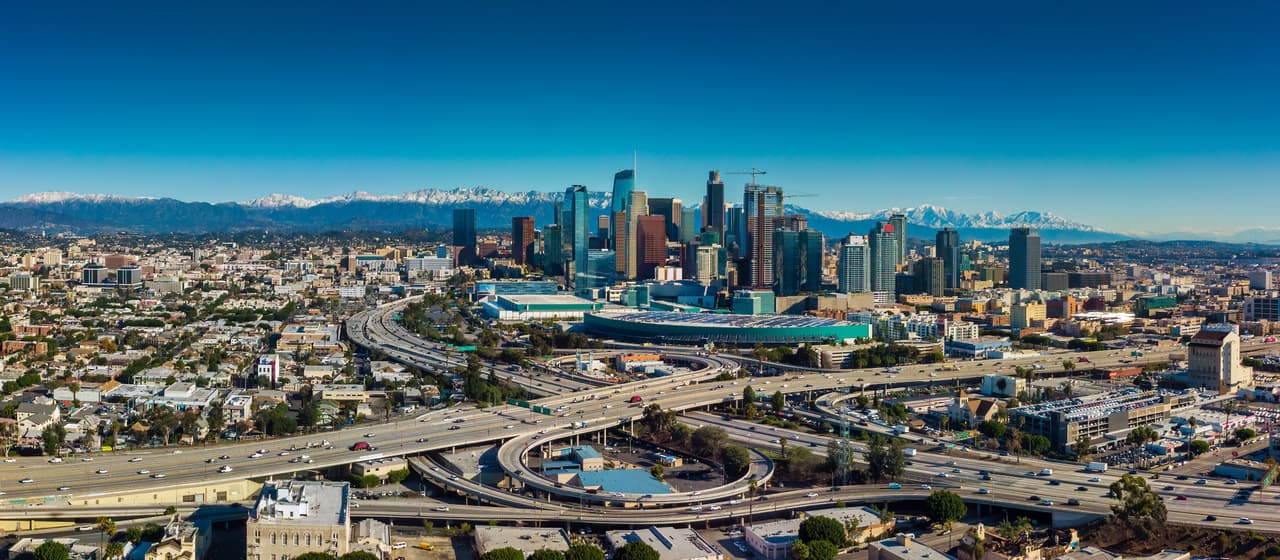 Temporary Housing in Los Angeles
Book a temporary apartment rental in Los Angeles for 30 days or longer. Move-in-ready with an equipped home office.
Find Temporary Apartments in Los Angeles
Anyplace offers accommodations built for a work-from-anywhere generation.
Temporary apartments in Los Angeles with an equipped home office
Level up your remote work with luxury accommodations that come prepped with an equipped home office and high-speed internet.
Desk setup & high-speed internet
Ultrawide monitor, standing desk, work chair, keyboard, mouse, and gigabit internet.
Video conferencing setup
Webcam, microphone, key light, and collapsible green screen.
Flexible-term & fully furnished
No long-term commitments and move-in-ready accommodations.
About Los Angeles
Looking for endless entertainment? Consider Los Angeles—the hub of the entertainment industry. Situated on the West Coast, the fun city attracts numerous residents and travelers alike seeking sun, fun, and a path to acting, singing, and other entertainment-like careers. Creative careers may rule Los Angeles, but law, hospitality, financial services, and other industries continue to expand. Several diverse neighborhoods span Los Angeles, from the chill vibes in Venice Beach to the luxury lighting up Beverly Hills. Los Angeles likely has tailor-made areas for everyone. Numerous famous people flock to Los Angeles to set up homes, and for good reason. It offers everything you could imagine! Not only will you have access to famous production studios and movie premieres. You will also find a plethora of boardwalks, amusement parks, pristine beaches, and pleasant temperatures. One of the best parts of Los Angeles? The food. It's basically a foodie's dream—you can find delicious cheap treats as well as high-end Michelin star restaurants. Plus, when the sun dips into the sea, and your dinner plates are clean, you can take advantage of Los Angeles' crazy, fun nightlife.
Temporary Housing in Los Angeles
Come to Los Angeles where unmatched fun and crazy, good weather awaits. The "City of Angels" may have a high cost of living, but you can always get creative and find cheaper housing—via rooms for rent, for example. And once you find yourself living in Los Angeles, you won't want to leave. The vast landscape—mountains, deserts, beaches, forests—will keep outdoor lovers entertained. While films, pop culture, and a fast-paced nightlife will attract those who want to dance beneath the city lights. The point? No one gets bored in LA. However, signing long-term leases, finding furniture, and setting up utilities can make moving to a city like Los Angeles extremely stressful—and very expensive. Fortunately, temporary housing on a site like Anyplace.com can help you access premium apartments, rooms in co-living spaces and extended stay hotels without the traditional hassles of finding a new place to live. And, all of these options come fully furnished with utilities and WiFi included. Opting for a temporary housing unit in Los Angeles provides an excellent opportunity for new residents and short-term visitors to reside in traditional apartments without purchasing furniture or signing lease agreements. And, the properties on Anyplace are a perfect solution for those who constantly travel from place to place and do not have a permanent home. This would include digital nomads (remote workers who like to travel), medical professionals or travel nurses, people who relocate frequently due to work, people in between accommodations, and those who simply want to explore a new neighborhood in a city without too much commitment. Frequently moving to different locations and trying to find temporary housing can be difficult, especially if you have to negotiate the rental agreement, sign leases, and buy furniture. With flexible accommodations on Anyplace, you're guaranteed a simple experience when it comes to living in a new location like Los Angeles.
Access the Best Temporary Housing in Los Angeles
Anyplace simplifies the process of finding the perfect accommodations in Los Angeles. Every housing unit on our platform is available on month-to-month contracts, giving you the flexibility to stay as short or as long as you want. As for the types of housing arrangements, you'll find a variety of apartments, co-living spaces, and extended hotels to choose from. All the properties on our website are fully furnished with utilities and WiFi already set up, too, allowing you to enjoy a hassle-free experience—you just have to arrive with your stuff! You'll find plenty of temporary housing options in Los Angeles on Anyplace. New residents can explore a diverse range of choices online and apply for a spot that fits their specific needs. With high-quality, trusted properties, you won't waste time and money looking for the right place. And as mentioned, temporary housing units on Anyplace allow you to forgo signing a long lease, giving you the freedom to live monthly in any part of Los Angeles. We are firm believers in providing a housing experience that's easy to manage and works for your schedule and needs. Just select the city of Los Angeles, the dates you need, and the specific housing type right on the website/app and book with the click of a button. We offer a "turn-key" opportunity to find a great place with enjoyable housemates. Check out our temporary housing options in Los Angeles directly on our site!
Why Anyplace is the Best Option for Temporary Housing in Los Angeles
When it comes to temporary housing, flexibility is extremely important—the move-in date, duration, and move-out date need to fit your needs. With websites like Sublet.com and Craigslist, you are browsing through properties that fit the current tenant's schedule—not yours. This poses a challenge when it comes to finding the perfect place in Los Angeles for you. We built Anyplace to flip that scenario, so you can search for temporary housing options that match your schedule and needs. We simplify the process and make it extremely easy to find what you're looking for. On Anyplace, just select Los Angeles, type in the exact dates you need, choose your rental, apply online and book. There's no need to deal with landlords or tenants leasing the space. And, you'll be able to manage your stay online, so if you realize that you'd like to extend the duration of your short-term rental in Los Angeles, you can do it with the click of a button. There are plenty of reasons to choose Anyplace for your temporary apartment rental in Los Angeles, too.
Zero stress
Find a temporary apartment rental in Los Angeles on the website, and then book. No emails, roommate interviews, or complications.
Equipped home office
Never work from the kitchen table again. Our apartments in Los Angeles include a workspace equipped with useful office gear. Just bring your laptop and do your best work.
All-inclusive with high-speed internet
All utilities and gigabit speed WiFi are included in your temporary apartment rental and will be set up for you and ready to go.
No landlord
No landlord, no problem. You just need to move in—we handle the rest for you.
No long leases
Forget about ever having to sign a long lease. Our temporary housing in Los Angeles is available for 30 days or longer. Stay as long or little as you'd like—down to the day.
Move-in today—or any day
Search for a Los Angeles rental on Anyplace with the exact dates that match your schedule.
Move out or extend your stay
Manage your stay online, so if you realize that you'd like to extend the length of time that you'd like to stay in the apartment you can do it with a click of a button.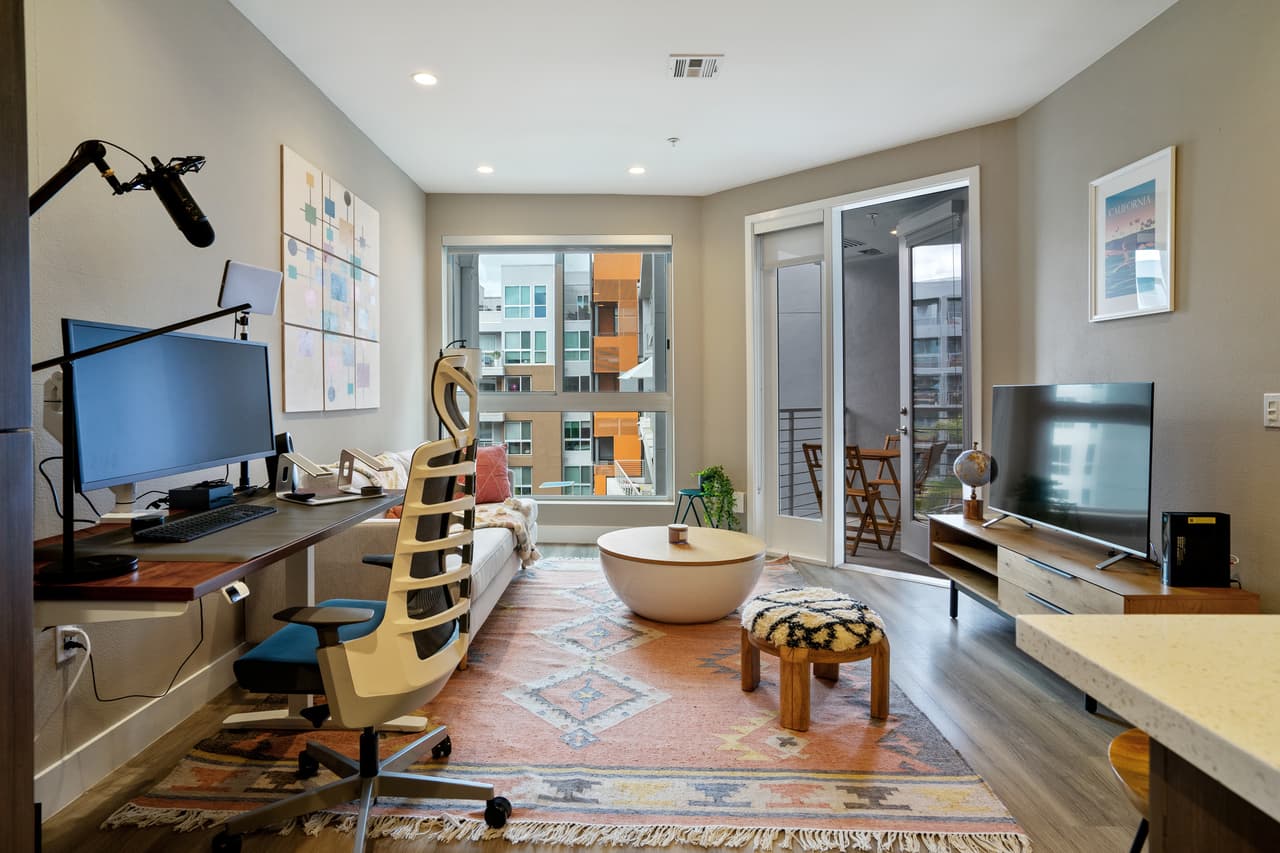 Book A Temporary Apartment Rental in Los Angeles Now
Browse temporary housing options in Los Angeles that are already set up with furniture, utilities, laundry, a home office, and extra amenities like a pool and gym. All you have to do is reserve online, pay, and move in. And if you like it, you can easily extend your stay online. Forget about endlessly searching on multiple sites and apps to find the ideal spot for you in Los Angeles. Use Anyplace and choose a rental that matches the dates you need, your budget, and will provide you with the amenities needed for a comfortable stay.