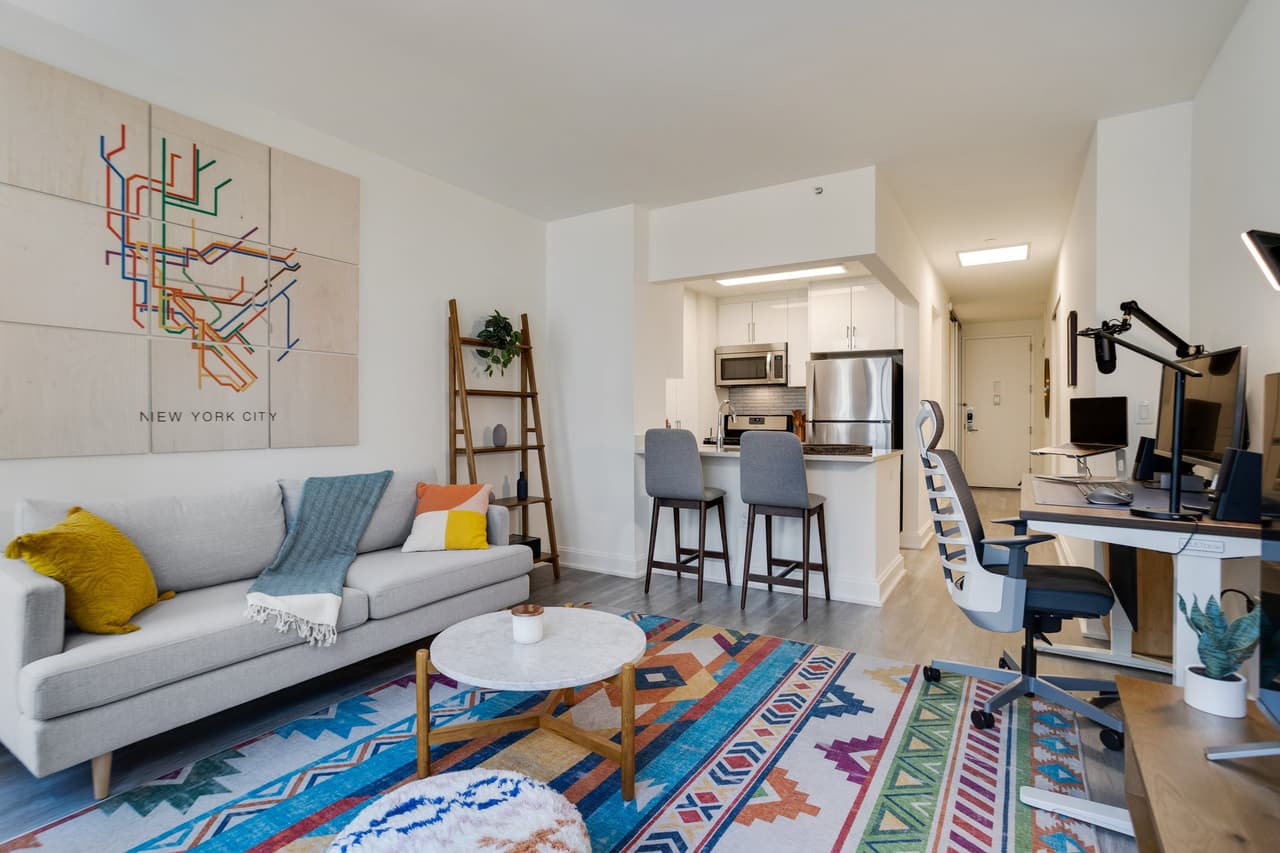 Short-Term Rentals
Find short-term rentals with equipped home offices and high-speed WiFi.
Find Monthly Rentals in the Best Locations
Anyplace offers accommodations built for a work-from-anywhere generation.
San Diego

New York City - Manhattan

San Francisco

Los Angeles
We are opening additional apartments in major US cities based on request.
Join the waitlist by submitting your preferred budget and location. Rent starts at $3,000 per month in order to provide a high-quality work environment.
No matter where you are in the world, you can easily find the most convenient short-term rentals—you just need to know where to look to find the perfect place that fits your needs. Here is how to find a short-term rental near you or anywhere in the world.
What Type of Short-Term Rentals are There?
You can find short-term rentals in both residential and commercial properties—from a small apartment to a high-rise hotel. Let's take a look at the types of rentals that are available on a monthly basis or your desired length of time.
Furnished Apartments
Furnished apartment rooms are a great short-term rental option for those who want their own space but are willing to share areas like a kitchen or bathroom. Beyond having furnishings already in the unit, a furnished apartment can vary in other options and amenities. Some are fully serviced apartments with house cleaning, and you'll find all of them are equipped with a bed, kitchen, bathroom, furniture, and most appliances. A short-term rental in a co-living space is an excellent way to save money and live in a building with other like-minded individuals. If you haven't heard of it, co-living is a form of housing where residents share living space and resources. Typically, everyone lives in a singular building and shares a communal kitchen, living and working areas, bathrooms, and sometimes bedrooms (if you're looking for the most economical type of room). It's a new take on an ancient idea, with the new movement propelled by millennials who value things such as openness, collaboration, the sharing economy and also to cut back on monthly living expenses.
Extended-Stay Hotels
Did you know that hotels can also be an option when it comes to short-term rentals? It's true! These rentals are called extended stay hotel rooms. An extended stay hotel offers a private furnished room at an establishment that typically has amenities such as a kitchen, WiFi and usually a cleaning service. There are a variety of different extended stay accommodation styles that you can rent, ranging from inexpensive to very luxurious. You'll find these short-term rentals in a variety of locations as well—from major metropolitan cities to more remote places.
What are the Benefits of Short-Term Rentals?
Having a short-term rental on a monthly basis offers much more flexibility than having to sign a traditional lease. Let's discover the top benefits of a month by month rental.
1. Short Term Lease
Finding an apartment room in any city with a lease agreement that's less than a year is challenging, but not impossible. If you use a site like Anyplace, you'll be able to find thousands of apartments, co-living spaces and hotel rooms with monthly contracts. Short term leases don't restrict you and give you the flexibility to keep moving and not get stuck with a long lease in one place.
2. Save Money on Move-In Costs
The costs that come with renting a place can be very overwhelming. Usually, landlords require first and last month's rent, plus a security deposit. And then you'll need to buy all of the furniture, beds, appliances and more to fill out your place. If you can find a fully furnished short-term rental on a month-to-month contract, there is a lot more flexibility. The most you'll have to pay is the first month of rent plus a security deposit. And the best part? The rental is fully-furnished with utilities set up and WiFi included.
3. Save Money on Rent
If you book a short-term rental on Anyplace, it will be furnished, which can save you a lot of money. You won't have to pay for a bed, dresser, or other items you need to live comfortably. The utilities and WiFi will be ready when you move in, so you don't need to spend extra money on the initial costs for setting up those services. Thus, making your total rent each month lower than other housing options.
4. Discover the Neighborhood Before Deciding
Booking a short-term rental for one month gives you the perfect opportunity to get to know your neighborhood and neighbors before signing a long term lease. You'll have plenty of time to learn how to get around the city and understand the pros and cons of the area you've chosen. If you do like the area, you can either extend the rental on a monthly basis or confidently book a longer-term stay.
5. Some Short-Term Rentals Have More Flexible Arrangements Than Others
While some rentals are only available for a short amount of time, others allow more freedom and let you choose to live in an apartment room, hotel room or co-living space as long as you want. You can book a short-term rental for one month or more, and then have the ability to extend your stay for a longer period of time. This is the best-case scenario, as the sublet is on your terms.
Are Short-Term Rentals Available in Most Cities?
Yes! You don't necessarily have to sign a long lease if you don't want to. There are many apartment buildings, co-living spaces and even hotels with rooms available on a month-to-month basis. Let's take a deeper look at the different types of short-term rentals available in almost any major city.
Why Anyplace is Easier and Better for Short-Term Rentals than Websites like Craigslist
When it comes to finding a short-term rental near you, there are several strategic factors to consider—budget, the type of room, the amenities it includes, the move-in date, the duration of the stay, and the lease terms. Most people end up using Craigslist for securing housing, but it's not a simple process and can be extremely time-consuming. Let's take a quick look.
Finding Short-Term Rentals on Craigslist is Hard… Really Hard
When you attempt to find a short-term rental near you on Craigslist, it can be a tedious journey from start to finish. First, you'll need to scroll endlessly through rental options and open tons of website tabs for the exact type of rental that fits your needs. Next, you have to spend time crafting an elegant email—with the goal to make it stand out from the potentially hundreds of other people also interested in the place—and hopefully, get a response from the person on Craigslist listing it. Then, you will most likely have to interview with the current tenants and roommates to secure the rental. Sometimes this is through video conferencing, while other times you have to spend painstaking hours commuting to visit the location for an in-person meeting. And maybe, just maybe, after all this time and effort you've spent, you will be magically chosen for the room. This process on Craigslist is laborious, tedious, time-consuming and can be downright disappointing when that perfect place you want doesn't fall through. If the tenant or roommates choose you for the rental, you might need to sign a year-long lease, which is not ideal since you don't know if you'll enjoy the location for an extended amount of time. Yikes. On top of this hassle, you also don't necessarily get to choose your desired move-in date for the rental—that is determined by the person on Craigslist providing the short-term rental. You are browsing through apartments and rooms that work with the tenant's schedules, not yours. This can be an inconvenience, as it might make things tough if you'd like to move in immediately. Well, we believe there should definitely be a much easier way to get a short-term rental, which is why we created Anyplace. We have simplified the process that people are used to on Craigslist, and have hopefully made the whole process more enjoyable. Here are a few benefits to finding short-term rentals on Anyplace vs. other rental websites like Craigslist.
Benefits to Short-Term Rentals on Anyplace
Zero hassle Choose a rental that you want to live in on the website, and then book. No emails, roommate interviews or complications when you're trying to find the perfect short-term rental for you. No landlord No landlord, no problem. You just need to move in—we handle the rest for you. All-inclusive All utilities and WiFi are included for the duration of your rental and will be set up for you and ready to go. No long-leases Forget about ever having to sign a long lease. Our rentals are available month-to-month. Stay as long or little as you'd like—down to the day. Move-in today—or any day Search for a rental on Anyplace that matches your schedule. Select the city you want and type in the exact dates of your desired short-term rental. Move out or extend your stay Manage your stay online with the option of extending the duration of your rental at any time. This gives you the freedom to control the length of your stay with the click of a button.
Where are Short-Term Rentals Near Me?
When comparing short-term rentals near you, consider the location, convenience, price point and amenities that you need. All of the rentals on Anyplace are easy to move in to, offer everything you need for day-to-day living, and some even provide services like housekeeping. You can find a variety of room sizes, from private with a private bathroom to shared rooms with communal kitchens and lounges. It's easy to go online and find a short-term rental near you in most major cities around the globe. Whether traveling alone or with family and friends for business or pleasure, you can live in style and not give up the conveniences of home sweet home. Just pick the city where you're looking to find a short-term rental and you'll find plenty of options to choose from!