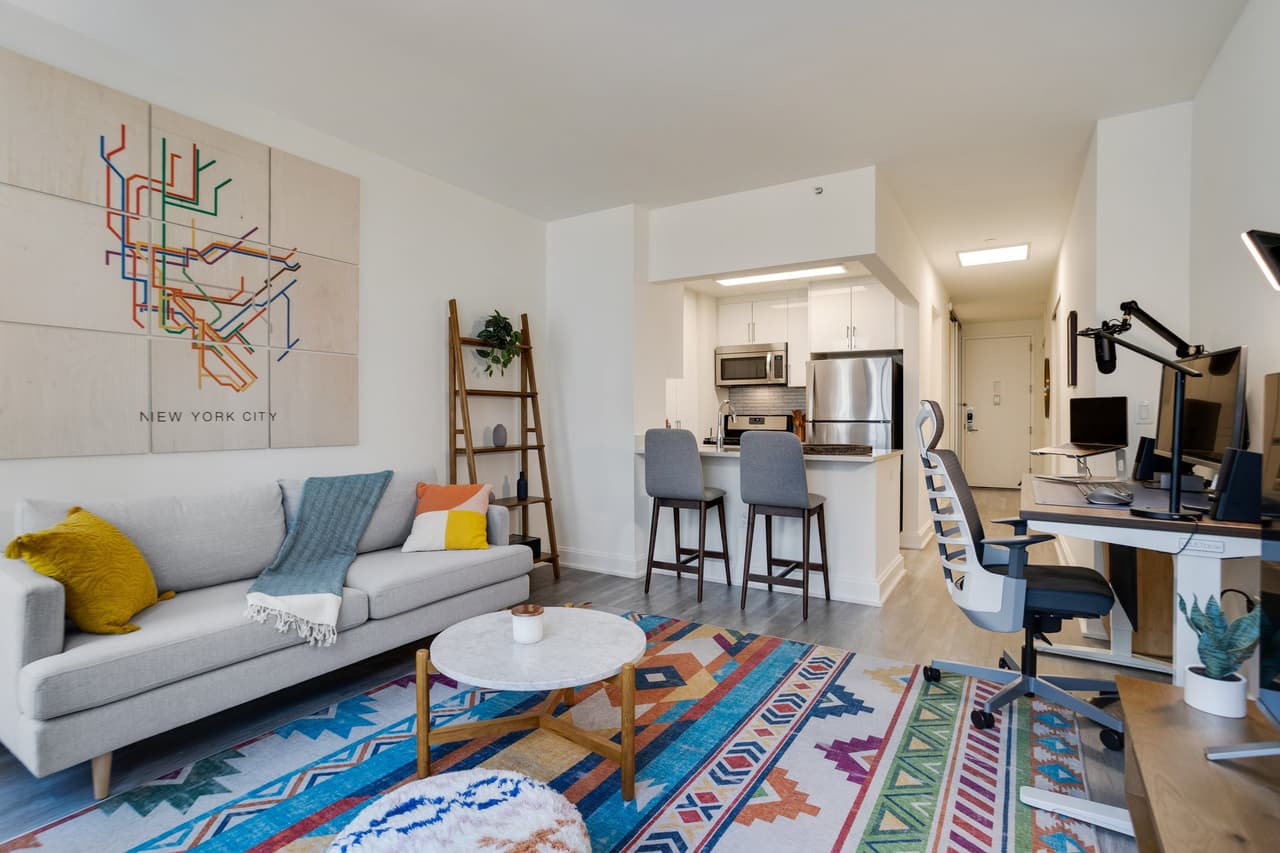 Serviced Apartments
Find serviced apartments with equipped home offices and high-speed WiFi.
Find Monthly Rentals in the Best Locations
Anyplace offers accommodations built for a work-from-anywhere generation.
San Diego

San Francisco

Los Angeles

New York City - Manhattan
We are opening additional apartments in major US cities based on request.
Join the waitlist by submitting your preferred budget and location. Rent starts at $3,000 per month in order to provide a high-quality work environment.
A New Way Of Living
Flexible arrangements
Live month-to-month in any city without having to sign a long lease.
All-inclusive lifestyle
Utilities and WiFi are included. Most spaces have weekly housecleaning.
Hassle-free experience
Enjoy move-in ready, fully furnished housing. Pay and manage your stays online.
Serviced Apartments Near Me Guide
Serviced apartments are commonly known as extended stay apartments. The terms have a specific meaning. They are not condominiums or apartments in the traditional sense, meaning unfurnished and with no housekeeping services. Serviced apartments offer the configuration of a rented condominium or apartment, like a kitchen and dining space, but they also offer services that are similar to the services offered in hotels. In addition, high-quality serviced apartments allow people to lease an apartment for 30, 60, 90 or more days. They are geared towards people who need a place to stay for a short or long period to meet business or personal needs and want the conveniences of home. Following are comparisons of the serviced apartment to a condominium and an apartment.
What are the differences between a serviced apartment and a condominium?
A condominium (condo for short) is a dwelling unit that is usually located in a building, but detached condominiums are also available. In either case, each condo is individually owned. The unit is purchased from a corporation that maintains the building exterior; infrastructures like the elevators and plumbing fixtures in the walls; common areas; and land. A condo is like a hybrid apartment-house. It has the features of an apartment but is owned space. Owners usually also own one or more shares of the corporation. Sometimes, condo owners rent their unit to other people, often when the unit is a second home or the owner has to be out of town for an extended period. A serviced apartment is a fully furnished apartment that you rent, like you would any apartment. However, serviced apartments are commercial properties, while condos are residential. Following are some of the major differences between a serviced apartment and a condominium. Rental cost - A serviced apartment lease requires an application fee, a refundable security deposit, and the first month's rent. You may have some optional incidental fees, like a pet or parking fee. You know up front what your expenses will be and what they will include. If you wanted to buy a condominium, you would have to pay a down payment, mortgage fees, and insurance fees. It is not a practical solution for a traveler or short-term visitor needing accommodations. Even if purchasing for investment reasons, it may take years to build equity. In the meantime, you are responsible for condo upkeep, repairs, and maintenance. You can rent a condominium from a building owner if the owner's purchase terms allow it. The other condo owners are probably not going to be happy though because they will have temporary neighbors moving in and out throughout the year. Condo owners pay a sizable annual maintenance and repair fee to the Condominium Homeowners Association (HOA) for things like roof repair, landscaping, pool cleaning and repairs to plumbing not located inside a unit. A percentage of the HOA fee are included in a condo rental amount, even if you do not see a cost breakdown. You will also have to pay a substantial security deposit that may or may not be refundable. Other costs - Serviced apartment rent include utilities and Wi-Fi. You can walk in, turn on the lights, start cooking and use your laptop without worrying about additional expenses. There is no guesswork concerning amounts owed during your stay. If you purchase or rent a condominium, you will have to pay for water, trash, gas, electricity, cable TV and Wi-Fi, in addition to the monthly rental amount. You will have to get everything set up and turned on before you arrive, which will likely require paying deposits to the utility and wireless companies. Furnishings - Serviced apartments are always furnished. Condominiums are not guaranteed to be furnished, even if renting from an owner. Most of the time, a condo owner is renting because he or she is living somewhere else, and that means the owner likely moved the furniture to the new place. Even if the condo is rented with furnishings, you are now responsible for the furniture and household items of a private owner. Household items - Serviced apartments have everything you need for a comfortable and practical temporary home. The unit will have, or have access to, amenities like a kitchen stocked with dishes and cookware, large and small appliances, and dish towels. Empty condominiums may have a refrigerator, stove and dishwasher, but it will not have small appliances, like a coffee pot, and eating supplies. You will have to bring all these items with you, which is time-consuming, especially for a 30-day rental. Services - Serviced apartments are called "serviced" because the facility provides a minimum of weekly housekeeping services. Some places allow the renter to pay more for more frequent housekeeping. Similar to a hotel, the attendant will change bed linens and towels, vacuum and do general clean-up. Condominiums do not include housekeeping services. Insurance - You do not have to buy renter's insurance to rent a serviced apartment. Your security deposit covers minor damages that may occur (life happens!), but larger issues are covered by the facility's commercial insurance policy. An example of a larger issue is a major plumbing leak that you did not cause through negligence. If you rent a condominium, you have to know the building rules to avoid a repairing liability. A condo has a master insurance policy, but it is very restrictive as to what is covered. If the owner does not buy additional insurance, you are exposed financially. It is likely you will need to purchase renter's insurance to at least ensure your personal belongings and some liability events are covered, an additional cost beyond the rent. Maintenance - A condo owner is responsible for maintenance of the condo's interior. That can turn into a big problem for the condo renter. The owner has to find and pay a company to do maintenance and repairs, like burst pipes. One of the common issues with condos is that condo owners and the Condo HOA often disagree on who is responsible for a particular repair or maintenance item. As a condo renter, you can easily incur unexpected expenses to get the repair done quickly. Operated like a hotel, serviced apartments have 24-hour maintenance service available. Repairs and maintenance for normal wear and tear are included in the lease agreement. Restrictions - Many condo Covenants, Conditions, and Restrictions either do not allow rentals, or they limit the number of units that can be rented in the building. You take the risk of agreeing to rent the condo on the owner's assurance it is okay to do so unless you spend the time going through a vetting process where you thoroughly read the condo bylaws and verify with the Condo Board that you can legally rent the unit. Serviced apartments do not have this restriction because they are commercial rental properties. Rental terms - Condominiums are privately owned and can be sold. If you are renting a condo - especially for an extended stay of 90 days or longer - there is always the possibility the condo could be sold and you will be asked to move sooner than planned. (Always read the fine print in a rental agreement.) Serviced apartments are not individually owned, so this is never a problem.
What is the difference between an apartment and a serviced apartment?
An apartment and a serviced apartment have some common features. One of the similarities is that each type of unit is located in an apartment building. Also, an apartment and serviced apartment are available in different sizes and configurations. However, there are a number of differences between the apartment and serviced apartment. Following are some of the differences. Services - A serviced apartment is similar to a hotel, in that it offers weekly housekeeping services that are included in the rental fee. An apartment rental does not include housekeeping. Furniture - Serviced apartments are fully furnished. Just bring your personal items and clothing, and you can quickly settle in. An apartment is not furnished. You will have to make arrangements to rent furniture or have your own delivered. This is usually not practical for a 30-90 rental term. Extras - Depending on the particular facility, serviced apartments include amenities like room service and concierge. Some serviced apartments even offer breakfast each morning in a common area. They are similar to extended stay hotels but have a more residential feel to them and are much more affordable for stays that are 30 days long or longer. Condominiums do not offer these types of amenities. Rents - If you rent an apartment month-to-month, the landlord has the option of raising the rent each month. Lease a serviced apartment for a period that is longer than 30 days, and your rent is fixed. Utilities and Wi-Fi - Serviced apartment rent includes utilities, cable TV and Wi-Fi. These are additional costs when renting an apartment. Desired location - Renting an apartment in a high profile city like New York or San Francisco is often difficult because of lack of availability and exorbitant rental rates. This is especially true when you want to rent for only 30-90 days. Serviced apartments are easily accessed when you need accommodations for short-term leasing but are also available for extended stays should your plans change.
Guide to serviced apartments in different locations
A frequently asked question is, "Where are serviced apartments near me?" There are a variety of serviced apartments in major North American cities, making them ideal for people looking for high quality accommodations for business, pleasure or both. There is literally something for everyone. Following is just a small sample of some of the rental markets and available serviced apartments. New York City - Everyone knows that trying to rent an apartment in New York City is difficult under the best of circumstances, but especially when in need of temporary accommodations. Over 60 percent of people who live in the city are renters, making it difficult for visitors who need to rent a unit for 30-90 days with the option of adding 30 days as needed. Serviced apartments in the Big Apple are the ideal solution because they are in convenient locations and available for short or long-term rental. For example, Habitat 101 Brooklyn offers serviced apartments. There is a choice of studio loft apartments, and one or two-bedroom apartments. All have a full kitchen and can accommodate 2-5 people, depending on your choice. Features include Wi-Fi, flat screen TV with cable, weekly housekeeping and laundry facility. Times Square is a short 25-minute ride via subway train. The larger the serviced apartment, the higher the monthly rent. Want to live close to Central Park, one of New York City's most desirable and vibrant areas? A serviced apartment makes it affordable. The Central Park Apartments offers serviced apartments that include a single with twin bed studio apartment with mini-fridge and microwave, single twin bed studio apartment with kitchen, double bed studio apartment with kitchenette, large double bed studio apartment with kitchen, large queen bed studio apartment with kitchen and a twin double bed studio apartment with kitchen. The rentals include a kitchenette or a full kitchen, cable TV, Wi-Fi, linen changes and weekly housekeeping. The subway is a one-minute walk away, giving you access to all four corners of New York City. Los Angeles - Los Angeles is California's largest city, and it has a large rental market. Almost half of the residents in the city and county are renters. To stay in some of the nicest areas, you need to plan well in advance. However, that is often difficult for business travelers. They frequently need accommodations on short notice, especially in the thriving gig economy driven by millennials. Serviced apartments take the worry out of finding high quality accommodations. A good example is the Sunset Barrington Garden Apartments, set up so you can rent a shared or private room, and access a shared kitchen. Located in the fabulous hamlet of Brentwood area, the units are only a few miles from UCLA, the Santa Monica Beach and the Getty Center. This area attracts millennials in large numbers with the average age being 32 years old. The serviced apartments include weekly housekeeping, Wi-Fi and a laundry facility. Located near UCLA, the Plaza la Reina has a variety of rental configurations, including a junior suite and a one-bedroom apartment. It is a great location for business travelers attending conferences at or near UCLA, people visiting university students, and family and friends wanting to spend time in one of the country's most exciting cities. These serviced apartments include a mini-fridge, microwave, cable TV, weekly housekeeping and laundry facility. At the end of a hectic day, you can enjoy a cocktail on the rooftop terrace overlooking the "City of Flowers and Sunshine." Houston - Tens of millions of people visit Houston each year, the culinary and cultural capital of the South. Approximately 15 percent visit for business reasons, and 12 percent visit for both business and leisure. A significant number of them are millennials who appreciate the city's cultural diversity. The rental market is booming which is good for the city and makes serviced apartments an even more attractive option for extended stays. For example, you can rent a one-bedroom apartment at The Greenbriar Park and live the good life. It is near the Medical Center and Rice Village, and even closer to the Brays Bayou Greenway Trail that leads to the Houston Zoo, the Hermann Park Golf Course and Miller Theater. The serviced apartment includes cable TV, kitchen, Wi-Fi, fitness center and laundry facility. There are an on-site coffee bar and swimming pool. It even lets you bring your pet so you do not have to leave your best friend at home. Montreal - Nicknamed the "City of Saints," Montreal is a beautiful blend of old Europe and glittering contemporary style. It has a competitive rental market with an acute shortage of apartments, driven by rising housing prices and millennials in search of affordable housing. Fortunately, there are serviced apartments in Montreal within walking distance of the business district. For example, the Cjour Furnished Living property has a studio, loft and apartments for rent. Each unit has a full kitchen with stove, refrigerator and microwave, cable TV, Wi-Fi, laundry facility and weekly housekeeping.
Where are serviced apartments near me?
When comparing serviced apartments to condominium or standard apartment rentals, consider the location, convenience, and amenities that you need. Serviced apartments are easy to move in to, offer everything you need for day-to-day living, and provide services like housekeeping. You can find a variety of apartment sizes, from one room with a shared kitchen to a two or three bedroom unit with a full kitchen. These apartments are available in some of the world's greatest cities like the ones mentioned, plus San Francisco, Austin, Sacramento, Guadalajara, Cancun, Tampa, Atlanta and many more. It is easy to go online and find a serviced apartment near you in most major cities. Whether traveling alone or with family, and friends for business or pleasure, you can choose to live in style and not give up the conveniences of home sweet home.