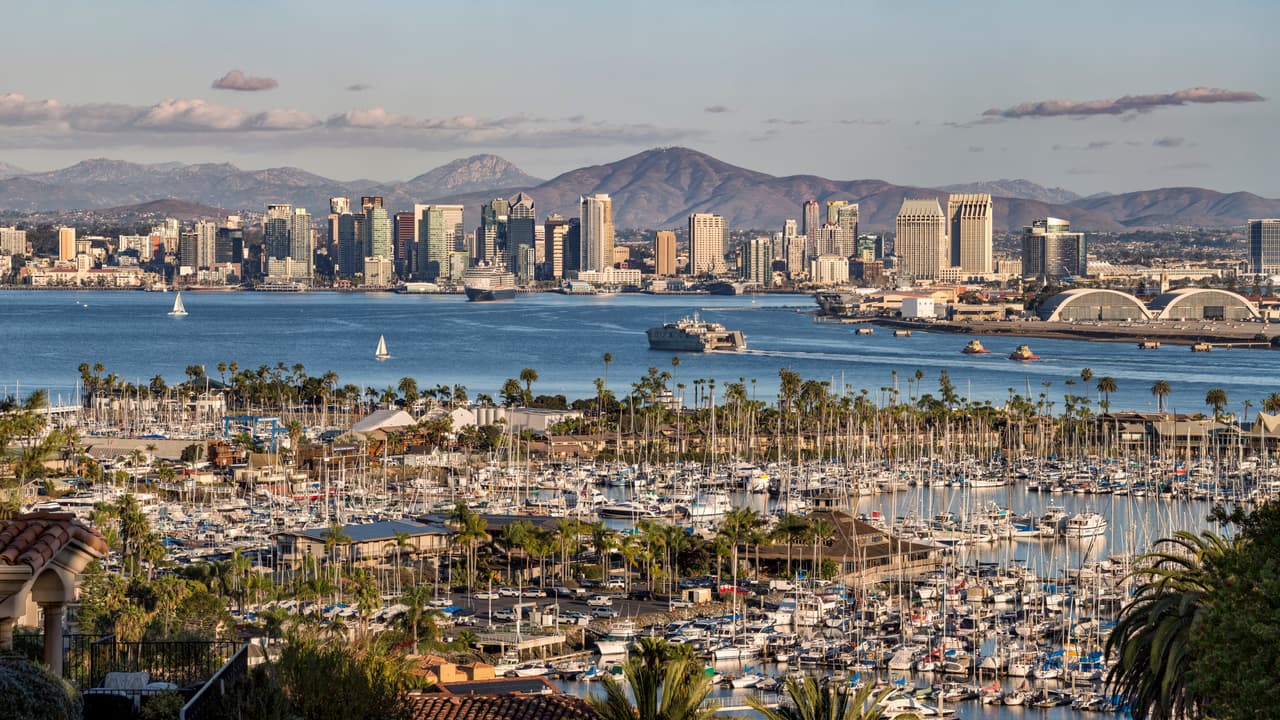 Rentals for Remote Workers in San Diego
Book an apartment designed for remote work in San Diego for 30 days or longer. Move-in-ready with an equipped home office.
Find Remote Work Apartments in San Diego
Anyplace offers accommodations built for a work-from-anywhere generation.
Remote work rentals in San Diego with an equipped home office
Level up your remote work with luxury accommodations that come prepped with an equipped home office and high-speed internet.
Desk setup & high-speed internet
Ultrawide monitor, standing desk, work chair, keyboard, mouse, and gigabit internet.
Video conferencing setup
Webcam, microphone, key light, and collapsible green screen.
Flexible-term & fully furnished
No long-term commitments and move-in-ready accommodations.
About San Diego
Situated just moments from California's border with Mexico is the exciting city of San Diego, home to an estimated 1.3 million people. San Diego was established in 1769 and is one of the most popular tourist destinations in the country thanks to its incredible outdoor attractions, fascinating historical sites, and abundance of sports teams and venues. One of the most popular attractions in San Diego is the San Diego Zoo, housing all kinds of local and exotic animal species. Visitors can also enjoy strolling through Balboa Park, swimming or scuba diving at La Jolla Cove, or checking out the trails and beaches of the Torrey Pines State Reserve. If you're looking for something to do indoors, consider visiting the San Diego Museum of Art, the San Diego Air and Space Museum, or the Museum of Photographic Arts. San Diego is truly a sports lover's paradise. Of course, the city is home to the San Diego Padres MLB team, but it has also historically been home to NFL and NBA teams as well. Visitors in the city have the chance to watch all kinds of sports including lacrosse, soccer, ice hockey, rugby, and others. Additionally, the Holiday Bowl for college football is held in San Diego every year.
What is a Remote Work Rental?
A remote work rental is a furnished apartment where you can get your best work done with access to the amenities you need during your off-hours. All remote work rentals are equipped with high-speed wifi, an equipped home office (workstation), a coffee and tea station, and a separate business center or coworking space in the building. Remote work rentals allow you to go outside of your normal routine and rent a monthly space in San Diego. You'll feel comfortable working with uninterrupted video calls while being able to explore somewhere free when you sign off.
Why Should Remote Workers Work From San Diego?
Simply put, it's an amazing place to live! San Diego is right on the Pacific Ocean and has great weather, beautiful beaches, a world-famous zoo, lively nightlife, and a lot more. Who wouldn't want to be there? More and more remote workers are finding themselves attracted to San Diego, and coworking spaces are becoming increasingly common. Throughout the downtown area, you'll have access to facilities such as Nest CoWork, Downtown Works, Ugather Cowork, DeskHub, and others. These coworking spaces are often within walking distance of tons of shops and restaurants as well. To get around in San Diego, most remote workers find it convenient to rent a car. However, there are a few public transportation methods in the area as well, including light rail, buses, and taxis. The city is also home to the San Diego International Airport for long-distance travel.
Remote Work Rentals in San Diego
For remote workers who want to explore San Diego, Anyplace hosts the best remote work rentals in the city. All of our furnished apartments are move-in ready and include a fully equipped workspace, unlike anything found in other rental options. You'll also have a full kitchen, strong wifi, and luxury amenities to make your time relaxing, productive, and immersive.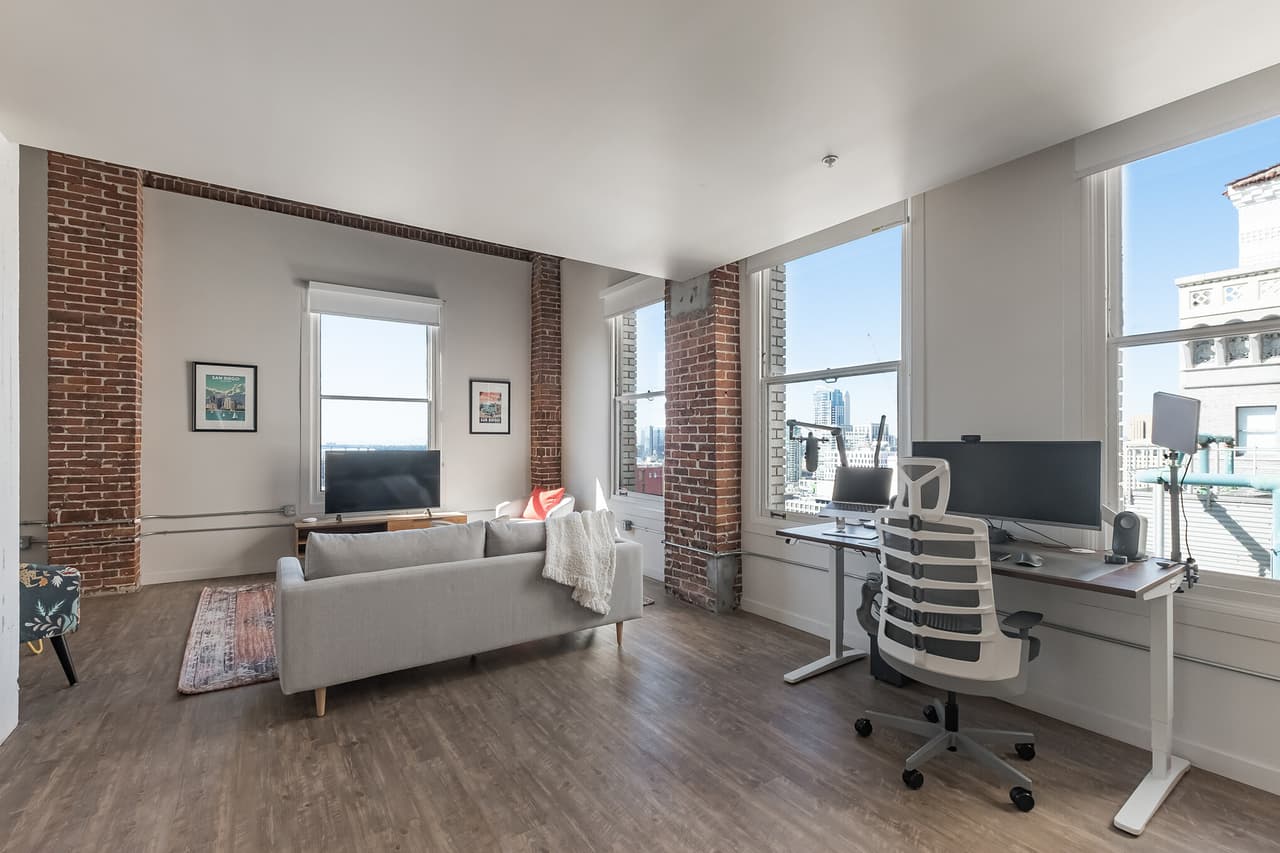 Book A Remote Work Rental in San Diego Now
Browse rentals designed for remote workers in San Diego that are already set up with furniture, utilities, laundry, a home office, and extra amenities like a pool and gym. All you have to do is reserve online, pay, and move in. And if you like it, you can easily extend your stay online. Forget about endlessly searching on multiple sites and apps to find the ideal spot for you in San Diego. Use Anyplace and choose a remote work rental that matches the dates you need, your budget, and will provide you with the amenities needed for a comfortable stay.