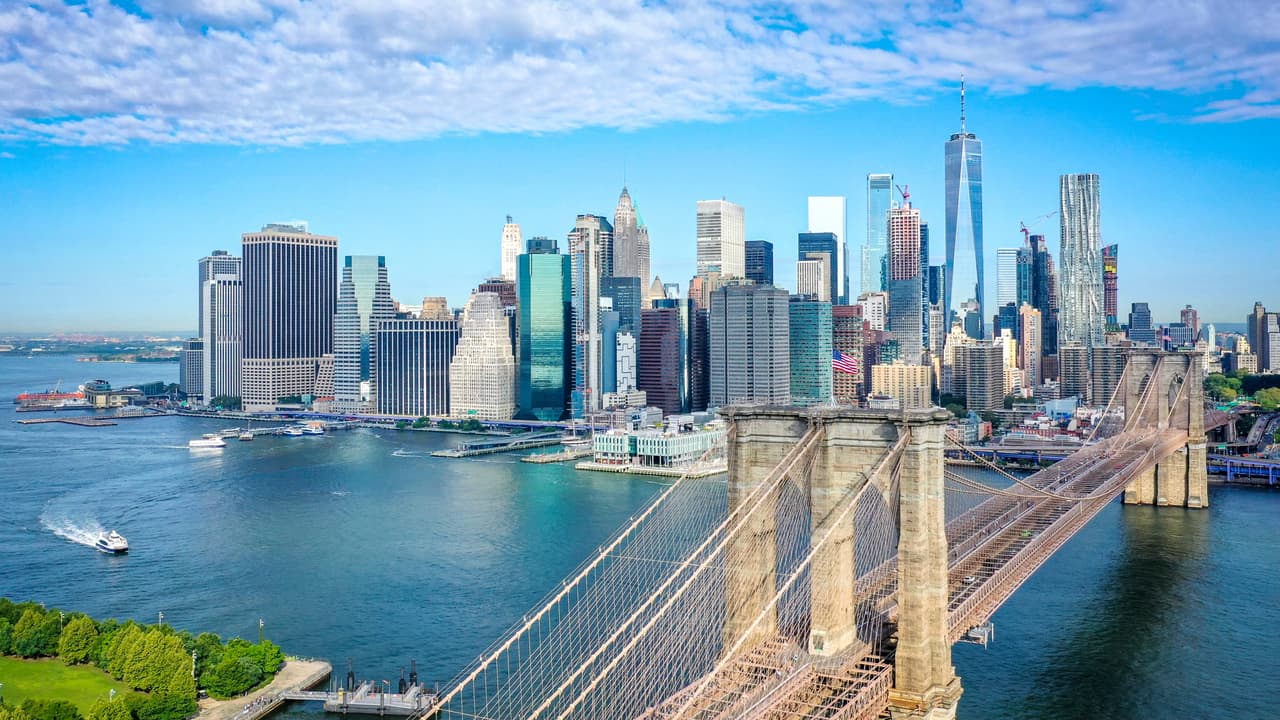 Rentals for Remote Workers in New York City - Manhattan
Book an apartment designed for remote work in New York City - Manhattan for 30 days or longer. Move-in-ready with an equipped home office.
Find Remote Work Apartments in New York City - Manhattan
Anyplace offers accommodations built for a work-from-anywhere generation.
New York City - Manhattan
Remote work rentals in New York City - Manhattan with an equipped home office
Level up your remote work with luxury accommodations that come prepped with an equipped home office and high-speed internet.
Desk setup & high-speed internet
Ultrawide monitor, standing desk, work chair, keyboard, mouse, and gigabit internet.
Video conferencing setup
Webcam, microphone, key light, and collapsible green screen.
Flexible-term & fully furnished
No long-term commitments and move-in-ready accommodations.
About New York City - Manhattan
Manhattan is the borough most people picture when they think of New York City. For locals, it's often referred to as just "The City" because it's the dense, urban core of the NYC area. Visitors know it for its iconic landmarks like Central Park and Times Square. It's also home to Wall Street, cementing its identity as an economic and financial center, not just for New York City, but for the entire world. Built on an island in the Hudson River, Manhattan is also one of the oldest areas of New York City, first settled in the early 17th century as New Amsterdam by Dutch colonists. The modern borough is divided into three sections (Lower, Midtown, and Upper). These are further divided into neighborhoods like Greenwich Village and the Upper East Side, each of which has its own distinctive feel and history. Manhattan's stylish vibe and upscale shopping make it a top destination for fashionistas. The Fifth Avenue area of Midtown is the preeminent retail area in the borough if you want to take advantage of its excellent shopping. For culture lovers, the Broadway Theater District will likely be your first stop. While most of Manhattan has a dense, urban vibe, green spaces like Central Park provide a welcome respite from the bustle and give outdoor lovers a place to unwind in the city. With this range of attractions, there's truly something in Manhattan to suit any taste.
What is a Remote Work Rental?
A remote work rental is a furnished apartment where you can get your best work done with access to the amenities you need during your off-hours. All remote work rentals are equipped with high-speed wifi, an equipped home office (workstation), a coffee and tea station, and a separate business center or coworking space in the building. Remote work rentals allow you to go outside of your normal routine and rent a monthly space in Manhattan. You'll feel comfortable working with uninterrupted video calls while being able to explore somewhere free when you sign off.
Why Should Remote Workers Work From New York City - Manhattan?
Simply put, it's an amazing place to live! Manhattan is the heart of the Big Apple, and many would claim it's the best city on planet Earth. It has some of the most renowned art galleries, a thriving restaurant scene, famous music venues, Central Park, and a lot more. Who wouldn't want to be there? At last count, there were about 250 coworking spaces in Manhattan, so finding a workspace is very easy in this borough. Manhattan's internet coverage is broad and reliable, too, with average speeds of around 49Mbps and free Wi-Fi available in most cafes, restaurants, and public buildings. The main challenge for remote workers in Manhattan is its cost of living. The trade-off is convenience and everything you inherently get just by living in NYC. This is the borough you want for the true "New York City" experience, and living in Manhattan puts you in the middle of the action for both the work and vacation aspects of your trip.
Remote Work Rentals in New York City - Manhattan
For remote workers who want to explore Manhattan, Anyplace hosts the best remote work rentals in the city. All of our furnished apartments are move-in ready and include a fully equipped workspace, unlike anything found in other rental options. You'll also have a full kitchen, strong wifi, and luxury amenities to make your time relaxing, productive, and immersive.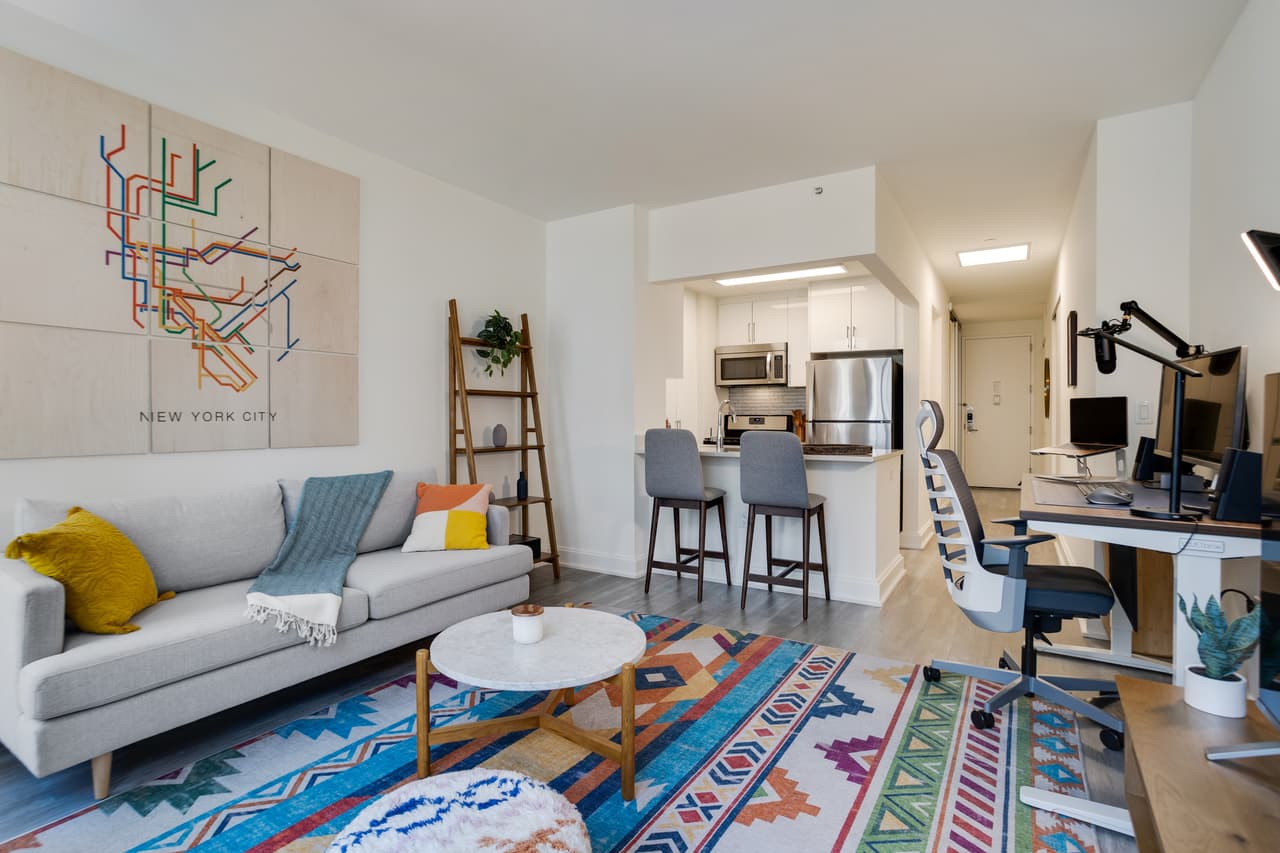 Book A Remote Work Rental in New York City - Manhattan Now
Browse rentals designed for remote workers in New York City - Manhattan that are already set up with furniture, utilities, laundry, a home office, and extra amenities like a pool and gym. All you have to do is reserve online, pay, and move in. And if you like it, you can easily extend your stay online. Forget about endlessly searching on multiple sites and apps to find the ideal spot for you in New York City - Manhattan. Use Anyplace and choose a remote work rental that matches the dates you need, your budget, and will provide you with the amenities needed for a comfortable stay.