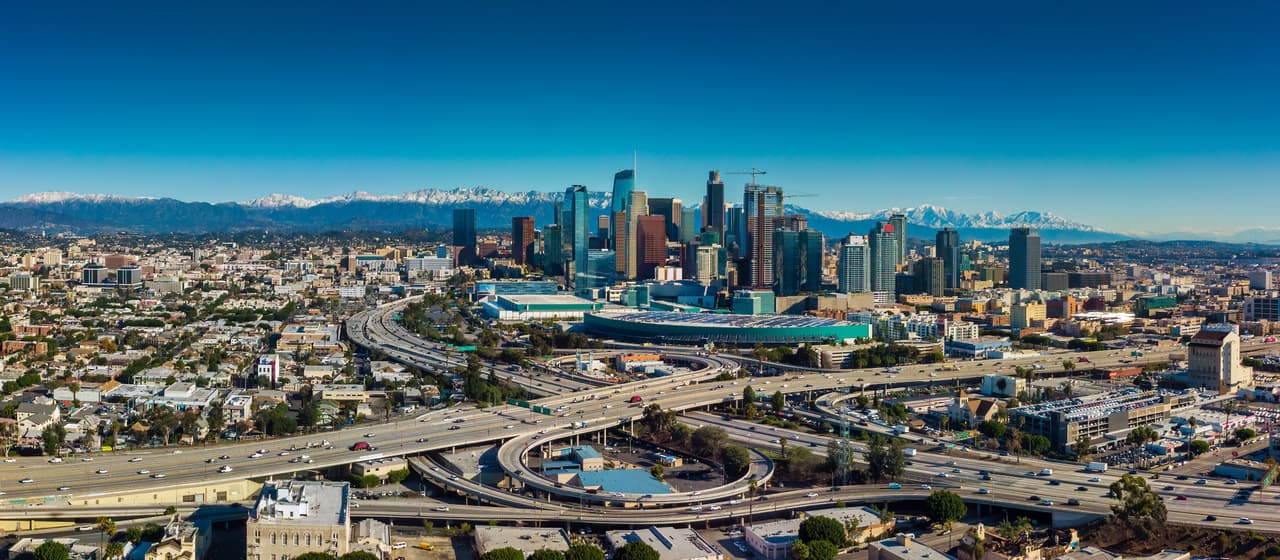 Rentals for Remote Workers in Los Angeles
Book an apartment designed for remote work in Los Angeles for 30 days or longer. Move-in-ready with an equipped home office.
Find Remote Work Apartments in Los Angeles
Anyplace offers accommodations built for a work-from-anywhere generation.
Remote work rentals in Los Angeles with an equipped home office
Level up your remote work with luxury accommodations that come prepped with an equipped home office and high-speed internet.
Desk setup & high-speed internet
Ultrawide monitor, standing desk, work chair, keyboard, mouse, and gigabit internet.
Video conferencing setup
Webcam, microphone, key light, and collapsible green screen.
Flexible-term & fully furnished
No long-term commitments and move-in-ready accommodations.
About Los Angeles
Los Angeles County was one of the 27 original counties in California, established in 1850. It's grown into one of the largest counties in the United States, home to roughly 10 million people, about 4 million of whom live in the city of Los Angeles. Indeed, this bustling urban area is what most people think of when they picture Los Angeles County. There's a lot of county beyond LA's city streets, though. With the Mojave Desert in the northeast, the Pacific Ocean to the west, and the San Gabriel Mountains running through the county, it represents a huge diversity of landscapes. Much of that land is enclosed in one of the county's three natural protected areas, which include the Santa Monica Mountains as well as Angeles National Forest and Los Padres National Forest. Coastal towns like Long Beach and Santa Monica are also included in Los Angeles County, adding a number of beaches to the list of attractions in the county. Outside these well-developed areas, more secluded beaches and seaside cliffs line the coast, with many stretches that have waves ideal for surfing. Add in the county's 11 major league professional teams and shopping areas like Rodeo Drive and Sunset Boulevard and it's easy to see why Los Angeles County is one of the most popular tourist destinations in the United States.
What is a Remote Work Rental?
A remote work rental is a furnished apartment where you can get your best work done with access to the amenities you need during your off-hours. All remote work rentals are equipped with high-speed wifi, an equipped home office (workstation), a coffee and tea station, and a separate business center or coworking space in the building. Remote work rentals allow you to go outside of your normal routine and rent a monthly space in Los Angeles. You'll feel comfortable working with uninterrupted video calls while being able to explore somewhere free when you sign off.
Why Should Remote Workers Work From Los Angeles?
Simply put, it's an amazing place to live! Los Angeles is the City of Angels, and one of the most desirable places to be in the world. It's right on the Pacific Ocean and has year-round sunny weather, a culturally diverse and renowned restaurant scene, lively nightlife, famous comedy clubs, and a lot more. Who wouldn't want to be there? Los Angeles County is a huge area with a lot of variety, from the dense urban environment of downtown LA to the tranquility of the national parks. For remote workers, this means an equal variety of workspaces to choose from. The highest concentration of coworking spaces is right in Los Angeles but there are plenty of options outside the city center, so you don't need to contend with the notorious downtown LA traffic to find a shared workspace. WiFi hotspots are similarly distributed throughout Los Angeles county. Along with common options like coffee shops, restaurants, and libraries, many of the county's parks, beaches, and natural areas have hot spots, too. The option to work outdoors is one of the area's biggest draws for nature-loving remote workers.
Remote Work Rentals in Los Angeles
For remote workers who want to explore Los Angeles, Anyplace hosts the best remote work rentals in the city. All of our furnished apartments are move-in ready and include a fully equipped workspace, unlike anything found in other rental options. You'll also have a full kitchen, strong wifi, and luxury amenities to make your time relaxing, productive, and immersive.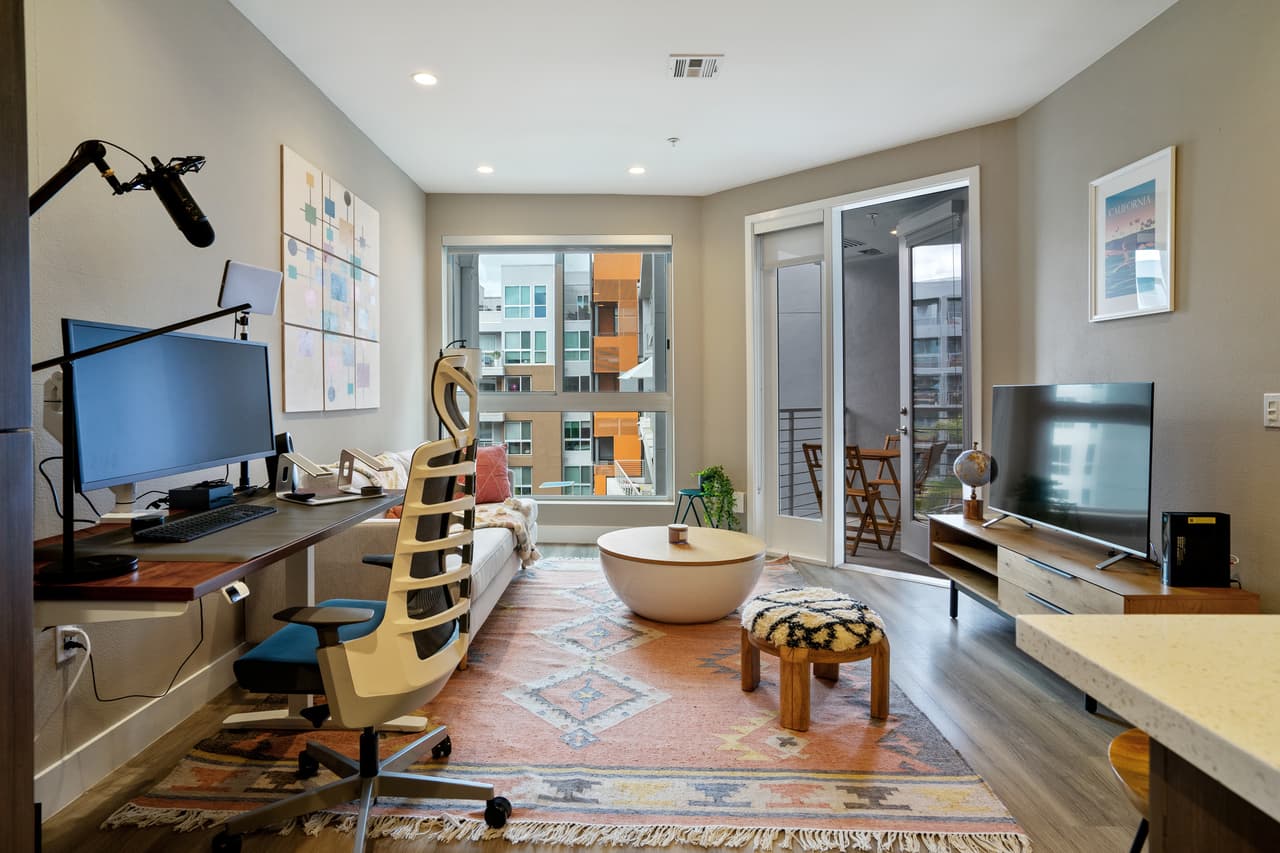 Book A Remote Work Rental in Los Angeles Now
Browse rentals designed for remote workers in Los Angeles that are already set up with furniture, utilities, laundry, a home office, and extra amenities like a pool and gym. All you have to do is reserve online, pay, and move in. And if you like it, you can easily extend your stay online. Forget about endlessly searching on multiple sites and apps to find the ideal spot for you in Los Angeles. Use Anyplace and choose a remote work rental that matches the dates you need, your budget, and will provide you with the amenities needed for a comfortable stay.