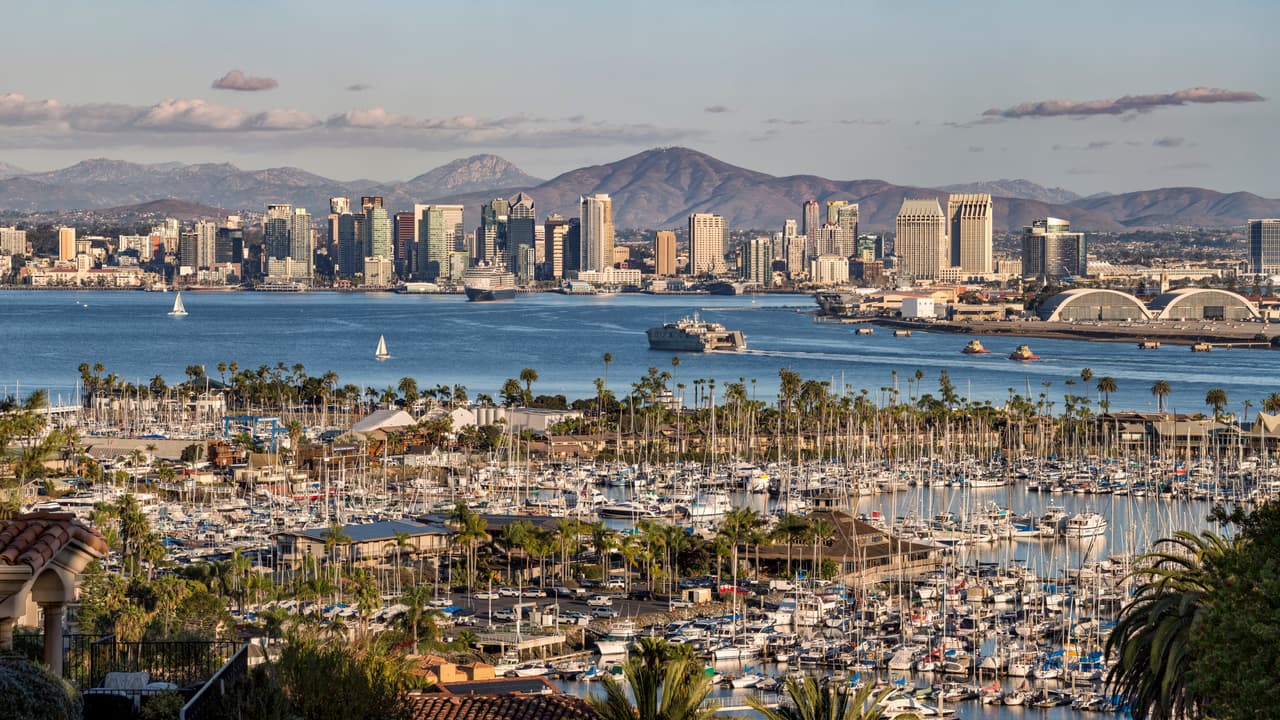 Monthly Vacations Rentals in San Diego
Book a monthly vacation rental in San Diego. Fully furnished with a desk, workspace, and high-speed WiFi.
Find Monthly Vacation Apartments in San Diego
Anyplace offers accommodations built for a work-from-anywhere generation.
Monthly vacation rentals in San Diego with a home office
Level up your remote work with luxury accommodations that come prepped with an equipped home office and high-speed internet.
Desk setup & high-speed internet
Ultrawide monitor, standing desk, work chair, keyboard, mouse, and gigabit internet.
Video conferencing setup
Webcam, microphone, key light, and collapsible green screen.
Flexible-term & fully furnished
No long-term commitments and move-in-ready accommodations.
About San Diego
There are many reasons why San Diego is such an easy place to love and live. Endless days of sunshine, world class breweries and bars, legendary surf spots and skateparks, and numerous beautiful neighborhoods with those iconic southern California vibes. San Diego is only a few hours from Los Angeles, but has a completely different feel. Compared to Los Angeles, San Diego is far more spaced out so it is distinctly less overwhelming, much easier to navigate and there is no horrendous traffic to deal with. In the summer, the beaches tend to get a bit overcrowded but that is just because they are so beautiful! The walkable beachside neighborhoods are filled with alternative art and music scenes, and pretty much any restaurant you can imagine. The cost of living is rising every year in San Diego, but the passionate locals, healthy southern California lifestyle, easy access to the international Mexican border, and the multitude of unique opportunities available are why most San Diegans never leave.
What is a Monthly Vacation Rental
Simply put, Monthly Vacation Rentals are rental homes, apartments, hotels and co-living spaces that you rent for thirty (30) nights or more. Instead of just staying in a place like San Diego for a few days or a week, these rentals are built for longer-term stays, with plenty of amenities included and services like WiFi set up and ready to go. And with these longer stays, you get discounted nightly rates. It's a much more affordable way to vacation in San Diego, if you are able to do so.
Vacationing in San Diego
No matter when you visit, you can expect clear skies and average temperatures in the 70s in San Diego. That's especially good news for surfers and beach goers, giving you lots of time to explore the city's 70 miles of shoreline. These beaches are also a favorite haunt of the native seals, who are accustomed to people and can often be spotted lounging along the coast. San Diego was part of Mexico for the first 100 years of its history and this influence can still be seen in spots like the Old Town State Park and the Gaslamp Quarter. Proximity to Mexico also means San Diego has some of the best Mexican food in the United States, along with an eclectic assortment of international cuisines.
Stay Longer in San Diego and Explore More
Monthly vacation rentals are a fantastic way to escape to paradise for a little longer than usual. Instead of staying in San Diego for a few days or a week, why not extend your stay? Well, there are more than a few reasons. Besides getting to spend more time basking in the sun, exploring the outdoors, sampling the local cuisine, or mastering the toughest ski slopes, staying in a vacation rental in San Diego for at least one month can save you money in the long run. When you choose a vacation rental property in San Diego with a monthly rate, it makes the breakdown of the nightly rate for your extended stay cheaper than the standard nightly rate for a short-term stay in the same rental. Even the slightest decrease in the nightly rate really adds up when you are staying for at least 30 nights. On top of all of that, with more people able to work remotely and many schools going virtual due to our current situation, monthly vacation stays are trending up.
Access the Best Monthly Vacation Rentals in San Diego
Anyplace simplifies the process of finding the perfect monthly vacation rental in San Diego. You'll find a variety of apartments, co-living spaces, extended hotels and homes to choose from. All of the properties on our website are fully furnished with utilities and WiFI already set up, too, allowing you to enjoy a hassle-free experience—all you need to do is arrive with your stuff. Browse a variety of places online and book one that fits your needs. With high-quality, trusted properties, you won't waste time and money looking for an amazing vacation rental that you can rent for 30+ days. Just select the city of San Diego, the dates you need and the specific type of housing right on the website or iOS app, and book with a click of a button.
Anyplace Makes it Easy to Find a Monthly Vacation Rental in Los Angeles County
Anyplace specializes in 30+ day stays, so if you're looking for a vacation rental for a month or longer, you're in the right place.
It's super easy to use
Find a vacation rental in San Diego on the website or iOS app, and then book.
All-inclusive
All utilities and ultra-fast WiFi are included and will be set up for you and ready to go.
Move-in today—or any day
Search for a vacation rental in San Diego that matches your schedule—select the city and type in the exact dates you'd like. Move out or extend your stay in San Diego Manage your stay online, so if you decide to extend the length of time you want to vacation in San Diego, you can with the click of a button.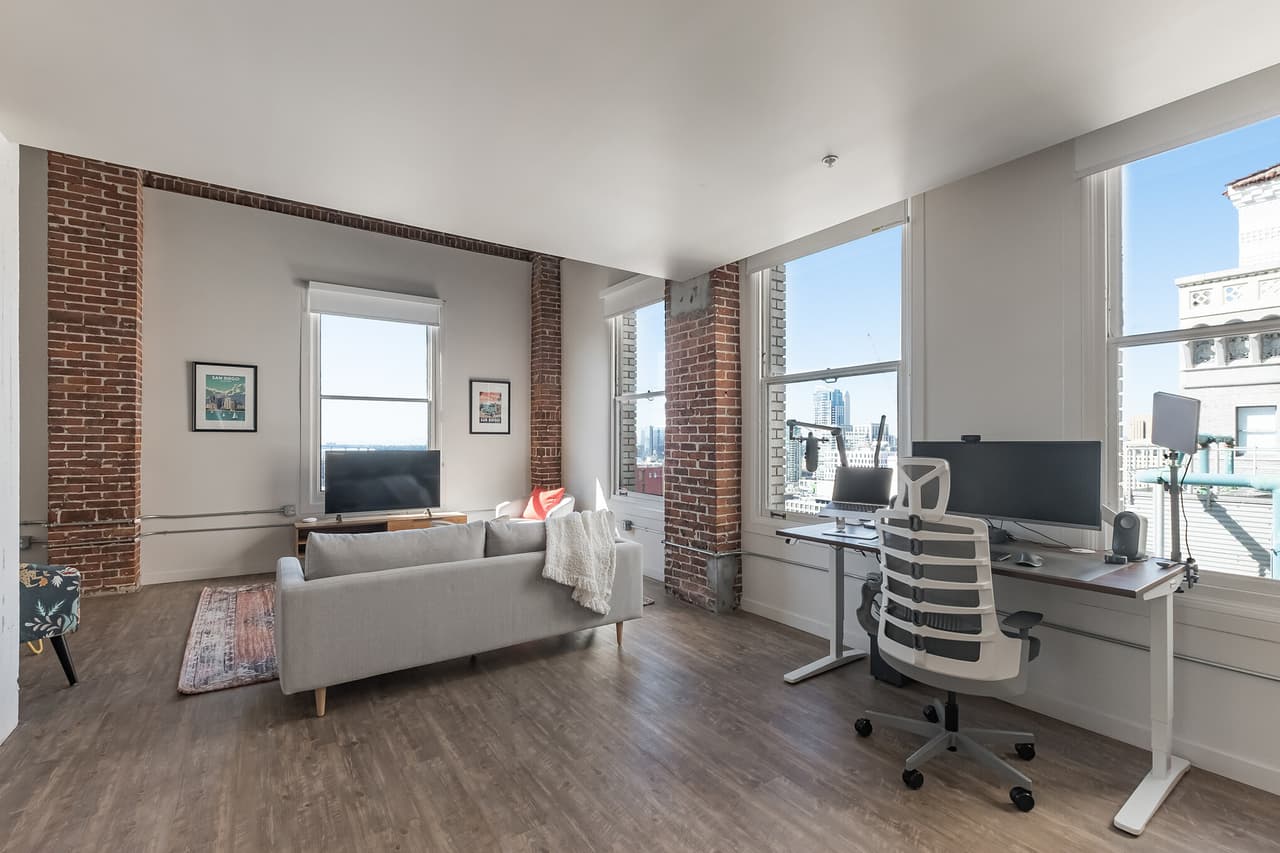 Book A Monthly Vacation Rental in San Diego Now
Browse monthly vacation rentals in San Diego that are already set up with furniture, utilities, laundry, a home office, and extra amenities like a pool and gym. All you have to do is reserve online, pay, and move in. And if you like it, you can easily extend your stay online. Forget about endlessly searching on multiple sites and apps to find the ideal spot for you in San Diego. Use Anyplace and choose a vacation rental that matches the dates you need, your budget, and will provide you with the amenities needed for a comfortable stay.