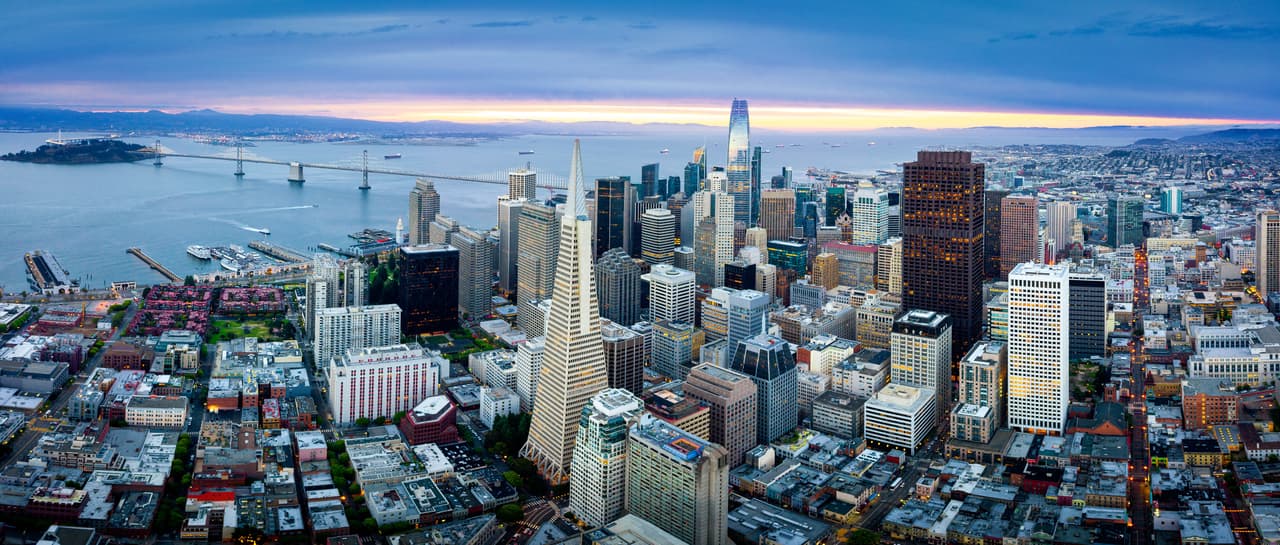 Mid-Term Rentals in San Francisco
Book a mid-term apartment rental in San Francisco for 30 days or longer. Furnished and including an equipped home office.
Find Mid-Term Rentals in San Francisco
Anyplace offers accommodations built for a work-from-anywhere generation.
Mid-term apartments in San Francisco with an equipped home office
Level up your remote work with luxury accommodations that come prepped with an equipped home office and high-speed internet.
Desk setup & high-speed internet
Ultrawide monitor, standing desk, work chair, keyboard, mouse, and gigabit internet.
Video conferencing setup
Webcam, microphone, key light, and collapsible green screen.
Flexible-term & fully furnished
No long-term commitments and move-in-ready accommodations.
About San Francisco
San Francisco is one of the most popular cities in Northern California, housing an estimated 881,000 people in this city and over 4.7 million people in the metro area. The city was founded in 1776 by Spanish colonists coming through the area. During the gold rush of the mid 1800s, San Francisco would experience rapid growth, even peaking as the largest city on the West Coast between 1870 and 1900. Unfortunately, San Francisco would fall victim to an earthquake and fire in 1906, destroying nearly 75% of the city. Luckily, though, San Francisco was rebuilt fairly quickly and served as a major embarkation port in World War II and was the birthplace of the United Nations. Now, San Francisco is a vital destination in terms of education, business, and tourism. Visitors come from around the world to see notable landmarks and architectural feats, visit the diverse districts of the city, and enjoy the unique "hipster" culture. the city is home to notable universities including the University of California, San Francisco and the University of San Francisco. The city is serviced by the San Francisco International Airport, and other transport options around the city include cycling, bus, light rail, car, ferry, and streetcar.
What is a Mid-Term Rental Property?
If you're a remote worker, slow traveler, or testing out San Francisco, you need more than a vacation rental. You need the same amenities that would come with a traditional lease like a fully-equipped kitchen, strong wifi, and an area to work from. But without a year-long commitment. That's where mid-term rentals come in. A mid-term rental is a temporary rental that lasts from 1-12 months. All properties are furnished and typically less expensive than renting a property with a daily rate. They provide the comfort of being at home at a monthly rate.
What is There to Do in San Francisco?
Many of the most popular attractions in San Francisco are recognized by visitors from around the world: the Golden Gate Bridge, Alcatraz Island, and Fisherman's Wharf are just a few. Visitors can experience historical sites including the Walt Disney Family Museum, the San Francisco Cable Car Museum, and the Original Ghirardelli Ice Cream and Chocolate Shop. Catch a Giants game at Oracle Park, get your picture taken near the iconic Painted Ladies Victorian homes, or have a relaxing picnic at Baker Beach.
Mid-Term Rentals in San Francisco
For people who want to explore San Francisco, Anyplace hosts the best mid-term rentals in the city. All our rentals offer move-in-ready apartments with a fully equipped home office, a stocked kitchen, high-speed wifi, and luxury amenities to make your time relaxing, productive, and immersive. When it comes to finding a mid-term rental, flexibility is crucial—the move-in date, duration, and move-out date need to fit your needs. We built Anyplace to make it easy to find an apartment that matches your schedule and needs. Just select San Francisco, type in the exact dates you need, choose your rental, apply online and book. There's no need to deal with landlords or tenants leasing the space. And, you'll be able to manage your stay online, so if you realize that you'd like to extend the duration of your mid-term rental in San Francisco, you can do it with the click of a button. Here are a few quick reasons to choose Anyplace for your mid-term rental in San Francisco.
Zero stress
Find a mid-term rental in San Francisco on the website, and then book. No emails, roommate interviews, or complications.
Height-adjustable desk and equipped workspace
Never work from the kitchen table again. Our mid-term rentals in San Francisco include a workspace equipped with useful office gear. Bring your laptop and do your best work.
All-inclusive with high-speed internet
All utilities and gigabit speed WiFi are included and will be set up for you and ready to go.
No landlord
No landlord, no problem. You just need to move in—we handle the rest for you.
No long leases
Forget about ever having to sign a long lease. Our mid-term apartments in San Francisco are available for 30 days or longer. Stay as long or little as you'd like—down to the day.
Move-in today—or any day
Search for a San Francisco rental on Anyplace with the exact dates that match your schedule.
Move out or extend your stay
Manage your stay online, so if you realize that you'd like to extend the length of time that you'd like to stay you can do it with a click of a button.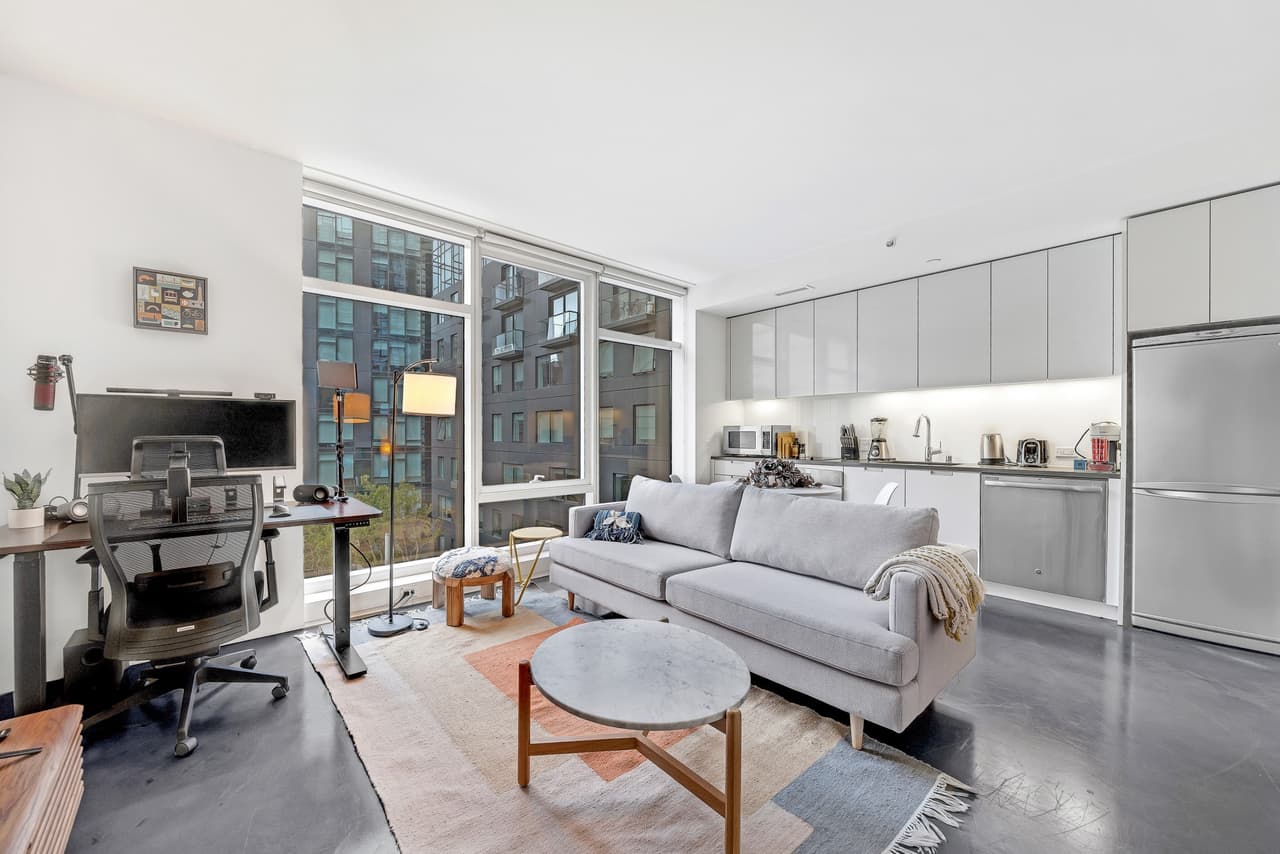 Book A Mid-Term Apartment Rental in San Francisco Now
Browse mid-term rentals in San Francisco that are already set up with furniture, utilities, laundry, a home office, and extra amenities like a pool and gym. All you have to do is reserve online, pay, and move in. And if you like it, you can easily extend your stay online. Forget about endlessly searching on multiple sites and apps to find the ideal spot for you in San Francisco. Use Anyplace and choose a rental that matches the dates you need, your budget, and will provide you with the amenities needed for a comfortable stay.