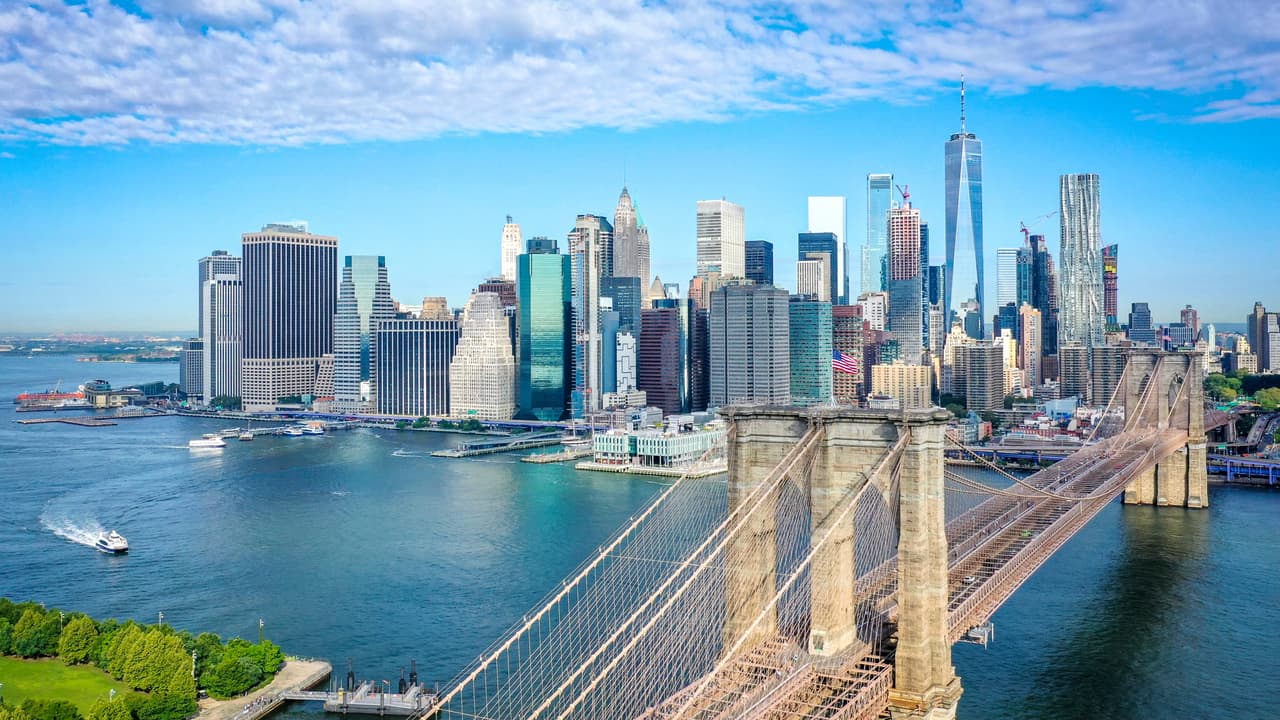 Mid-Term Rentals in New York City - Manhattan
Book a mid-term apartment rental in New York City - Manhattan for 30 days or longer. Furnished and including an equipped home office.
Find Mid-Term Rentals in New York City - Manhattan
Anyplace offers accommodations built for a work-from-anywhere generation.
New York City - Manhattan
Mid-term apartments in New York City - Manhattan with an equipped home office
Level up your remote work with luxury accommodations that come prepped with an equipped home office and high-speed internet.
Desk setup & high-speed internet
Ultrawide monitor, standing desk, work chair, keyboard, mouse, and gigabit internet.
Video conferencing setup
Webcam, microphone, key light, and collapsible green screen.
Flexible-term & fully furnished
No long-term commitments and move-in-ready accommodations.
About New York City - Manhattan
When most people think of New York City, they picture Manhattan. Although this borough is geographically the smallest, it's the most densely populated, housing over 1.6 million people. The area that is Manhattan today was first inhabited by the Lenape Native Americans and was first visited by Europeans in 1524. It wouldn't be officially settled, though, until 1624. Manhattan was instrumental in the early days of the United States, serving as a major political and financial center during and directly after the Revolutionary War. In 1898, Manhattan would be consolidated with New York's other four boroughs to form the city as we know it today. Throughout the early 1900s, Manhattan experienced a huge population boom, and it has continued to be on the world stage ever since. Manhattan can receive 50 or 60 million visitors in any given year and is largely considered to be a hot spot for architecture, education, transportation, and other important sectors. This borough is home to multiple research centers as well as the iconic New York Public Library. To get around in Manhattan, the vast majority of people use the subway, but other transportation options include cars, taxis, bikes, buses, ferries, and more.
What is a Mid-Term Rental Property?
If you're a remote worker, slow traveler, or testing out New York City - Manhattan, you need more than a vacation rental. You need the same amenities that would come with a traditional lease like a fully-equipped kitchen, strong wifi, and an area to work from. But without a year-long commitment. That's where mid-term rentals come in. A mid-term rental is a temporary rental that lasts from 1-12 months. All properties are furnished and typically less expensive than renting a property with a daily rate. They provide the comfort of being at home at a monthly rate.
What is There to Do in New York City - Manhattan?
The majority of Manhattan's main tourist attractions are easily recognized by visitors from around the world, including Central Park, the Statue of Liberty, Times Square, and the Empire State Building. Manhattan is also home to world class museums including the Museum of Modern Art, the Metropolitan Museum of Art, and the Solomon R. Guggenheim Museum. Stroll through Washington Square Park on a warm summer's' day, experience beautiful architecture at St. Patrick's Cathedral, or see an incredible performance at Lincoln Center or Radio City Music Hall.
Mid-Term Rentals in New York City - Manhattan
For people who want to explore Manhattan, Anyplace hosts the best mid-term rentals in the city. All our rentals offer move-in-ready apartments with a fully equipped home office, a stocked kitchen, high-speed wifi, and luxury amenities to make your time relaxing, productive, and immersive. When it comes to finding a mid-term rental, flexibility is crucial—the move-in date, duration, and move-out date need to fit your needs. We built Anyplace to make it easy to find an apartment that matches your schedule and needs. Just select Manhattan, type in the exact dates you need, choose your rental, apply online and book. There's no need to deal with landlords or tenants leasing the space. And, you'll be able to manage your stay online, so if you realize that you'd like to extend the duration of your mid-term rental in Manhattan, you can do it with the click of a button. Here are a few quick reasons to choose Anyplace for your mid-term rental in Manhattan.
Zero stress
Find a mid-term rental in Manhattan on the website, and then book. No emails, roommate interviews, or complications.
Height-adjustable desk and equipped workspace
Never work from the kitchen table again. Our mid-term rentals in Manhattan include a workspace equipped with useful office gear. Bring your laptop and do your best work.
All-inclusive with high-speed internet
All utilities and gigabit speed WiFi are included and will be set up for you and ready to go.
No landlord
No landlord, no problem. You just need to move in—we handle the rest for you.
No long leases
Forget about ever having to sign a long lease. Our mid-term apartments in Manhattan are available for 30 days or longer. Stay as long or little as you'd like—down to the day.
Move-in today—or any day
Search for a Manhattan rental on Anyplace with the exact dates that match your schedule.
Move out or extend your stay
Manage your stay online, so if you realize that you'd like to extend the length of time that you'd like to stay you can do it with a click of a button.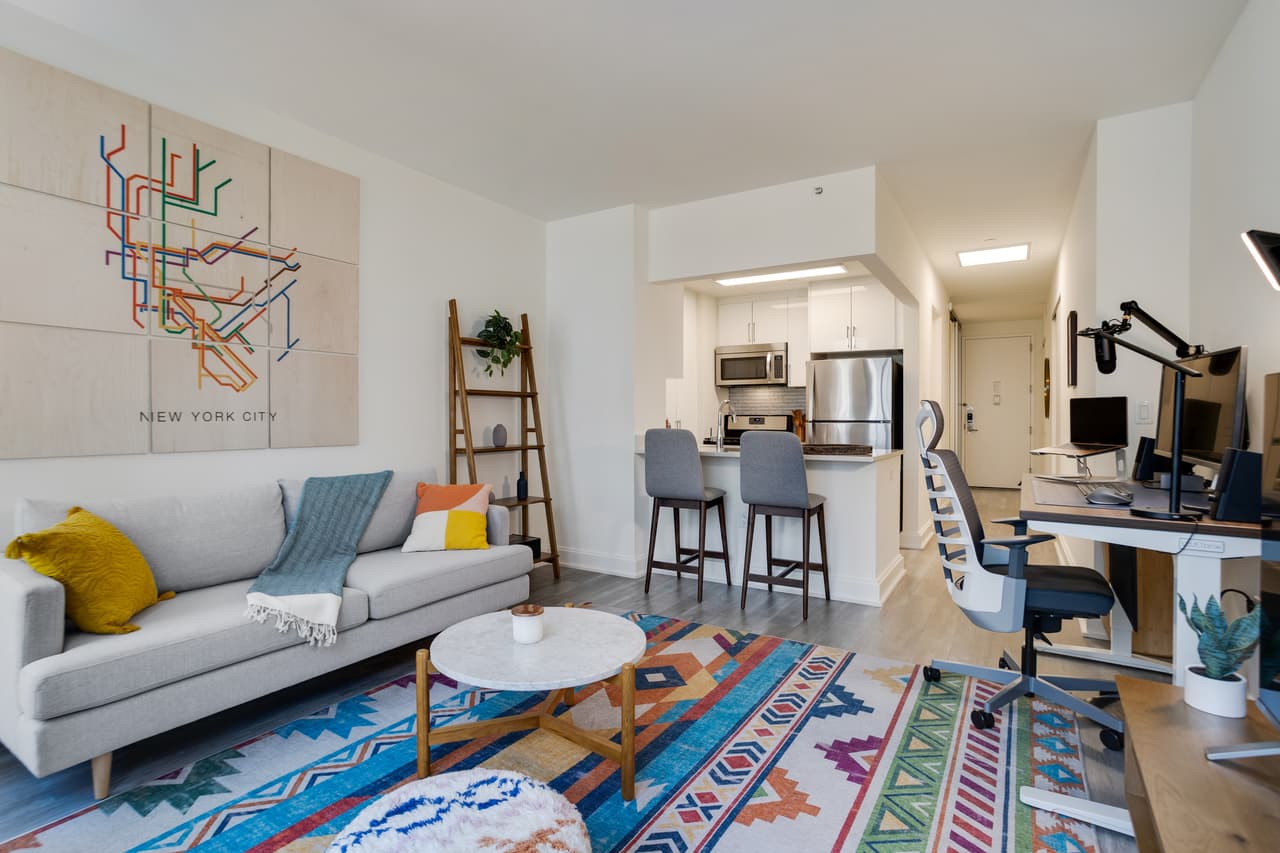 Book A Mid-Term Apartment Rental in New York City - Manhattan Now
Browse mid-term rentals in New York City - Manhattan that are already set up with furniture, utilities, laundry, a home office, and extra amenities like a pool and gym. All you have to do is reserve online, pay, and move in. And if you like it, you can easily extend your stay online. Forget about endlessly searching on multiple sites and apps to find the ideal spot for you in New York City - Manhattan. Use Anyplace and choose a rental that matches the dates you need, your budget, and will provide you with the amenities needed for a comfortable stay.