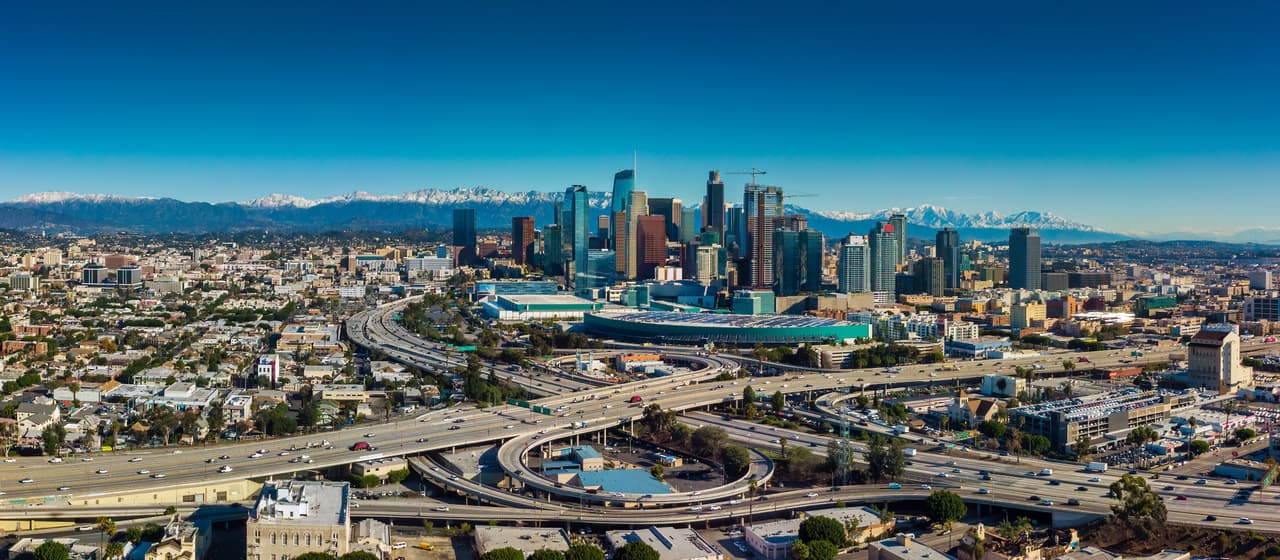 Mid-Term Rentals in Los Angeles
Book a mid-term apartment rental in Los Angeles for 30 days or longer. Furnished and including an equipped home office.
Find Mid-Term Rentals in Los Angeles
Anyplace offers accommodations built for a work-from-anywhere generation.
Mid-term apartments in Los Angeles with an equipped home office
Level up your remote work with luxury accommodations that come prepped with an equipped home office and high-speed internet.
Desk setup & high-speed internet
Ultrawide monitor, standing desk, work chair, keyboard, mouse, and gigabit internet.
Video conferencing setup
Webcam, microphone, key light, and collapsible green screen.
Flexible-term & fully furnished
No long-term commitments and move-in-ready accommodations.
About Los Angeles
The most heavily populated county in all of the United States, Los Angeles County is home to more than 10 million people. This county was created when California became a state in 1850. In its early days, Los Angeles County expanded from the coastlines of the Pacific Ocean to the state line bordering Nevada. However, portions of the original Los Angeles County have now formed new areas such as San Bernardino County and Orange County. These days, Los Angeles County is known as an incredibly diverse destination with countless activities and attractions. Los Angeles County is home to a number of notable cities including Los Angeles, Long Beach, Santa Clarita, Glendale, Pasadena, and more. The area has a little bit of everything, from beautiful beaches to fun amusement parks to fascinating museums and more. Additionally, Los Angeles County offers lots of colleges and universities to attend, including prestigious names such as the University of Southern California, Los Angeles and Pepperdine University. To get around in Los Angeles County, the most common method of transportation is car. However, visitors can still travel by taxis or buses within individual cities. For long distance travel, the area is serviced by Los Angeles International Airport.
What is a Mid-Term Rental Property?
If you're a remote worker, slow traveler, or testing out Los Angeles County, you need more than a vacation rental. You need the same amenities that would come with a traditional lease like a fully-equipped kitchen, strong wifi, and an area to work from. But without a year-long commitment. That's where mid-term rentals come in. A mid-term rental is a temporary rental that lasts from 1-12 months. All properties are furnished and typically less expensive than renting a property with a daily rate. They provide the comfort of being at home at a monthly rate.
What is There to Do in Los Angeles?
Los Angeles County is a great entertainment destination, offering fun attractions such as Universal Studios Hollywood, Six Flags Magic Mountain, the Santa Monica Pier, and Griffith Park. Hollywood Boulevard is a popular destination with all kinds of photo ops, and the Hollywood Sign is perhaps the most iconic landmark in the county. Get a great view of the area at the Griffith Observatory, see amazing art exhibits at The Getty, and Rodeo Drive is a great spot for window shopping and purchasing luxury goods.
Mid-Term Rentals in Los Angeles
For people who want to explore Los Angeles, Anyplace hosts the best mid-term rentals in the city. All our rentals offer move-in-ready apartments with a fully equipped home office, a stocked kitchen, high-speed wifi, and luxury amenities to make your time relaxing, productive, and immersive. When it comes to finding a mid-term rental, flexibility is crucial—the move-in date, duration, and move-out date need to fit your needs. We built Anyplace to make it easy to find an apartment that matches your schedule and needs. Just select Los Angeles, type in the exact dates you need, choose your rental, apply online and book. There's no need to deal with landlords or tenants leasing the space. And, you'll be able to manage your stay online, so if you realize that you'd like to extend the duration of your mid-term rental in Los Angeles, you can do it with the click of a button. Here are a few quick reasons to choose Anyplace for your mid-term rental in Los Angeles.
Zero stress
Find a mid-term rental in Los Angeles on the website, and then book. No emails, roommate interviews, or complications.
Height-adjustable desk and equipped workspace
Never work from the kitchen table again. Our mid-term rentals in Los Angeles include a workspace equipped with useful office gear. Bring your laptop and do your best work.
All-inclusive with high-speed internet
All utilities and gigabit speed WiFi are included and will be set up for you and ready to go.
No landlord
No landlord, no problem. You just need to move in—we handle the rest for you.
No long leases
Forget about ever having to sign a long lease. Our mid-term apartments in Los Angeles are available for 30 days or longer. Stay as long or little as you'd like—down to the day.
Move-in today—or any day
Search for a Los Angeles rental on Anyplace with the exact dates that match your schedule.
Move out or extend your stay
Manage your stay online, so if you realize that you'd like to extend the length of time that you'd like to stay you can do it with a click of a button.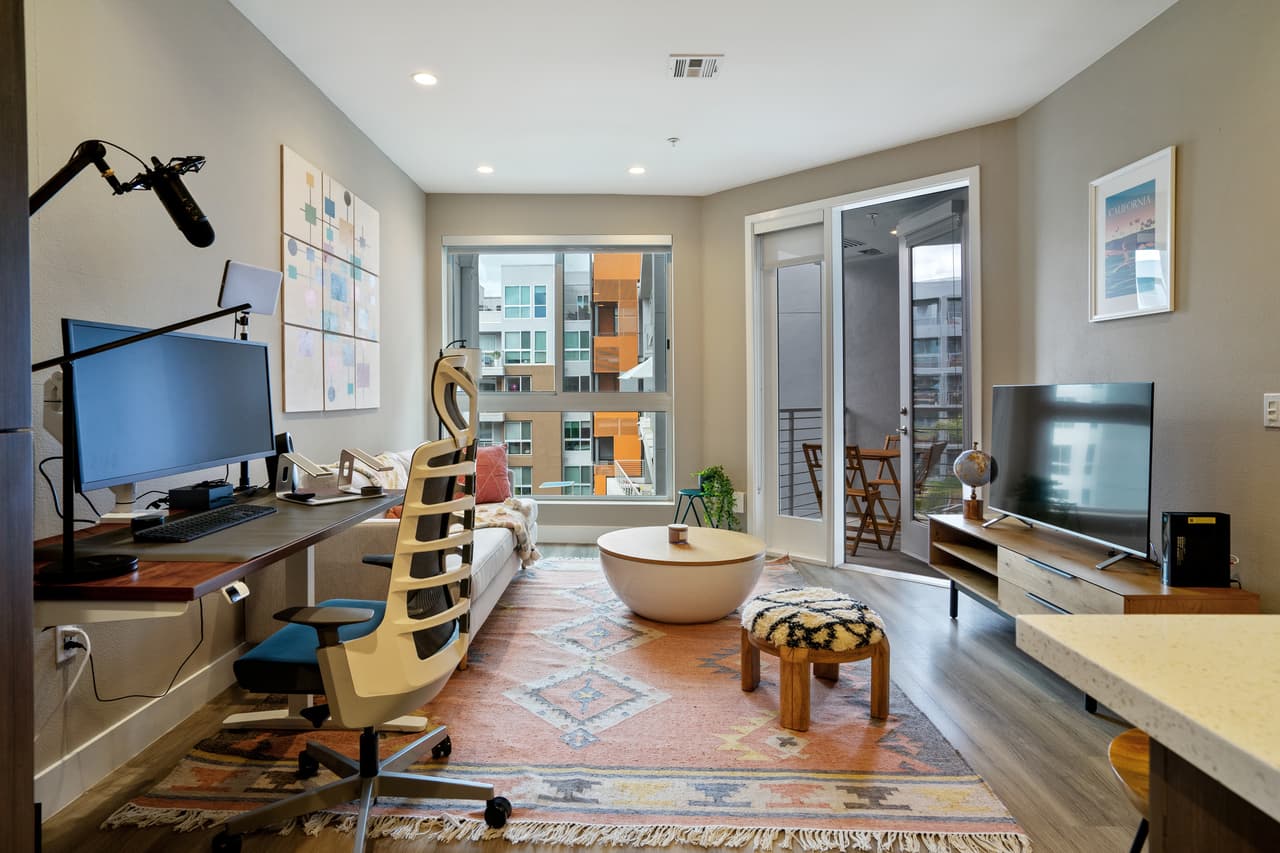 Book A Mid-Term Apartment Rental in Los Angeles Now
Browse mid-term rentals in Los Angeles that are already set up with furniture, utilities, laundry, a home office, and extra amenities like a pool and gym. All you have to do is reserve online, pay, and move in. And if you like it, you can easily extend your stay online. Forget about endlessly searching on multiple sites and apps to find the ideal spot for you in Los Angeles. Use Anyplace and choose a rental that matches the dates you need, your budget, and will provide you with the amenities needed for a comfortable stay.