1 Bedroom Apartment
899 Pine Street, San Francisco, United States | ID: 11443
675 ft2 / 62.71 m2
1 King Bed
2 Guests
17th Floor
1 Bathroom
Enjoy upscale living with sweeping views in the historic San Francisco neighborhood of Nob Hill. Anyplace at The Pinnacle offers open-plan, stylish interiors with a contemporary design, featuring hardwood flooring, stainless steel appliances, and plenty of closet space. Take in the breathtaking, panoramic views from the sunny rooftop lounge, get in a workout at the state-of-the-art fitness center, or unwind in the resident lounge using the high speed WiFi. This fully furnished, 1 bedroom apartment is custom tailored for the remote worker looking for a comfortable and inspiring environment in which to be productive. Along with stunning views of the city, hillside, and bay, the unit includes a fully-equipped kitchen, full bathroom, king size mattress, plenty of closet space, smart TV, private balcony, and all utilities. Most importantly, it features a home office set up with private, ultra-high-speed internet that you won't find anywhere else. Home office setup includes: - Ultra-high-speed internet up to 1 gigabit (Xfinity) - Standing desk (Uplift) - Ergonomic work chair (Uplift) - 34-inch ultra-wide monitor (Samsung) - Microphone (Blue Yeti) - Webcam (Logitech) - Computer speakers (Bose) - LED Video light - Green screen - Keyboard (Logitech) - Mouse (Logitech) - Laptop stand - TOTU 16-in-1 Triple Display USB-C 3.1 Docking Station Amenities include: - Stocked kitchen with breakfast bar - Dishwasher - Carpeted bedrooms - Laundry facilities onsite - Resident lounge - Fitness center - Sauna - Rooftop lounge with outdoor seating - 24hr Doorman - Paid parking upon request (based on availability) - EV vehicle rental & charging available PLEASE NOTE: Internet speeds are not guaranteed, and may fluctuate based on your computer model and the router location The laptop computer is not included in the home office setup This unit does not have air conditioning and can reach high temperatures on a sunny day (standing fans are provided in the unit)
Available from April 6, 2024
Add Dates for Prices
Min. 30 nights
Best Price
Direct
Building Amenities at Pinnacle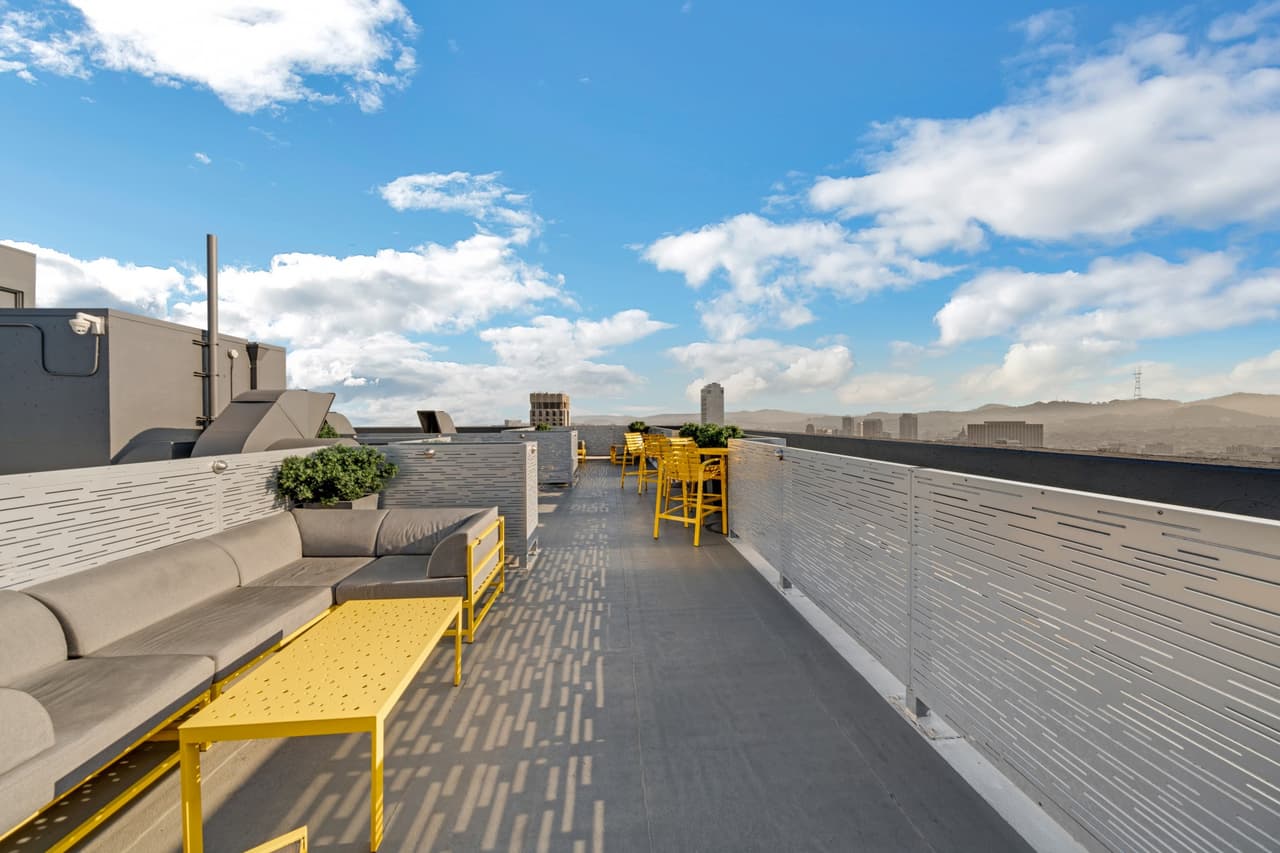 ROOFTOP LOUNGE
The rooftop lounge at Pinnacle is a perfect place to soak up the sun and enjoy stunning city views. Whether you're looking to entertain friends or simply unwind with a good book, you can't beat the roof on a clear, bright day.
24-HOUR FITNESS CENTER
Get in a rejuvenating workout in the state-of-the-art fitness center. You'll find modern treadmills, spin cycles, rowing machines, free weights, and more.
RESIDENT LOUNGE
Hang out in our resident lounge while you surf the net or take in a game on the big-screen TV. There are plenty of plugs for all of your devices, and bar seating, too.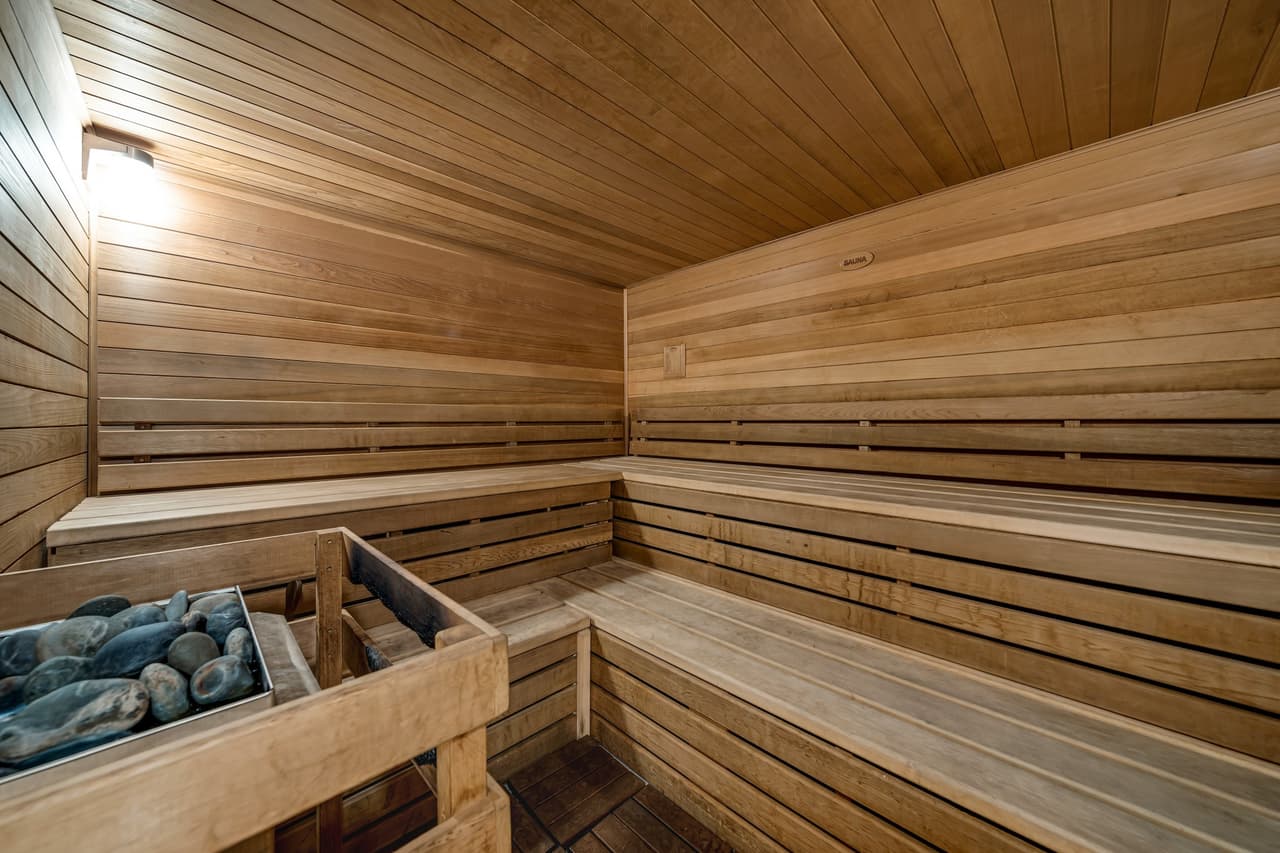 SAUNA
Looking for a little stress relief? Get some relaxation time in the sauna. The heat helps the body release endorphins – natural mood boosters – and is great for improving circulation.
Private High-Speed Internet
You'll have access to reliable, gigabit internet (up to 1,000 Mbps) during your entire stay. The network is private to your apartment, and will not be shared. This will ensure the utmost security for your online work and the highest possible speeds.
Modern Professional Workspace
This apartment features a fully equipped workspace, unlike anything you'll find on any other housing platform. It includes all the gear you need to do your best work. Just bring your laptop and plug in. Whether you're here for business or pleasure, this setup has you covered.
1
2
3
4
5
6
7
8
9
10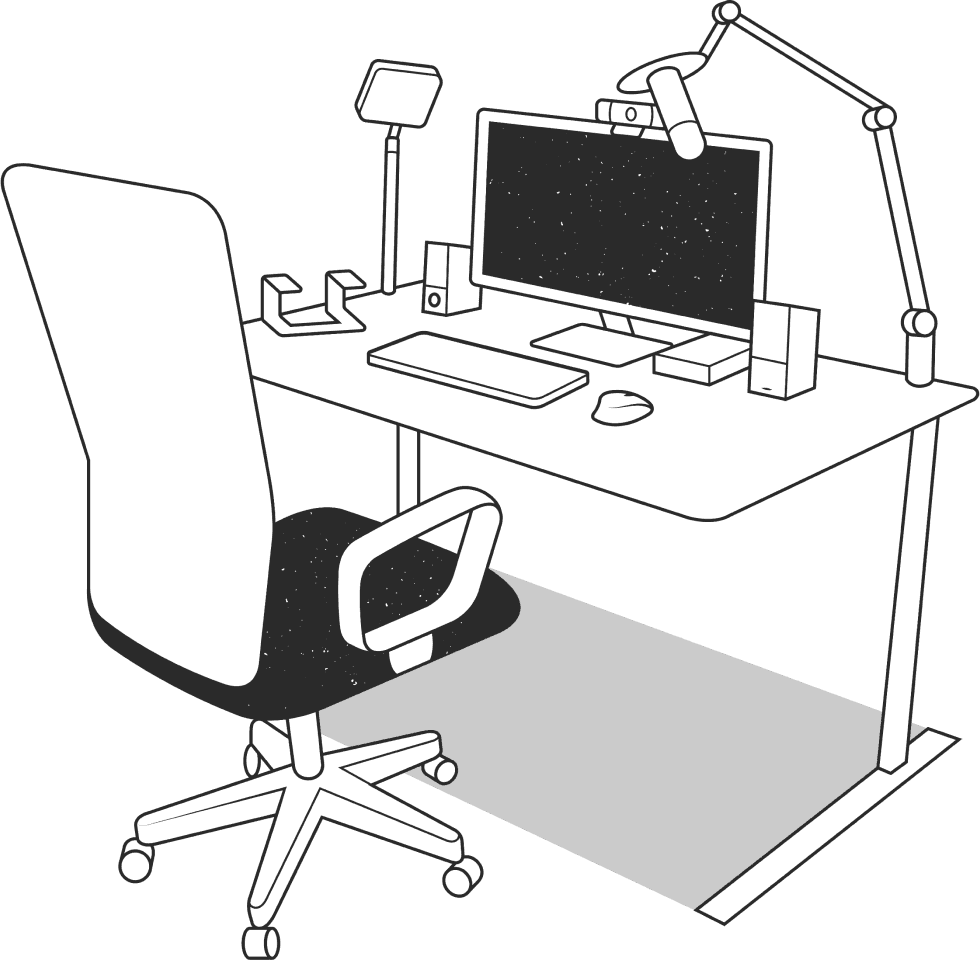 Amenities
High-speed internet up to 1,000 Mbps
Nob Hill
Nob Hill is a picturesque neighborhood located in the heart of San Francisco. It is known for its iconic landmarks, being home to both the historic Fairmont Hotel and Grace Cathedral. The steep hills provide stunning views of the city, making it a great place for a brisk walk that will let you take in all of the brilliance. The area boasts a vibrant dining and nightlife scene, full of trendy bars, restaurants, and cafes. Nob Hill is a charming, dynamic, and unique neighborhood that you'll quickly find embodies the essence of San Francisco.
Get Directions
Rules
Due to local regulations, all guests may be subject to a credit and background check. Proof of income may also be required. Failure to complete this check or not meeting minimum requirements may result in the cancellation of the reservation.
Anyplace

Secure
You're covered! Every booking includes protection for your personal belongings and accidental damage. Learn More
Cancellation Policy
You will get a full refund if you cancel your reservation within 48 hours of your booking or if you cancel more than 7 days before your arrival date. Bookings are non-refundable once you have checked in.
I had a wonderful stay. The view of San Francisco from the room was amazing. It was great to spend time on the terrace looking out at the view. The location was convenient to walk downtown and close to great restaurants and coffee shops. The Financial District, Chinatown, and Nob Hill are all within walking distance. The amenities were great and there was a gym and sauna. The work environment was excellent and I was very productive during my stay. This is one of my favorite properties in SF.
Absolutely beautiful apartment with a balcony and amazing views of the bay and city. Roomy, bright, and airy with so many windows! The WFH station has everything needed for productivity. Fast internet! I really enjoyed my stay here and will definitely be back!
this place is amazing. Very spacious apt , great decor and awesome sf DT view . It looks exactly like their post picture and it feels even better when you see the place in person . Highly recommended!