SoMa Studio w/ Office - 9961

Superhost

4.9
50+ Reviews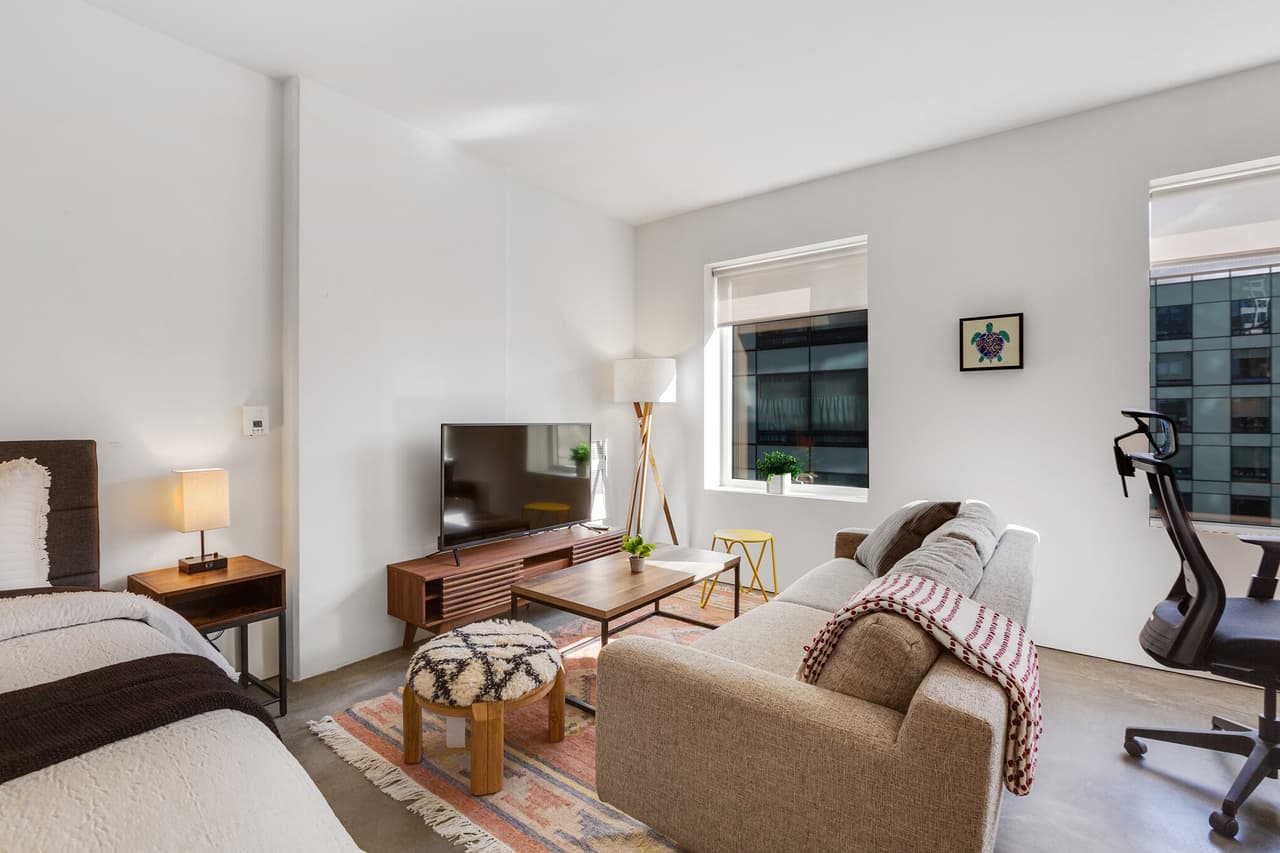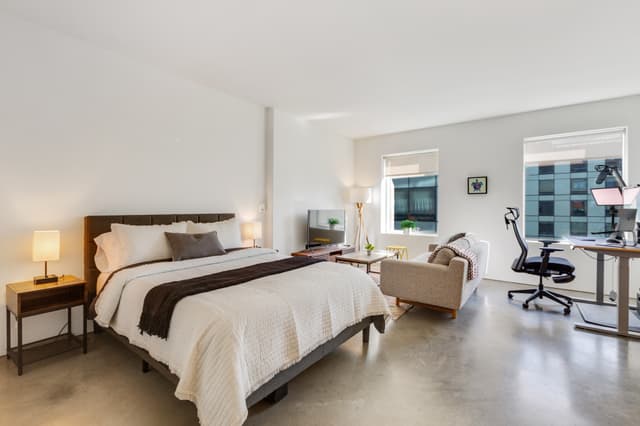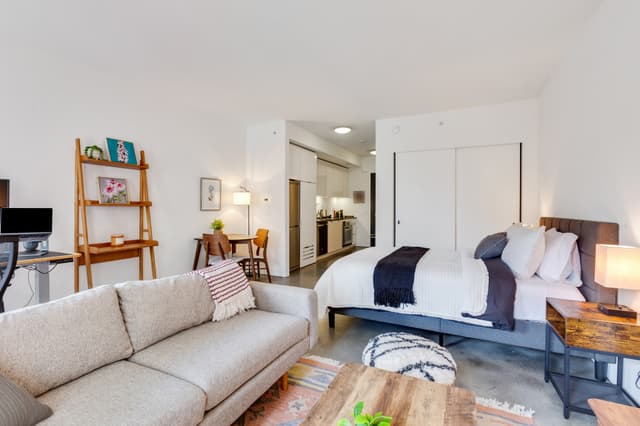 Available from April 1, 2023
2 people are interested in this listing
Add Dates for Prices
Min. 30 nights
Best Price
Direct
Studio Apartment
Furnished Apartment
Entire space
476 ft2 / 44.22 m2
1 Queen Bed
2 Guests
8th Floor
18 10th St, San Francisco, CA 94103, USA | ID: 9961
This luxury studio with a home office in the heart of SoMa is the perfect apartment for a remote worker looking for inspiration and a place to be productive. Steps from upscale restaurants, museums, and high-energy nightlife, get set to live, play, and work from home with everything at your fingertips, including access to indoor and outdoor terraces and lounges, outdoor pool, fitness center, business center, and more. This fully furnished apartment is custom designed for the remote worker looking for a comfortable and inspiring environment in which to be productive. The unit includes a fully-equipped kitchen, full bathroom, Nespresso coffee machine, in-unit laundry, smart TV, and all utilities. Most importantly, it features a home office set up with private gigabit internet that you won't find anywhere else. Home office setup includes: - Ultra-high-speed 1 Gigabit WiFi (Webpass) - Standing desk (Autonomous) - Work chair (Autonomous) - 34-inch ultra-wide monitor (Samsung) - Microphone (HyperX) - Webcam (Logitech) - Computer speakers (Logitech) - Key light - Monitor light (BenQ) - Green screen - Keyboard (Logitech) - Mouse (Logitech) - Laptop stand - TOTU 16-in-1 Triple Display USB-C 3.1 Docking Station Amenities include: - Washer and dryer in the unit - 24 hour business lounge with computer and printer - 24 hour gym - Swimming pool - Yoga and fitness studio - Packages will be delivered to your room - Rooftop with city view - Backyard terrace - Lounge with coffee machine, water server and pool table - Parking available (additional charge) PLEASE NOTE: The laptop computer is not included in the home office setup. Parking fees: → Compact = $400 → SUV = $450 → Large truck = $500 → EV = extra $100
Amenities
Ultra High-Speed Internet up to 1000 Mbps
Private High-Speed Internet
You'll have access to reliable, gigabit internet (up to 1,000 Mbps) during your entire stay. The network is private to your apartment, and will not be shared. This will ensure the utmost security for your online work and the highest possible speeds.
Rules
Due to local regulations, all guests may be subject to a credit and background check. Failure to complete this check or not meeting minimum requirements may result in the cancelation of the reservation. A leasing agreement must also be signed.
Anyplace

Secure
You're covered! Every booking includes free protection for your personal belongings and accidental damage.
Cancellation Policy
You will get a full refund if you cancel your reservation within 48 hours of your booking or if you cancel more than 7 days before your arrival date. Bookings are non-refundable once you have checked in.
Location
Also known as South of Market, SoMa is home to a large number of warehouses, and it is quite large and widespread, which means it's not over crowded. You can visit the Oracle Park where the San Francisco Giants play, visit several museums or take advantage of SoMa's chic nightclubs.
Get Directions
0.15 miles to SanJose Costa Rica
0.12 miles to shopacquire
0.12 miles to Redwood Credit Union
0.03 miles to FITNESS SF - Mid Market
0.29 miles to Rise Combat Sports - San Francisco
0.15 miles to Abarroteria Super Barato
0.29 miles to Harvest Urban Market
0.15 miles to San Franciscos Hospital
I usually stay at this apartment when I am in San Francisco. The building amenities are excellent and include a gym, swimming pool, and rooftop. The location is great, with a grocery store and food court on the next block. Also, there is a Whole Foods two blocks away. It is also within walking distance to Hayes Valley, where there are many nice restaurants and coffee shops.
The place is small but great, it has everything you might need for working and living for a short a while from there. The kitchen is complete, the bed is comfortable and the working station has everything you might need. As cons the price is expensive and the surroundings a bit unsafe one block further in Market Street.