East Village 1 BR w/ Office - 11598

Superhost

4.9
50+ Reviews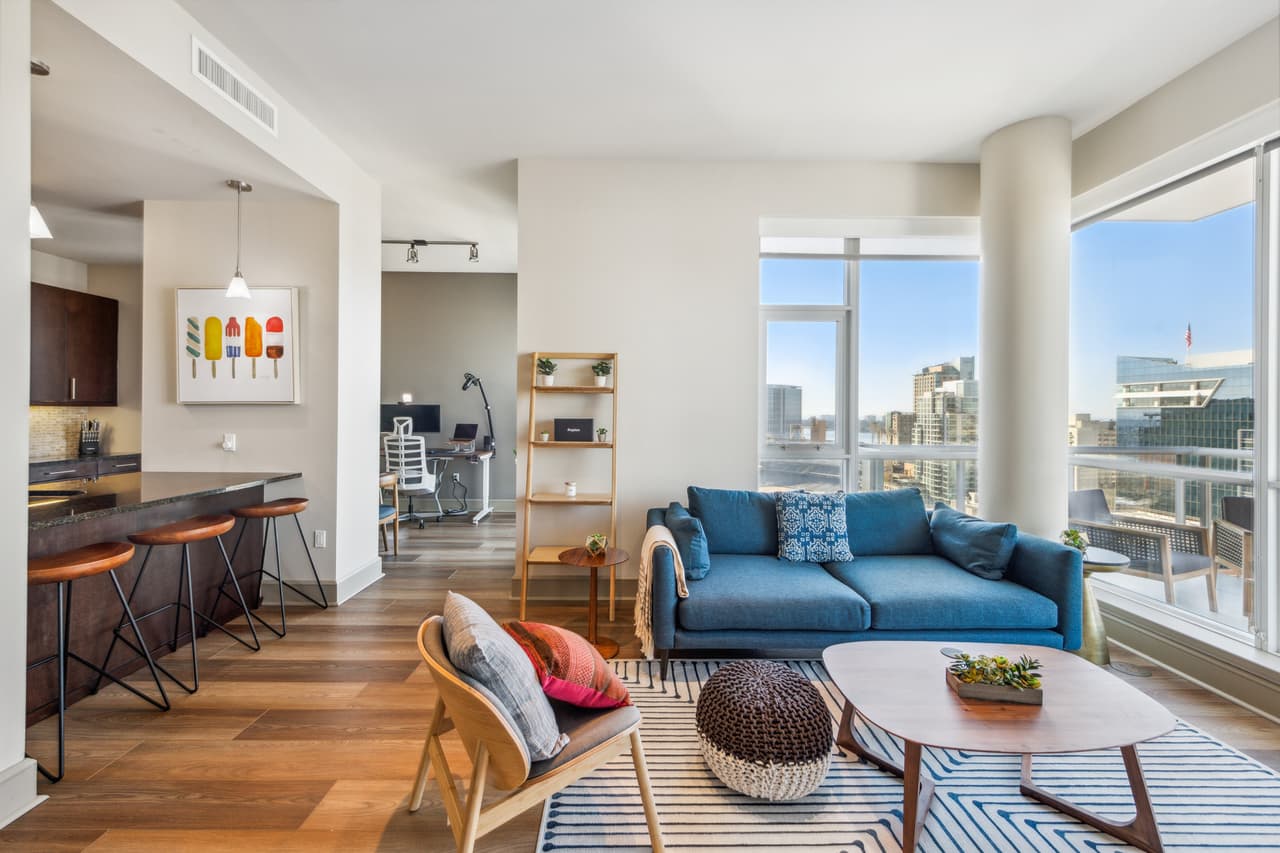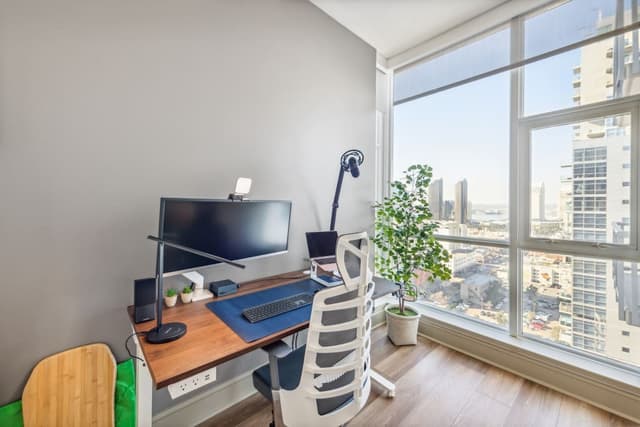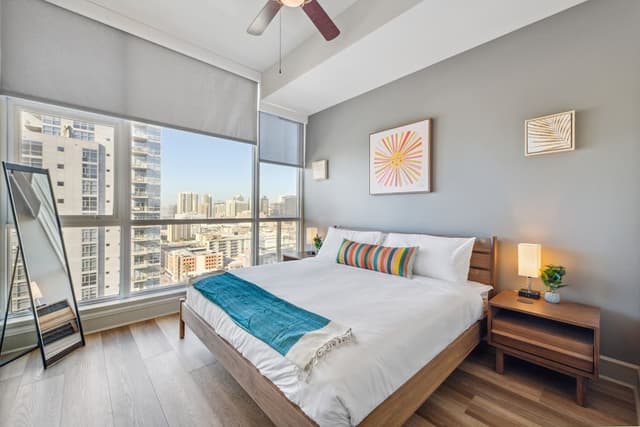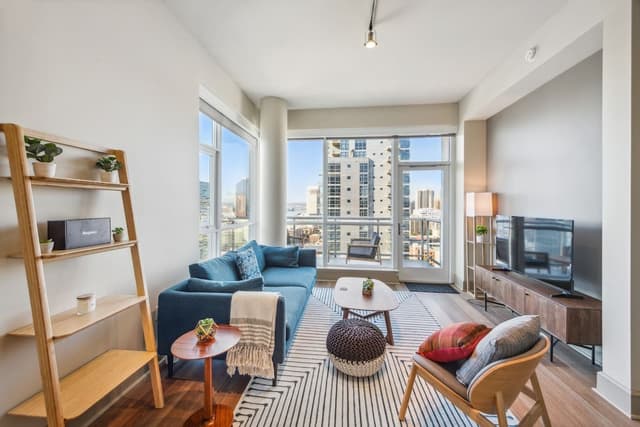 Available from April 4, 2023
3 people are interested in this listing
Add Dates for Prices
Min. 31 nights
Best Price
Direct
1 Bedroom Apartment
Furnished Apartment
Entire space
1014 ft2 / 94.2 m2
1 King Bed
2 Guests
19th Floor
969 Market Street, San Diego, United States | ID: 11598
Upscale living, luxury amenities, and breathtaking views await you at the heart of San Diego's downtown core. Anyplace at Strata Apartments offers convenient and comfortable living with a modern aesthetic in one of the city's most vibrant urban neighborhoods. Steps from shopping, nightlife, cafés, restaurants, and landmarks like the San Diego Central Library and Petco Park, enjoy the action of downtown life with your own personal oasis at the center. Get in an early morning workout in the cutting-edge fitness center, take a dip in the pool after a long day of work, or enjoy a film night with friends in the private screening room - everything you need to live, play, and work from home is at your fingertips. This fully furnished, 1 bedroom apartment is custom designed for the remote worker looking for an inspiring environment in which to be productive. The unit includes a fully equipped kitchen, full bathroom, king size mattress, private balcony, smart TV, and all utilities. Most importantly, it features a home office set up with private gigabit internet that you won't find anywhere else. Home office setup includes: - Ultra-high-speed 1 Gigabit WiFi (Webpass) - Standing desk (Uplift) - Ergonomic work chair (Uplift) - 34-inch ultra-wide monitor (Samsung) - Microphone (Blue Yeti) - Webcam (Logitech) - Computer speakers (Bose) - LED Video light - Green screen - Keyboard (Logitech) - Mouse (Logitech) - Laptop stand - TOTU 16-in-1 Triple Display USB-C 3.1 Docking Station Amenities include: - Floor to ceiling windows - In-unit laundry - Walk-in closet - Air conditioning - 24 hr fitness center - 24 hr conference room - Resident lounge with HDTV - Private screening theater - Grilling area & fire pit - Outdoor pool & sun deck with lounge chairs - Parking space included (underground, controlled access parking garage) - EV charging station PLEASE NOTE: The laptop computer is not included in the home office setup
Amenities
High-speed internet up to 1,000 Mbps
Private High-Speed Internet
You'll have access to reliable, gigabit internet (up to 1,000 Mbps) during your entire stay. The network is private to your apartment, and will not be shared. This will ensure the utmost security for your online work and the highest possible speeds.
Modern Professional Workspace
This apartment features a fully equipped workspace, unlike anything you'll find on any other housing platform. It includes all the gear you need to do your best work. Just bring your laptop and plug in. Whether you're here for business or pleasure, this setup has you covered.
1
2
3
4
5
6
7
8
9
10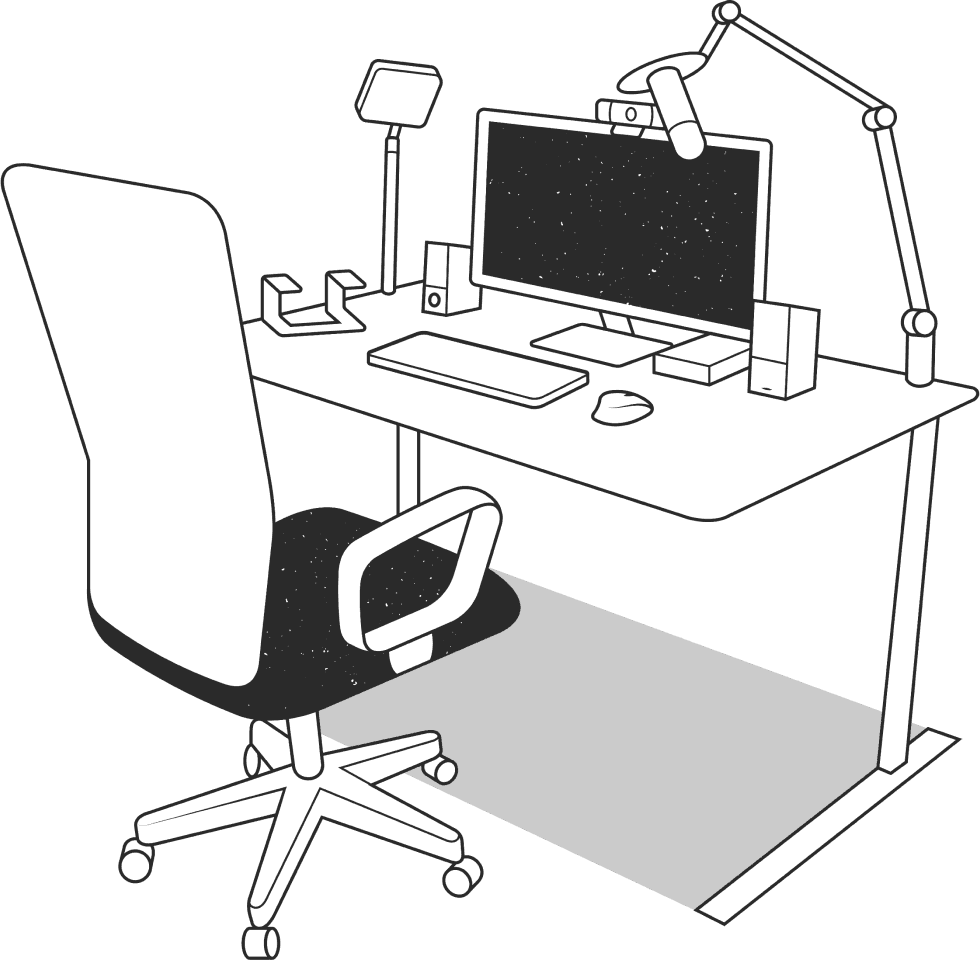 Rules
Due to local regulations, all guests may be subject to a credit and background check. Failure to complete this check or not meeting minimum requirements may result in the cancelation of the reservation. A leasing agreement must also be signed.
Anyplace

Secure
You're covered! Every booking includes free protection for your personal belongings and accidental damage. Learn More
Cancellation Policy
You will get a full refund if you cancel your reservation within 48 hours of your booking or if you cancel more than 7 days before your arrival date. Bookings are non-refundable once you have checked in.
East Village
The largest urban neighborhood of San Diego, East Village consists of 130 blocks from 7th Avenue East to 18th Street. East Village is especially popular among young professionals who want to live in a bustling area. With upbeat and trendy vibes, it's not hard to find amazing local food, cool cafes to work at, or events to go to. Only a few minutes walk away from San Diego's best nightlife and green spaces, East Village is also considered one of the most walkable places in the city.
Get Directions