Chelsea 1 BR w/ Office - 11435

Superhost

4.9
50+ Reviews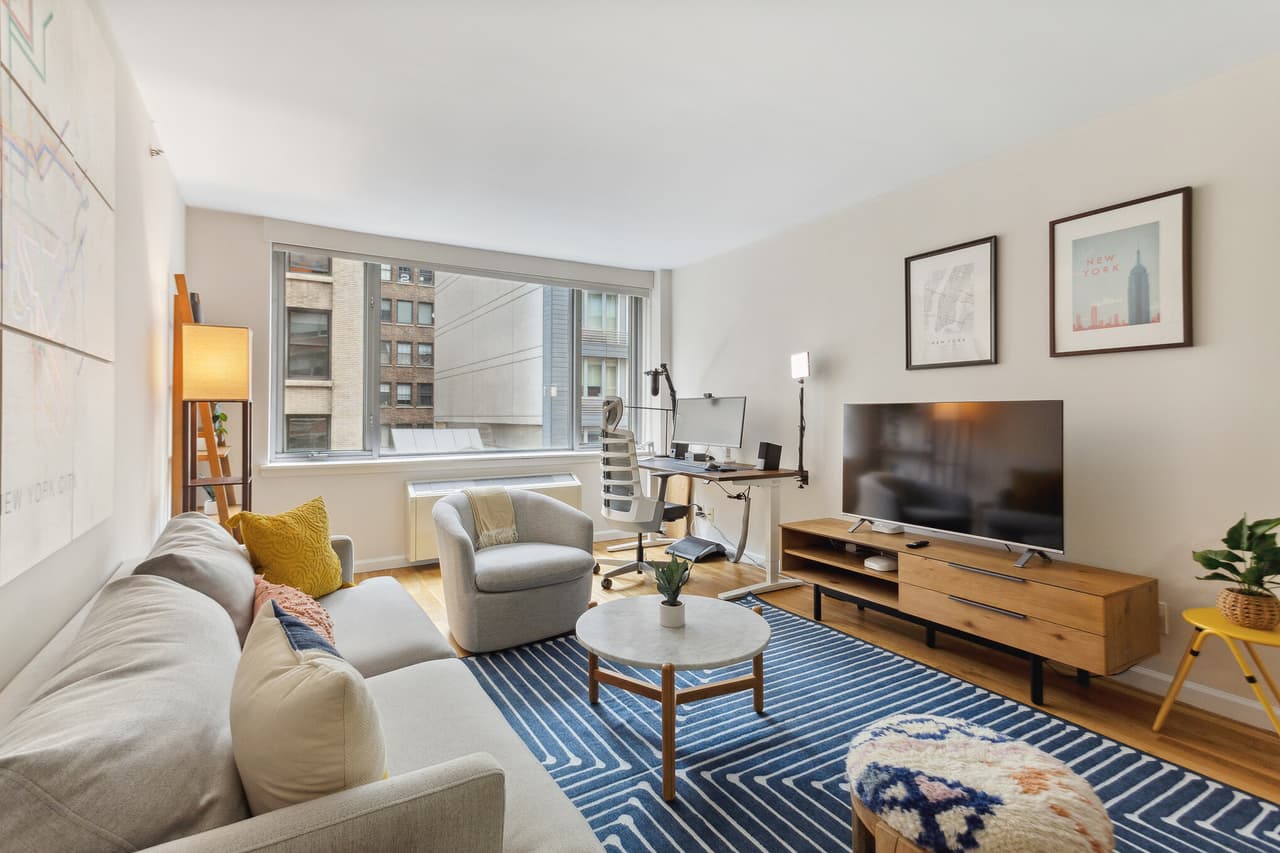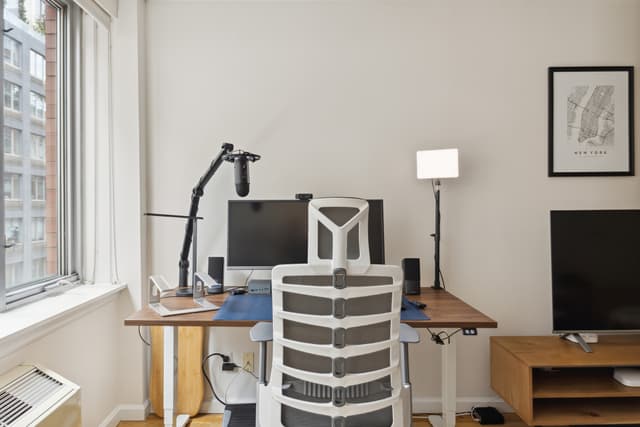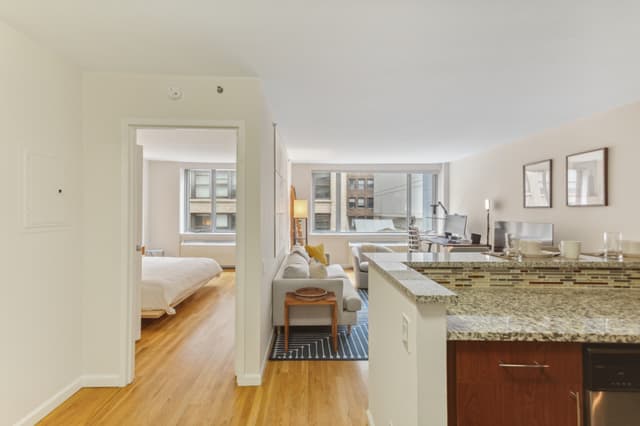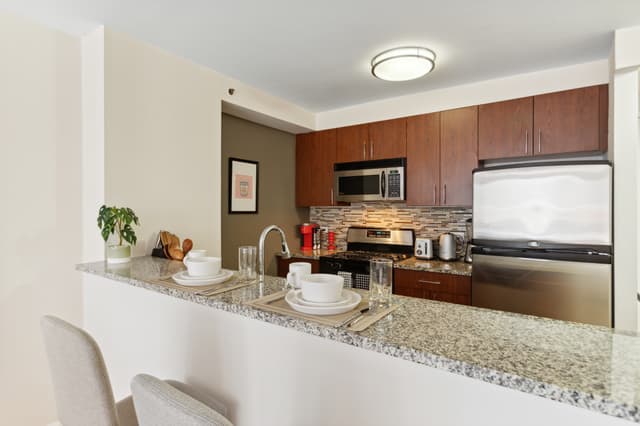 Available Now
20 people are interested in this listing
Add Dates for Prices
Min. 30 nights
Best Price
Direct
Usually Booked
This apartment is not available often. We recommend booking soon.
1 Bedroom Apartment
Furnished Apartment
Entire space
670 ft2 / 62.25 m2
1 King Bed
2 Guests
5th Floor
120 West 21st Street, New York, United States | ID: 11435
Live it up in the heart of Manhattan with everything you need for work and play right at your fingertips. Nestled at the center of a quiet block between 6th and 7th Avenues in the historic Chelsea district, these spacious 1 bedroom apartments are steps from world-class shopping, dining, and entertainment. Walking distance to famous sites such as The Highline, Madison Square Garden, The Whitney Museum, and Broadway, you'll feel the action from the moment you step out the door. Each of our fully furnished units at 21 Chelsea is specifically designed for remote workers and professionals, featuring an extended desktop and standing desk to optimize your workday. This apartment includes a king size mattress, full bathroom, fully-equipped kitchen with breakfast bar, smart TV, and all utilities. Most importantly, it features a home office set up with private gigabit internet that you won't find anywhere else. Home office setup includes: - Ultra-high-speed 1 Gigabit WiFi (Astound) - Standing desk (Uplift) - Work chair (Uplift) - 34-inch ultra-wide monitor (Samsung) - Microphone (Blue Yeti) - Webcam (Logitech) - Computer speakers (Logitech) - Key light - Monitor light - Green screen - Keyboard (Logitech) - Mouse (Logitech) - Laptop stand - TOTU 16-in-1 Triple Display USB-C 3.1 Docking Station Amenities include: - Stocked kitchen with Keurig coffee machine and pods - Stainless steel appliances (including dishwasher) - Wood flooring - Spacious closets - Laundry onsite - Elevators - Fitness center - Community lounge - Rooftop sundeck with city views, TV, and BBQ - 24 hr door attendant - Professionally managed parking garage onsite (not included) PLEASE NOTE: The laptop computer is not included in the home office setup Please be aware this unit faces a historic cemetery, in case that may not be preferable The building lobby and hallways are undergoing renovations over the next few months. There should be no disturbing noise or obstructions to residents.
Amenities
High-speed internet up to 1,000 Mbps
Private High-Speed Internet
You'll have access to reliable, gigabit internet (up to 1,000 Mbps) during your entire stay. The network is private to your apartment, and will not be shared. This will ensure the utmost security for your online work and the highest possible speeds.
Modern Professional Workspace
This apartment features a fully equipped workspace, unlike anything you'll find on any other housing platform. It includes all the gear you need to do your best work. Just bring your laptop and plug in. Whether you're here for business or pleasure, this setup has you covered.
1
2
3
4
5
6
7
8
9
10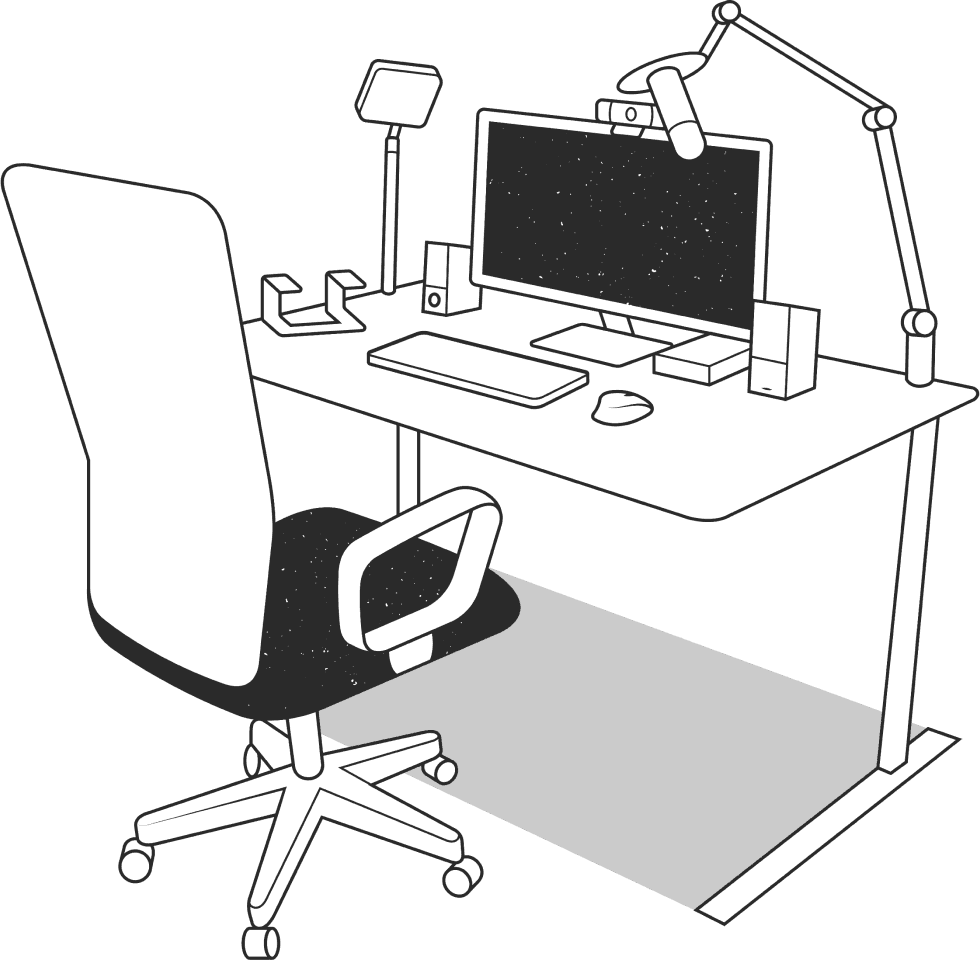 Rules
Due to local regulations, all guests may be subject to a credit and background check. Failure to complete this check or not meeting minimum requirements may result in the cancelation of the reservation. A leasing agreement must also be signed.
Anyplace

Secure
You're covered! Every booking includes free protection for your personal belongings and accidental damage. Learn More
Cancellation Policy
You will get a full refund if you cancel your reservation within 48 hours of your booking or if you cancel more than 7 days before your arrival date. Bookings are non-refundable once you have checked in.
Chelsea
Chelsea is a vibrant and colorful neighborhood located in the heart of Manhattan. The neighborhood is known for its abundant and amazing art galleries, restaurants, bars, and high-end boutiques. Living in Chelsea offers a unique experience, with easy access to the bustling city streets while still maintaining a sense of community. The area is also home to some of the city's most beautiful parks, including the famous High Line, which offers stunning views of the Hudson River and the surrounding cityscape. Chelsea attracts many young professionals and creatives who appreciate its energy, culture, and vibe that is quintessentially New York.
Get Directions
Great place and the monitor + keyboard setup was very helpful.
Loved my stay here. Perfect for remote work in the city. The proximity to the metro, bikes, and shopping make this an idea location. The gym was perfectly equipped and never busy. Staff was friendly and accommodating.
Our host was excellent in all regards. The apartment was exactly as pictured. This was our first long-term stay (30 days) in New York City so nothing to compare to other than hotels. I'd say the apartment is gently used and the building is institutional in design. The street noise took some getting used to but it's New York City after all. Nice fitness room on 16th floor. The washers and dryers worked great. The location is good, central to everything and several subway lines on 23rd.