FiDi 1 BR w/ Office - 11417

Superhost

4.9
50+ Reviews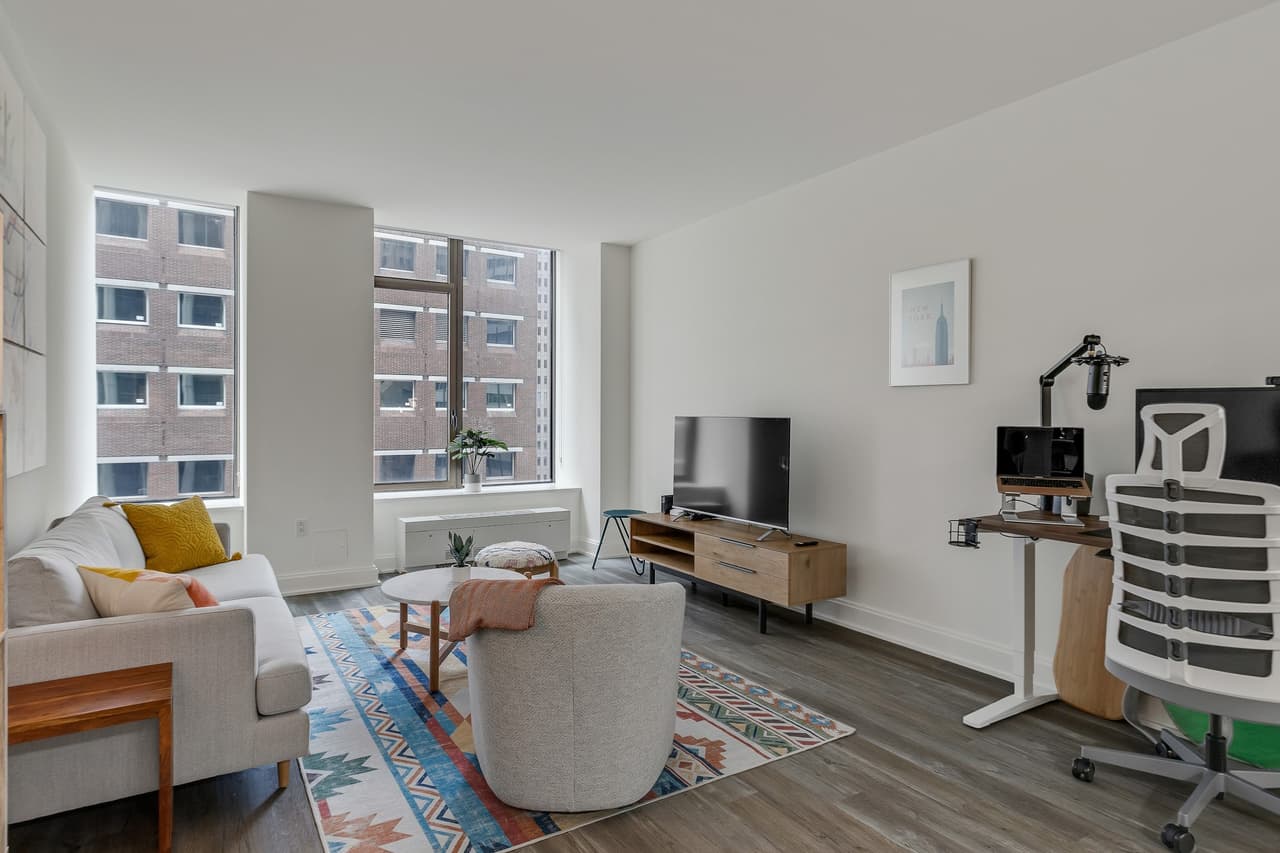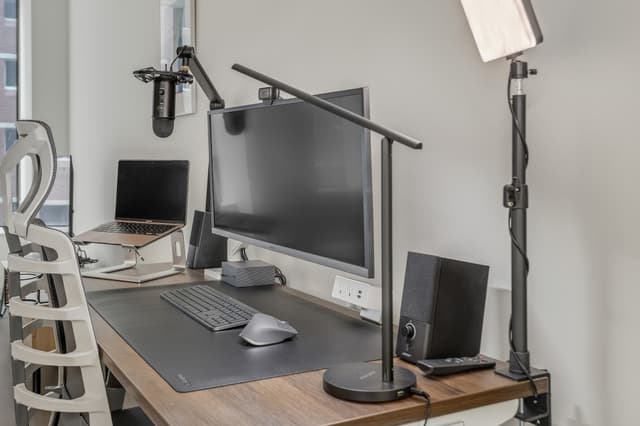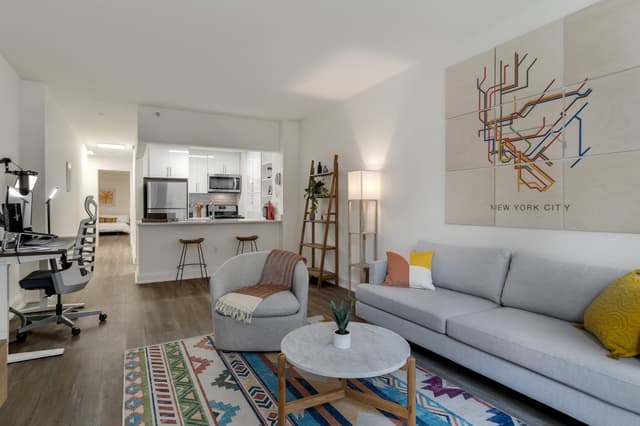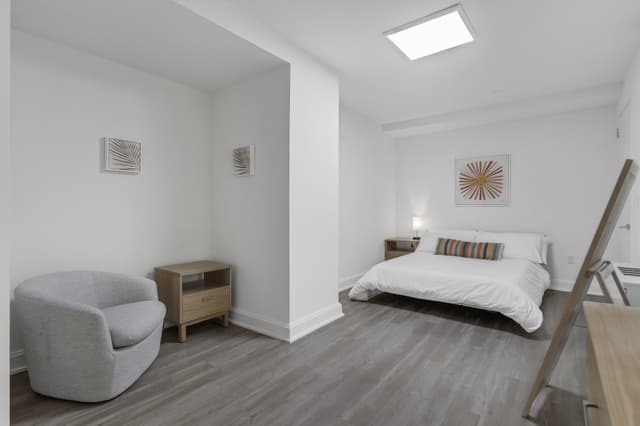 Available from March 2, 2023
1 other person is interested in this listing
Add Dates for Prices
Min. 30 nights
Best Price
Direct
1 Bedroom Apartment
Furnished Apartment
Entire space
924 ft2 / 85.84 m2
1 King Bed
2 Guests
14th Floor
10 Hanover Square, New York, United States | ID: 11417
Work from home in the heart of New York City's famous Financial District, with the action of Wall Street at your doorstep. Stroll through Battery park, enjoy a delicious meal by the Seaport, or indulge in high-end shopping at the Brookfield Mall, all within walking distance of your apartment. Each of our fully furnished apartments at 10 Hanover Square is specifically designed for remote workers and professionals, featuring an extended desktop and standing desk to optimize your workday. This spacious unit includes a king size mattress, full bathroom, fully-equipped kitchen with a breakfast bar, smart TV, and all utilities. Most importantly, it features a home office set up with private gigabit internet that you won't find anywhere else. Home office setup includes: - Ultra-high-speed 1 Gigabit WiFi (Astound) - Standing desk (Uplift) - Work chair (Uplift) - 34-inch ultra-wide monitor (Samsung) - Microphone (Blue Yeti) - Webcam (Logitech) - Computer speakers (Logitech) - Key light - Monitor light - Green screen - Keyboard (Logitech) - Mouse (Logitech) - Laptop stand - TOTU 16-in-1 Triple Display USB-C 3.1 Docking Station Amenities include: - Stocked kitchen with Keurig coffee machine and pods - Stainless steel appliances (including dishwasher) - Washer & dryer in-unit - 2 sets of elevators - Business center and conference rooms - Resident lounge and bar with pool tables - Rooftop sundeck with city views and BBQ grills - Dry cleaner in the lobby - Special rates at onsite Complete Body Fitness Club* - 24 hr door attendant - 24 hr Duane Reade across the street - Starbucks next door - Steps to the Seaport and riverside promenade - 4 min. walk to Broad St. Station with the J + Z trains - 3 min. walk to Wall & William St. and the 2 + 3 trains - 4 min. walk to the NY Ferry Terminal - 6 min. walk to Bowling Green Station and the 4 + 5 trains - 7 min. walk to Battery Park, Whitehall Terminal and the Staten Island Ferry PLEASE NOTE: The laptop computer is not included in the home office setup There is NO PARKING at this property (off-site parking is available nearby) *Access to the fitness club is not included. All guests are eligible for a resident discount during their stay, and can purchase a membership at the club.
Amenities
Ultra High-Speed Internet up to 1000 Mbps
Private High-Speed Internet
You'll have access to reliable, gigabit internet (up to 1,000 Mbps) during your entire stay. The network is private to your apartment, and will not be shared. This will ensure the utmost security for your online work and the highest possible speeds.
Rules
Due to local regulations, all guests may be subject to a credit and background check. Failure to complete this check or not meeting minimum requirements may result in the cancelation of the reservation. A leasing agreement must also be signed.
Anyplace

Secure
You're covered! Every booking includes free protection for your personal belongings and accidental damage.
Cancellation Policy
You will get a full refund if you cancel your reservation within 48 hours of your booking or if you cancel more than 7 days before your arrival date. Bookings are non-refundable once you have checked in.
Location
This is the city's buzzing financial heart, home to Wall Street and glittering skyscrapers. Sidewalks bustle during the week and, after work, young professionals fill the restaurants and bars of the South Street Seaport and pedestrian-only Stone Street. The sombre National September 11 Memorial and Museum, in the footprint of the Twin Towers, is also here. Above it all is the observatory atop One World Trade Center.
Get Directions
0.15 miles to Art By Jeremy Johnson
0.17 miles to ANGELLINO ARTE
0.08 miles to Delmonico's
0.09 miles to Beckett's Bar & Grill
0.3 miles to Fulton Stall Market
0.28 miles to Jubilee Market Place on John
0.13 miles to Wall Street / William Street