FiDi 1 BR w/ Office - 10490

Superhost

4.9
50+ Reviews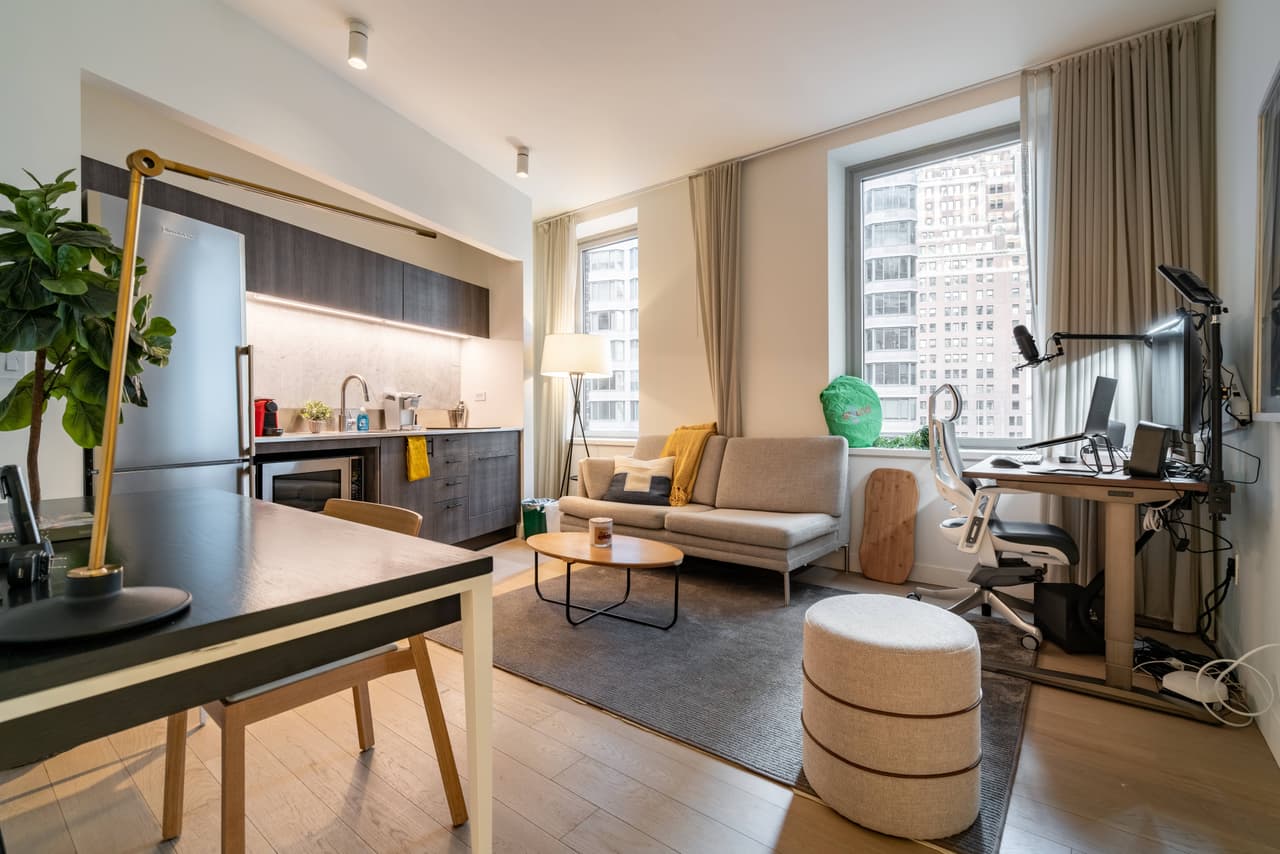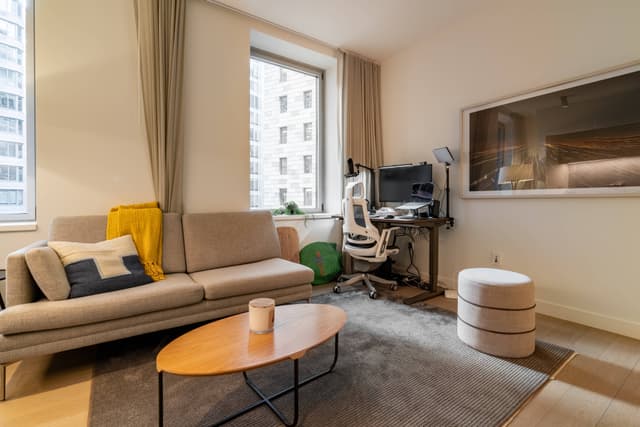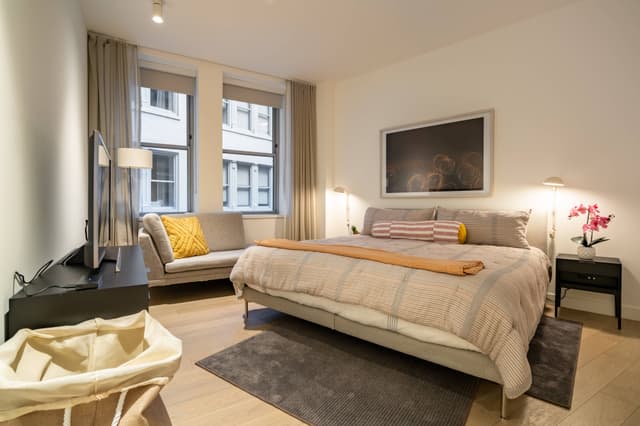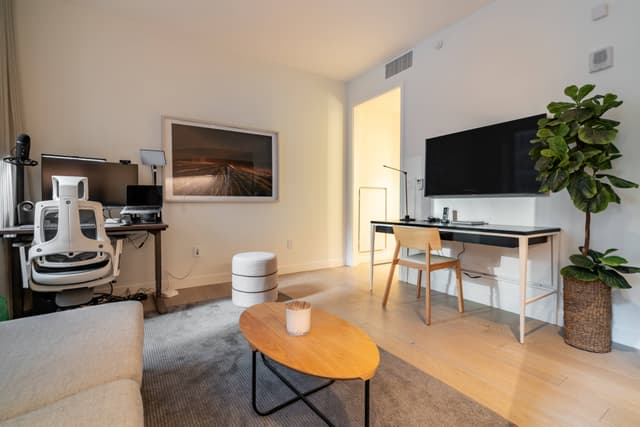 Available from February 24, 2023
6 people are interested in this listing
Add Dates for Prices
Min. 30 nights
Best Price
Direct
1 Bedroom Apartment
Furnished Apartment
Entire space
744 ft2 / 69.12 m2
1 King Bed
2 Guests
8th Floor
84 William St, New York, NY 10038, USA | ID: 10490
This apartment is situated in the heart of FiDi. Only 5 minutes walk to the WTC station and 9/11 memorial. There is no shortage of restaurants in this area, and the historic Seaport is within walking distance. Fulton Station with access to most lines. Only 13 minutes on the subway to Park Slope, Brooklyn, and 12 minutes to Union Square. The apartment includes all utilities, and features a full home office with a standing desk, plug and play docking station, and extended desktop. The kitchen is equipped with both a Keurig and Nespresso machine, as well as an induction stovetop, and a dual microwave/convection oven. The unit also features two smart TVs and an Apple TV. The Howell is walking distance to numerous 24 hours drugstores, and all the student life around Pace University. The NYSE on Wall Street is only a few blocks away. Catch dinner at Brookfield Place with views of the Statue of Liberty close by or admire the view from the One World Observatory. Work from home in the heart of the Big Apple! Home office setup includes: - Private Ultra-high-speed 1 Gigabit WiFi (Astound) - Standing desk (Uplift) - Work chair (Uplift) - 34-inch ultra-wide monitor (Samsung) - Microphone (Blue Yeti) - Webcam (Logitech) - Computer speakers (Logitech) - Key light - Monitor light - Green screen - Keyboard (Logitech) - Mouse (Logitech) - Laptop stand - TOTU 16-in-1 Triple Display USB-C 3.1 Docking Station Amenities include: - Washer and dryer on site - Coffee maker - Stocked kitchen - Dishwasher - Fitness center - Landscaped rooftop terrace with outdoor media - Indoor roof lounge - Two SMART TVs and an Apple TV PLEASE NOTE: The laptop computer is not included in the home office setup There is NO Parking at this property
Amenities
Ultra High-Speed Internet up to 1000 Mbps
Private High-Speed Internet
You'll have access to reliable, gigabit internet (up to 1,000 Mbps) during your entire stay. The network is private to your apartment, and will not be shared. This will ensure the utmost security for your online work and the highest possible speeds.
Rules
Due to local regulations, all guests may be subject to a credit and background check. Failure to complete this check or not meeting minimum requirements may result in the cancelation of the reservation. A leasing agreement must also be signed.
Anyplace

Secure
You're covered! Every booking includes free protection for your personal belongings and accidental damage.
Cancellation Policy
You will get a full refund if you cancel your reservation within 48 hours of your booking or if you cancel more than 7 days before your arrival date. Bookings are non-refundable once you have checked in.
Location
This is the city's buzzing financial heart, home to Wall Street and glittering skyscrapers. Sidewalks bustle during the week and, after work, young professionals fill the restaurants and bars of the South Street Seaport and pedestrian-only Stone Street. The sombre National September 11 Memorial and Museum, in the footprint of the Twin Towers, is also here. Above it all is the observatory atop One World Trade Center.
Get Directions
0.19 miles to The Fulton Center
0.18 miles to Wall Street Plaza
0.11 miles to Crunch Fitness - FiDi
0.15 miles to Equinox Wall Street
0.07 miles to Jubilee Market Place on John
0.21 miles to NewYork-Presbyterian Lower Manhattan Hospital
0.26 miles to DOWNTOWN MANHATTAN PSYCHIATRIC GROUP
I stayed here for 10 weeks over the summer, and I loved it! The bedroom is huge for NYC and the desk set-up (especially the screen) is amazing if you have to WFH. The kitchen is a bit small, but it is manageable. The building has doormen that keep you safe and are very helpful. The rooftop lounge and deck is beautiful, and the apartment is in a great location -- very close to Fulton station and Wall Street station. Anyplace was also very responsive and helpful! We initially had some trouble with the TV, and they immediately ordered a new TV and sent someone to set it up for me. Would definitely recommend staying here!
Attentive staff. Communication is great. Bathroom and amenities - 5 stars
Great place! It's exactly like in the photos. Close to Fulton subway station with a lot of lines to choose from, quiet, has a proper sit-stand desk, laundry room, everything I ever needed. I didn't get to use the gym, but it's there. You can also go for a run around the river!