FiDi Studio w/ Office - 10250

Superhost

4.9
50+ Reviews
Add Dates for Prices
Min. 30 nights
Studio Apartment
Furnished Apartment
Entire space
472 ft2 / 43.85 m2
1 Queen Bed
2 Guests
12th Floor
95 Wall St, New York, NY 10005, USA | ID: 10250
From the spectacular rooftop terrace views to the state-of-the-art fitness center, 95 Wall is your home in the heart of the financial district, convenient to everything that matters. Stroll to work, jog to The Battery, or jump on the FDR- this is the luxurious and comfortable space you've been looking for. Custom designed for the remote worker looking for a comfortable and inspiring environment in which to be productive, this unit includes a fully equipped kitchen, queen size Lisa Hybrid mattress, Nespresso coffee machine, full bathroom, smart TV, and all utilities. Most importantly, it features a full home office setup that you won't find anywhere else. Home office setup includes: - Ultra-high-speed 1 Gigabit WiFi (Astound) - Standing desk (Autonomous) - Work chair (Autonomous) - 34-inch ultra-wide monitor (Samsung) - Microphone (Blue Yeti) - Webcam (Logitech) - Computer speakers (Logitech) - Key light - Monitor light (BenQ) - Green screen - Keyboard (Logitech) - Mouse (Logitech) - Laptop stand - TOTU 16-in-1 Triple Display USB-C 3.1 Docking Station Amenities include: - Washer and dryer in unit - Stocked kitchen - Dishwasher - Business Center - Valet Services - Walgreens Pharmacy (Duane Reade) on the ground floor - Starbucks Coffee on the same block: 99 Wall St - One block from the ferry port PLEASE NOTE: The laptop computer is not included in the home office setup Paid parking in the attached indoor garage is available by application for $500/month (other garage parking is also available nearby) Storage is available starting at $75/month
Amenities
Ultra High-Speed Internet up to 1000 Mbps
Rules
Due to local regulations, all guests may be subject to a credit and background check. Failure to complete this check or not meeting minimum requirements may result in the cancelation of the reservation. A leasing agreement must also be signed.
Cancellation Policy
You will get a full refund if you cancel your reservation within 48 hours of your booking or if you cancel more than 7 days before your arrival date. Bookings are non-refundable once you have checked in.
Location
This is the city's buzzing financial heart, home to Wall Street and glittering skyscrapers. Sidewalks bustle during the week and, after work, young professionals fill the restaurants and bars of the South Street Seaport and pedestrian-only Stone Street. The sombre National September 11 Memorial and Museum, in the footprint of the Twin Towers, is also here. Above it all is the observatory atop One World Trade Center.
Get Directions
0.2 miles to Art By Jeremy Johnson
0.2 miles to ANGELLINO ARTE
0.16 miles to Delmonico's
0.17 miles to Beckett's Bar & Grill
0.31 miles to BentOn Cafe
0.3 miles to Key Food Supermarket Fulton
0.24 miles to Jubilee Market Place on John
0.16 miles to Wall Street Station
I moved to NYC and used Anyplace. My experience was absolutely wonderful - I didn't have to bring anything aside from my clothes. Everything was clean and ready to go. The work station was the most comfortable station I've ever used and the concierge in the building was very attentive. I would definitely use anyplace again!
Reviews

4.9
50+ Reviews
Chelsea 1 BR w/ Office by Anyplace - 11436
November 2022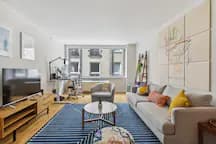 "The stay met our expecatations. The appartment was as described. The appartment was functional and clean. It did fit our needs well. Also Communication and check-in with the host was very smooth. Only minor consideration was the ongoing renovation in the building's first floor. Still we are happy to stay at Anyplace again if in need for longer term stay. Highly recommended."
SoMa 1 BR w/ Office by Anyplace - 10489
November 2022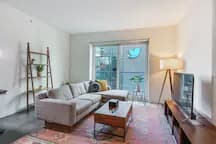 "Great apartment - modern, comfortable, high quality!"
SoMa Studio w/ Office by Anyplace - 10765
October 2022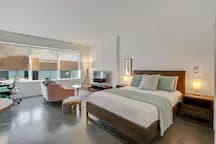 Christoph, Vienna, Austria
"A great place to stay and work for 1 month."