WeHo 1 BR w/ Office - 11624

Superhost

4.9
100+ Reviews
Photos Coming Soon
Be the first to rent this apartment!
Available from June 12, 2023
2 people are interested in this listing
Add Dates for Prices
Min. 31 nights
Best Price
Direct
1 Bedroom Apartment
7316 Santa Monica Blvd, West Hollywood, CA 90046, USA | ID: 11624
Furnished Apartment
Entire space
726 ft2 / 67.45 m2
1 King Bed
2 Guests
2nd Floor
Welcome to turn-key living in West Hollywood with this customized 1 bedroom apartment by Anyplace. You'll have everything you need for a wonderful stay, including a fully equipped home office tailored to the remote-work lifestyle. WeHo is the place to be if you're into nightlife, comedy clubs, and live music venues- a great place to live and work, and maybe run into a celebrity or two. Avalon West Hollywood provides the ultimate in high-class living, offering state-of-the-art amenities, expansive outdoor spaces, and social areas with unmatched views of the city and Hollywood Hills. This fully furnished unit includes a fully-equipped kitchen, king size mattress, Keurig coffee machine, stainless steel appliances, in-unit laundry, smart TV, and all utilities. Most importantly, it features a full home office setup with private gigabit internet that you won't find anywhere else. Home office setup includes: - Ultra-high-speed 1 Gigabit WiFi (AT&T) - Standing desk (Uplift) - Work chair (Uplift) - 34-inch ultra-wide monitor (Samsung) - Professional podcast microphone (Blue Yeti) - Webcam (Logitech) - Computer speakers (Bose) - LED streaming light - Green screen - Keyboard (Logitech) - Mouse (Logitech) - Laptop stand - TOTU 16-in-1 Triple Display USB-C 3.1 Docking Station Amenities Include: - State-of-the-art fitness center overlooking the Hollywood Hills - Resident lounge with private and social spaces - Swimming pool & hot tub - Outdoor dining areas with gas grills - Rooftop terrace and sky lounge with sweeping views of the city - Bike storage - Garage parking with EV outlets - 24 hour maintenance - On-site retail including Trader Joe's and Wells Fargo - Smoke-free, Green community living PLEASE NOTE: The laptop computer is not included in the home office setup 1 Parking space is included EV outlet: $54/month (on request, subject to availability) *Photos are of a similar unit
Amenities
High-speed internet up to 1,000 Mbps
Private High-Speed Internet
You'll have access to reliable, gigabit internet (up to 1,000 Mbps) during your entire stay. The network is private to your apartment, and will not be shared. This will ensure the utmost security for your online work and the highest possible speeds.
Modern Professional Workspace
This apartment features a fully equipped workspace, unlike anything you'll find on any other housing platform. It includes all the gear you need to do your best work. Just bring your laptop and plug in. Whether you're here for business or pleasure, this setup has you covered.
1
2
3
4
5
6
7
8
9
10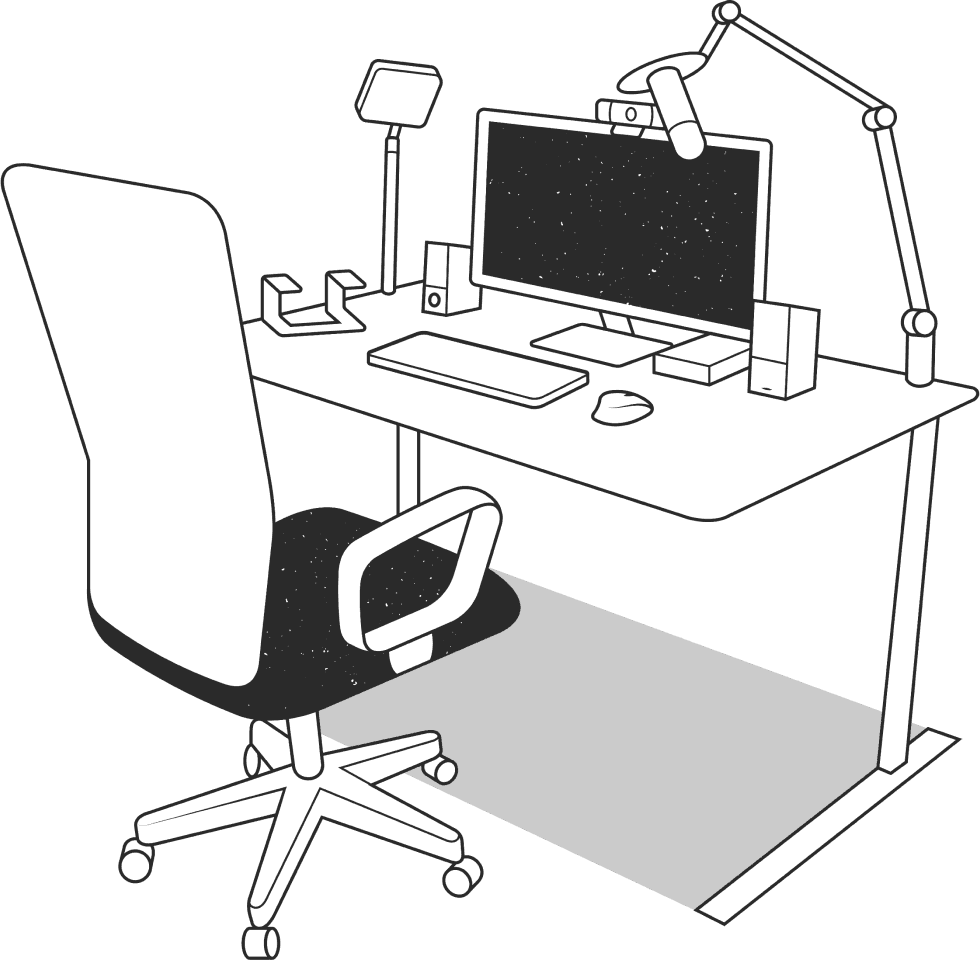 Rules
Due to local regulations, all guests may be subject to a credit and background check. Failure to complete this check or not meeting minimum requirements may result in the cancelation of the reservation. A leasing agreement must also be signed.
Anyplace

Secure
You're covered! Every booking includes free protection for your personal belongings and accidental damage. Learn More
Cancellation Policy
You will get a full refund if you cancel your reservation within 48 hours of your booking or if you cancel more than 7 days before your arrival date. Bookings are non-refundable once you have checked in.
Building Amenities at Avalon
ROOFTOP TERRACE + SKY LOUNGE
It's honestly hard to beat the views of L.A. from the rooftop terrace and sky lounge. You'll have an expansive, panoramic outlook of the city and Hollywood Hills. Make sure to catch a sunrise or sunset up here.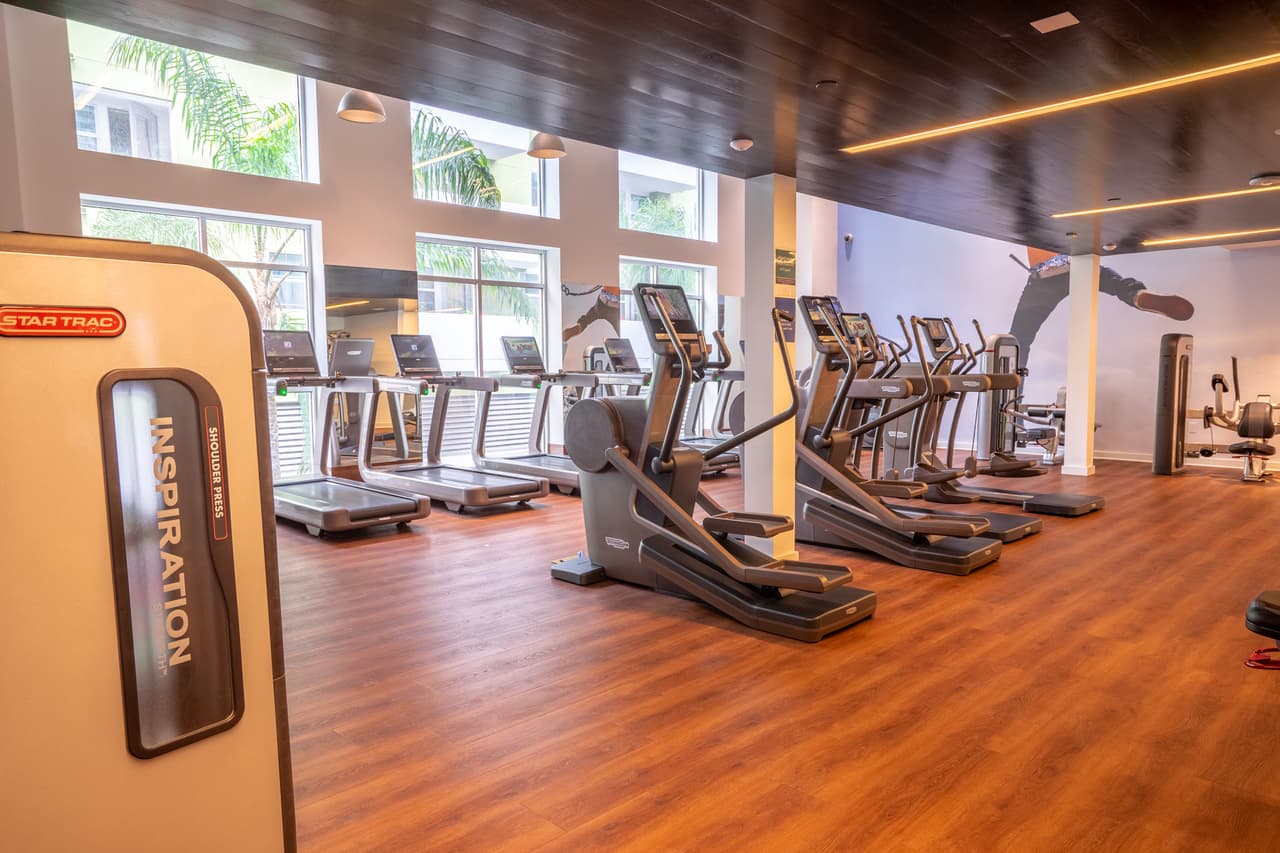 FITNESS CENTER
Feel the burn in the state-of-the-art fitness center at Avalon. You'll never have to fight for a treadmill here – there is an abundance of cardio machines to choose from, as well as strength training equipment and free weights.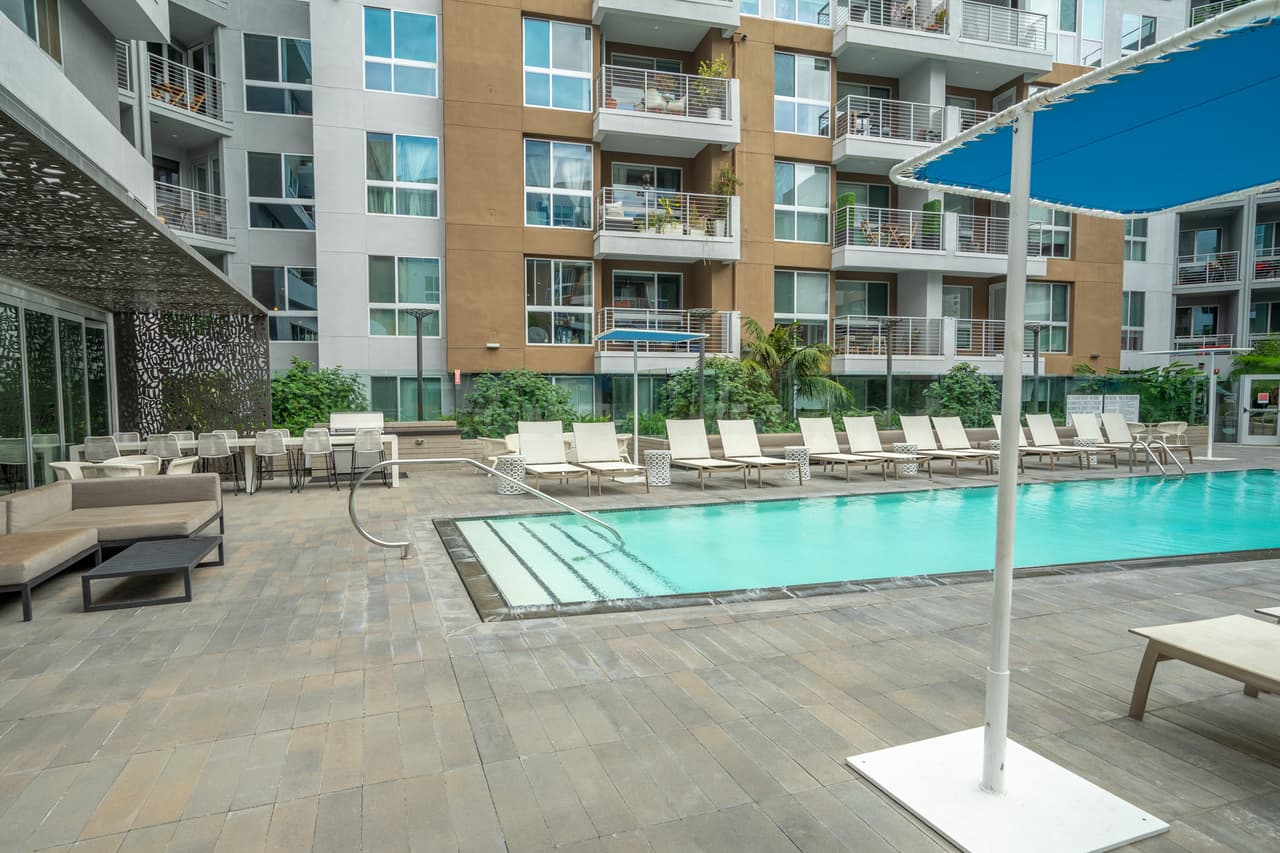 OUTDOOR POOL
The outdoor pool at Avalon is a great place to swim some laps or simply have a soak to cool down. You can work on your tan resting on a reclining chair or enjoy the shade under cabanas in the many private lounge areas.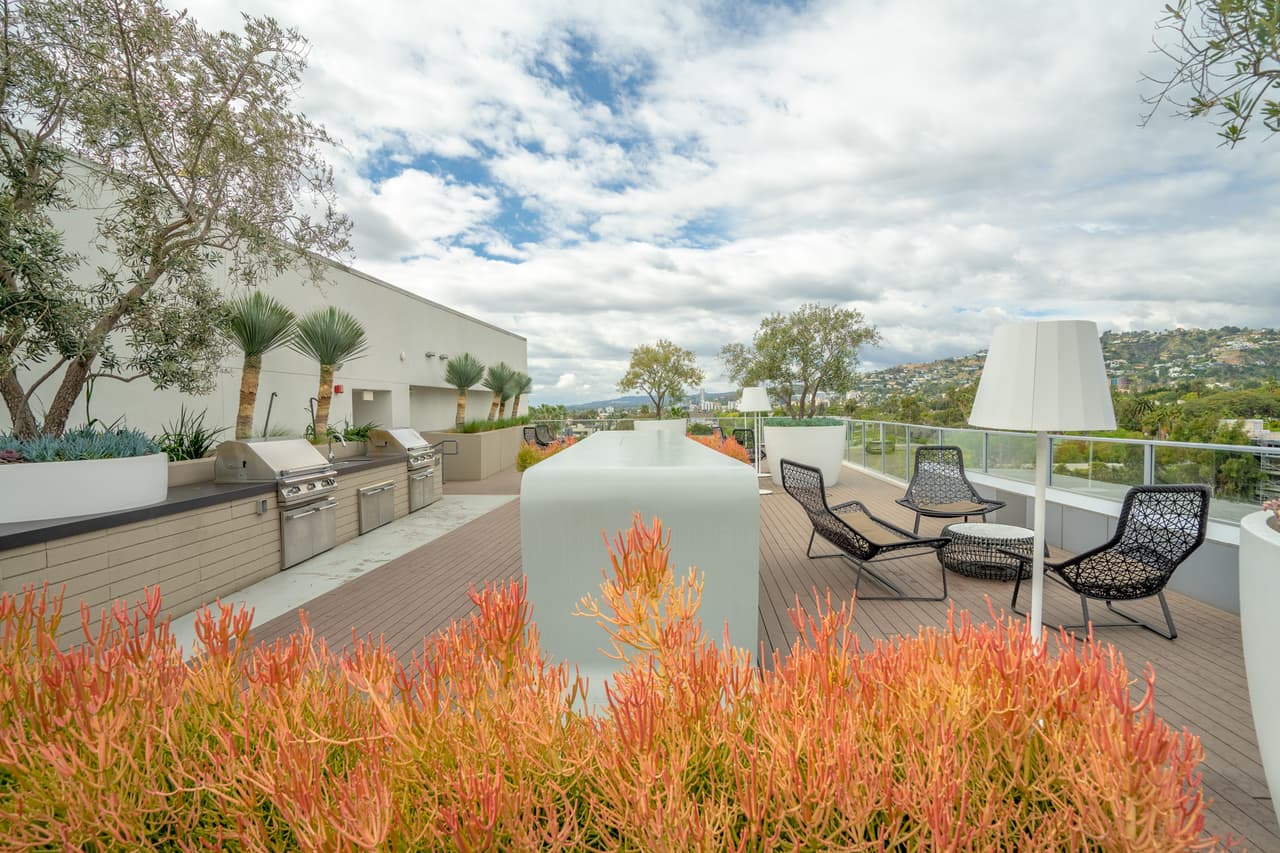 OUTDOOR DINING AREA WITH GRILLS
Round up your friends and make your way to the outdoor dining area to grill food and enjoy the open air. You'll find numerous gas grills and tons of seating options for both large gatherings and intimate hangs.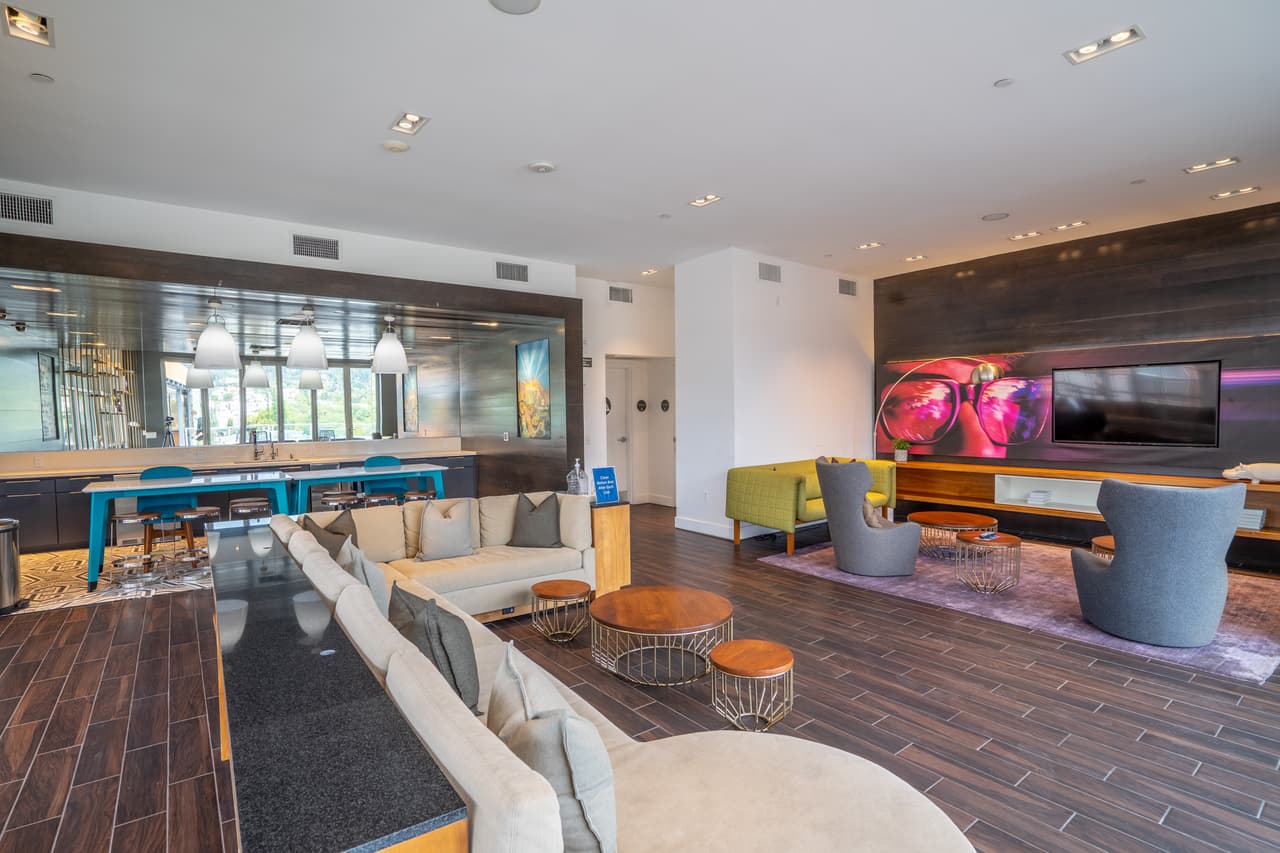 RESIDENT LOUNGE
Prep for a night out in Los Angeles at the resident lounge. There is a big-screen TV to watch some of the game, a kitchen and bar area for making drinks or having snacks, and lots of cozy seating.
West Hollywood
West Hollywood is a vibrant and diverse neighborhood in the heart of Los Angeles. Known for its bustling nightlife, trendy restaurants, and iconic boutiques. The neighborhood is home to the famous Sunset Strip, which is lined with iconic music venues and nightclubs, as well as the historic Route 66. With its mix of old Hollywood glamour and modern flair, West Hollywood offers a unique blend of culture and entertainment. Whether you're looking to enjoy a night out on the town, explore the shops, or simply soak up the energy of this vibrant community, West Hollywood has something for everyone. The neighborhood is also conveniently located in the city, with easy access to Beverly Hills, Hollywood, and Downtown LA.
Get Directions